DirectX
ActiveMac
Downloads
Forums
Interviews
News
MS Games & Hardware
Reviews
Support Center
Windows 2000
Windows Me
Windows Server 2003
Windows Vista
Windows XP



News Centers
Windows/Microsoft
DVD
Apple/Mac
Xbox
News Search



ActiveXBox
Xbox News
Box Shots
Inside The Xbox
Released Titles
Announced Titles
Screenshots/Videos
History Of The Xbox
Links
Forum
FAQ



Windows XP
Introduction
System Requirements
Home Features
Pro Features
Upgrade Checklists
History
FAQ
Links
TopTechTips



FAQ's
Windows Vista
Windows 98/98 SE
Windows 2000
Windows Me
Windows Server 2002
Windows "Whistler" XP
Windows CE
Internet Explorer 6
Internet Explorer 5
Xbox
Xbox 360
DirectX
DVD's



TopTechTips
Registry Tips
Windows 95/98
Windows 2000
Internet Explorer 5
Program Tips
Easter Eggs
Hardware
DVD



ActiveDVD
DVD News
DVD Forum
Glossary
Tips
Articles
Reviews
News Archive
Links
Drivers



Latest Reviews
Xbox/Games
Fallout 3

Applications
Windows Server 2008 R2
Windows 7

Hardware
iPod Touch 32GB



Latest Interviews
Steve Ballmer
Jim Allchin



Site News/Info
About This Site
Affiliates
Contact Us
Default Home Page
Link To Us
Links

News Archive
Site Search
Awards



Credits
©1997-2012, Active Network, Inc. All Rights Reserved.
Please click here for full terms of use and restrictions or read our Light Tower Privacy Statement.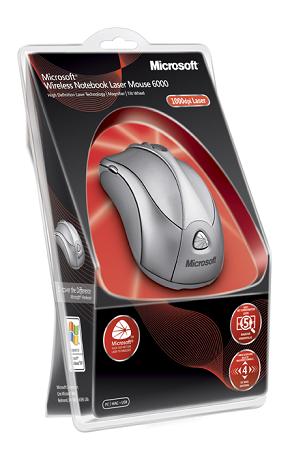 One of the latest hardware devices coming out of Redmond is all about the latest cutting-edge technology, improvements to past products while still providing essential functionality for your laptop. This device is just one of the new high-precision and laser mice Microsoft has released this year. Does this mouse live up to its promises? Read on to find out.

Proprietary High Definition Laser Technology puts ultimate performance in the palm of your hand. Microsoft's new line of High Definition mice uses technology that is two generations ahead of standard optical and laser mice. These mice are equipped with the exclusive Microsoft Intelligent Tracking System for smoother tracking, 1,000 DPI for more responsiveness and 6,000 FPS for better precision.
New!
Compact Tilt Wheel is an innovative design specifically developed for notebook mice. The smaller wheel scrolls horizontally and vertically, making it quicker and easier to navigate long Web pages or spreadsheets.
New!
Magnifier tool enlarges any section of the screen, enabling real-time magnified viewing and editing of images, documents, Web sites and more. Simply push the Magnifier tool and move the cursor over any portion of the screen you want to enlarge.
New!
Integrated button design, compact shape and ambidextrous form deliver new ways to click with superior mobility. With four buttons, including the Tilt Wheel and Magnifier, sculpted finger grooves and rubber side grips, this notebook mouse makes everyday mobile PC activities easier and more comfortable than ever.
New!
High-gloss silver finish brings sophisticated style wherever you are — in the office, your living room or a plane.
Snap-in receiver
conserves battery life by automatically turning off power when snapped into the bottom of the mouse. Delivering an average of more than six months' battery life — longer than previous wireless notebook mice1 — this mouse reduces inconvenient work stoppages to replace batteries or recharge. Designed small for added convenience, the receiver plugs directly into any notebook computer for at least three feet of wireless freedom.
Wireless freedom
allows you to sit back and click at least three feet away from the receiver, eliminating the inconvenience of connecting your mouse to the laptop with cumbersome cables.

Setup & Installation

Setup: The installation is quite simple. Just plug in the mouse to your laptop USB port. You may have to push the connect buttons on the mouse or receiver if Windows does not automatically detect, however I did not have to do that. To use the magnifier or to use the advanced functionality, you must install the Microsoft IntelliPoint software (see below).

Microsoft IntelliPoint Software

If you want to customize your mouse, you will have to install IntelliPoint 5.4 (about 60 MB), which requires a restart. To customize your mouse keys, select either "Mouse" for the Control Panel or "Microsoft Mouse" from the program menu. On the buttons tab you can click on the different buttons and reassign the keys to a variety of functions. In this software you can also change your pointers, other pointer options, view which hardware is connected, change scrolling options, and view wireless features. The software is easy to use and is required for advanced functionality of the mouse.
Mouse Design
The mouse has nearly same shape as the first generation Microsoft Wireless Notebook Optical Mouse released last season. The Wireless Notebook Laser Mouse 6000 is about 3.5 inches long, 2 inches wide, 1.5 inches high and weighs just a few ounces. The mouse includes four buttons (two on top, the wheel and one side). One of the new features of the mouse is the magnifier button. This new magnifier allows you to bring an zoom box on the screen in all types of programs. One really cool thing about this feature is if, for example, you use it in Excel, Word, etc. you can edit within the zoom box. This feature is a much improved version of the accessibility magnifier feature within Windows. The side button (which is silver) is meant to be the magnifier, but you can reassign that functionality if you wish. Of course, the mouse has the Tilt Wheel technology included, which allows you to scroll left and right as well as having the additional button. I feel the mouse is one of Microsoft hardware's better mouse designs, and is a significant improvement over last year's model. The top is metallic silver, with matching rubber grip material on the sides, and a plastic bottom. The side button is small and well integrated into the sleek design. The scroll wheel is the standard transparent white, and is much smaller than last year's model. Because the mouse is ambidextrous, both left and right handed users will be able to use it. The USB wireless receiver (Microsoft Notebook Receiver 2.0) is about 2.5 inches long and .5 inches wide, with a connect button and a indicator light and fits snuggly on the bottom of the mouse when not in use. The receiver is approx 33% smaller than last year's version. The Microsoft Laser Technology Logo is on the bottom. There is a open button on the bottom which pops out the battery compartment (single AA - Energizer Battery included) at the front of the mouse.

Microsoft Laser Technology
Microsoft has provided a well deserved update to an already great optical technology. This product includes the new Microsoft Laser Technology which aims to improve performance at much higher levels than the previous optical technology, including the High Definition Optical Technology on other Microsoft mice. The technology is 6000 frames per second (FPS) - an improvement over the 2500 FPS of most of the previous optical mice. Other technology improvements that have been made include 1000 dots per inch (DPI) resolution (responsiveness), 85 million operations per second (MOPS), .18 CMOS technology (preciseness) and the Microsoft Intelligent Tracking System (smoother tracking). Unlike the Microsoft High Definition Optical mice, the Microsoft Wireless Notebook Mouse 6000 has a 600 nm laser providing optical input. Microsoft optical technologies have been well tested for many years now and work smoothly on most surfaces. It has been broken-in well with previous mice, so you know you won't have any problem.

Final Comments
How It Grades
Installation: 95%
Performance: 95%
Design: 100%
Price/Value: 94%
Overall: 96%
I feel the Microsoft Wireless Notebook Laser Mouse 6000 has one of the best designs Microsoft hardware has released to date. The mouse design has been improved over last year's model, the notebook receiver is much smaller, and the mouse still provides all the standard features (such as the Tilt Wheel) you have come to expect from Microsoft mice. The already great optical technology has been vastly improved to be more responsive, more precise, and much smoother with Microsoft's new Laser Technology. In addition, not only is the magnifier feature great for accessibility reasons, but also allows easy editing of small text, data, etc. If you are in the market for a top-of-the-line notebook mouse, I definitely recommend you purchase the Wireless Notebook Laser Mouse 6000.
Specs & Package
Overall Score
96%
Version Reviewed
Microsoft Wireless Notebook Laser Mouse 6000
Release Date
Out Now
The Good Points
Laser Technology
Magnifier Feature
The Bad Points
Pricier then Wired Version
Similar Product
Microsoft Wireless Notebook Optical Mouse 4000
System Requirements

For a Windows-based PC:

Microsoft Windows® 2000, Windows XP Professional, Windows XP Home Edition, Windows XP Media Center Edition or Windows XP Tablet PC Edition

Pentium 233MHz or higher processor

128 MB of RAM

45 MB of available hard disk space (install 100 MB)

CD-ROM drive

An available USB port on the PC

For Macintosh:1

Mac OS X v10.2 to 10.4.x operating system (OS 10.0 to 10.1 is not supported)

15 MB of available hard disk space

CD-ROM drive

USB port