DirectX
ActiveMac
Downloads
Forums
Interviews
News
MS Games & Hardware
Reviews
Support Center
Windows 2000
Windows Me
Windows Server 2003
Windows Vista
Windows XP



News Centers
Windows/Microsoft
DVD
Apple/Mac
Xbox
News Search



ActiveXBox
Xbox News
Box Shots
Inside The Xbox
Released Titles
Announced Titles
Screenshots/Videos
History Of The Xbox
Links
Forum
FAQ



Windows XP
Introduction
System Requirements
Home Features
Pro Features
Upgrade Checklists
History
FAQ
Links
TopTechTips



FAQ's
Windows Vista
Windows 98/98 SE
Windows 2000
Windows Me
Windows Server 2002
Windows "Whistler" XP
Windows CE
Internet Explorer 6
Internet Explorer 5
Xbox
Xbox 360
DirectX
DVD's



TopTechTips
Registry Tips
Windows 95/98
Windows 2000
Internet Explorer 5
Program Tips
Easter Eggs
Hardware
DVD



ActiveDVD
DVD News
DVD Forum
Glossary
Tips
Articles
Reviews
News Archive
Links
Drivers



Latest Reviews
Xbox/Games
Fallout 3

Applications
Windows Server 2008 R2
Windows 7

Hardware
iPod Touch 32GB



Latest Interviews
Steve Ballmer
Jim Allchin



Site News/Info
About This Site
Affiliates
Contact Us
Default Home Page
Link To Us
Links

News Archive
Site Search
Awards



Credits
©1997-2012, Active Network, Inc. All Rights Reserved.
Please click here for full terms of use and restrictions or read our Light Tower Privacy Statement.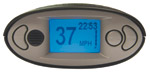 Road angel Compact
Company: Blackspot
Website: http://www.blackspot.com
Estimated Street Price: £200
Review By: Byron Hinson
Introduction
For those who are not in the know, Road Angel is a company that specialises in road safety equipment. The Road Angel Compact is a very nifty piece of kit, what it does is detect blackspots, safety speed cameras and various other problems on the road and gives you prior warning before you reach them, giving you the chance to act on them and be as safe as possible on the road.
Visual, spoken and audible alerts

Fixed safety camera and accident blackspot warnings

Camera advisory speed limits

Accident blackspots

Simple plug & go installation

Accurate speedometer

High visibility speed, time/compass display

Primary schools

Congestion charging

USB updates via PC

Store your own personal danger areas

Optional laser available**
Utilising GPS technology, ROAD ANGEL Compact alerts you to: accident blackspots and safety cameras (including Gatso,TruVelo, SPECS Watchman, Speedcurb, DS2), with an audible and visual alert.

Everyday use of ROAD ANGEL Compact acts as an extra pair of eyes to keep you alert to approaching danger and

EASY UPDATES
With the number of speeding cameras set to dramatically increase and accident data changing constantly, Blackspot Interactive are constantly working to verify new locations and delete obsolete ones. These changes are easily updated to your ROAD ANGEL with the supplied software. The first six months of updates are free of charge. Subsequent subscription charge of £3.99 per month by Direct Debit, a minimum 12 month contract is required.

The Package & Review

The package is pretty simple, it comes with the Road Angel Compact and attachments to fit the hardware to either your dashboard or windscreen in your car, it also comes with USB cable to get it up and running on your PC so you can download the latest camera and blackspot updates straight to the Road Angel Compact so that you will always know its as up to date as it can be when you are out on the road. Installing the Road Angel Compact was easy enough, there are a large range of mounting options for your car that are provided in the pack, we went for the adhesive pad and stuck it to the dashboard and used the magnetized base to keep the Road Angel Compact safely attached.

Before we attached the Road Angel Compact, we first connected it to our review machine and got the latest updates onto the hardware, this was easily done thanks to Blackspots Road Angel software, although it took quite a while the first time round, it doesn't take as long each time after. Next up we got into our car and placed the Road Angel Compact onto the dashboard, then we attached the long USB cable into a cigarette lighter adapter that then connects into the cars 12 volt supply. Once you power up you Road Angel Compact, the words "Road Angel" shine up on the screen (and get annoyingly read out each time you start it), the bright backlit blue screen comes to life and then the device starts searching for a satellite signal that can take up to 40 minutes to connect to on the first time of booting up the Road Angel (doesn't each other time you start your car though).

This is where our first problem arose, we had a car that wasn't compatible with the Road Angel Compact out of the box, you see some newer cars have Heat Reflective Windscreens that block out the GPS signals, now don't get me wrong, this wouldn't be a problem as Blackspot have the option of an external antenna, but the problem is, you have to pay for it, and on the box you get when you buy the Road Angel Compact, it doesn't mention that there may be a problem with the device in some cars. Very annoying for anyone buying one and then finding out you can't use the device properly until you go and purchase an external antenna which seemingly is only available to buy online. Note to Blackspot - mention this on your packaging in the future!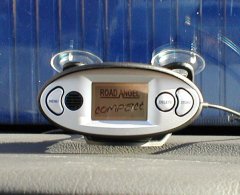 Anyway, back to the setup, once we fixed this problem (we used a different car) the Road Angel Compact connected to a satellite signal within 10 minutes and we were ready to go. The screen showed up 0 MPH on the speed gauge so we started up the car and took off, as you make your journey your speed is shown up on the Road Angel Compact, this is done so you can enter a speed limit for yourself if you want to so that an alarm will sound if you go over that limit, if you want to use something to gauge your real speed, stick to the cars MPH indicator as that is more accurate.
So now we're off and running we went in search of GATSO, it doesn't take very long to find one, as you approach it the blue screen goes orange and an audible warning lets you know if you are coming up to either a "Blackspot" or "Safety Camera" and then it shows the speed limit that you should be under, the good thing here is that you can have a suppressed warning if you are already under the limit anyway. The warning is always clear and loud and then has a series of beeps as you get closer to the blackspot, there is also a gauge on the left hand side of the screen that shows how close you are getting.
We ran our tests for over a week and found that the database was accurate and even found various temporary camera sites on the roads. Road Angel supply the Compact with 6 months free database updates and then charge £3.99 a month (minimum 12 months) to continue to get the latest updated data. Keeping it up to date is easy and well worth the money if you are out on a lot of long journeys.
Conclusion
How It Grades
Installation: 85%
Ease Of Use: 92%
Transfer Speed: 90%
Features: 90%
Drivers: 90%
Design: 80%
Audio Quality: 90%
Manual: 90%
Price: 85%
Overall: 89%
We were very impressed with the Road Angel Compact, it does everything you want it to do for a GPS detector system, the warnings are loud, accurate and the screen is very bright and is easy to look across at and read. The only bad point was that there was no advert on the box explaining that it wouldn't work in certain cars without an external antenna. The price isn't bad either, although for a 12 month contract it will cost you £48 which is quite a lot to be asking, but all credit to Blackspot it is always kept up to date. If you want to keep you eye on your speed and keep yourself safe when driving, Road Angel Compact is an excellent choice.
Feel free to comment on the review here.
Specs & Package
Overall Score
89%
Version Reviewed
Road Angel Compact
Release Date
Out Now
In The Box?

Road Angel Compact
Instruction Manual
In-Car Attahcments
USB Cable

The Good Points
Clear Screen
Good Audio
Always Up To Date
Accurate
The Bad Points
No Antenna Provided
Doesn't work in some cars
Reviewers PC Setup
AMD Athlon 64 4000+
Sapphire Axion RS480AS9-A58S Socket 939 Motherboard
Crucial 1280 MB DDR PC2700
ATI X850 XT 256mb Graphics Card
Creative Labs X-Fi Extreme Music
180 GB Western Digital Hard Drive 7200 RPM, 8mb Cache
Sony 16x DVD-RW
Sony CD-RW (40x12x48x)
Creative Inspire 5.1 5300 Speakers
Viewsonic VP171s LCD Monitor