Being a long time Pocket PC user I found Microsoft's entry into the Smartphone business more interesting than most. Pocket PC sales have not been as good as they could be, and I have to admit, I've started to find mine more and more useless with the influx of new mobile phones that can do just about everything I want from a PDA. The Orange C500 Windows Powered smartphone is my 2nd Microsoft based phone I have had from Orange, the first one I started off with was the rather large in size E200 model shown below left. The major problem with previous Windows Based smartphones has been battery time and the size of the unit, well things are about to change with the introduction of the new C500 phone from Orange.
If you're looking for a phone that puts equal emphasis on enhancing productivity and creating pleasure, then the SPV C500 is your perfect companion.

Packed with bells and whistles, the SPV C500 goes one step further in making your office mobile. You can connect to the Internet, check your email and keep in touch with colleagues via Instant Messaging. You can also syncrhonise or transfer data to compatible PCs using ActiveSync®, Infrared or Bluetooth ®. The C500's headset enables you to make a voice call simply by saying a name or number and its built-in VGA digital camera ensures you can capture and photos and video.

The SPV C500 joins Orange's Signature range, which brings you a number of customised services like access to Orange Backup, so you can store your personal and business data securely on the Orange network, and Orange Update, so you can trial and download new applications like ringtones and maps, and play digital music and video directly on your phone.

The SPV C500: not big, but clever.

battery life:
- talk time 5.0 hours
- standby 4.0 days

weight: 100g

features:
- Bluetooth technology
- built-in camera
- colour screen
- email
- GPRS
- infrared connection
- instant messaging
- Java™ capable
- MP3 player
- Photo Messaging
- polyphonic ring tones
- predictive text input
- selection of games
- tri band technology
- vibrating alert
- voice memo
- wallpapers
- wap
As you can see above, the C500 is a slightly smaller than the E200 on the right. But the height isn't the only difference here, it is also a lot thinner, which makes it lighter and easier to carry around and easier to use in general. But the main downside of the previous orange model was the battery time, you were lucky if you managed to get 2 days worth of standby time with the E200, but now with the C500, in our first test after the first change on a Friday, it worked through until Tuesday before needing to be charged again, this wasn't just in standby mode either, this was with sending around 100 text messages, numerous phone calls and some MSN Messenger logging in and out along with general fiddling around with the phone itself.

The inner design has also seen some changes too, the memory card (Which is now a Mini SD) that the C500 comes with now slots inside the phone, behind the battery, which is a good idea as it keeps it away out of view and helps the phone look neater on the outside. There are a lot of other neat touches too, one that may go un-noticed at first is a light sensor which is on the phone, this senses how much light is hitting the phone and if it is dark out, it will light up the buttons so you can view them easier, but if it is bright out, they won't light up, thus this saves some battery time, is quite cool and always seems to work for me. The phone comes in two colours, the one I am reviewing is the slightly more limited edition silver model, but the main black one is also out now. I prefer the silver version as just about everything I have on my desk is silver so it fits in well.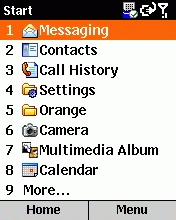 One downside of the phone currently is that it lacks a dock that the E200 came with, the dock would house the phone and keep it upright, this also allowed users to keep it charged up through the mains and connected to their pc via the USB connection. Right now you have to either charge it up via a wall socket or leave it to charge via USB which is a slightly slower process. How this will work out when new ROM upgrades get released i don't know, as previously with ROM updates you needed the phone plugged into both the mains socket and through USB, but this is something I can't really moan about as no updates have been released yet and I could be worried about nothing. Orange have told me that a dock will get released in the future though, although there will be an added charge for it.
The keypad has changed too, instead of the joystick controller that the E200 had, the C500 goes with a "Directional Scroller", this was a first a worry to me, as it took me quite a while to get used to it, but one I had done, it seems far better than the joystick was, although for gaming its quite poor as it only has five directions to use.
The rest of the phone remains similar, it has the volume on the side, a car antenna on the back which lets you get a better signal when you are driving, the camera on the back is also pretty much identical to the one that shipped with the E200 phone, the software on the phone is newer though. There is one final change though, a faster OMAP 200MHz processor, this means programs run faster, load faster and the phone is generally nippier at everything it does, which is a godsend after some of the slowness the E200 showed when I got one.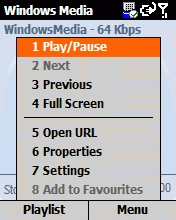 This is where more changes come in, the C500 is one of the first smartphones to use Microsoft's new Windows Mobile 2003 Second Edition software. The new Microsoft software comes with various bug fixes and improvements, so its a very welcome addition to the phone.
When you first turn on the new phone, you are greeted with a new Orange home screen that differs quite a bit from their last one, it takes a while to get used to it, but overall it does feel better designed and cleared, the only problem is that it no longer shows up your appointments in the way the old one did. The new menu works in a different way too, if you move over an icon such as contacts or messages, pressing the right button on the pad opens up sub menus for you to use, this is where the cleaner design comes into work. It again takes some time to get used to but in my view users will end up sticking with it, even though you can download the old E200 homescreen off of the internet if you wish to.
So what is new on the software side? Well not a great deal of new stuff has been added, but what was there before has been improved. The old Inbox has now been renamed as messaging, a good move as this is what every other phone calls it. Various bits here have been fixed that were not working right in the E200, signatures now work properly and MMS (Media Messaging) now lets you insert your recorded videos.
The camera software, well not a great deal has changed here, picture quality is the same as the old version, but the phone does use the same camera hardware as the E200 so it isn't likely to get much better. But the main change here has come in thanks to the improved processor the C500 now has, it makes moving the phone around when recording much smoother. Also picture theme messaging has been added, something that has been around in other smartphones before. Video recording has got better though with the availability of more formats such as Motion-JPEG AVI, MPEG-4 and the H.263 format you can also set file size limits too.
MSN messenger is just the same as the old version, although I have noticed that it does seem to connect slightly faster, but in saying this, it does exactly what I want MSN Messenger to do, send messages over the service fast and with small packet sizes. A Java engine has now been included into the phone, this lets you play various java games and programs, but I must confess as to having not tried any out since getting the phone as they have been hard to find.
How It Grades
Installation: 91%
Ease Of Use: 89%
Speed: 92%
Features: 92%
Improvements: 90%
Battery Time: 91%
Design: 85%
Manual: 90%
Price: N/A
Overall: 91%
The accessories folder has got a few new applications though to go alongside the old ones like Calculator, Modem Link, Clear Storage, Sim Manager, Task Manager, Space Maker and Speed dial but we now get a File Manager program too. One final change, the T9 predictive text has been improved, it no longer loses words, is easier to use, but still isn't perfect, but I doubt it ever will be. But it is much better than the last release.
Conclusion
So overall an excellent Smartphone from Orange, the call quality is excellent, the features have been improved and are far less buggy than before. The processor is faster so everything loads quicker and runs better, battery time has been turned around far more than I expected it would be with 4 days without a recharge breaking any record I have set with my old E200. The design is what will entice people more than anything else though, the E200 seemed more like a brick, but with the smaller look and thinner size, this is the smartphone to get right now.

Feel free to comment on the review here.
Specs & Package
Overall Score
91%
Version Reviewed
Orange C500 Mobile Phone - Silver
Microsoft Windows Mobile 2003 SE Smartphone Edition Software
Release Date
Out Now
In The Box?
1 C500 Mobile Phone
1 Charger
1 USB Cable
One Headset
1 Mini SD Try IT Card
The Good Points
Light
Fast
Good Battery Time
Best Microsoft Smartphone
The Bad Points
No Dock
Reviewers PC Setup
AMD Athlon 64 3000+
MSI KT800 Neo Motherboard
1280 MB DDR PC2700
ATI X800 Pro 256mb Graphics Card
Creative Labs Audigy 2 Sound Card (OEM)
180 GB Western Digital Hard Drive 7200 RPM, 8mb Cache
Sony 16x DVD-RW
Sony CD-RW (40x12x48x)
Creative Inspire 5.1 5300 Speakers
Viewsonic VP171s LCD Monitor