DirectX
ActiveMac
Downloads
Forums
Interviews
News
MS Games & Hardware
Reviews
Support Center
Windows 2000
Windows Me
Windows Server 2003
Windows Vista
Windows XP



News Centers
Windows/Microsoft
DVD
Apple/Mac
Xbox
News Search



ActiveXBox
Xbox News
Box Shots
Inside The Xbox
Released Titles
Announced Titles
Screenshots/Videos
History Of The Xbox
Links
Forum
FAQ



Windows XP
Introduction
System Requirements
Home Features
Pro Features
Upgrade Checklists
History
FAQ
Links
TopTechTips



FAQ's
Windows Vista
Windows 98/98 SE
Windows 2000
Windows Me
Windows Server 2002
Windows "Whistler" XP
Windows CE
Internet Explorer 6
Internet Explorer 5
Xbox
Xbox 360
DirectX
DVD's



TopTechTips
Registry Tips
Windows 95/98
Windows 2000
Internet Explorer 5
Program Tips
Easter Eggs
Hardware
DVD



ActiveDVD
DVD News
DVD Forum
Glossary
Tips
Articles
Reviews
News Archive
Links
Drivers



Latest Reviews
Xbox/Games
Fallout 3

Applications
Windows Server 2008 R2
Windows 7

Hardware
iPod Touch 32GB



Latest Interviews
Steve Ballmer
Jim Allchin



Site News/Info
About This Site
Affiliates
Contact Us
Default Home Page
Link To Us
Links

News Archive
Site Search
Awards



Credits
©1997-2012, Active Network, Inc. All Rights Reserved.
Please click here for full terms of use and restrictions or read our Light Tower Privacy Statement.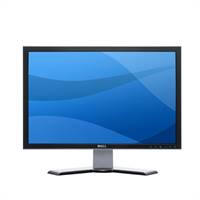 Dell™ UltraSharp™ 24-inch Widescreen Monitor - 2407WFP
Company: Dell
Website: http://www.dell.co.uk
Estimated Street Price: £824/$747
Part Number: 59234
Review By: Byron Hinson
Introduction
Dell have been well known for producing excellent computers, both for on a budget users and for high-spec gamers, a few years ago Dell started to create their own brand of LCD displays, each one becoming better than the last. This is our first review of a Dell monitor and I'm very pleased to say that it doesn't disappoint in any category.
The Dell™ UltraSharp™2407WFP 24-inch Widescreen Flat Panel LCD Monitor is a wide aspect desktop display that redefines the performance of LCD displays with a stylish Dell™ industrial design, and advanced functionality. With the UltraSharp™ 2407WFP monitor, you can watch DVDs in natural format, run multiple applications simultaneously and improve productivity with less scrolling and toggling. Featuring enhanced features such as the 15-pin D-Sub, DVI-D with HDCP support, S-Video, Composite and Component Connectors, as well as 4 x Integrated powered USB 2.0 ports and a 9-in-2 Media Card Reader, the UltraSharp™2407WFP monitor gives users convenient access to plug in many different devices such as media cards, digital cameras and other electronic devices. It also supports advanced features such as anti-glare with hard-coating 3H and can be activated with a touch of a button on the front of the display. With an integrated height adjustment stand, users can adjust the display to their exact comfort level and help reduce eye and neck strain. The UltraSharp™ 2407WFP Flat Panel LCD Monitor comes with a standard 3-Year Warranty.

Clear, sharp images at a maximum resolution of up to 1920x1200 pixels
Supports advanced features like PIP (Picture in Picture) and PBP (Picture By Picture), DCDi® by Faroudja (Directional Correlational Deinterlacing) Processing, ACM™ (Active Colour Management) and ACC™ (Adaptive colour and Contrast) technologies
Add multimedia capability to Dell™UltraSharp™ 2407WFP display with the optional AS501 sound bar.
Manufacturer Part : 860-10023
Dell Part : 59234

Features & Benefits

Monitor size and type : 24" (61.0cm) active matrix TFT
Resolution : 1920 x 1200 / WUXGA
Response time / Brightness / Contrast Ratio : 16ms (black to white) or 6ms (grey to grey) / 450 cd/m2/ 1000:1
Dimensions (w x h x d) : 585mm x 388mm (extended/compressed) x 560mm x 195mm
Weight : 8.3 kg
Inputs : Analog DVI-D (Digital) with HDCP / S-Video / Composite / Component
Height adjustable stand / Audio capability : Yes / Optional AS501 soundbar
VESA mounting compatible / Security slot : Yes (100mm) / Yes
Integrated powered USB 2.0 hub / 9-in-2 card reader : 4 downstream, 1 upstream ports / CompactFlash type I/II Card, MicroDrive, Smart Media Card, Memory Stick Card, Memory Stick Pro Card, Memory Stick Duo (with Adapter), Secure Digital Card, MultiMedia Card, Mini Secure Digital (with Adapter)
Warranty : 3-years next business day exchange

Excellent Multimedia, Video and Graphics Experience

DVI (Digital Video Interface) Connector with HDCP (High-Bandwidth Digital Copy Protection) Ready
- DVI helps to ensure high quality image (no jitter), and stupendous color uniformity.
- HDCP helps enable viewing of protected high-definition content.
S-Video, Composite and Component Connector
- Allows connection to other video devices such as game consoles and cable boxes.
DCDi® by Faroudja (Directional Correlational Deinterlacing) Processing
- Helps to eliminate jagged edges and provide image enhancements; making movie watching experience enjoyable.
Adaptive Color and Contrast (ACCTM) Technology: An intelligent contrast enhancement for viewing video content.
- Helps to enhance contrast in luminance range where such enhancements are desirable; resulting in impressive image detail.
Active Color Management (ACMTM): Designed to support most viewing modes with enhanced color saturation.
- Optimal image quality for various usage modes. Easy color management through selection of 6 different usage modes (Theatre, Sports, Nature, Gaming, Desktop and Multimedia).
Picture In Picture / Picture By Picture Function
- View multiple sources through Picture-in-Picture or Picture-by-Picture functionality.
UltraSharpTM 2007WFP
UltraSharpTM 2407WFP
UltraSharpTM 3007WFP
Screen size (diagonal)
Horizontal
Vertical
20.1" (51 cm)

433mm
271mm
24" (61 cm)

518mm
324mm
30" (76 cm)

641mm
400mm

Pixel Pitch

0.258mm

0.270mm

0.250mm

Resolution

1680 x 1050 / WSXGA+

1920 x 1200 /
WUXGA
2560 x 1600 / WQXGA1

Brightness (typical)

300 cd/m²

450 cd/m²

400 cd/m²

Contrast Ratio

800:1

1000:1

700:1

Response Time (typical)

16ms(black to white)

6ms (grey to grey) / 16ms (black to white)

11ms(grey to grey)/14ms(black to white)

Additional Features
USB ports
Media Card Reader
Multimedia Capability (Soundbar)
Security lock slot


4x USB 2.0
No


Optional AS501


Yes


4 x USB 2.0
9-in-2 Media Card Reader

Optional AS501


Yes


4 x USB 2.0
9-in-2 Media Card Reader

Optional AS501


Yes
Stand features
Tilt
Swivel and Portrait
Height Adjustable
Cable Management

Yes
Yes

Yes(100mm)
Yes

Yes
Yes

Yes(100mm)
Yes

Yes
Swivel only

Yes(90mm)
Yes
Dimensions
Height (fully extended landscape mode)
Height (compressed/locked landscape mode)
Width
Depth

513mm


332mm


473mm
178mm

585mm


388mm


560mm
195mm

559mm


469mm


449mm
200mm

Weight

6.5kg

8.3kg

11.38kg

VESA Mounting Compatble

Yes (100mm)

Yes (100mm)

Yes (100mm)

Viewing Angle
Horizontal
Vertical

+/- 89º
+/- 89º

+/- 89º
+/- 89º

+/- 89º
+/- 89º
Input Signal Connector
Analogue Interface
Digital Interface
Other


15-pin-D-subminiature

DVI-D

S-video, Composite


15-pin-D-subminiature

DVI-D (HDCP Ready)

S-video, Composite, Component


None


DVI-D (Dual Link) with HDCP

None

Picture in Picture

Yes

Yes

No

Available Colours

Black

Black

Black

TCO Approval

TCO '99

TCO '99

TCO '99

Internal Power Supply

Yes

Yes

Yes

Energy Consumption
Typical - Maximum
Standby


55W-75W

2W or less


57W-110W

2W or less


147W-177W

3W or less

Faceplate coating

Anti-glare with hard coating 3H

Anti-glare with hard coating 3H

Anti-glare with hard coating 3H2
Scan Range
Horizontal
Vertical

30 kHz to 81 kHz
56 Hz to 76Hz(1680x1050-60Hz only)

30 kHz to 81 kHz
56 Hz to 76 Hz (exception 1920 x 1200 at 60 Hz only)

49.31 kHz to 98.71 kHz
60 Hz (2560x1600)
System Setup
As this is now our first major Monitor review, we have made sure our hardware is as good as we can get our review machine up to. As you can see, we have the AMD Athlon 64 X2 5000+ AM2 Processor at the heart of the machine, along with the best memory you can get. We also have the Connect 3D X1900 XT graphics card to make sure the monitor displays its colour settings as well as possible. Our desktop thoughout this whole review is set at the optimum resolution for the Dell monitor - 1920x1200
The Hardware
Athlon 64 X2 5000+ AM2 Based Processor

Asus M2N32-SLI Deluxe

Corsair 1GB DDR2 XMS2-8500 TwinX
Connect 3D X1900 XT 512MB PCI-Express Graphics Card
Sound Blaster X-Fi
1-Samsung Spinpoint 250GB SP2504C SATA 8MB Cache Hard Drive
1-Maxtor OneTouch II 250GB External Firewire/USB 2.0 16MB Cache Hard Drive
Sony Dual Layer DVD-RW DRU700A Drive
Microsoft Wireless Laser Mouse 6000
Antec 480 Watt NeoPower PSU
Benchmarks & Information
Reviewing monitors is always a hard task as there are many different factors that go into them and a lot of the time it is really personal choice in the end. As you already know, the Dell monitor is a 24-Inch Widescreen LCD, it is full of great features and not only that, it also has a number of good connections on the monitor so that you are not just stuck with computing, you could attach a HD-Box or even an Xbox 360 directly to it via DVI or though Component video. There are other great monitors on the market, but for both quality and connections, the Dell really pushes itself in front.
As with some of the previous Dell monitors, this one has its simple but nice looking Black and Silver colour scheme. You can move the display from Landscape to Portrait modes and tilt the panel forward and back, as well as moving the display left and right by 45 degrees. The inputs on the display are located at the back of the monitor. They are pretty easy to access when the monitor is put into portrait position. The inputs themselves are the following. One upstream and two downstream USB 2.0 ports, DVD-D and VGA inputs, 12-volt audio jack for connecting an optional Dell speaker. You also have Composite, Component and S-Video connections too. At the left side of the monitor you have two more USB 2.0 ports and a 9-in-2 media card reader, which works very well by the way. The only downside to all these connections is trying to hide the cables, as the monitor could benifit from something around the back to keep them as tidy as possible.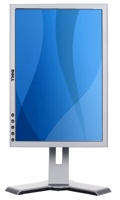 As mentioned earlier, the tests we have run are all based at the full optimum resolution of the monitor at 1920x1200, as expected, the Dell looked great. Test was very dark and easy to read, I also asked members of the family to try it out, some with lesser eyesight than me, and they all thought the monitor was one of the best they had seen. The monitor is rated at 6-Milliseconds and although this is pretty hard to rate this, the monitor did very well in both DVD tests and in games. Now the colour, everything was vivid, especially in some of the more brighter and arty games such as Dreamfall and Half Life 2: Episode 1.
The onscreen menu is the same across all of the latest Dell Monitors. The menu is on the bottom of the monitor and each option has its own menu, they are Brightness, Input Source, Colour Settings, Image Modes, Display Settings, Menu Settings and PIP Settings, I found that the menus were easy to navigate round, although an exit button would have been nice instead of having to wait for the options to just disappear. One cool thing is that the image modes option allows you to try out three presets, they are Desktop, Multimedia and Gaming, they do make a slight difference, although I had the tendency to just stick with the Desktop setting all the time.
The monitor also comes with HDCP on the DVI-D port, this means you can connect up High Definition ready products such as a HD-DVD player, BluRay or even SkyHD box to it and watch everything is fantastic detail in full 1080i resolutions. Sitting too close to a monitor of this size does tend to show up more digital noise on the screen, even with HD content, so a more sensible sitting place is needed when viewing movies. As usual, Dell has gone with the standard three-year warranty on parts, labor and any backlight issues, this can be extended by up to two years if you wanted to as well.
Display Mate Tests:
This program lets us test out colour banding and compression.
| Monitor | Mark |
| --- | --- |
| Dell Ultrasharp 2407WFP | 74 |
| Samsung SyncMaster 244T | 72 |
| BenQ FP231W | 70 |
High Quality Photos Test:
As some of you already know, I'm big into photography (http://www.byronhinson.com) so having a good monitor to check shots out and to edit them in photoshop or on the Mac I like to have a large monitor with good colour reproduction. Overall I was very pleased with what I saw, there were some photos that looked better on the Samsung SyncMaster 244T, but you would have to look very hard to find any other problems. The good thing for photographers is the addition of memory card support on the side of the monitor, it works perfectly and it becomes very easy to view your photos quickly straight from your cameras memory card if you want to do it that way.
Conclusion
How It Grades
Installation: 93%
Ease Of Use: 93%
Picture Quality: 94%
Features: 92%
Drivers: 90%
Design: 92%
Manual: N/A
Price: 87%
Overall: 92%
I have been really pleased with the time I have spent with the 2407WFP monitor, the colours are excellent, the response rate is high for gaming and the size of the screen is perfect for high definition content as well as working on the Windows desktop. Another plus is that I really liked the styling of the casing, its minimal just like Apple's monitors and leaves you just focusing on the screen itself rather than outer shine from over styled casings. The massive range of inputs also helps with the high mark, connecting a 360, PS2, Sky HD and a computer to it is possible and you can't say that for many PC monitors.


Feel free to comment on the review here.
Specs & Package
Overall Score
92%
Version Reviewed
Dell™ UltraSharp™ 24-inch Widescreen Monitor - 2407WFP
Release Date
Out Now
The Good Points
Hardly needs any configering
Excellent Colours and Response Rate
Easy to use menus
Great for high-end gaming
The Bad Points
Very slight ghosting
Reviewers PC Setup
Athlon 64 X2 5000+ AM2 Based Processor
Asus M2N32-SLI Deluxe
Corsair 1GB DDR2 XMS2-8500 TwinX
Connect 3D X1900 XT 512MB PCI-Express Graphics Card
Sound Blaster X-Fi
1-Samsung Spinpoint 250GB SP2504C SATA 8MB Cache Hard Drive
1-Maxtor OneTouch II 250GB External Firewire/USB 2.0 16MB Cache Hard Drive
Sony Dual Layer DVD-RW DRU700A Drive
Microsoft Wireless Laser Mouse 6000
Antec 480 Watt NeoPower PSU
Apple 20" Anodized aluminum Cinema Display