DirectX
ActiveMac
Downloads
Forums
Interviews
News
MS Games & Hardware
Reviews
Support Center
Windows 2000
Windows Me
Windows Server 2003
Windows Vista
Windows XP



News Centers
Windows/Microsoft
DVD
Apple/Mac
Xbox
News Search



ActiveXBox
Xbox News
Box Shots
Inside The Xbox
Released Titles
Announced Titles
Screenshots/Videos
History Of The Xbox
Links
Forum
FAQ



Windows XP
Introduction
System Requirements
Home Features
Pro Features
Upgrade Checklists
History
FAQ
Links
TopTechTips



FAQ's
Windows Vista
Windows 98/98 SE
Windows 2000
Windows Me
Windows Server 2002
Windows "Whistler" XP
Windows CE
Internet Explorer 6
Internet Explorer 5
Xbox
Xbox 360
DirectX
DVD's



TopTechTips
Registry Tips
Windows 95/98
Windows 2000
Internet Explorer 5
Program Tips
Easter Eggs
Hardware
DVD



ActiveDVD
DVD News
DVD Forum
Glossary
Tips
Articles
Reviews
News Archive
Links
Drivers



Latest Reviews
Xbox/Games
Fallout 3

Applications
Windows Server 2008 R2
Windows 7

Hardware
iPod Touch 32GB



Latest Interviews
Steve Ballmer
Jim Allchin



Site News/Info
About This Site
Affiliates
Contact Us
Default Home Page
Link To Us
Links

News Archive
Site Search
Awards



Credits
©1997-2012, Active Network, Inc. All Rights Reserved.
Please click here for full terms of use and restrictions or read our Light Tower Privacy Statement.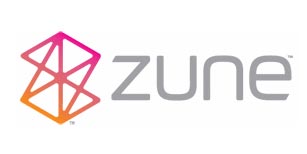 Microsoft 30 GB Zune (Black)
Company: Microsoft
Website: http://www.zune.net
Estimated Street Price: $249
Part Number:
Review By: Byron Hinson
Introduction
Let's get one thing out of the way first, no the Zune isn't as good as the latest Apple iPod. Right we've done with that and now we will concentrate on the stand alone Zune without comparing it to Apple's creation. Microsoft has finally taken its own action in creating a worthy music player, for the last few years they have created the software for companies like Creative and Toshiba so they can go on to produce hardware that will hopefully take the MP3 buying public by storm, unfortunately that hasn't happened with any of the hardware releases over the last few years, with that well know music player ruling the headphones.
This time round Microsoft has decided to not only create the software itself, but also to take over the hardware design as well. While it may be a little while before we see proper Microsoft designed Zune's (this one is designed by Toshiba and is very similar to their gigabeat hardware) this first effort isn't bad at all from a music fans perspective.
Size and Weight
4.4 in. x 2.4 in. x 0.6 in. (h x w x d)
Weight: 5.6 ounces
Battery[1]
Music, up to 14 hours (wireless off), up to 13 hours (wireless on); pictures, up to 4 hours; video, up to 4 hours
Charge Time: 3 hours; 2 hours to 90%
Display
Size: 3.0 inches
Orientation: Vertical and Horizontal
Resolution: 320 x 240 pixels
Audio
Windows Media® Audio Standard (.wma): Up to 320 Kbps, CBR and VBR, up to 48-kHz sample rate
MP3 (.mp3): Up to 320 Kbps, CBR and VBR, up to 48-kHz sample rate
AAC (.mp4, .m4a, .m4b, .mov): Up to 320 Kbps, Low Complexity (LC), up to 48-kHz sample rate
Pictures
JPEG (.jpg): All resolutions (desktop software will automatically convert to 640x480 at sync time)
Video
Windows Media Video (.wmv): Main Profile, CBR or VBR, up to 1.5 Mbps peak video bitrate, 320 x 240 pixels, 30 frames per sec., with Windows Media Audio up to 192 Kbps, 44.1 kHz, stereo audio; Simple Profile, CBR, up to 736 Kbps video bitrate, 320 x 240 pixels, 30 frames per sec., with Windows Media Audio up to 192 Kbps, 44.1 kHz, stereo audio.
Wireless
Connectivity: 802.11 b/g
Range: Up to 30 feet
Language
First let's get the design out of the way, despite early first impressions assuming that Microsoft had also decided to go with a scrollwheel design for the front of the Zune, it isn't actually touch sensitive, it is just a click wheel. The Zune also has a back button and a play/pause button next to the click wheel. Finally up the top we have the headphone socket and the hold button, while at the bottom we have the connection socket for connecting the Zune up to your PC or to any of the mass of accessories that are on the way for it.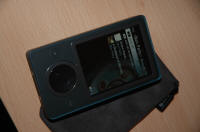 One major plus point that the Zune has over other music players around right now is that the outer casing is made of a rubber material, this is perfect for a music player in my eyes, it means it hardly ever gets scratched, something most MP3 players have had problems with. I can say with my hand on heart that through a month of usage of the Zune, I so far (touch wood) haven't got one scratch on either the casing or on the screen, something I am really pleased about.
So how do I feel about the design? While at first I thought it looked a little cheap, It has certainly grown on me in a big way, its lightweight for a start and the feel of it really strange, but in a good way, it has a good grip on my fingers when holding on to it. The only part I am not too keen on is the click wheel, it does feel cheap and feels like it could break at any moment, it is also sometimes a little sensitive when scrolling through songs. The Zune comes in three different colours, White, Black and Brown – which is the one I really wanted to get, but I'm stuck with Black!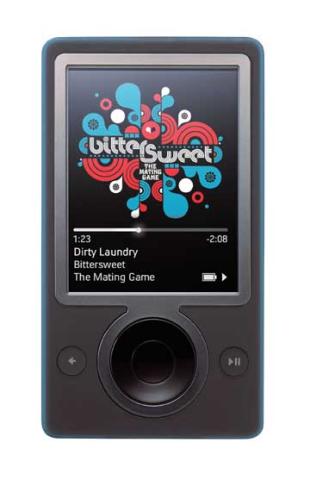 The Zune screen is very nice though, a lot larger than most other music/video players on the market at the moment and I'm pleased with the lack of buttons, because I would much rather have more viewing space than a host of additional buttons on the design. There are other little annoyances though, especially with silly copycat items on the back of the Zune where they have a "Hello from Seattle" message which is very similar to what Apple does.
So now let us get on to the software. The Zune software is basically Windows Media Player 11 without some of the better parts. The look of the software is based on what Zune you have, if you have a brown Zune, it'll be brown, black like mine and it looks like it is black Zune with the wheel interface in the middle-bottom of the screen. The wheel at the bottom of the screen has icons for shuffle, Repeat, Stop, Previous, Next and Volume.
At the top of the screen there are more icons, some which are quite hard to know what they do without hovering over them. The icons are for playlists and burning files along with some other basic features. On installation of the Zune software you will be asked to setup a Marketplace account with your Windows Live! ID, you also setup a Zune tag or use the one you may already have setup with the Xbox Live! Service.
As everyone should know now, the Zune Marketplace is where Microsoft really want everyone to start buying their music from, my view of the service so far is that it's pretty poorly done though. Firstly unlike other music stores Microsoft has, for some reason, decided that you need to buy "Microsoft points" for songs, why is this a bad thing? Well you have to buy bundles upwards of 400 points for $5, but the problem here is that songs cost 79 points, which ends up looking like you are paying less than other stores when you actually are not. Also because you are paying out for an even about of points, you'll never actually be able to spend all your points because of the pricing system, so you are paying for points you are likely to never use. Why they didn't stick to a proper pricing system I'll never know.
Next we have the Zune pass service, this is a subscription based service where you can access all of the Zune Marketplace songs for $14.95 a month (yes they go back to cash when the point system doesn't suit them), this is quite expensive for most people and while I can see the appeal for such a service, I still don't like the idea of subscription based services, I'd still much rather own a full CD and copy it onto my music player.
Now let's get back to the software. Zune is much like Windows Media Player 11 as I stated earlier, it doesn't allow you to connect other devices to the software as expected, and you can't connect to any other services. The Zune software offers all the same vies as Windows Media Player 11 such as stacks and tiles too, so really it's just rebranded.
Overall I like the software itself, but the marketplace is poorly conceived currently. What I don't understand though is that when most people decide to buy a Zune ,the chances are they will have already installed or be using Windows Media Player 11, so why not stick with that one.
So how is the Zune itself? Well firstly let's talk about the large display, the screen is very nice indeed, it is very easy to read off of and allows you to add customisable backgrounds. The main menu has the following on show:
Music – Access your albums

Video – Play videos you have put onto the Zune

Pictures – View photos you have transferred over

Radio – Listen to FM radio

Community– Send music to friends wirelessly

Settings – Adjust various settings
You use the click wheel to navigate through the menus. The middle button is select and lets you select current items, while the back button lets you obviously move back to your previous menu. It's all very easy to use. The best way to describe the navigation is to remember back to the menus that Microsoft used with the Portable Media Centers, everything is done via horizontal menus. The best example is that when you click on Music, you get menu entries for "Artists" "PlayLists" "Songs" "Genres" and "Albums" you just move left or right to scroll through them.
It works the same for both Videos and Pictures. I have to say a thank you to Microsoft for making sure the Zune ships with FM radio, while not as good as Digital radio now over here in the UK, I listen to a lot of radio when out and about and the reception on the Zune is far better than I have heard on any other portable MP3 player and that includes the excellent Creative Zen Vision M. The radio menu looks like a digital radio display. You scroll through stations by pressing left or right. Once you have found one, if they are sending out Text information they will even display the name of the station.
Next we have the Community menu, this is where you can check up information about your own Zune, people who are nearby you or check your Zune Inbox to see if anyone has sent you any tracks. As you may already know, you can send music tracks to friends and they can listen to them up to three times on their own Zune. While this sounds good, in practise the chances of you finding anyone around with a Zune to do this with is very slim indeed, while this may sound like a critical point aimed at saying how poor the Zune sales are, it's just a fact that people have to realize, it's a useless feature unless the Zune sells far more than it has done.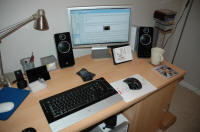 So why hasn't Microsoft added more wireless features to the Zune when the main selling point to make it different from other music players is very unlikely to get used? Anyone's guess. It would have been great if they could have added wireless syncing from your PC to the Zune, but even that hasn't appeared. So all in all, the wireless feature of the Zune is a big let down at the moment.
When you play content on the Zune, it uses up the whole of the great looking display, it fills it up with album art, which while heavily compressed – still looks good when filling up the screen. I'd like to see a slight improvement in art quality though in future updates. Along the bottom you get a timeline, the name of the song, band and album, while on the bottom right you get icons for repeat, shuffle and wireless/battery icons.
Playing video content is very good on the Zune too, the Zune comes with a few videos for you to try out on the display. Thanks to the large screen it looks great, when you play any video the display switches to a horizontal mode, which means you hold the Zune on its side, it works really well and means you can watch some very good looking video on it.
You can also use the select button to access another menu which lets you do things such as shuffle, repeat or send tracks to friends if you can actually find someone else with a Zune. Battery life is ok and can be massively improved by turning off the wireless receiver, but the batter doesn't perform as well as other players such as the iPod or the Creative Zen, which is a little disappointing for a new player on the market.
So what disappointments do we have, well to make people switch from the iTunes service, it would have been great to have had the rumour about Microsoft letting people download iTunes purchased tracks back off of the Zune Marketplace for free so that you have a Zune-Compatible version…this never happened so the best way of doing it is to burn your iTunes tracks to a CD and then rip them back into the Zune.
Conclusion
How It Grades
Installation: 80%
Ease Of Use: 85%
Features: 70%
Drivers: N/A
Design: 80%
Manual: N/A
Price: 80%
Overall: 79%
So my overall view of the Zune is this, from a music playing point of view I can't find much to fault the Zune, the sound quality and the ease of accessing tracks is great. Where we are let down is the marketplace, it isn't well designed and the way for payments is poorly done, it also lacks video sales and more which is something others have now done for a while. It is also selling for the same price as most other music players which actually offer more on their hardware such as games, audiobooks and more. So it feels like an older media player in new clothes.
So really it is a good but far from great start for Microsoft thanks to great casing, a lovely screen, easy to use menu and reasonable battery life. It's just that it is average, it doesn't do anything really new apart from Wireless features that hardly anyone can use or will use, it also lacks features others have. In other words, it feels rushed out to a market they know they are so far behind in, they may well never catch up.
Feel free to comment on the review here.
Specs & Package
Overall Score

79

%
Version Reviewed
Zune - Black
Release Date
Out Now
In The Box?
Zune
Zune Cable
CD
The Good Points
Lovely Screen
Easy to use
Good sound quality
Decent Radio
The Bad Points
Price
Lacks features
Reviewers PC Setup
Athlon 64 5000+
Windows Vista Ultimate
Asus Socket AM2 M2N32-SLI Motherboard
2GB Crucial Ballistix DDR2 800Mhz Memory
Connect 3D ATI X1900 XT PCI-Express Graphics Card
Sound Blaster X-Fi
1 Samsung Spinpoint 250GB SATA II Drive
1-Maxtor OneTouch II 250GB External Firewire/USB 2.0 16MB Cache Hard Drive
Sony Dual Layer DVD-RW DRU700A Drive
Microsoft Wireless Laser Mouse 6000
Antec 480 Watt NeoPower PSU
Apple 20" Cinema Display