DirectX
ActiveMac
Downloads
Forums
Interviews
News
MS Games & Hardware
Reviews
Support Center
Windows 2000
Windows Me
Windows Server 2003
Windows Vista
Windows XP



News Centers
Windows/Microsoft
DVD
Apple/Mac
Xbox
News Search



ActiveXBox
Xbox News
Box Shots
Inside The Xbox
Released Titles
Announced Titles
Screenshots/Videos
History Of The Xbox
Links
Forum
FAQ



Windows XP
Introduction
System Requirements
Home Features
Pro Features
Upgrade Checklists
History
FAQ
Links
TopTechTips



FAQ's
Windows Vista
Windows 98/98 SE
Windows 2000
Windows Me
Windows Server 2002
Windows "Whistler" XP
Windows CE
Internet Explorer 6
Internet Explorer 5
Xbox
Xbox 360
DirectX
DVD's



TopTechTips
Registry Tips
Windows 95/98
Windows 2000
Internet Explorer 5
Program Tips
Easter Eggs
Hardware
DVD



ActiveDVD
DVD News
DVD Forum
Glossary
Tips
Articles
Reviews
News Archive
Links
Drivers



Latest Reviews
Xbox/Games
Fallout 3

Applications
Windows Server 2008 R2
Windows 7

Hardware
iPod Touch 32GB



Latest Interviews
Steve Ballmer
Jim Allchin



Site News/Info
About This Site
Affiliates
Contact Us
Default Home Page
Link To Us
Links

News Archive
Site Search
Awards



Credits
©1997-2012, Active Network, Inc. All Rights Reserved.
Please click here for full terms of use and restrictions or read our Light Tower Privacy Statement.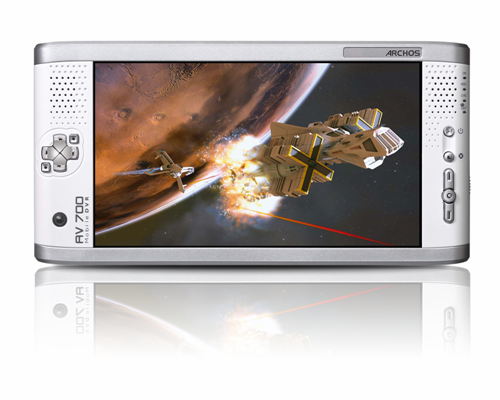 Archos AV700 - 100GB Mobile Digital Video Recorder
Company: Archos
Website: http://www.archos.com
Estimated Street Price: £450 / $800
Review By: Byron Hinson
Introduction
Archos are one of the leaders on portable Media players. They have gathered themselves a good name amongst tech savvy users for excellent ease of use and high quality products, but there is more competition now in digital media players than ever before, you have the Sony PSP, Apple's new video and photo playing iPod along with Microsoft's push for Portable Media Players (although they suck). The AV700 comes with a large 7-inch wide screen, tv-friendly recording for both PAL and NTSC and a whole host of media features such as photo viewing, game playing and video playback. Let's hope that Archos have got this one right, as it costs nearly $800 for the AV700 100GB model that we are reviewing today.
Capacity:

| | |
| --- | --- |
| 40 GB* Hard drive | 100 GB* Hard drive |
| store up to 160 hours of video1, 100 movies1, 20,000 songs1 or 400,000 photos1 | store up to 400 hours of video1, 250 movies1, 55,000 songs1 or 1,000,000 photos1 |

Display:
7" LCD 480x234 pixels, 262 000 colours and TV output
Video recording:
MPEG-47 SP and stereo sound, optimised resolution for TV up to 640x480 @ 30 f/s, in AVI format
Video playback:
MPEG-47 SP with B-Frames with stereo sound. Near DVD quality up to 720x480 @ 30 f/s (NTSC), 720x576 @ 25 f/s (PAL), AVI file format (including WMV9 SP protected files) up to 352x288 @ 30 f/s and 800 Kbits
Music recording:
From an analog source in stereo sound for WAV (PCM & ADPCM) format.
Music playback:
Stereo MP3 decoding @ 30-320 kb/s CBR & VBR, WMA (including protected WMA files), WAV (PCM & ADPCM)
Photo viewer:
JPEG (except progressives) or BMP
AV connections:
TV Docking Pod with video pass through, AV in & out cables (SCART In & Out for European version) and IR emitter cable for tuner control of VCR, cable box or satellite receiver. Earphones / Audio & Video line out. Travel audio-video kit in option to record audio and video analog source on the move.
Speakers:
2 built-in stereo speakers
Interfaces:
USB 2.0 high-speed device, compatible USB 1.1, PC & Mac.

USB Host port compatible Mass Storage Device.

Battery life:
Up to 30 hours6 for music.

Up to 4 hours6 for video on built-in LCD.

Removable battery (additional battery optional)

Scalability:
Download firmware updates from www.archos.com
Power source:
Internal: rechargeable Lithium-Ion Battery.

External: AC charger/adapter

Dimensions:
approx.: 10.7 x 20.9 x 1.9 cm - 4.2" x 8.2" x 0.8"
Weight:
590 g - 20.8 oz
Minimum system requirements:

For TV, VCR, Cable box, or satellite receiver connection:

Audio & video in/out RCA jacks (connection cables & TV docking pod provided in box – including SCARTs for EU version)

For computer connection:

Minimum computer configuration:

PC with Windows® ME, or 2000, and USB 2.0 port.

Macintosh® G3 with MAC OS v10.2.4 or higher, Macintosh® G3 and USB 2.0 port.

Minimum configuration for Playsforsure:

PC with Windows® XP SP1 or higher operating system, Windows Media® Player 10 or higher, and USB 2.0 port.

package includes:
AV 700, TV Docking Pod, remote control (with batteries), audio/video cables (SCART in/out for European version), USB 2.0 cable, USB host adapter, AC adapter & charger, stereo headphones, protective case, user guide.
*) 1 GB = 1 billion bytes, formatted capacity is less.
(1) On average; based on 3.5 mins/song & 64 kbits/s WMA (for better quality 128 Kbit/s or more recommended), on 500 kbits/s MPEG-4 audio/video encoding and 1h30/movie (for near DVD Quality 1500 Kbits/s encoding or more recommended), on JPEG, VGA.
(2) External video output disabled for Macrovision®-protected contents.
(3) Only cameras compatible with Mass Storage Class USB.
(4) Microsoft WMV9 Simple Profile up to 352x288@30f/s and 800 KBit/s ; supports WM DRM.
(5) Mophun™ games, availability not contractual, check from www.archos.com.
(6) Battery life may vary with use.
(7) MPEG-4 SP with B-Frames AVI (MPEG-4: ISO standard by Moving Picture Experts Group ; AVI: audio/video file container by Microsoft) up to 720x480@30f/s NTSC or 720x576@25f/s PAL; has not been certified by DivX, Inc., may not read all DivX® 4.0 & 5.0 files; does not read DivX® 3.11 & 6.0 files; DivX® registered trade mark of DivXNetworks, Inc.
The Package & Review
As with any hardware item that is as expensive as the Archos, you expect it to come with a lot of stuff inside the box, there are a number of items.
User Guide

Audio/Video and SCART cables

USB 2.0 Cable

AC Adapter and Charger

Stereo Headphones

Remote Control

Protective Case

TV Docking Pod

Archos AV700 Mobile DVR

Removable Lithium-Ion Battery
The Archos AV700 itself is quite bulky, it doesn't look or feel as good as say the Sony PSP, but the large screen is likely to get a lot of people interested in it. If you compare the size of the AV700 to the new Creative Zen you can see the difference, its massive. It's also very heavy and certainly isn't a media device that you are going to even attempt to carry around in your pocket, but in all fairness to Archos, considering its being used to record video from your tv (and playback on your tv) and then to be taken out of a bag on a journey to view large movies its not a major problem. As mentioned a second or two ago, its a large screen than nearly all other Portable Video Players on the market, 7 inches in fact, while this sounds great on paper, the LCD Screen only produces 480x234 pixels which is on the low side considering the Creative Zen Vision's screen looks wonderful in 640x480 as does the Sony PSP screen.
When you first get hold of the AV700, you will immediately think of the feeling you get holding the Sony PSP, it feels like a handheld gaming device, it even has a D-Pad controller on it. The D-Pad is used to go through the menus on the device and play games. The interface used on the AV700 is bright and cheerful and contains easy to get to links to sections like Video, Music and Photos along with the Video recorder and scheduler. The connectivity ports on the AV700 are based at the top of the device, you have the AC port, headphone port, A/V and docking pod port, next we have two USB 2.0 ports, one is a standard port to connect to your PC, the other one is a host port that can accept connections from devices such as digital cameras to transfer your photos from.
The Archos AV700 comes with a TV Docking Pod, this small circular shaped dock has A/V-in, A/V-Out, S-Video-In, Power and IR-Blaster ports on it. This device isn't used for charging or sitting your AV700 on, its simply used to sit next to the AV700 and connect up to your TV to record programmes. The docking pod is a cool device, it can connect up to DVD players, record TV and even has VCR style scheduling so that you can leave it connected up to your TV to record TV programmes when you are not there. The device also supports Microsoft's PlayForSure content, but as usual with that there is very little on offer right now.
As mentioned, you can program the Archos AV700 to record TV shows, this is like using a VCR, it can be slow and cumbersome. You can automate schedules by using a My Yahoo TV Calendar, but its a long winded process and doesn't work for every country. If it had a built in TV guide option to get program information then it would be a godsend just like Media Centers should be, but alas it doesn't. But there isn't much to moan about here in all honestly as the AV700 is one of the few Portable Video Players that can record this way at the moment.

First connection to your computer is easy, one you have decided what mode to run your Archos AV700, you get the choice of Hard Drive or Windows Device mode, now the default should be Windows Device, but for whatever reason my new out of the box review AV700 was in Hard Drive mode which means you have to do drag and drop file management, so basically it turns the AV700 into an external hard drive. In the Windows Device mode you can connect it up to your PC and have the ease of Windows Media Player 10 autosyncing your audio, video and your photos. This was the easiest way for me to use it, although there was no problem using the Hard Drive mode at all if I ever needed to, it works perfectly well.
When you finally get down to playing video on your AV700 you can change things like aspect ratio, slow motion modes and add bookmark modes, although the main menu on the AV700 also has a resume mode if you want to return to a film you have started at a later date. For music playback the AV700 covers most of the main formats such as MP3, Protected WMA and WAV, there is also an iTunes plug in Mac users though the AAC format is sadly missing from the list and considering this is getting more popular day by day its sad to see it not here with the AV700, but it may be added in a future firmware update. The large screen is good for showing off album art, and it still leaves enough room for artist names, album name, bit-rate and playback time details.
As for the photo features on the Archos AV700 there isn't much to say as its basically the same as nearly every other photo viewer on the market, you can however connect your digital camera up to the AV700 and transfer you photos to it, this is a nice touch considering the size of the hard drive inside the AV700, but remember that the device can only view JPEG and BMP files, other types can be downloaded to the devices hard drive but cannot be viewed.
Gaming isn't anything to get excited about on the Archos AV700, it uses the Mophun Gaming Engine, but there are very few titles avaliable right now, I have played a number of the demos that are available online, but none of them are any better quality than those you already have on your mobile phones, so the gaming area of the AV700 is one major downside, although if you want a games machine, you'll already be buying the Sony PSP won't you?
Conclusion
How It Grades
Installation: 80%
Ease Of Use: 80%
Transfer Speed: 80%
Features: 75%
Drivers: N/A
Design: 80%
Video Quality: 65%
Audio Quality: 75%
Manual: 90%
Price: 70%
Overall: 77%
A lot of people won't be bothered by the low quality screen, but when you are paying out such a large amount of money on an item that you are likely to sit down on journeys and watch quite often, you expect that the screen will be as good, if not better than those other media players like the Zen Vision which are nearly half the price. So why is it so expensive? Well for a start this model is the 100 GB version so it can hold endless amounts of video, music and photos it does have some great battery life, I timed it at 34 hours in audio tests, but in saying that the video battery time wasn't so good, it lasted just over 5 hours. So if you are in the market for a Portable Digital Video Recorder, the AV700 is one of the only choices right now, but the lack of a high quality screen is a real let down here when you consider how good it could have been. But don't get me wrong, its still a good product and I already know its become a firm favorite here with family members who have gone on train journeys and prefer viewing the larger screen rather than the smaller but better quality Zen one.
Feel free to comment on the review here.
Specs & Package
Overall Score
77%
Version Reviewed
Archos AV700 100GB Mobile DVR
Release Date
Out Now
In The Box?

User Guide
Audio/Video and SCART cables
USB 2.0 Cable
AC Adapter and Charger
Stereo Headphones
Remote Control
Protective Case
TV Docking Pod
Archos AV700 Mobile DVR
Removable Lithium-Ion Battery

The Good Points
Massive Screen
Large Hard Drive
Good Sound
Excellent Music Battery Time
The Bad Points
Too big for your pocket
Poor quality screen
Too Expensive
Reviewers PC Setup
AMD Athlon 64 4000+
Sapphire Axion RS480AS9-A58S Socket 939 Motherboard
Crucial 1280 MB DDR PC2700
ATI X850 XT 256mb Graphics Card
Creative Labs X-Fi Extreme Music
180 GB Western Digital Hard Drive 7200 RPM, 8mb Cache
Sony 16x DVD-RW
Sony CD-RW (40x12x48x)
Creative Inspire 5.1 5300 Speakers
Viewsonic VP171s LCD Monitor