DirectX
ActiveMac
Downloads
Forums
Interviews
News
MS Games & Hardware
Reviews
Support Center
Windows 2000
Windows Me
Windows Server 2003
Windows Vista
Windows XP



News Centers
Windows/Microsoft
DVD
Apple/Mac
Xbox
News Search



ActiveXBox
Xbox News
Box Shots
Inside The Xbox
Released Titles
Announced Titles
Screenshots/Videos
History Of The Xbox
Links
Forum
FAQ



Windows XP
Introduction
System Requirements
Home Features
Pro Features
Upgrade Checklists
History
FAQ
Links
TopTechTips



FAQ's
Windows Vista
Windows 98/98 SE
Windows 2000
Windows Me
Windows Server 2002
Windows "Whistler" XP
Windows CE
Internet Explorer 6
Internet Explorer 5
Xbox
Xbox 360
DirectX
DVD's



TopTechTips
Registry Tips
Windows 95/98
Windows 2000
Internet Explorer 5
Program Tips
Easter Eggs
Hardware
DVD



ActiveDVD
DVD News
DVD Forum
Glossary
Tips
Articles
Reviews
News Archive
Links
Drivers



Latest Reviews
Xbox/Games
Fallout 3

Applications
Windows Server 2008 R2
Windows 7

Hardware
iPod Touch 32GB



Latest Interviews
Steve Ballmer
Jim Allchin



Site News/Info
About This Site
Affiliates
Contact Us
Default Home Page
Link To Us
Links

News Archive
Site Search
Awards



Credits
©1997-2012, Active Network, Inc. All Rights Reserved.
Please click here for full terms of use and restrictions or read our Light Tower Privacy Statement.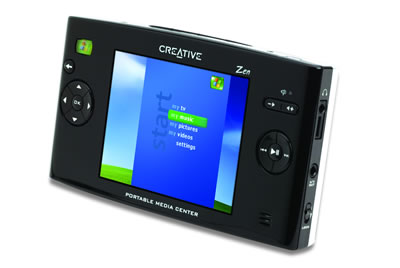 Product: Creative Zen Portable Media Center
Company: Creative
Website: Creative Zen PMC Page
Estimated Street Price: $499/£349.99
Review By: Byron Hinson
Introduction
Portable Media Centers (as Microsoft likes to call them) have been around for sometime in one form or another. Most of them come with drives and small LCD screens and you are usually able to use them to listen to music and look at digital video in addition to being able to playback video clips. This first version of Microsoft's Personal Media Center software has finally hit stores in the form of both Creative and Samsung Portable Media Center. This review focuses specifically on the Creative Zen Portable Media Center (as shown below). So what do these PMC's let you do? Well you can play music, watch recorded TV or video shows and view your photos on them.
Creative Zen Portable Media Center puts all your favorite videos, music, and photos at your fingertips wherever you are. Take digital entertainment from your PC with you on the go, including recorded TV shows, downloaded videos, home movies, music, and photos. With Windows Mobile software featuring an easy-to-use, familiar Windows Media Center Edition interface, Portable Media Centers let you enjoy immediate access to all of your favorite entertainment - anytime, anywhere.
Creative Zen Portable Media Center enables portability of up to 85 hours of movies, 9,000 songs, or up to tens of thousands of photos on a sleek, handheld device.

Watch up to 85 hours of Movies, Recorded TV Programs or Home Videos1

Store and listen up to 9,000 songs1

Carry and enjoy up to tens of thousands of photos1

Large, high resolution 3.8" TFT LCD backlit for crisp and clear images

Removable and rechargeable Li-Ion Polymer Battery - carry a spare so your entertainment will never be cut short

Powerful Windows® Mobile operating system lets you easily sync, find and manage your digital entertainment

Quickly transfer content from your PC to your Zen Portable Media Center with USB 2.0

Built-in speaker means you can enjoy your movie or music with others

4 presets buttons that shortcut to your favorite TV show, movie or song

Works with popular formats like WMV, WMA, MP3, JPG
PMC
So where do we start? Well the Creative Zen Portable Media Center is great to look at, the sleek design is well suited to a media player, it has a large and clear enough 3.8" LCD screen to make viewing of Photos and Movies big enough for anyone to bother with and fits quite well into your hands. The package comes with a nifty little leather case to hold the Zen inside; it holds it well, although it would have been nice for the package to come with a remote so that changing tracks etc isn't a pain in the backside when walking around with it. In saying this, you can purchase a remote control separately, which includes FM radio but Creative could have included even the most basic one inside the package.
The Portable Media Center UI is very well done and easy to navigate, it takes a few minutes to get used to, but the fancy zooming effects and thumbnail images make it look very stylish to look at, especially when you show it off to friends who haven't seen one before, it certainly impressed my family when I showed them some of my Digital Photos on the Zen Portable Media Center
Portable Media Center like the Zen run off of Windows Media Player 10, from here you can setup music libraries, arrange your TV and movies into the order you want to get them onto your Zen player. It all works well when you are syncing files for the first time. Windows Media Player 10 converts your files into the correct formats that work on the Portable Media Center, but don't expect it to be easy if you already have a large range of TV programs recorded in a format other than WMV as it is a pain to get them converted. Photos that you have on your PC will be downsized so that they load faster on the Personal Media Center which is great, although it would be nice to have an option to keep them full size so that you could perhaps transfer them from PC to PC.

Now you may already know this, but a Personal Media Center player like the Zen is best used with a Media Center PC or a PC with a TV tuner/recorder. If you don't have one of these it is very hard to recommend the Portable Media Center to anyone as its too large to be just a music player and isn't advanced enough to just show off small photos as when you want to show them off to friends on a TV or projector you will find the downsized images look pretty ugly on any TV over 16" in size, another reason why keeping full sized photos on your PMC would be a very good idea.
TV & Video
If you do have a Media Center PC then using your guide will bring up loads of TV shows that you can record and then transfer over to your Portable Media Center. When you use your Media Center PC and record a TV show, the media center pc saves the file as a DVR-MS file which tends to be around 1 GB per 30 minutes of video footage. These files can then be added to Windows Media Player 10 and then get converted into a smaller file that is then synced to your Portable Media Center. One thing I have to mention here is that this process takes a long time to do, a simple example is that a 30 minute TV show takes about 28 minutes to convert to a WMV (Windows Media) files and then sync onto the Portable Media Center. It's a long time and it is the biggest pain I have with Portable Media Center right now. There has however been talk of an update for Media Center 2005 coming out which allows you to just record content into Portable Media Center format, which means the decoding of the file will already have been done, thus the file will just need to be sent over to the Portable Media Center player.
Video can be played back at 30 frames per second at 800kbs. Microsoft have now made some movies available for download online through CinemaNow.com and other companies for a fee, personally I can't recommend using these services as anyone with any quality sense will prefer to pay for a DVD rather than just have a small file on their Portablel Media Center to watch, as playback on a TV isn't good. You can store around 80 hours of movies on the 20 GB Zen Personal Media Center. If Portable Media Center are going to catch on with anyone, they are going to have to allow DVD movies to be decoded and copied to them just like users can with their music CD's.
Music
Music is excellent on the Portable Media Center Zen and syncing of your files is really easy if you have your library setup in Windows Media Player, they will sync straight over the moment you connect your Portable Media Center to your PC. As an extra you get to view album art on the device which does give it a bit of extra shine to it. I've put on 15GB's of music files which for me was around 3750 songs. Sound quality of the WMA files is great and compression is better than most MP3 formats too, it is a shame I can't put on my mass of AAC files I have off of my Mac though thanks to the Ipod. The main thing I have to mention here is that no one should just buy a Portable Media Center Zen or any other Portable Media Center player to play just music, it is not worth it as the players that around right now are far too big for anyone to want to carry them round, the lack of a remote with the Zen also doesn't help matters!
Settings, Sound Quality & Battery Time
Settings: You can control the music equalizer, display, effects and language settings, including the following:
Display brightness

Stereo and TV Out, including support for both NTSC and PAL

Backlight dim timing

Select a language (English, German, French, Spanish, Italian, Japanese, Korean and Traditional and Simple Chinese)

Display information about drive content (number of songs, videos, pictures; used and free space)

Enable or disable UI sounds and UI animations

Shuffle and repeat functions and equalizer
The sound from the speaker that is built into the Zen isn't as good as I hoped it would be, the sound volume can't get all that high and the sound quality sounds very tinny even on high quality MP3's, this all changes when you attach headphones though, so it is defiantly the built in speakers that are on the low quality side. One other problem I had was sound cutting out when I took headphones out of the Zen, I wasn't sure if this was a problem with our review unit or what happens with some of the Zen's but i felt I should mention it.

How It Grades
Installation: 92%
Ease Of Use: 91%
Speed: 90%
Features: 90%
Drivers: 90%
Design: 85%
Manual: 91%
Price: 78%
Overall: 87%
Something that bugs a lot of users of Media players, be them Ipods or just simple MP3 players will complain about is battery time, during various tests I played the Zen Portable Media Center for about 5 hours continuously from a full charge while watching some recorded TV, the battery time still showed just under 50% so that's very good, as for music, well it lasts ages there. The only problem I had was that you can't charge through USB, well only a trickle charge which to most users will be useless.
Conclusion
Portable Media Center are the future of media players as far as Microsoft is concerned, this first version certainly shows where they may be headed, and I have high hopes they will get much better in the future. As for the Zen it's the best one currently available from a small group of players. In my view though, if you don't have either a Media Center PC or a TV card, there is no need to buy a Portable Media Center, if you do - don't blame me when it gathers a lot of dust on your desktop.
Feel free to comment on the review here.
Specs & Package
Overall Score
87%
Version Reviewed
Zen Portable Media Center
(Dec 04 Firmware)
Release Date
Out Now
In The Box?
1 Zen Portable Media Center
Power Adapter
Li-Ion Polymer Battery
Protective Carrying Case
Pair of Earphones
USB 2.0 Travel Cable
Video & Line Out Cable
Quick Start Guide
Installation CD Includes
Window Media Player 10
User Guide
The Good Points
Great Screen
Great for ported TV Media
Excellent Headphone Sound
Great Battery
The Bad Points
No use without a TV Card/Media Center PC
Built In Speakers Bad
Reviewers PC Setup

AMD Athlon 64 3800+
Asus AV8 Deluxe 949 Motherboard
1024 MB Crucial Dual Channel DDR PC3200 Memory
ATI X800 Pro 256mb Graphics Card
Creative Labs Audigy 2 Sound Card (OEM)
80 GB Western Digital Hard Drive 7200 RPM, 8mb Cache
Sony DRU-710A 16x DVD-RW Dual Layer Drive
Sony CD-RW (40x12x48x)
Creative Inspire 5.1 P580 Speakers
Viewsonic VP171s LCD Monitor