DirectX
ActiveMac
Downloads
Forums
Interviews
News
MS Games & Hardware
Reviews
Support Center
Windows 2000
Windows Me
Windows Server 2003
Windows Vista
Windows XP



News Centers
Windows/Microsoft
DVD
Apple/Mac
Xbox
News Search



ActiveXBox
Xbox News
Box Shots
Inside The Xbox
Released Titles
Announced Titles
Screenshots/Videos
History Of The Xbox
Links
Forum
FAQ



Windows XP
Introduction
System Requirements
Home Features
Pro Features
Upgrade Checklists
History
FAQ
Links
TopTechTips



FAQ's
Windows Vista
Windows 98/98 SE
Windows 2000
Windows Me
Windows Server 2002
Windows "Whistler" XP
Windows CE
Internet Explorer 6
Internet Explorer 5
Xbox
Xbox 360
DirectX
DVD's



TopTechTips
Registry Tips
Windows 95/98
Windows 2000
Internet Explorer 5
Program Tips
Easter Eggs
Hardware
DVD



ActiveDVD
DVD News
DVD Forum
Glossary
Tips
Articles
Reviews
News Archive
Links
Drivers



Latest Reviews
Xbox/Games
Fallout 3

Applications
Windows Server 2008 R2
Windows 7

Hardware
iPod Touch 32GB



Latest Interviews
Steve Ballmer
Jim Allchin



Site News/Info
About This Site
Affiliates
Contact Us
Default Home Page
Link To Us
Links

News Archive
Site Search
Awards



Credits
©1997-2012, Active Network, Inc. All Rights Reserved.
Please click here for full terms of use and restrictions or read our Light Tower Privacy Statement.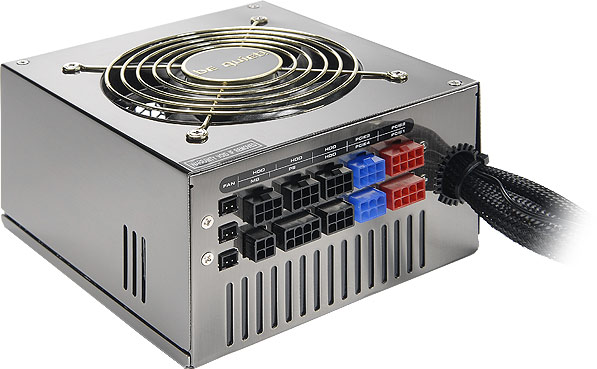 be quiet! Dark Power Pro 750W
Company: Be Quiet
Website: http://www.listan.de/
Estimated Street Price: $249
Part Number:
Review By: Byron Hinson
Introduction
I sometimes find it hard doing Power Supply reviews, its quite easy to say one is better than the other just basing it on how stable they tend to be, but more recently the power supply market has really gained more and more attention thanks to the fact that more hardware is starting to require even larger power supplies. Our first ever power supply review comes in the form of the new Be Quiet! Dark Power Pro range, this particular one running at 750W, although a massive 850W version is also out now as well. Be Quiet are a new company on the market with their power supplies and may not be quite as well known as say Antec, Hiper and others, but lets just say that this is already one of the best new power supplies on the market right now and a lot of loving has gone both into the hardware as well as the packaging and that is always a good sign to see.
The Dark Power Pro offers sufficient performance for all high-end PCs and sets standards with respect to noise levels, quality, economic efficiency and voltage stability. It primarily convinces with the numerous plus points of its four exceptional performance packages:

TOP EFFICIENCY

- extremely high efficiency rate of up to 84%
- active PFC with PF of up to 0.99:
- stabilisation and improvement of the output currents.
- the Dark Power Pro uses no power when it is switched off (0W)
- manufactured strictly according to RoHS guidelines

THERMO CONTROL

Fan follow-up control (ECASO) protects sensitive hardware such as graphic cards or hard drives effectively from overheating. The power supply fan and the fans connected to the power supply are supplied with power for 3 minutes after shutting down.
The thermal electronics regulates the rotational speed of the power supply fan and of the 3 housing fans connected directly to the power supply. The speed indicator signal of the power supply fan can be read out over the mainboard.

SERVICE PLUS

3 year guarantee, 1 year more than legally required.
1 year of free on-location replacement service: at the front door of the end customer within 48 hours
(in Germany).

HIGH CONNECTIVITY

- flexible cable management (up to 19 cable strands, 17 of them removable)
- high quality processing, with nylon weave cable sheath
- greatest compatibility with available mainboard technologies
- four separate 12V circuits ensure an independent power supply of the CPU
- the use of SLI, CrossFire systems and Quad SLI solutions is made possible by four 6-pin PCIe VGA connectors!
- P8 connection for dual server mainboards
- 12 x SATA connections
- Forward looking for the next generation of graphic cards
Technical data:
750 W Power
ATX12V Version 2.2
24 Pin Mainboard Connector with adapter to 20 Pin
4x PCI-Express Connectiors
12x SATA Connections on two wiring harnesses
11x 4 Pin Connectiors (HDD)
1x 4 Pin Connectiors (FDD)
1x 120mm Silent fans
Active PFC with PF up to 0,99
2 separate 12V Connections
P4 and P8 Connnector
3x 3 Pin Molex fan Connectors
Specification: +3,3V: 24A, +5V: 30A, +12V1: 20A, +12V2: 20A, +12V3: 20A, +12V4: 20A, -12V: 0,8A, +5VSB: 3A
The scope of supply includes:
BQT P6-PRO-750W - UK Version power supply
UK Power supply cable
Fastening screws
Cable binder
Manual German / English / French Spanish
Packing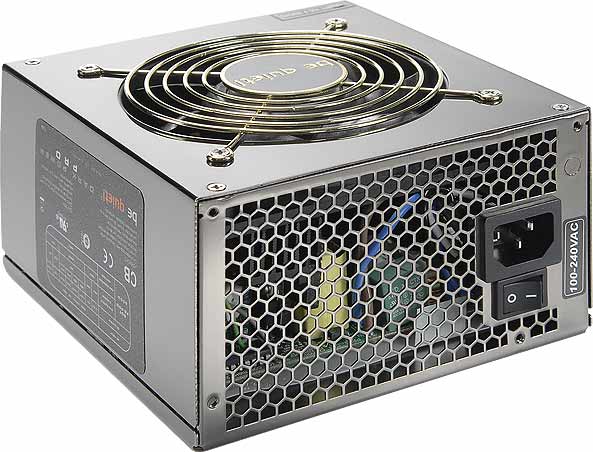 First lets get the box out of the way, a good sign of a decent power supply is the weight, well this is one heavy beast and the box tells you this from the offset as its very heavy indeed. Turn over the box and on the back it even gives you details and information about the exact cable lengths of this power supply unit. So a good start all round. Once inside the packing you get your first look at the power supply, its well wrapped up in bubble wrap so that no damage has occurred in transporting it. Also good to see is that all the modular power cables come in a separate box inside the package, good news simply because there are so many items there that it is always a pain when companies just shove them to the bottom of the box.
As mentioned a little earlier, the DarkPower Pro 750W is a modular design, this means that you only need to use the power cords you want to use to connect up all of your computer hardware inside your PC. This helps both to reduce clutter and cable mess inside your case, but also it helps with air supply. The look of the power supply is a brushed metal style, it uses a clear lacquer over the top of it, so not only does it perform well, it looks pretty good too...not that it matters too much when it is inside the PC! There is also no switch needed to change the input voltage between 110V and 220V thanks to the circuitry inside the power supply automatically detecting the supply voltage.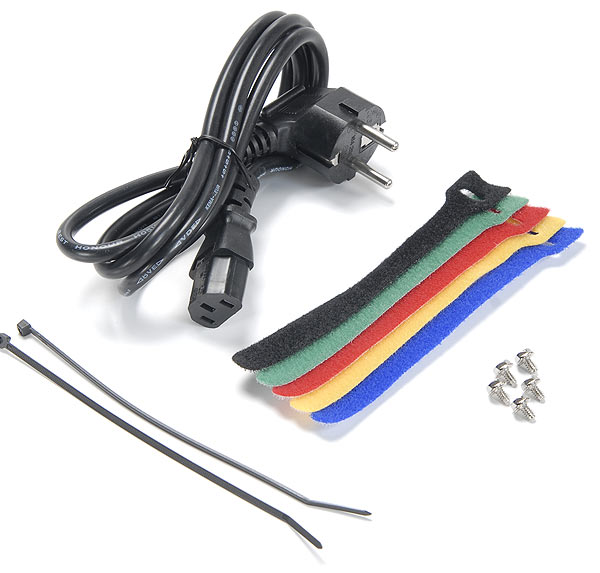 Now lets get down to what connections are included in the box and what differences there are between them and the ones used in most other power supplies. Firstly we have a small 24 pin to 20 pin ATX power connector, usually you have to use an adapter that uses a cable inbetween them, this not only adds more wiring to your case, but also wastes space, this new idea is much better for most users. Depending on what motherboard you have, you will need to use either a 4-pin or 8-pin connector to supply the CPU voltage to the motherboard. The 4-pin cable is fixed in to the PSU just like the ATX 24 Pin cable, but if you need to use an 8-pin connection you can plug an extra cable into the back of the power supply and then use that instead.
Next up we have the PCI-Expression video card cables, we are mentioning these because they have some different components inside them compared to other power supplies, they are there to help stabilize the supply voltage, thus they should help to maintain stability of the system when using high-end graphics cards. It is hard for us to test out the benefits from these, but either way it is a nice feature to have on them and shows the work that has gone into the power supply. The pack also has a total of four PCI-Express 16x cables and separate connections on the power supply for each of them, great news for those who plan on running an Nvidia GeForce 8800 in SLI as they need four cables in total! Also in the box we have a number of small caps that can be used to cover up unused plugs. The idea of this is to try and prevent any type of short circuits that may occur inside the case. This is once again a good addition to the pack.
Fan Noise at 10 CM (Lower Is Better)
Be Quiet DarkPower Pro 750W idle: 43 dbA

Be Quiet DarkPower Pro 750W Load: 43 dbA

Cooler Master RealPower 550W Idle: 44 dbA

Cooler Master RealPower 550W Load: 59 dbA

OCZ GameXStream 700W Idle: 43

OCZ GameXStream 700W Load: 51
PSU Efficiency at 320W Load (Higher Is Better)
Be Quiet! DarkPower Pro 750W: 77.48%

CoolerMaster RealPower: 550W: 76.55%

OCZ GameXStream 700W: 74.47%
be quiet! DarkPower 750W - BQT P6-PRO 750W
AC Input
100V-240V, 12A-6A, 50 Hz
DC Voltage
+3.3V
+5V
+12V1
+12V2
+12V3
+12V4
-12V
+5VSB
Max. Output
24A
30A
20A
20A
20A
20A
0.8A
3A
170 W
600 W
20W
750 W
Conclusion
How It Grades
Installation: 92%
Ease Of Use: 92%
Features: 92%
Drivers: N/A
Design: 92%
Manual:

90%


Price: 88%
Overall: 92%
Without a doubt the Be Quiet! DarkPower Pro 750 Watt Power Supply is a superb piece of hardware, not only does it looks good, it has an excellent connection range for just about everything you will be needing in the next year or so in terms of hardware. It is very powerful and it remains quiet even when under high loads, an excellent sign is that it doesn't even get overly hot when really under strain. I can't say many better things about this Power Supply other than I can't wait to try their even more powerful model in the future. A first class power supply, well worth the high cost.

Feel free to comment on the review here.
Specs & Package
Overall Score

92

%
Version Reviewed
Be Quiet! Dark Power Pro 750W P

ower Supply

Release Date
Out Now
In The Box?
Power Supply
Connectors
Instructions
Adapters
The Good Points

Four PCI-E video card connectors
Modular
Four 12V rails with massive 20 A each
Good voltage stability
Very well thought out modularity design
All cables are sleeved
Temperature controlled fan
Very Quiet
Huge number of connectors available
Fan connectors included

The Bad Points
Price
Reviewers PC Setup
Athlon 64 5000+
Windows Vista Ultimate
Asus Socket AM2 M2N32-SLI Motherboard
2GB Crucial Ballistix DDR2 800Mhz Memory
Connect 3D ATI X1950 XTX PCI-Express Graphics Card
Sound Blaster X-Fi
1 Samsung Spinpoint 250GB SATA II Drive
1-Maxtor OneTouch II 250GB External Firewire/USB 2.0 16MB Cache Hard Drive
Sony Dual Layer DVD-RW DRU700A Drive
Logitech MX Revolution Wireless Mouse
Logitech DiNovo Edge Keyboard
be Quiet DarkPower 750W PSU
Apple 20" Cinema Display