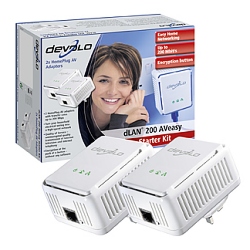 dLAN 200 AVeasy Starter Kit
Company: Devolo
Estimated Street Price: £100
Review By: Byron Hinson
Introduction
Powerline networking has started to become more popular over the past year – mostly due to the work both Devolo and Netgear have done with their products. Devolo were one of the first companies I went to when I setup a powerline network at home a couple of years ago and it was as simple as they said it would be. At the time the speed wasn't the best, but it did the job I wanted when my wireless network range either wasn't great or the PC didn't have a wireless card in it.
dLAN 200 AVeasy Starter Kit – your fast home network
dLAN 200 AVeasy connects Ethernet network-enabled devices such as PCs, modems, routers, game consoles and set-top boxes via your household power grid. It complies with the new HomePlug AV standard and supports data speeds of up to 200 Mbps. Its speed opens the door to bandwidth-intensive applications such as Internet television (IP-TV in HD quality), video-on-demand, VoIP telephony and fast Internet access – with "Quality of Service" for smooth operation. It achieves a range of 200 meters within a single household grid, giving you the greatest possible flexibility to use your applications throughout the house.
Network access from any electrical outlet
Just plug the dLAN 200 AVeasy adapter into an electrical outlet to turn your power grid into a convenient data network. All you need is two adapters to take advantage of the full range of services. If ever you decide to use a room for a different purpose or rearrange your office – no problem. Your network moves with you – without the need for laying new cables. Just plug the adapters into different electrical outlets. That's it!
Maximum data security
The special feature of the dLAN 200 AVeasy adapter: a touch of a button is all it takes to activate powerful 128-bit AES (Advanced Encryption Standard) encryption for maximum security. No additional software is required. Locking down your network couldn't be easier!
Out of the box. Into the wall outlet. Network. Simple plug and- play networking of a range of devices via the household power grid

Encryption at the touch of a button

Up to 200 Mbps – ideal for Triple Play applications such as IPTV, video-on-demand, VoIP telephony and high-speed Internet access

200-meter range. In the office or at home – in any room of the house

Quality of Service (QoS) – guarantees transmission quality by automatically prioritizing data

Patented power-saving mode automatically reduces standby power consumption by up to 30%

3-year warranty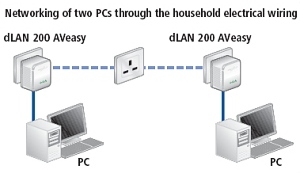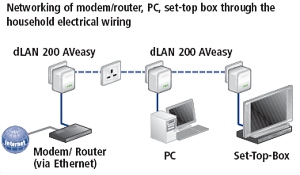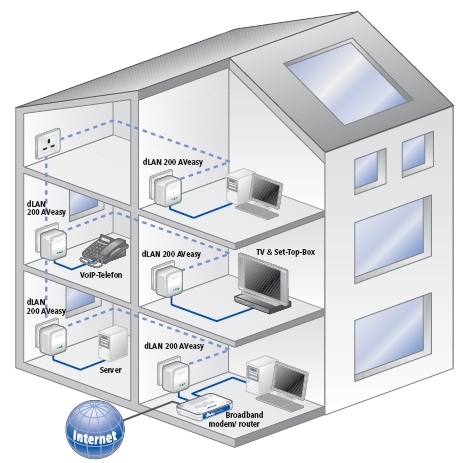 The dLAN 200 AVeasy kit is one of their newer range, with support for up to 200 Mbps. In our tests it doesn't quite reach that but it does maintain steady speed that tends to be above any of the Draft-N Wireless routers we have used bar the Apple Express. The speed tended to be around 39.2Mb/sec. As I stated earlier, the speed is steady, it doesn't fluctuate much at all compared to that of wireless networking. This has been the same no matter where I placed the powerline in the house. The only problem I have is that it doesn't work quite as well on a plug extender, but this is the norm for most powerline adapters. In fairness though, the dLAN 200 AVeasy kit works far better on extensions than any other powerline I have used.
Another good thing about the dLAN 200 AVeasy Kit is how much of a breeze it is to add security settings to it. The dLAN 200 support 128-bit AES, which is applied via a couple of button, presses on the device, something that is far easier to setup than on a wireless router.
The dLAN 200 also comes with a CD which contains quality of service software which can be used for prioritizing certain types of traffic such as VoIP but you don't need to install this as the dLAN 200 works perfectly straight out of the box and into the wall.
So are there any downsides to the device? Well apart from the price (which is more expensive than most wireless routers) there isn't any that I can think of. I haven't had one problem with this setup, it downloads files at full speed through my cable modem network, it streams HD movies with no slow down or buffering needed, and it connects to the rest of my network drives with no speed problems or connection problems either.
Feel free to comment on the review here.
Specs & Package
Overall Score
91%
Version Reviewed
dLAN 200 AVeasy Starter Kit (PAL)
Release Date
Out Now
In The Box?
2x dLAN 200 Powerline Plugs
2x Ethernet Cables
1 Set Of Instructions
The Good Points
Excellent Speed
So easy to setup
No wireless signal problems
The Bad Points
Expensive