Maxtor's OneTouch II external Hard Drive offers higher capacities when compared to the older OneTouch series of drives. Not only are the drives larger, but the performance and security aspects are far better too. The latest Maxtor OneTouch II drive is built around Maxtor's 3-5-inch DiamondMax 10 drive, which has 16mb of hardware cache and spins at 7,200rpm thats 17 hours of DV video or 4,100 hours of MP3 music to those of us who are interested in that kind of thing.
The Review
With both USB 2.0 and FireWire connectors, the OneTouch II can move data at a peak throughput of up to 480Mbps and 400Mbps, respectively. The box comes with an AC adapter, a CD with installation and backup software, a setup manual, a handy stand, and cables for both USB and Firewire interfaces. While a number of people didn't like the original design of the OneTouch drives, the OneTouch II looks very similar, it is still bulky in size but it now has a vented aluminum trim around it for cooling and a nice blue-lit backup button, the stand allows you to place the OneTouch II drive on its side so you can free up more space around your PC.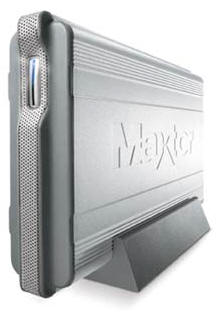 The good thing about the Maxtor drive is that it can work in both Windows and Mac operating systems and I had no problem setting it up on either. As my main system is a Windows XP Pro Athlon 64 4000 based PC I installed in mainly on that machine, installation was really easy. I connected it up via the USB 2.0 connection that it came with (although you can connect it up via Firewire if you prefer)
As I have said, setting up the drive can be done in as little as 2 minutes if you follow the manual, the OneTouch II drive takes up the next available drive letter and is then basically ready to be used. The Maxtor OneTouch II drive uses Dantz's excellent Retrospective Express HD software, which makes backing up drives a breeze, it can be set to do backups each day at a specific time if you wish it to.
OneTouch II also comes with a DriveLock security utility, this adds password protection on access to the drive. Be warned however, if you forget your password you will need to answer a number of set questions to get it unlocked, if not you will be locked out of the drive.
How It Grades
Installation: 94%
Ease Of Use: 92%
Speed: 92%
Features: 92%
Improvements: 85%
Software: 91%
Hardware Design: 89%
Manual: 90%
Price: 91%
Overall: 91%
The drive can also be used as storage for Music, Video and more. I personally have been testing it out as backup for various photography projects I have going at the moment, and doing so I have had no worry about the possibility of losing any files thanks to the excellent backup software. I have also been using it as the main drive for storing TV I have recorded from Media Center 2005 and 250GB of storage for TV shows and films is probably more than most of us will need considering we tend to delete the shows once they are watched.
In all of the tests I have done over the past 2 weeks since receiving the drive, I have noted that it is slightly faster than the previous OneTouch model. I have left the drive on permanently during this time and had it perform nightly backups. I didn't even notice it backing up except for the icon moving, the drive was that quiet, it also didn't get very warm either which is a good sign for longevity of the hard drive.
Conclusion
Overall this is an excellent purchase, it works just as it is stated on the box, the software is great and the daily backups have worked perfectly for me. Dragging and dropping files to the drive has been a breeze too, both in ease of use and speed terms. Buying a external drive like this is getting easier and easier to do, the capacity is increasing and its now the best way to add large drives to your machine without fiddling on the inside the PC.

Feel free to comment on the review here.
Specs & Package
Overall Score
91%
Version Reviewed
Maxtor OneTouch II 250GB USB and Firewire
Release Date
Out Now
In The Box?

External hard drive
USB cable
6 to 6 pin FireWire/1394/i.LINK cable
External AC power adapter
Vertical stand
Installation software CD
Dantz® Restrospect® Express HD
Maxtor OneTouch drivers
Maxtor OneTouch utilities
User's guide
Maxtor limited warranty

The Good Points
Looks Good
Backup Fast
Good software
Cool temperature
The Bad Points
Expensive
Reviewers PC Setup
AMD Athlon 64 3800+
Asus AV8 Deluxe 949 Motherboard
1024 MB Crucial Dual Channel DDR PC3200 Memory
ATI X800 Pro 256mb Graphics Card
Creative Labs Audigy 2 Sound Card (OEM)
80 GB Western Digital Hard Drive 7200 RPM, 8mb Cache
Sony DRU-710A 16x DVD-RW Dual Layer Drive
Sony CD-RW (40x12x48x)
Creative Inspire 5.1 P580 Speakers
Viewsonic VP171s LCD Monitor