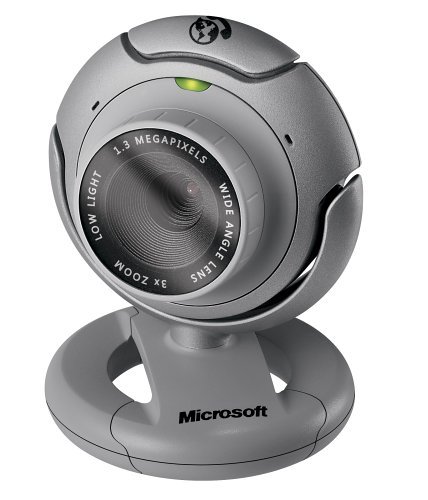 Microsoft LifeCam VX-6000
Company: Microsoft
Website: http://www.microsoft.com
Estimated Street Price: £70/$100
Review By: Byron Hinson
Introduction
Microsoft has taken some time to get into the ďWebcamĒ market; itís a market that has really been taken over by the likes of Logitech and Creative. With the release of their LifeCam set of cameras, Microsoft has finally given them some kind of competition compared to their last poor attempts. Most users of Webcams over the last few years since they first became really popular have been used to muggy small low quality video, well with the release of the LifeCam VX-6000 we have one of the latest attempts to buff up the picture quality with High Definition quality video at 1.3 megapixels.
Product Features
Use with Windows Live Messenger to communicate with friends and family as if they were in the room with you
Delivers 1.3 megapixel video resolution and 5 megapixel photo resolution
Built-in microphone
Simply press the Windows Live Call Button and select an Online Contact to start a video conversation
71 degree wide angle lens ensures no one gets left out of the picture
Technical Details
Installation was easy as it should be for any USB based hardware. The first thing you have to do is install the software off of the CD that comes in the package, while this is fine for Windows XP, Windows Vista users have to go off and download the latest update from the Microsoft hardware site and run that first before attaching their LifeCam VX-6000 to their PC. The drivers for the Windows XP system are very good and work almost flawlessly, the Windows Vista drivers still need a bit of work though, there have been many reports of the LifeCam software crashing, though Iíve been one of the lucky ones who has not had any problems like that to mention here in the review.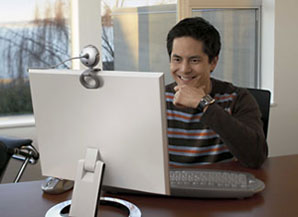 Now the software has been installed, letís get on to the design of the camera itself. The VX-6000 looks smart, it is no iSight by any means, but it does look like a well built webcam should. It is kind of a light gray/dark silver colour. It has a built in microphone which works surprisingly well, especially in Windows Vista. The lens is nice and wide so it fits more in the picture.
The VX-6000 also has a Windows Live! Call button on the top of the unit, while this is great to load up Windows Live Messenger quickly, it becomes redundant if you use a different instant messaging service, it would have been better to have this button as one that takes pictures rather than load a program. The button also manages to get in the way when you want to move the camera around. Finally we have the base, this can be adjusted to either sit on your desktop, or folded back so it can sit on top of most monitors and LCD displays.
I have used Webcams for around 6/7 years; quality has been up and down during those times. I still remember owning my first Intel webcam 7 years ago and I still somehow feel that the picture quality of that Webcam is better than most of the recent releases from Creative and Logitech. The VX-6000 certainly ups the ante as far as picture quality is concerned over previous Microsoft attempts, especially when you are doing photos to send to friends or post on the internet.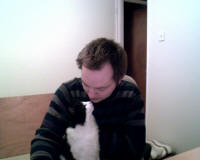 Tests of video quality were done under various lighting settings and overall the image was pleasing, though some of the colours did seem a little washed out and not as bright as I would have hoped from a camera that states itself as high definition. The images you could see were sharp though and the video was also very smooth both in the LifeCam software as well as when used over the internet via Windows Live Messenger.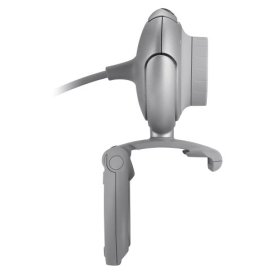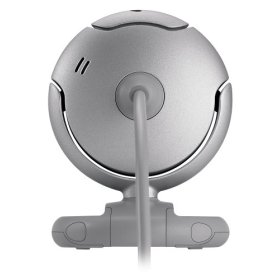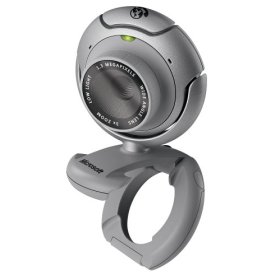 The software itself is nice and easy to use. There are three buttons on the top of the screen that let you choose either taking a still photo, recording audio or recording some video. On the left hand side you have a button that that pops up a windows that allows you to change the video resolutions. There are various settings when taking pictures which you can use if you want to, you can add various video effects which donít look all that great and can be very annoying for viewers of your video as they really donít add anything extra. One very good feature in the lifecam software is the option to take a photo and then upload it straight into your Windows Live Space blog, itís easy to do and works very well.
Conclusion
How It Grades
Installation: 87%
Ease Of Use: 80%
Picture Quality: 80%
Features: 80%
Drivers: 90%
Design: 75%
Manual: N/A
Price: 85%
Overall: 82%
Overall I liked the LifeCam VX-6000, it is certainly the best Webcam that Microsoft has produced, its also got a good suite of software that is both easy to use and good to play around with. I still donít feel that the camera can quite take on some of Logitechís latest cameras, but at least there is some competition there for both them and Creative now.

Feel free to comment on the review here.
Specs & Package
Overall Score
82%
Version Reviewed
Microsoft LifeCam VX-6000
Release Date
Out Now
The Good Points
Decent Design
Good Audio
Good Picture Quality
The Bad Points
Useless top button
Expensive
Not as good as latest Logitech offerings
Reviewers PC Setup
Athlon 64 X2 5000+ AM2 Based Processor
Asus M2N32-SLI Deluxe
Corsair 1GB DDR2 XMS2-8500 TwinX
Connect 3D X1900 XT 512MB PCI-Express Graphics Card
Sound Blaster X-Fi
1-Samsung Spinpoint 250GB SP2504C SATA 8MB Cache Hard Drive
1-Maxtor OneTouch II 250GB External Firewire/USB 2.0 16MB Cache Hard Drive
Sony Dual Layer DVD-RW DRU700A Drive
Microsoft Wireless Laser Mouse 6000
Antec 480 Watt NeoPower PSU
Apple 20" Anodized aluminum Cinema Display