DirectX
ActiveMac
Downloads
Forums
Interviews
News
MS Games & Hardware
Reviews
Support Center
Windows 2000
Windows Me
Windows Server 2003
Windows Vista
Windows XP



News Centers
Windows/Microsoft
DVD
Apple/Mac
Xbox
News Search



ActiveXBox
Xbox News
Box Shots
Inside The Xbox
Released Titles
Announced Titles
Screenshots/Videos
History Of The Xbox
Links
Forum
FAQ



Windows XP
Introduction
System Requirements
Home Features
Pro Features
Upgrade Checklists
History
FAQ
Links
TopTechTips



FAQ's
Windows Vista
Windows 98/98 SE
Windows 2000
Windows Me
Windows Server 2002
Windows "Whistler" XP
Windows CE
Internet Explorer 6
Internet Explorer 5
Xbox
Xbox 360
DirectX
DVD's



TopTechTips
Registry Tips
Windows 95/98
Windows 2000
Internet Explorer 5
Program Tips
Easter Eggs
Hardware
DVD



ActiveDVD
DVD News
DVD Forum
Glossary
Tips
Articles
Reviews
News Archive
Links
Drivers



Latest Reviews
Xbox/Games
Fallout 3

Applications
Windows Server 2008 R2
Windows 7

Hardware
iPod Touch 32GB



Latest Interviews
Steve Ballmer
Jim Allchin



Site News/Info
About This Site
Affiliates
Contact Us
Default Home Page
Link To Us
Links

News Archive
Site Search
Awards



Credits
©1997-2012, Active Network, Inc. All Rights Reserved.
Please click here for full terms of use and restrictions or read our Light Tower Privacy Statement.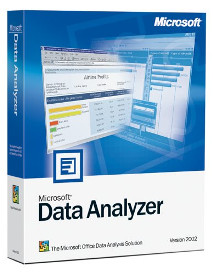 Product: Microsoft Data Analyzer
Company: Microsoft
Website: http://www.microsoft.com/office
Estimated Street Price: $179
Review By: Rodney Landrum
Microsoft Data Analyzer is an easy-to-use data analysis tool that offers an innovative graphical analysis interface enabling users to identify trends, opportunities and potential issues quickly. Microsoft Data Analyzer extends the business capabilities of Microsoft Office XP by adding rich visualization and analysis features. Data Analyzer's intuitive user interface complements the powerful analysis features provided by Excel 2002, Office Web Components and Digital Dashboards. Designed to optimize the advanced features of Microsoft SQL Server 2000 Analysis Services, Data Analyzer is a valuable component of any organization's business intelligence strategy and a key player in the Microsoft business intelligence platform.
Quickly View Data Data Analyzer allows users to quickly and easily view business data for intuitive business analysis. It achieves this using flexible, dynamic views that provide visual representations of complex multi-dimensional data stored in an OLAP (Online Analytical Processing) cube.
Easily Publish and Share Data - Share vital business data with others in your environment. Data Analyzer's graphic representations of data and business intelligence communicate the facts at a glance, and users can publish these views with a single click of the mouse.
Improve Data Analysis Productivity - Data Analyzer simplifies the process of finding information, enabling users to gain valuable knowledge and make better business decisions.
The Review
What do you do when you discover a previously unrealized market, in this case of the "decision worker", for a technology with the potential to deliver precisely what that market needs? Obviously you define this as an opportunity to acquire and enhance that technology. Microsoft saw such an opportunity when it purchased a data analysis technology from an Israeli company Maximal Innovative Intelligence and created the newest addition to the Office XP suite of applications, Microsoft Data Analyzer. Data Analyzer is a graphically-driven client tool that when connected to a business data source such as Microsoft SQL 2000 Analysis Services or even a Microsoft Excel cube file, produces colorful charts, graphs and grids that assist "decision workers" in finding data trends.
Review Quotes
"within 15 minutes I had a very useful display of data that gave me a dynamically changing representation of my healthcare data relationships as I drilled in and selected information target points"
As a data analyst and warehouse developer in SQL Server 2000 Analysis Server, I was excited to get Data Analyzer installed and working so that I might finally have a tool more advanced than Excel's Pivot Tables and not as costly as other products like Crystal Decision's "Crystal Analysis". The installation for Data Analyzer was brief and uneventful.
When I launched Data Analyzer for the first time I was presented with an introductory wizard that wanted to assist me in creating my first view. A view to Data Analyzer is an association of connections, dimensions and measures that are used to make up what data you will see and how you will analyze it. To the OLAP (Online Analytical Processing) uninitiated, a dimension is a data element such as Regions, Time, Customers and Products that will form groupings based on other data elements that can be measured such as Cost, Profit, Sales, Quantity, etc. I connected to an OLAP cube that I had recently built in SQL 2000 Analytical Services that contained healthcare data dimensions and measures. I chose to use the default display of a bar graph instead of grid.
I was a little too eager to see a ton of data quickly and chose too many dimensions and measures for my view, because when it finally connected and displayed the bars representing my data choices (see screen 1) I was hard pressed to interpret what I was seeing because all four dimensions that I chose were displayed simultaneously in what appeared to be four unrelated windows. Also, the bars were all grey. For reference, the dimensions I chose were Diagnosis, Bill code, Charge Time and Sex.


Screen 1
After a few minutes of playing, prior to peeking at online help (a task I always remorse over because it usually never tells me exactly what I am looking for) I was able understand how the dimensions related to one another and that selecting an individual data item in the dimension window would automatically shift the focus and therefore the values of all of the other dimensions. It is also possible to display graphs and grids in separate dimension windows for a much more intuitive presentation of the data. I did confer with help to understand the color coding of the bars that was eluding me and I must admit after I figured out that I had missed a step during the wizard, the color display of the bars to show unusual circumstances in the data was helpful. It is necessary to have at least two measures to be able to color code the bar, I found out as well. Since it defaulted to "No Color Selected" in the wizard, no matter how much I played with the color scale tool subsequently, the colors would not change from grey. I used the "Change Dimension" feature to add the color to the secondary measure, Quantity (screen 2) and I left the bar length to be decided by my first measure, Charge. What these graduated colors from red (bad) to green (good) showed me was that sometime I had a Charge with a high dollar value and if the Quantity (which are the actual numbers of clinical visits) was high or low as well.


Screen 2
I drilled down into the layers of data and watch the colors change rapidly (screen 3). I was also able to change to grid and chart view for two windows. So within 15 minutes I had a very useful display of data that gave me a dynamically changing representation of my healthcare data relationships as I drilled in and selected information target points. There seemed to be something missing, however but at that moment I couldn't put my finger on it. Other than being a bit sluggish on my Pentium III 733 MHz system with 256M of RAM, my first impressions were favorable.


Screen 3
I was aware of the other useful and highly touted features of the product so I felt it was time to give them a shot. I began with attempting to export my current view to Microsoft Excel. It hesitated for a few moments during the export and then came back with an error message saying only that it failed to export to Excel. I brought Excel up and tried again and noticed that it was indeed attempting to layout the Pivot Report but at a certain stage it rolled it all back and failed. I immediately updated my installation of Office XP to SP-1 and tried the operation again and it successfully exported this time. Next I tried the export to PowerPoint and it worked flawlessly and displayed my view in a polished slide ready to present to the executive committee so that I may keep my data analyst gig. I exported to HTML as well and as expected it looked very professional.
Review Quotes
"I began with attempting to export my current view to Microsoft Excel. It hesitated for a few moments during the export and then came back with an error message saying only that it failed to export to Excel"
But the dilemma that had been nagging finally resurfaced and upon research I discovered a few troublesome (to me anyway) details with my ultimate goal, which would be to deploy this product to many workers so that they can glean the knowledge lying buried in the data warehouse. The first issue is that though Data Analyzer is an Office Family member, it is purchased stand-alone. It is $179.00 per licensed copy. It does contain an ActiveX component for publishing to a website, but unfortunately, just as with the Office Web Components, a full licensed version of the product must be installed on the client system. Another caveat to be aware of is that even though it does support data access over HTTP, this is only supported with SQL Server 2000 Enterprise Edition. And finally, if this product really aims to compete with other analysis clients and not just compliment Excel, then it is going to need some additional data tools, primarily the ability to use cross tabs and seamless hierarchical displays.
Final Comments
The program feels like it was released too soon and did not at first "feel" like an Office application. It was initially difficult to navigate and sluggish. When I checked the task manager to see what it was doing to my system, it was riding at around 53M of RAM usage, nearly 29 Megabytes more than SQL Server itself (screen 4). It took me a second to find the executable, MAX3.EXE as I was looking for something like MSDA.EXE. I am assuming that MAX3 is leftover from the company Microsoft bought the technology from Maximal Innovative Intelligence, and if indeed that is the case then it feels even more like it was rushed to market. The program has a lot of potential and I expect more good things to come based on some of the customer feedback I read in the Data Analyzer Home forum area. Unfortunately there is more potential than substance to justify the $179 expense.

Specs & Package
Overall Score
79%
Version Reviewed
2002
Release Date
Out Now
In The Box?
1 CD
Small Manual
The Good Points
Color coded representation of unusual data makes finding trends or problems easy for the user

Individual windows in the view are customizable for bar, graph or chart for reporting

Exports to PowerPoint, Excel and HTML.

The Bad Points
Memory intensive

No cross tab ability as in Excel

ActiveX control requires full version installed on client machine.

Reviewers Specs
Pentium III 733MHz
256M RAM
Intel 815EPFV motherboard with onboard Intel Pro 100 NIC
Matrox Millennium G450 DualHead
Two 19" monitors
40G IDE hard drive.