DirectX
ActiveMac
Downloads
Forums
Interviews
News
MS Games & Hardware
Reviews
Support Center
Windows 2000
Windows Me
Windows Server 2003
Windows Vista
Windows XP



News Centers
Windows/Microsoft
DVD
Apple/Mac
Xbox
News Search



ActiveXBox
Xbox News
Box Shots
Inside The Xbox
Released Titles
Announced Titles
Screenshots/Videos
History Of The Xbox
Links
Forum
FAQ



Windows XP
Introduction
System Requirements
Home Features
Pro Features
Upgrade Checklists
History
FAQ
Links
TopTechTips



FAQ's
Windows Vista
Windows 98/98 SE
Windows 2000
Windows Me
Windows Server 2002
Windows "Whistler" XP
Windows CE
Internet Explorer 6
Internet Explorer 5
Xbox
Xbox 360
DirectX
DVD's



TopTechTips
Registry Tips
Windows 95/98
Windows 2000
Internet Explorer 5
Program Tips
Easter Eggs
Hardware
DVD



ActiveDVD
DVD News
DVD Forum
Glossary
Tips
Articles
Reviews
News Archive
Links
Drivers



Latest Reviews
Xbox/Games
Fallout 3

Applications
Windows Server 2008 R2
Windows 7

Hardware
iPod Touch 32GB



Latest Interviews
Steve Ballmer
Jim Allchin



Site News/Info
About This Site
Affiliates
Contact Us
Default Home Page
Link To Us
Links

News Archive
Site Search
Awards



Credits
©1997-2012, Active Network, Inc. All Rights Reserved.
Please click here for full terms of use and restrictions or read our Light Tower Privacy Statement.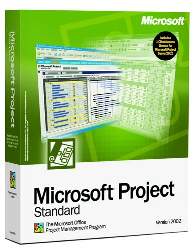 Product: Microsoft Project 2002 Standard / Professional
Company: Microsoft
Estimated Street Price: $599.95 /$899.95
Review By: Lin Jiaqi
Introduction
Microsoft Project has been supporting business professionals such as project managers, resource managers, business managers, consultants, executives, IT professionals and project team members for more than a decade. Because its design is based on standard project management principles, the Microsoft Project product family supports every aspect of a project from start to finish.
Effectively managing projects gives organizations an edge in planning for and responding to the demands of a rapidly changing business climate. The newly released Microsoft Project 2002 has been touted as the tool of choice for delivering cost-effective project management results.
Whether you're implementing a single project or managing a project portfolio across your organization, Microsoft Project 2002 provides flexible options that help organize project and resource information and make it available to the people who need it. With intuitive project management tools and Web-based access, you can share documents, manage resources and schedules, track issues, and analyze project information.
New features support enterprise resource management, multiple project analysis, and reporting across your organization, ensuring that business initiatives and projects meet strategic goals.

Enhancements to this version make Microsoft Project easier to use and extend your ability to collaborate and manage projects and resources across your organization. Microsoft Project 2002 offers these products to meet your organization's unique needs:
Installation and Settings
The Microsoft Setup User Information window will load first. Users will be required to enter your username, initials, organizations and a 25-character product key. The End-User License Agreement will load next. After accepting the EULA, users will be able to choose the type of installation. The installation options available are:
Install Now

Complete

Custom

Choosing the Install now option will install all the files commonly user by Microsoft Project. Choosing Complete will install all files, including components which may not be used in the day-to-day use of Microsoft Project by the majority of users. Custom enables users to install components of Microsoft Project that are not normally installed.

Microsoft Project will run in Reduced Functionality Mode until it is activated. The Microsoft Activation Wizard will aid users in activating Project 2002. Several functionalities of Microsoft Project are unavailable when running in Reduced Functionality Mode, including creating new projects, saving projects, printing projects and changing settings in the global template.

The installation is without doubt easy and manageable. As long as the user has prior experience in installing any Microsoft product, Project's installation will be a breeze. Microsoft's ability to include a consistent interface in the installation of all its products is simply amazing.






Installation and Setup (Microsoft Project Server 2002)

Installing Project Server is a bit more tedious. Project Server requires the following to be installed as well:
Microsoft Project Web Access

Microsoft SharePoint Team Services

Microsoft SQL Server 2000

Microsoft SQL Server Analysis Services

Microsoft Office Web Components
Aside from the hassle of installing the above, the installation will be similar to a normal Project installation and thus requires no more elaboration.
Project Management Basics
In today's business climate, project management methods and tools are being applied to a broad range of activities, from traditional projects and innovative organizational change processes to management of a portfolio of projects across an organization.
For any type of project, project management means delivering results on time and within budget. Numerous models exist for managing projects, but each includes a similar set of basic phases: project definition, project planning, performance tracking and project closure. The project management tools and features offered by Microsoft Project support the best practices defined by the leading project management models.
Project Definition
During this phase, you establish the framework for the project, including the following:
Project scope, describing the work to be done, defining objectives and clarifying them against other organizational priorities

Resources, identifying the people, equipment and materials you will need

Project limits, describing project assumptions, determining constraints such as cost or schedule, and clarifying risk
Project Planning
An effective plan provides the direction for a project, maintaining information about scope, resources and schedule in one place. Developing a project plan involves the following steps:
Work breakdown, identifying project tasks and determining the skills required to accomplish each one

Time estimates, determining the time involved, or duration of each task

Task dependencies, establishing how tasks relate to each other and the order in which they must be completed

Task constraints, identifying specific task issues, such as schedule constraints or lack of certain people or skills
Performance Tracking

Tracking mechanisms help you evaluate your project's progress by analyzing performance against specific criteria. By regularly reviewing results, you can better direct and refine the project. Tracking performance involves the following:
Comparing actual progress against planned estimates. Comparing where you are with where you planned to be can pinpoint areas that may put your project at risk, such as slower-than-expected progress.

Identifying issues. Identifying issues as they arise helps ensure that you are aware of potential problems that may affect the project scope, resources or schedule.

Reviewing resource and schedule requirements. Overloading one or more members of the project team is one of the most common causes for schedule delays.
Project Closure

Spending the time to close a project properly gives you the opportunity to analyze your results and apply what you learned to future projects. To close a project, you can do any of the following:
Compare your original plan to the actual course of events. What elements of the plan didn't match the reality of the project?

Review and analyze problems. What issues might recur in future projects?

Archive project information. Previous project results are an important source of information for similar projects in the future.
Features
Automatic Notifications
When project managers publish plans from Microsoft Project 2002 to Microsoft Project Server 2002, they can automatically notify their team members through email. Email notifications help team member with the latest updates, upcoming milestones and even more. Such email messages even have links to project plans, enabling team managers to access projects quickly and conveniently over the Internet.
Web-based Collaboration
Team members do not have to install Microsoft Project on their computers to see project details. All they need to do is to acquire Microsoft Project Server Client Access Licenses, or CALs to view project information through Microsoft Project Web Access. Permission and access can be easily administrated by each company's IT department. Another thing to note is that Microsoft Project Web Access happens to have the same consistent interface used in all other Microsoft Products, thus enabling minimum learning and maximum productivity. At the same time, each team member will also have customized information and updates that are relevant to his role in the team. Features in Microsoft Web Access are as follows:
Each team member can assign new tasks and even delegate tasks to fellow team members. Of course, it is typical of Microsoft to integrate their products with other Microsoft Products. Project 2002 is no exception. There is enhanced collaboration with SharePoint Team Services. Team members can thus post and share documents and issues located in a central location. Project 2002 also enables team members to link documents to specific tasks and an icon will appear, indicating supporting documentation. Team members are also allowed to centrally record issues to keep note of project concerns. An issue can also be linked to a task enabling further convenience.
Enterprise Features
The enterprise features are available only on Microsoft Project 2002 Professional and require Microsoft SQL Server. It provides company-wide views of project information or portfolio, thus enabling executives to see at a glance their entire portfolio of projects. Portfolio Analyzer is also included to perform analysis of the information available.
Templates are also available, enabling users to:
Define custom views

Apply formula to enterprise data

Design reports

Set up custom calendars

Customize information tables
The feature set included with this new version of Project is astounding. It not only provides a project team to manage a project from start to end, the enterprise features also ensure that enterprises can make use of such a product in all on-going projects. But sadly, the extensive features also mean that users will have to go through training to make use of them. This may be something Microsoft should look into – how to make project managers' work easier, and at the same time, shorten the time required to master the software.
Final Comments
How It Grades
Ease Of Use: 80%
Installation: 90%
Features: 90%
Interface: 95%
Price: 75%
Overall: 86%
Without any doubt, Microsoft Project offers an integrated solution that will be able to satisfy all of your project management needs. Its extensive feature set and unified interface with Office provides Windows users a product that is unmatched by any other solution in the market. I would recommend it to anyone involved in project management, regardless of how small or big size your business.
Specs & Package
Overall Score
86%
Version Reviewed
Microsoft Project 2002 Standard / Professional
Release Date
Out Now
In The Box?
CDs
The Good Points
Fairly simple installation
Covers a lot of detail
The Bad Points
Expensive
Difficult to Master
Reviewers PC Setup

Pentium III 1.13Ghz
Gigabyte GA-6VEM Motherboard
1Ghz Kingston Value Ram
Western Digital 100Gig Hard Disk Drive with 8mb Buffer
Creative Extigy
Creative Inspire 5.1 5300 Speakers

PC Required

Pentium 133-megahertz (MHz) or higher processor

Windows 98, Windows 98 Second Edition, Windows Millennium Edition (Windows Me), Microsoft Windows NT® version 4.0 with Service Pack 6 (SP6) or later, Windows 2000 Professional, or Windows XP Professional

RAM requirements depend on the operating system used:

Windows 98, or Windows 98 Second Edition
24 MB of RAM plus an additional 32 MB of RAM for Microsoft Project

Windows Me, or Windows NT
32 MB of RAM plus an additional 32 MB of RAM for Microsoft Project

Windows 2000 Professional
64 MB of RAM plus an additional 32 MB of RAM for Microsoft Project

Windows XP Professional
128 MB of RAM plus an additional 32 MB of RAM for Microsoft Project

105 MB of available hard disk space,* with 70 MB on the hard disk where the operating system is installed.

CD-ROM drive

Super VGA (800 × 600) or higher-resolution monitor with 256 colors

Microsoft Mouse, Microsoft IntelliMouse®, or compatible pointing device

Microsoft Internet Explorer 5.01 or later (Internet Explorer 5.5 recommended).