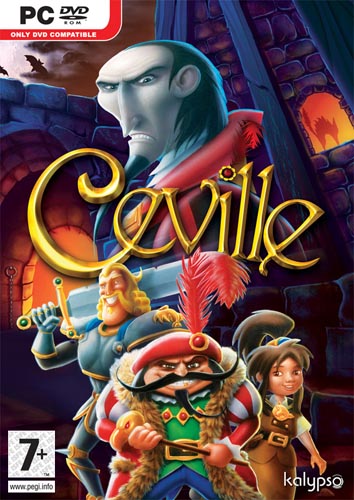 Ceville
Company: Kalypso
Website:
Estimated Street Price: £30
Review By: Byron Hinson
The Features
Ceville seemed to slip under the radar to me, someone who is a big fan of point and click adventure titles. It seems to have come out of nowhere. The point and click market used to overflow with titles years ago, but these days we are lucky if we get to see more than one new title a year. But 2009 has already been good to us with the release of Wallace and Gromit and A Vampyre Story. So what we need to know here - does Ceville manage to be another top of the range point and clicker? Read on...
In Ceville you assume the role of tiny tyrant Ceville. When he's not puzzling his way through the world of Faeryanis, he's guaranteed to be found holding hilarious conversations with one of the more than 30 different inhabitants of his former realm. Later in the game Ceville is joined by two other characters, which the player also controls, either one after the other or as a team. With the logical combination or use of objects players won't be able to stop grinning or laughing out loud as they puzzle their way through an epic story of the eternal war between "Evil" and... "really, really terribly Evil"!
The Review
As you can probably already see. The game is all about the evil tyrant Ceville. The game is full of references to not only other games such as Day of the Tentacle but also Dungeon Keeper as well as many other fairy tale scenes. The game is your usual point and click fair - you use the mouse solely in the game compared to the recent Wallace and Gromit title. You select items on the screen as well as in your inventory and you also converse with the characters in the game in the same way by selecting what you want to say.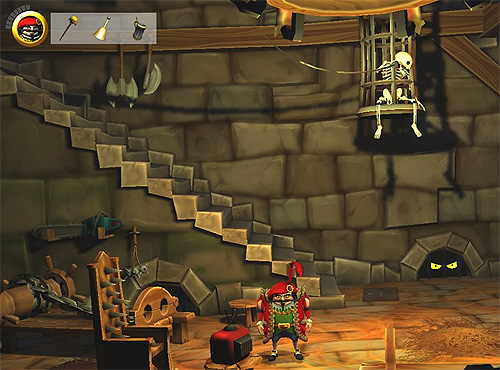 As the game progresses you will take control of other characters such as the well acted and probably funniest of the lot - Ambrosius a completely thick Paladin. Characters can be swapped easily by simply clicking on their screen icon or just pressing the Tab key. Each characters has their own inventory and items can be passed between them - this is important as only some characters can make use of the items you pick up.
Ceville is a mixture of fairy tale settings and characters along with a pinch of the great adventure titles like Monkey Island. I'm pleased to say that the game is actually quite funny, which is something a lot of recent titles have been missing, even if some of the humour does seem a bit too forced. The main perk of the game is that most of the time you are playing a nasty character, something that it is great to do and rare to do in an adventure game. The game takes you from your castle to dungeons, mountains and even hippie camps!
Now graphically the game is great looking, it is full of colour and character which is vital in a point and click adventure game. The game also allows high resolutions in wide screen too. But it isn't just the graphics that are very good here; the game has excellent voice work something that doesn't always happen in translated games. It doesn't mean the game doesn't have any problems though as stability rears its head - I've had times when I have been unable to save and characters have talked over each other so I can't actually hear what has been said. In saying this, a lot of this was improved with the first patch that was released last week.
Overall
So overall this is one of the best adventures released for some time, I'd even say it has beaten out my recent favourite A Vampyre Story, simply because the voice work and humour is better although I preferred the puzzles and graphical style of that game. I can heartily recommend Ceville to those point and click adventure fans out there, the game lasts quite a while, has great humour and a feel good look about it – If there is anything to criticise it is that it has crashed a few times, but this is nothing that patches wont fix. Highly recommended.
Feel free to comment on the review here.
Specs & Package
Overall Score
88%
Version Reviewed
Ceville (PAL)
Release Date
Out Now
In The Box?
1 Ceville DVD-ROM
1 Set Of Instructions
The Good Points
Funny
Good puzzles
Great Graphics
The Bad Points
Could do with longer tutorials
Online Play Enabled?
No
Widescreen Support
Yes