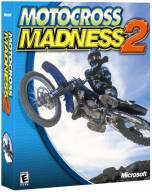 Product: Motocross Madness 2
Company: Microsoft
Website: http://www.microsoft.com/games
Estimated Street Price: $40/£29.99
Review By: Byron Hinson
The Features
Motocross Madness has managed to become one of Microsoft's most popular games both for the single player and on multiplayer. With Motocross Madness 2 you get more of the same fast and exciting gameplay with even more features, tracks and improvements in graphics. Here are some of the features:
Incredible gameplay depth with over 40 tracks in 6 event types including Stunt Quarry, Baja, all new Enduro, Nationals, Supercross and Multiplayer Tag.
Wilder action with all new stunts and crashes and improved motorbike performance for a racing experience just like the real thing.
A variety of exciting, interactive motocross environments populated with full 3D objects and ambient vehicles to race in and explore - - - Dodge mammoth construction vehicles as you race in an open pit mine or bang bars with up to 8 opponents in a Supercross event in a cavernous arena!
Race up to eight opponents online via the MSN Gaming Zone to rack up win points for our special multiplayer rankings.
All new Pro Ciruit Career Mode lets gamers rise through the motocross ranks while acquiring prize money and sponsorship dollars in a series of over 30 race events.
All new licensed bikes and racing gear for a truer racing experience including bikes from Yamaha, KTM, Suzuki, and Honda and gear from Fox!
MCM2 now supports software rastorization – no 3D card required.
Installation And Settings
Installation is the usual breeze. Motocross Madness 2 comes on the single CD and tends to be installed within 2 minutes. Once the installation is complete you can then start up the game. The first option you will get is to select your graphic display, you get a choice of either the software rastorization or hardware 3D done via a 3D card, I went with my G400.
Once you finally get around to starting the game you are shown a great intro movie which lasts about 3 minutes, it has the perfect rock music to get you in the mood for playing, then once that had finished you are greeted with a number of options:
Single Player Game: You can play the main part of Motocross Madness 2 from here, from Baja racing to Pro Circuit.
Multiplayer Game: You can setup playing over a LAN, TCP/IP or via the Microsoft Zone from here.
Options: In the options area you can fiddle around with all the graphic, sound and control settings to get the game setup as you want it.
User Profiles: Just allows you to setup a new user name to play the game with.
High Scores: Check out the highest scores in the game.
View Replays: View yours or your friends replays.
The Gameplay
There is only one word to describe Motocross Madness games and that is Fun. Motocross Madness 2 has it in bundles, especially when playing against friends over the internet. There are a number of new courses that have been added to the game over the first title, they include the excellent single player career mode called "Pro-Circuit Racing", you get to compete against other racers for money, which you put towards fixing damage etc that you get during the races. There are also massive "Enduro Racing" events too. The main thing you will notice right from the start is how much bigger the game is in terms of environments, they are huge and getting around the enduro race tracks and seeing everything there is to see will take a long while.
One let down for me is the new Pro-Circuit career mode, it doesn't play as well as it could have, it tries hard to add long term single player gameplay to the game but having to play multiple laps over massive course doesn't work well and is far too long winded to play regularly. Hopefully we will see improvements here in the next version.
Multiplayer is a breeze to setup whether you want to play over and LAN, TCP/IP or via Microsoft's Zone. There was a whole bunch of other players waiting to take me on when I went onto the zone and this was just a day or so after the games release so you won't have any trouble finding people to race against. The controls are quite easy to master on keyboard and joystick/pad but I did have a number of problems trying to do stunts when using the keyboard, for some reason half the time nothing happened when I was pressing the stunt buttons.
Graphics, Sound & Music
Motocross Madness 2 is gorgeous to look at. The landscapes are varies, bikes look great and the environments are filled with activity from cars to planes. Running on my P450 the game was very smooth even with 5-8 other riders playing at the same time, this was in 800x600 mode with the detail set on default. Increasing the detail in the game does tend to add too much slow down, so I felt it best left as it was.
Yet again Motocross Madness 2 excels in the audio department. The revving of the engines, the distance of other bikes etc can all be heard perfectly. The games intro starts with an excellent rock track too which is an added bonus. There is no music in the actual game anymore, unlike Motocross Madness, I can't really say whether it is an improvement or not as I didn't tend to notice the music much in the first game anyway.

Final Comments
How It Grades
Originality: 82%
Gameplay: 92%
Story: N/A
Graphics: 92%
Cutscenes: 78%
Sound: 90%
Music: 77%
Manual: 80%
Interface: 80%
Multiplayer: 88%
Overall: 91%

Motocross Madness 2 is all about fun and it thankfully has it in bundles here, the improvements in graphics and the new additional courses are great and despite the let down of the new pro-circuit career mode, the game comes highly recommend.
Specs & Package
Overall Score
91%
Version Reviewed
US Version 1
Release Date
Out Now
In The Box?
1 CD
1 Manual
The Good Points
Great Graphics
Great Sound
Fun Gameplay
Great Multiplayer
The Bad Points
No Bike Damage
Similar To
Midtown Madness
Reviewers PC Setup
Pentium II 450
Windows 98 Second Edition
128 Meg SD-Ram
Matrox G400 32MB AGP Graphics Card
DirectX 7a
SoundBlaster Live! Value
17" LG Electronics Monitor
Microsoft Force Feedback Pro
Microsoft Game Pad Pro (USB)
Microsoft Digital Sound System 80
Microsoft Intellimouse Explorer

DVD TV Player - Pioneer DV-626D
Widescreen TV - Sony KV-28WS2U 28"
DVD-ROM: Toshiba SD-1202

PC Required
Windows 95/98
Pentium 300
64 mb ram
4x cd rom Drive
Mouse and Keyboard
640*480 video card with 2mb ram
Windows compatible sound device
212 mb free hard drive space