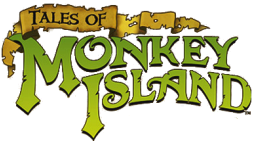 The Features
9 years ago, yes 9 long years ago was the last time we had the chance to play a Monkey Island adventure game. Admittedly Escape from Monkey Island wasn't the best of the series in my view, but it wasn't bad either. The Curse of Monkey Island still has a real place in my heart, not because that was actually my first time playing a Monkey Island game, but it was well written and looked gorgeous with some fantastic artwork.
While explosively stripping the evil pirate LeChuck of his demonic mojo, Guybrush Threepwood inadvertently infects the entire Caribbean with the arch-fiend's expelled voodoo, which threatens to transform buccaneers into unruly pirate monsters. Pursued by a notorious cut-throat Pirate Hunter and a creepy French Physician who believes that Guybrush's eerily-infected hand holds the secret of eternal life, Threepwood sails the seven seas in search of La Esponja Grande, a legendary sea sponge with unparalleled voodoo exfoliating abilities. But little does Guybrush know, his quest is part of a larger, more sinister plot, and good and evil are not always as they seem… Who can Guybrush trust? Where can he turn? Everything you think you know will be challenged as Tales of Monkey Island builds to its unexpected finale!
The Review
Well now 9 years after Escape from Monkey Island – Telltale have taken over the reigns and I'm pleased to say that they have done a very good job in this first chapter. Some of the original team members have worked on the title and it shows from the story down, to the once again excellent music from Michael Land. Everything feels like a Monkey Island title should do.
So what has changed in this Monkey Island title? Well now we will have 5 monthly chapters released from today onwards. Each one follows on the story to its conclusion in the final 5th chapter. The first one, which I am reviewing here, is called "Launch of the Screaming Narwhal". Telltale have perfected these monthly releases with their last few titles and you can't knock them for doing it this way as everyone gets to keep on playing what feels like a new title each month.
Tales of Monkey Island takes place after the events of the previous Monkey Island title, Escape from Monkey Island. The series star Guybrush Threepwood is all set to defeat the evil pirate LeChuck but as per usual, he makes a mess of things and he winds up turning the undead pirate into a human and then manages to get his hand infected with the "Pox of LeChuck". Causing his hand to…well take matters into its own hand now and then, slapping good people and causing various misdemeanours on the way.
The story is very close to the feeling of the first few games, and the gameplay is pretty much spot on for what is still more of a point and click adventure. The puzzles are not the hardest to figure out but for the first time in a Telltale game, you can now combine items. The game starts off on good footing with a great setup for the game on board Guybrush's ship, which doesn't last too long and from then on the game moves along at a good pace. The dialogue is perfect too – not just from the voice work, but it is also well written and very funny in places, something that has been missing from a lot of adventure titles. Once again there are lots of choices when chatting to people and many funny responses based around past monkey island games as well as current day trends like youtube etc.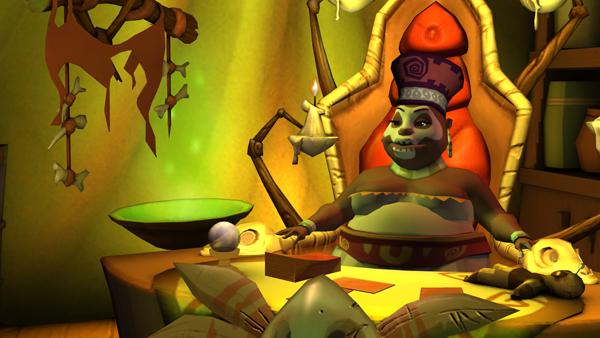 Graphically I really liked what I saw in this first tale – the engine used is an enhanced version of the Wallace and Gromit title – it has a bright style and while the art and design of Guybrush may be quite a change this time round – for it fitted in with the story and the Monkey Island feel. The more cartoon like feel of the game over the previous titles works well as there is more room for expressions on the characters faces which helps convey the emotions much better than before in an adventure title. The Telltale engine has also been improved with none of the stuttering that happened in Wallace and Gromit coming up and this was running at 1920x1200 perfectly. If there are any complaints about the game graphically it would be that the lip-syncing isn't perfect, but that is a very small complaint.
Sound work as mentioned earlier is great – from the music to the voice work that has most of the original cast from Curse of Monkey Island onwards. The voice actors help make the game funny. Another plus here is that unlike some of the earlier Telltale titles – the sound quality has been improved with what seems like very little – or at least improved compression used for the audio. A good thing considering how great the game sounds over all. I didn't run into any audio problems what so ever and I can't praise the sound enough.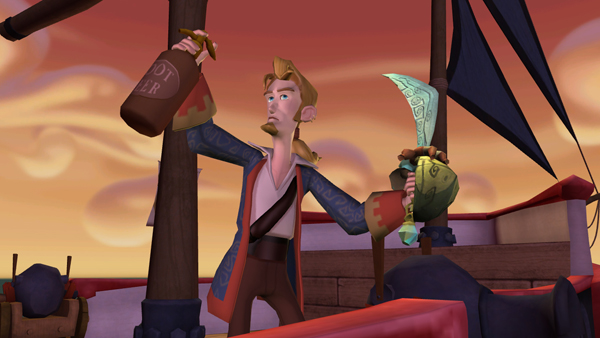 Not everything is perfect though, the controls take some getting used to – especially the mouse, thankfully the keyboard is an option and that has generally been how I've played the game, with a mixture of keyboard and mouse as I found the mouse movement of Guybrush a little too sensitive to continue to use. Hopefully this will be improved as the series goes on, as Telltale does want to hear people's opinions of it, but in fairness a lot of people will find it fine.
Overall
So overall as a fan of the Monkey Island games you'll be pleased to hear that I really enjoyed this first Tale of Monkey Island and can't wait for the next one. Yes it has a few problems with the mouse controls but these are easily dealt with by using the keyboard, which in my view is the better option anyway. Graphically it is great and the sound work is near perfect. A great start for Telltale's new Monkey Island series – and the right thing for Lucasarts to do.
Feel free to comment on the review here.
Specs & Package
Overall Score

91

%

Version Reviewed
Tales of Monkey Island: Launch of the Screaming Narwhal
Release Date
Out Now
The Good Points
Great story
Great Dialogue
Good art style
Excellent voice work
The Bad Points
Dodgy mouse controls
Online Play Enabled?
No
Widescreen Support
Yes