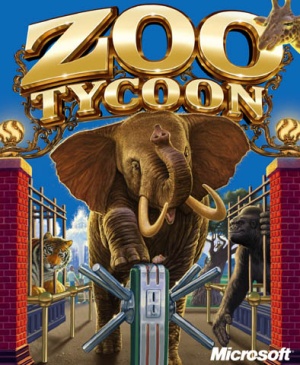 Product: Zoo Tycoon
Company: Microsoft
Website: http://www.microsoft.com/games/zootycoon
Estimated Street Price: $34.95/£29.99
Review By: Byron Hinson
The Features
It seems like over the past few months (maybe even years) we have been inundated with various "Tycoon" games from RollerCoaster Tycoon to Gadget Tycoon. Now it's your chance, thanks to Microsoft to run your very own Zoo.
Design, Build & Manage your Zoo - Zoo Tycoon provides an unmatched tycoon experience. Design, build and manage your ultimate zoo. But, build and manage carefully - you are responsible for your animals and guests happiness. You'll experience all new challenges as animals have unique ways of reacting to their surroundings and expressing their content…and their discontent.
Lions, and Tigers, and Bears, and more...Choose from over 40 unique animals including Elephants, Cheetahs, Penguins and Camels. Complete research and conservation activities and you'll be rewarded with new animals.
Uncage Your Imagination - With over 175 different types of exhibit and building materials, Zoo Tycoon delivers all the content and fun needed to build, manage and maintain your ultimate zoo. Habitats can be exported and shared with other Zoo Tycoon players too.
Read, Set, Go! - Zoo Tycoon's intuitive design and interactive tutorials put you in the fun in no time.
Two Ways to Play - Zoo Tycoon provides something for everyone - jump right in and start building your zoo or for a more serious challenge, try one of the thirteen different scenarios that start out easy and becoming increasingly more difficult.
More Fun Than a Barrel of Money - Create the ultimate Zoo and reap big profits if you manage it well. Remember: if customers aren't happy, they won't come back!
All the Creature Comforts of Home - Anticipate your animals' every need such as food, water and shelter! Plan wisely! If animals don't like their food, environment or handling, they interact poorly with visitors and fewer guests mean fewer dollars!
Realistic Zoo Action - Animals roam, rest and play while visitors explore the grounds, snap pictures, buy snacks and browse the gift shop. Select the right materials, build the correct fences and keep your animals happy…you never know what unhappy animals might do…
Life-like Animal Behavior - Who's prey and who's predator? Learn about animal behaviors before you build your exhibits. Putting predator and prey together is a costly endeavor and won't make your animals happy...
Installation and Settings
Zoo Tycoon shipped on one CD and comes with two simple options for installation, Minimum that installs with around 300 MB of hard drive space and the other Maximum that takes up 700 MB of space. The main difference between the two installs is the size of the texture cache (which does make a difference with the smoothness). Once installed you have a choice of various resolutions to run the game in from 640x480 to 1280x1024. I went with 1024x768 and have not run into any problems.
Gameplay
The first thing of note is that you shouldn't take the game all that seriously, it's aim is to be fun and it done through some cartoon like graphics. There is an education side to the game though, teaching you all about rare and exotic animals from around the world.
The basic premise of the game is to build up your Zoo, no surprise there I hear you say. The game can be played through various difficultly levels they are Easy, Intermediate and Hard, depending on which one you go with you will start the game with only a limited amount of money to buy animals and construct your zoo with. In similar vain to the old Theme Park, you must try to keep everyone from your workers to the animals as happy as possible, not doing so will lead to your staff quitting and your animals munching down on your visitors and ultimately to your zoo closing down.
There are two types of game styles in Zoo Tycoon, one being Freeform where you have the chance to just go ahead and build the best Zoo you can. The other being Scenarios - these are the main stay of the game, where you have to complete certain tasks within a certain time period such as make a certain profit within a certain amount of months work. The more progress you make in Zoo Tycoon the more animals become available to you. As expect, the further you get into the game the harder it becomes to make profits and to keep animals, staff and guests happy.
The good thing about Zoo Tycoon is that the game isn't centered just around management, in Zoo Tycoon you can have things like Taxes, staff payments etc controlled by the computer, or if you would prefer to be in total control you can be in full charge. Trust me though that that can become very difficult because there are just so many little things you have to be in charge of. Just about everything in the zoo can be customized. The layout or terrain for each scenarios is also different, from grass to space. Not realistic, but all good fun again.
Review Quotes
"The good thing about Zoo Tycoon is that the game isn't centered just around management, in Zoo Tycoon you can have things like Taxes, staff payments etc controlled by the computer"
As the game goes on the zoo starts to grow in many ways such as animals getting ill and dying which means you have to start to bring in new ones which takes more money out of the coffers. But the great part of this is that if you get the right blend of happiness around you animals and you have them partnered up then you will be able to produce new young baby animals to bring through the game. One minus point though is that the game tends to make it hard to see when one of your animals in pregnant.
There are a number of penalties that can be imposed on you for bad management too such as being unable to buy any more animals until you have made sure all of your animals are as happy as they can be. Animals can escape their cages if you are not careful about making sure you get the right size walls/fences up. If they do escape then they will cause havoc around your zoo chasing guests and your other animals around. Putting the wrong animals together too can cause some intense fights between them.
There are game problems though, for some reason during the game my guests can get hungry, no problem there you think then, just add a few Hamburger stands and everything will be ok? Well no not really, I managed to add over 15 and yet they still had hunger pains so that's 15 hamburger stands for under 200 hundred guests? Other problems consist of it being quite fiddly to place paths, buildings etc and I don't mean via the menu, I mean clicking on the terrain 4 times out of 10 tends to have you accidentally click about a block away from where you meant to place the item. Animals will also get lost behind trees when you are attempting to click on them which means you have to resort to rotating the view around via the icons on the sidebar
Review Quotes
"Soundwise I'm pretty disappointed, while in the graphics department I didn't expect miracles from the game, I did expect that the sound could be used far better than it has here"
Graphics & Sound
Zoo Tycoon isn't going to win any awards for graphical flair, but in saying that they are probably the best you will come across in any tycoon management game at the moment. They are very detailed and the main plus point is that in no matter what resolution you use in the game (I used 1024x768) the game runs very fast and scrolls smoothly unlike a lot of games like this. But running at high resolutions in the game can cause vision problems with icons and text being hard to read with the size they end up shrinking to. Also there is a zoom feature in the game to get closer to the in-game action, all I can say is the less you use it the better as everything goes far too blocky and pixeled.
Soundwise I'm pretty disappointed, while in the graphics department I didn't expect miracles from the game, I did expect that the sound could be used far better than it has here. You get the basic animal noises and guest sounds but it just isn't anything special again. I'm sure the game could have been made with more sounds and some good music.
Final Comments
How It Grades
Gameplay: 75%
Story: N/A
Graphics: 70%
Cutscenes: N/A
Sound: 68%
Music: 55%
Manual: 80%
Interface: 83%
Multiplayer: N/A
Overall: 78%

I can't say I didn't enjoy playing Zoo Tycoon as I certainly did but once your exhibits are up and you are bringing in guests by the bucket load, there is not much to do other than make sure your animals remain as healthy and well-fed as possible. But managing your zoo and keeping your animals, your guests, and all your employees happy can be very rewarding, especially if you have a colossal zoo with lots of exhibits and a large amount of guests coming in all the time. All in all its good fun especially if you are able to play it with a child who would really enjoy getting into the Zoo theme.
Specs & Package
Overall Score
75%
Version Reviewed
1.0
Release Date
Out Now
In The Box?
1 CD
Small Manual
The Good Points
Fun
Large range of options
Lots of animals
Easy to customize
The Bad Points
Average graphics and sound
Fun up to a point
Similar To
RollerCoaster Tycoon
Theme Park
Reviewers PC Setup
Pentium III 800
Windows XP Home
512 Meg SD-Ram
Nvidia GeForce 2 Ultra
DirectX 8.1
SoundBlaster Live! Value
19" Iiyama Vision Master
Microsoft Force Feedback Pro 2
Microsoft Game Pad Pro (USB)
Microsoft Digital Sound System 80
Microsoft Intellimouse Explorer
3Com Cable Modem & Ethernet Card

DVD TV Player - Pioneer DV-626D
Widescreen TV - Sony KV-28WS2U 28"
DVD-ROM: Memorex 12xDVD Maxx

PC Required
Windows 95/98/ME/2000/XP
Pentium 233 MHz
32 MB Ram (64 MB For Windows 2000 - 128 MB For Windows XP)
CD-ROM Drive
Mouse and Keyboard
640*480 video card with 4mb ram
Windows compatible sound device
300 MB of free hard drive space