DirectX
ActiveMac
Downloads
Forums
Interviews
News
MS Games & Hardware
Reviews
Support Center
Windows 2000
Windows Me
Windows Server 2003
Windows Vista
Windows XP



News Centers
Windows/Microsoft
DVD
Apple/Mac
Xbox
News Search



ActiveXBox
Xbox News
Box Shots
Inside The Xbox
Released Titles
Announced Titles
Screenshots/Videos
History Of The Xbox
Links
Forum
FAQ



Windows XP
Introduction
System Requirements
Home Features
Pro Features
Upgrade Checklists
History
FAQ
Links
TopTechTips



FAQ's
Windows Vista
Windows 98/98 SE
Windows 2000
Windows Me
Windows Server 2002
Windows "Whistler" XP
Windows CE
Internet Explorer 6
Internet Explorer 5
Xbox
Xbox 360
DirectX
DVD's



TopTechTips
Registry Tips
Windows 95/98
Windows 2000
Internet Explorer 5
Program Tips
Easter Eggs
Hardware
DVD



ActiveDVD
DVD News
DVD Forum
Glossary
Tips
Articles
Reviews
News Archive
Links
Drivers



Latest Reviews
Xbox/Games
Fallout 3

Applications
Windows Server 2008 R2
Windows 7

Hardware
iPod Touch 32GB



Latest Interviews
Steve Ballmer
Jim Allchin



Site News/Info
About This Site
Affiliates
Contact Us
Default Home Page
Link To Us
Links

News Archive
Site Search
Awards



Credits
©1997-2012, Active Network, Inc. All Rights Reserved.
Please click here for full terms of use and restrictions or read our Light Tower Privacy Statement.



Product: Print Office 2000
Company: Corel, Inc.
Website: http://www.corel.com
Estimated Street Price: $49.99
Review By: Julien JAY
Corel Central 9
Corel Central 9 is a software inherited from Corel WordPerfect. This software is a personal information manager tool designed to help users manage their tasks, times and meetings. When you start it an auto-hide calendar view will appear at the right of your screen. Drag your mouse on the right border of the screen and you can view your current meetings/appointments and start your address book.
The address book will automatically import all of your windows or MAPI address books contacts. So youíre ready to use CorelCentral and you donít have to recreate a new address book. If youíre a Palm user youíll surely use the synchronization feature of Corel Central 9 to transfer to your Palm the appointments, addresses of the day!
A small reminder (that can start each time Windows starts) will help you to keep your head on your shoulders by reminding you the upcoming important appointments. You

can also write notes with CorelCentral 9. All the notes can be sorted and you can even perform search throughout your existing notes. The calendar is easy to use and display a full view of the upcoming weeks and months. The Corel Central day Planner lets users see the dayís events and tasks when they start the PC. Finally the file maker tool allows you to create cards on things to do, lists and much more. All of this can be easily exported to a Palm Pilot hand held device. CorelCentral 9 works great but it wonít be very useful for most users. The fact that it doesnít manage emails reduces to our point of view the interest of the software.


Corel Central 9 Calendar (click to enlarge)
Corel WEB.DESIGNER 2
This software as its name indicates is aimed to help users creating web pages and websites easily. Traditional tools are offered and you can even preview your webpage into your default browser with a single mouse click. However unlike in FrontPage 2000, GoLive 5, etc. you canít view the map of your site which reduces the interest of WEB.DESIGNER for a corporate use. New features have been added to this release like the ability to preview images into the gallery docker window. Once pictures have been previewed you can drag and drop them into your page. A nice feature is the autoconvert engine that will convert any picture to the JPEG or GIF format automatically. At least Corel WEB.Designer supports forms: you can now use the form creation tools to create on your webpage text frames, buttons, checkboxes, lists, and more! Like every Webpage designing tool, Corel WEB.DESIGNER fully supports CSS, JavaScript, ActiveX, applets, embedded files and layering. If you want to create a frame enabled website youíll be glad to know that Corel included a frame wizard to further ease your job: this wizard will guid you to specify the width, height, number, and position of web frames. Sure an uploading tool is provided and you can upload your new website to the server directly from Corel WEB.DESIGNER. WebMaster need to be sure their website is typo error free: so corel added to its Web page designer a Spell Checker and a Thesaurus based on the Corelís Wordperfect technology. This software also comes with image-mapping features so you can define click areas on part of a picture. Strangely during our test the software was unable to open our SHTML ActiveWin web pages files to edit them... Finally you can hopefully edit the source code of your pages to add some of your own or to check if everything is OK.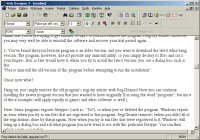 Corel WEB.DESIGNER 2 Interface (click to enlarge)