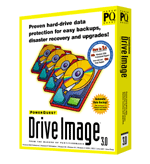 Product: DriveImage 3.02
Company: Powerquest
Website: http://www.powerquest.com
Estimated Street Price: $69.95
Review By: Julien JAY



Introduction
Powerquest has just released a brand new version 3.0 of its awarded life saving software solution, DriveImage. DriveImage is a must have software that makes a complete image of your hard disk to the destination of your choice (ZIP, JAZ, HDs…). That is to say all the contents and partitions of your hard disk will be saved on a file, like if you take a photo of it. So if a crash occurs on your computer you'll be able to restore a healthy system in a few seconds by simply restoring the image file. Below are the new features:
New DOS enhanced GUI.
Windows 2000 support.
Linux support.
Support ZIP, JAZ & Syquest drives.
Full support for FAT, FAT32, NTFS, HPFS, Linux ext2 & SWAP file formats.

Setup
Setup is very simple: insert the DriveImage 3 CD and click on the setup button. A few seconds later you're prompted to type your serial number and DriveImage 3 will be installed. At the end of the setup you'll have to create the emergency floppies set. This floppy set will start your computer in DOS mode and load the appropriate devices' drivers for your Iomega or Syquest external SCSI drives if applicable in order to create or restore an image. Creating these two floppies takes a few minutes.
GUI
The graphic user interface of DriveImage 3 is very nice even if it runs under DOS. Indeed Drive Image GUI uses the same look and feel of every Windows application. So you won't be disrupted.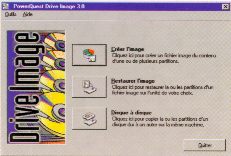 Features
Power users and system administrators know that a working system is a 'jewel' that must be saved and backup in order to retrieve it quickly in case of a crash occurs. It avoids long reinstall time that can take up to several working days to install your software & tweak your system. DriveImage 3 is the perfect solution for this need and its ease of use really makes it popular software that every user should have. It can save an image of your hard disk to any working DOS drive and compress it at the maximum rate of 50% so you can save up to 4 GB of data to a JAZ 2GB. Obviously you can also choose to store the image file on a second or third hard disk. Safety is an important thing and DriveImage 3 can reread the data it writes on the image file in order to make sure that no corrupted data is saved. The fact that DriveImage 3 runs only in DOS mode allows it to take an accurate snapshot of your hard disk as no files are in use, so all the vital files of Windows will be backup (system.dat, user.dat, Win386.swp…) But that's not all! DriveImage can copy the entire contents of an hard disk to another one and adapt the partition size if needed. That is to say that when you want to change your old 6.4Gb disk you won't have to reinstall everything: just run DriveImage and the entire contents of the old HD will be copied on the brand new 20Gb one (the partition size will be automatically adapted). It really works and it will save precious hours!
Saving
Saving the full hard disk's content to an image file is fast, accurate and safe due to the exclusive Powerquest SmartSector technology that only copy hard disk used sectors. Generally it takes 30 minutes to transfer a full 3.5Gb system to a JAZ 2 GB SCSI disk. During the saving process several gauges indicate the status of the operation and the speed at which files are transferred is continuously monitored. Thanks to the compress feature you can double the capacity of any drive you use to store your image. If you're paranoiac you can choose to enable the safety feature that'll check the image file to make sure that no error is written in it. But please note that this feature will slow down the saving process.
Restoring
There's nothing easier than restoring an existing Drive Image 3 image! Boot your computer from the emergency floppy disk, format the drive on which you'll restore the image and then launch Drive Image. Once the software is running, simply select the file you want to restore, and the destination disk. Then you'll be prompted to adapt the partition size if needed or to let it as is and create a new partition containing the rest of the hard disk space. The restore process is fast and took only 20 minutes (depending on the size of your image) to restore a full functional system. Once the restore process is achieved a message box warns you to eject the floppy and to restart your computer. When the computer reboots you'll find back your old good working Windows system!
File Editor
DriveImage 3 now comes with a windows applet named Drive Image File Editor that'll enable any users to retrieve just one or more files they need instantly from the image you select. So you won't have to restore the entire image file if you need only one or two files! However in order to do so you have to create first an index file based on the image file, then you can pick up the files you need on your DriveImage disk. The process of creating an index is easy to do but a bit long. You'll also be able to view and change the comments you may include for each image file. Finally the drive image file editor will offer you to check the integrity of any image files in order to avoid bad surprises.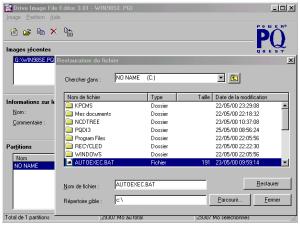 Conclusion
How It Grades
Setup: 80%
Features: 90%
Efficiency: 90%
Cost: 85%
Ease of use: 80%
Overall: 85%

DriveImage 3.0 has really amazed us as it's a great backup solution that everyone should have in order to restore in a few clicks a working system after a crash. Its ease of use and its Windows like interface allow novice users to use DriveImage 3 without any worries. Finally it produces reliable hard disk images in a record time.
Specs & Package
Overall Score
85%
Version Reviewed
DriveImage 3.02
Release Date
Out Now
In The Box?
1 CD,
1 Users's guide.
The Good Points
Great DOS UI,
Fast & reliable,
File Editor,
Windows 2000 & Linux support.
The Bad Points
Uncompliant with Windows Me,
No feature to burn drive images directly on CD,
A bit expensive.
Reviewers PC Setup
Intel Pentium III 1Ghz EB
Intel VC820 Motherboard
256Meg RDRAM 800Mhz /w ECC
Windows 98 Second Edition
Matrox G400 Max 32MB AGP Graphics Card
DirectX 7a
SoundBlaster Live! Platinum
17" Sony Trinitron Monitor
Microsoft Natural Keyboard Pro
Microsoft Digital Sound System 80
Microsoft Intellimouse Explorer

DVD-ROM: Pioneer 10x

PC Required
Windows 95/98
Pentium 100 or higher
16mb ram
4x cd rom Drive
Mouse and Keyboard
16mb free hard drive space