DirectX
ActiveMac
Downloads
Forums
Interviews
News
MS Games & Hardware
Reviews
Support Center
Windows 2000
Windows Me
Windows Server 2003
Windows Vista
Windows XP



News Centers
Windows/Microsoft
DVD
Apple/Mac
Xbox
News Search



ActiveXBox
Xbox News
Box Shots
Inside The Xbox
Released Titles
Announced Titles
Screenshots/Videos
History Of The Xbox
Links
Forum
FAQ



Windows XP
Introduction
System Requirements
Home Features
Pro Features
Upgrade Checklists
History
FAQ
Links
TopTechTips



FAQ's
Windows Vista
Windows 98/98 SE
Windows 2000
Windows Me
Windows Server 2002
Windows "Whistler" XP
Windows CE
Internet Explorer 6
Internet Explorer 5
Xbox
Xbox 360
DirectX
DVD's



TopTechTips
Registry Tips
Windows 95/98
Windows 2000
Internet Explorer 5
Program Tips
Easter Eggs
Hardware
DVD



ActiveDVD
DVD News
DVD Forum
Glossary
Tips
Articles
Reviews
News Archive
Links
Drivers



Latest Reviews
Xbox/Games
Fallout 3

Applications
Windows Server 2008 R2
Windows 7

Hardware
iPod Touch 32GB



Latest Interviews
Steve Ballmer
Jim Allchin



Site News/Info
About This Site
Affiliates
Contact Us
Default Home Page
Link To Us
Links

News Archive
Site Search
Awards



Credits
©1997-2012, Active Network, Inc. All Rights Reserved.
Please click here for full terms of use and restrictions or read our Light Tower Privacy Statement.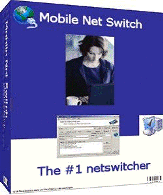 Introduction
In this day and age IT professionals and power users like to be connected to everything they deem necessary with a minimal amount of work to achieve that connectivity. Part of this goal is being connected to more than one network at once, although switching network settings is not the most time efficient task to do. Mobile Net Switch is a utility aimed to help seamless achieve these tasks. Does it live up to its words? Read on to find out.
Switch quickly between network settings
Maps network drives
Set's IP Addresses
Configures the correct Proxy server
Imports your current network settings
Each location it's own profile; home/work/..
Installation and Setup
Mobile Net Switch's installation is a breeze. First, go to the website and choose from a variety of formats (zip, rar, exe, etc.) and once download start the setup. Mobile Net Switch uses the Wise installation wizard so the interface is familiar. The whole process takes less than 5 minutes and you are ready to go without a restart. The program only takes 2 MB to install.
Mobile Net Switch works on XP, 2000 and Windows Server 2003. It will work on 98, etc. if you have WMI installed. Upon starting the program, a prompt asks you if you wish to have MNS start automatically. As standard shareware goes, you can try this program out for free to see if you would like to purchase it. A small icon is placed in your tray as well.

Interface
Mobile Net Switch's interface is intuitive and easy to use. As you can see in the screenshot, it does not take up much real estate on your screen. The program includes standard menu options. Under the options menu, you have the choice of having the program start minimized, automatically start (again), prompt for password, and you can choose to have buttons instead of tabs. In order to contain all the information, you cannot resize the window. If needed, you can export your settings to other locations. When the profile is all set up and ready to go, just click "Activate" and everything will be in place.

Features
In the main window you have the option of adding your account information (for a certain domain), configure a proxy server (either manually, automatically) and manage the share list. The proxy server settings are the ones that will be used by IE. If you do not want something included to the proxy, simply click exceptions and setup the list as you feel needed.
On the IP Addressing tab you set up all the IP configuration settings for your system. All your network cards automatically pop-up with the IP address, subnet mask, default gateway, DNS servers, etc. You can also disable them as necessary. You can also add a new configuration with a DNS suffix if needed. Having a DNS suffix enhances network name resolution performance although not all networks are configured for this. The options to refresh and renew the IP are also provided.
The hosts tab allows you to specify entries to the hosts file which will be available when the selected profile has been activated. The current Hosts file content is not removed.
On the Internet tab you have a variety of common Internet features. These features, though common, are convenient to have right here if you are an avid user of the program. You can choose your connection settings, homepage, while linking to the more comprehensive IE menu.
On the misc tab you have some more features added for convenience. In the printer box, you have the option to refresh, add, connect, clear, and view the print dialog for all your printers locally and on the network. Still on the misc tab, you can set a default Mapi profile (Outlook). If you put a SMTP address, etc. in the DynamicSMTP box you no longer have to change your settings in the outgoing SMTP box in OE, Outlook, etc. Just change your SMTP settings to "DynamicSMTP" and no more future changes will be needed. If you put a domain in just click "get IP address" the domain will resolve.

On the scripts tab, you can select which scripts (if any); you want to run when you activate the profile. You can also choose the scripts go across all profiles.
Finally, the remarks tab allows you to make any notes you want associated with the current profile.
Final Comments
How It Grades
Ease Of Use: 86%
Interface: 90%
Manual: 93%
Cost: 90%
Features: 90%
Overall: 89.8%
To conclude, Mobile Net Switch is a very useful and time saving utility for power users and IT professionals who use multiple networks and want to save time messing with settings, etc. The program offers a significant amount of features compared for the pricetag MNS carries. The creator offers excellent manual, FAQs and support for users of the product as well. I would definitely recommend to those who are interested to download the product to try it for free to test this convenient set of features. Plus, MNS works on Windows Server 2003!
Specs & Package
Overall Score
89.8%
Version Reviewed
1.96
Release Date
Out Now
In The Box?
Download / Manual Online
The Good Points
Simple
Cheap
The Bad Points
Give Us More Features
Reviewers PC Setup
AMD Athlon XP 2100
Asus A7V333 Motherboard
512MB DDR PC2100
Leadtek NvidiaGeForce 4 Ti 4600
Creative Labs Audigy Sound Card (OEM)
100 GB Western Digital Hard Drive 7200 RPM, 8mb Cache
Samsung 16x DVD-ROM
Mirai CD-RW (40x12x48x)
Creative Inspire 5.1 5300 Speakers
PC Required
Mobile Net Switch supports Windows 2000, XP and Windows 2003.

The program also functions when using Windows NT and Windows 98/ME when WMI is installed. WMI is a Microsoft extension to Windows which is installed by default on Windows 2000, XP and Windows 2003. (Please note; using Mobile Net Switch on Windows NT and Windows 98 is not supported but will function correctly on most systems when WMI is installed)