Product: Second Chance 2.07
Company: PowerQuest
Website: http://www.powerquest.com
Estimated Street Price: $49.95
Review By: Julien JAY
Introduction
Have you ever installed a software update that failed, erase a system file or get a virus that accidentally crashed your system? If so, you know that restoring to a healthy working system is painful and can be a chase just to find the origin of the failure and that is just the beginning of the problem. If you aren't yet a Windows Me user, PowerQuest has got a software solution for you named Second Chance 2.0. As its name indicates, Second Chance 2 will give you a second chance to restore a working PC environment.
Setup
Installing Second Chance 2.0 is very easy, and the setup is fast as it took only two or three minutes to complete. During the setup you'll be prompted to select which hard drives you want to monitor in order to protect it from file deletion, registry, etc. At the end of the setup you'll be invited to create a DOS rescue floppy disk to boot the computer and restore files under DOS if your Windows system is too damaged. Then you'll be invited to reboot your computer.
First Start
Once you have installed the software, PowerQuest Second Chance 2.0 will take a 'photo' of your hard-drives that will contain an accurate image of what your drives contain. When you'll reboot the computer your Windows Me taskbar will show a tray icon of Second Chance 2.0 in order to let you know your system is monitored. Note that if you'll also be invited to create a rescue floppy to restore images when needed. Double clicking this icon launched the Second Chance 2.0 software.


Tray icon of Second Chance 2.0
How it works?
In fact Second Chance 2.0 isn't a backup or image program like DriveImage or Norton Ghost. Indeed it works smarter and faster as Second Chance 2.0 continuously monitors your hard drives and saves backup copies of files that were modified, updated or deleted. To do so Second Chance 2.0 creates restore points (as written below in the setup part of the review) automatically but you can obviously create your own restore points at your convenience: indeed by simply pushing the 'Create control point' button it'll be done. You can take up to 24 different restore points per day and obviously you can manage them in the software and delete those who aren't needed anymore. When you launch Windows the program is automatically launched and doesn't affect the computer performance: indeed even if it takes 2MB in memory we didn't notice any slow downs during our extensive tests. Second Chance 2.0 will track every system change such as file modification, file creation, file deletion, etc. Only Internet cache folders and temporary folders won't be watched.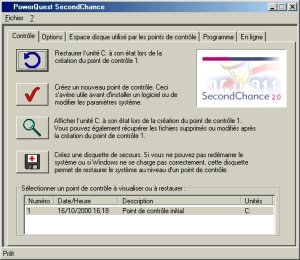 PowerQuest Second Chance 2.07 GUI (click to enlarge)
Restoring
When Second Chance 2.0 detects software or the user is about to delete/change/update a file it will backup the old files by copying them in a safe folder before updating or deleting the files. If you encounter a problem you'll have to select the restore point you want restore and push the 'restore' button: then Second Chance 2.0 will act just like a time machine by backing up time. Restoring the system based on the selected restore point can be done under Windows or under Microsoft DOS: the restoring process is almost fast even if it requires two reboots. It'll save precious time by solving your problem quickly and efficiently. Best of all Second Chance 2.0 can also backup files that would be replaced by the restoration process.
Explorer viewing
Each restore point you create can be viewed in a separate window that looks like the explorer and shows the exact contents of the image that was taken. It's very useful as hopefully you can choose to restore only one file contained in a restore point: imagine you've created a restore point yesterday with the latest version of your working files and today your latest child has just erased everything! Before killing him just launch Second Chance 2.0 and only select the files you want to retrieve in the interface and relax while Second Chance 2.0 restores these files in only a few seconds as it just extract them and it doesn't need to restore a whole hard disk. Best of all when viewing the contents of a restore point you can see which changes have been applied.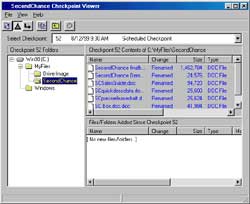 Features
Second Chance 2.0 also allows you to change the space limit of the control points you create so when the limit is reached new restore points will delete old ones automatically or on demand. You can even define automatic day save limit to tell the program how many days it should keep restore points when the hard disk space is reached. If you don't want monitor some folders of your hard drives you can exclude them from the monitoring process easily. Finally you can schedule the checkpoint creation day by day, hour per hour.
Limitations
If Second Chance is a very good program it has got some limitations: indeed it only monitors Windows file modification and not DOS ones. Also Second Chance 2.0 can't handle partition changes so if you create a new partition by erasing an older one you won't be able to retrieve anything. The latest limit of Second Chance 2.0 is related to hard disk crashes or virus attacks: indeed if the hard drive where the image is stored crashes you won't be able to retrieve anything except if you use special utilities like Lost & Found. Also virus attacks can definitely damage your saved checkpoints. To avoid such problems you can backup the folder where you store the checkpoints into a safe place or a CDR.
Final Comments
How It Grades
Install: 90%
Features: 95%
Performance: 90%
Ease of use: 90%
Accuracy of backup
image files: 90%
Overall: 91%

PowerQuest Second Chance 2.0 is the ultimate lifeguard software for your precious data. It's such an innovative software that Microsoft has included the 'System Restore' applet that works the same in its latest operating system: Windows Me. Its features, ease of use and performance make it worth the buy. The only drawback of this software is the place it requires on your hard disk to store multiple and various checkpoint images. Windows Me users can now adopt Second Chance 2.07 as it is now compliant with the latest OS from Microsoft. Windows Me and non-Windows Me users, if you want the ultimate file protection to protect your data, this is the software for you!
Specs & Package
Overall Score
91%
Version Reviewed
Second Chance 2.07
Release Date
Out Now
In The Box?
1 CD
1 Manual
The Good Points
Original high quality new software
Low impact on system performances
Works great to restore vital files
Easy to use for novice users
The Bad Points
Some limitations
Similar To
Adaptec GoBack
Reviewers PC Setup
Pentium III 1 Ghz B
Intel VC820 Motherboard
Windows 98 Second Edition
256 MB PC800 RDRAM w/ECC
DirectX 7a
17" Sony Trinitron Monitor
Hercules 3D Prophet II Ultra - 64Mb AGP 4x Graphics Card
Sound Blaster Live! Platinum
Adaptec 19160 Ultra SCSI card
Pinnacle MiroVideo DC30+
Pinnacle Studio DV
Pinnacle Studio PCTV USB

Microsoft TrackBall Optical
Microsoft Natural Keyboard Pro
Microsoft Digital Sound System 80

DVD Pioneer 105s (16x/40x)
PC Required
Windows 95/98/98SE
Pentium or above
16 mb ram
2x cd rom Drive
Mouse and Keyboard
640*480 video card with 2mb ram
20 mb free hard drive space for the program itself
More than 200Mb of free hard drive space to store image files