DirectX
ActiveMac
Downloads
Forums
Interviews
News
MS Games & Hardware
Reviews
Support Center
Windows 2000
Windows Me
Windows Server 2003
Windows Vista
Windows XP



News Centers
Windows/Microsoft
DVD
Apple/Mac
Xbox
News Search



ActiveXBox
Xbox News
Box Shots
Inside The Xbox
Released Titles
Announced Titles
Screenshots/Videos
History Of The Xbox
Links
Forum
FAQ



Windows XP
Introduction
System Requirements
Home Features
Pro Features
Upgrade Checklists
History
FAQ
Links
TopTechTips



FAQ's
Windows Vista
Windows 98/98 SE
Windows 2000
Windows Me
Windows Server 2002
Windows "Whistler" XP
Windows CE
Internet Explorer 6
Internet Explorer 5
Xbox
Xbox 360
DirectX
DVD's



TopTechTips
Registry Tips
Windows 95/98
Windows 2000
Internet Explorer 5
Program Tips
Easter Eggs
Hardware
DVD



ActiveDVD
DVD News
DVD Forum
Glossary
Tips
Articles
Reviews
News Archive
Links
Drivers



Latest Reviews
Xbox/Games
Fallout 3

Applications
Windows Server 2008 R2
Windows 7

Hardware
iPod Touch 32GB



Latest Interviews
Steve Ballmer
Jim Allchin



Site News/Info
About This Site
Affiliates
Contact Us
Default Home Page
Link To Us
Links

News Archive
Site Search
Awards



Credits
©1997-2012, Active Network, Inc. All Rights Reserved.
Please click here for full terms of use and restrictions or read our Light Tower Privacy Statement.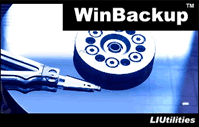 Introduction
In this day and age, you never know when your computer will simply go "kaput." However, life is not so bad when this happens if you have a back up of your data, of course. If you do not regularly back up your data (you know who you are), the time has come to implement a solution to fit your needs. Since 1999, LIUtilities has offered a backup solution (WinBackup) to help ease the unpredictability when computer hardware or software goes bad. Does this product live up to its promises? Read on to find out.
Very intuitive design with easy to understand icons, names and tooltips

Flexible file and folder selection similar to Windows Explorer

Built-in wizards/tutorials and documentation helps to get you started

Fully multi-threaded user-interface with background processing

Security Strong encryption (128 or 256 bit AES) protects your backups from unauthorized access

Protect your backups with passwords

Use passwords to prevent others from starting WinBackup

Built-in CD and DVD burning

Write backups from network or harddrive to CD or DVD

Fully automatic CD burning can be used with scheduled backups

CD and DVD spanning allows you to save large backups to multiple CDs or DVDs

Smart labels and multi-session writing can be used to store many backups on a single CD.

Scheduling Schedule backups to run in the background at any time

Separate schedules can be used for different Backup Jobs

Compression Compress files to reduce the size of backups

Estimated compressed size is calculated in realtime for any backup job

Files are compressed and decompressed on the fly for maximum performance

Other Features Backup outlook emails, my documents, desktop, address book or favorites with a single click

Detailed Logs helps you keep track of all executed backup operations
Installation and Setup
The installation of WinBackup is a breeze. Simply insert the CD and the automatic setup begins, and finishes, within a minute. Simplicity at its best, as no restart is necessary. So let's get ready to backup! The installation only takes about 2 MB of space on your HD.

Backup
When you open WinBackup for the first time a Backup Wizard pops up to show you how to create a back up in the program, however you can turn the tutor off if you wish (but we will continue with it anyway). To start, you create a job name for the backup. Next, we'll go to the Add/Remove files tab and add the folders we want to back up. Once a folder is selected, all the files within are set to be backup as well, though you can change this by unchecking the files you do not want to backup in the right window pane. Note: you can change this so by default none of the files are checked.
Then, we go to the backup settings window to choose the options for this job. Here you can exclude certain filenames or extensions, split the backup into different files, stop certain processes before starting (like outlook.exe), and more. Moreover, you can split the backups over multiple CDs or DVDs incase you were backing up something huge (like ActiveWin's database). On the CD/DVD settings tab you have your standard choices of where the backup media is located, overwrite, eject upon completion, etc. WinBackup can also compress the backup if needed, and provides an estimated compression size before you make your decision.

On the security tab you have the option of requiring a password to access the data, as well as choosing to have no encryption of the data, 128 or 256 AES encryption. Once you've chosen all the settings simply click "run backup." When the backup completes there is a backup log stating how long it took, how much data was transferred, etc.
Restore
To restore, let's open the restore wizard from the view menu. We'll simply select our backup file, select the files to restore from the backup and open the restore settings menu. Here we choose if we want to replace files, older files, or not replace them at all. Then, we choose if we want them restored to the original location or if a new location needs to be selected. Note: if you choose no files and click restore, you get a programming error.
General Features
The interface is nicely setup as you can toggle between the backup and restore windows easily. Also, the job information is presented nicely so you can track your past jobs, scheduled jobs, etc. Another nice little feature WinBackup has is the search window. You do not have to open the Windows search to find the files you need, you can do it right within the program to save some time. LIUtilities has provided a 24 page color PDF version of the manual (in addition to the one in the box), so if you have any problems help is not far away. Lastly, to prevent unwanted users WinBackup has the option to require a password before use.
Final Comments
How It Grades
Ease Of Use: 86%
Interface: 89%
Manual: 95%
Cost: 83%
Features: 91%
Overall: 88.8%
LIUtilities lives up to its promise of providing a simple and efficient backup solution with the product WinBackup. The interface is relatively easy to use, the manual they provide is excellent, and the features that are included are sufficient for even most power users. The download version is much more cost effective than the boxed version, as it is $20 cheaper. Some of you may want to use free utilities that are on the WWW, but I think this program is worth its cost Future updates are generally included as LIUtilites provides a nice support website with important links to any relevant materials. If you need a decent backup solution, I definitely suggest trying the WinBackup today (online version).
Specs & Package
Overall Score
88.8%
Version Reviewed
WinBackup
Release Date
Out Now
In The Box?
Manual
The Good Points
Great Support
Nice Features
The Bad Points
Few bugs
Reviewers PC Setup
AMD Athlon XP 2100
Asus A7V333 Motherboard
512MB DDR PC2100
Leadtek NvidiaGeForce 4 Ti 4600
Creative Labs Audigy Sound Card (OEM)
100 GB Western Digital Hard Drive 7200 RPM, 8mb Cache
Samsung 16x DVD-ROM
Mirai CD-RW (40x12x48x)
Creative Inspire 5.1 5300 Speakers
PC Required
Windows 98/ME/2000/XP
Pentium 233 MHz
32 MB Ram
2 MB HD Space