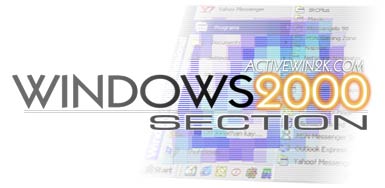 Utilities
Here you will find some useful utilities for Windows 2000. If you know of any utilities that might belong in this section please email us with the details.
Alchemy Launcher 1.0
Alchemy Launcher is a small system tray applet intended to help you starting any of your favorite applications with one click mouse click. It allows you to create shortcuts and quickly open them. Apart from that you can open any of your desktop shortcuts right from the Alchemy Launcher. Alchemy Launcher has several addition service capabilities, e.x. program eject operation for devices like LS-120, CD-ROM, etc.

Ad-aware
Ad-aware scans your memory, registry, and hard drives for software components from Adware, Alexa, Aureate (1.0, 2.0, and 3.0), Comet Cursor (1.0 and 2.0), Cydoor, Doubleclick, DSSAgent, Flyswat, Gator, TimeSink (1.0 and 2.0), Web3000, and Webhancer. Ad-aware then displays a list of detected spyware files and allows you to selectively remove them from your system.
AntiCrash
AntiCrash is a Java 'application' which was developed in order to prevent Windows95/98/NT/2000 from crashing at all. It loads on your Windows desktop and provides flawless capability to access and switch between applications, and it provides a true multi-threading enviorment for users and applications can be opened and closed without the system getting unstable or slow.

Ashampoo PowerUp 2000
With Ashampoo PowerUp 2000 you can tweak your system's standard settings, as well as the many hidden options and functions of Windows. It contains an intuitive interface that integrates the configuration options, additional modules, and your own favorite tools and utilities in one easy-to-use package. Configure Windows NT and 2000 to behave the way you want them to, eliminate annoyances, and get more functionality. Interactive help includes context-sensitive information on all functions. Multiple configurations of profiles enables you to reconfigure the entire system by loading a file.
ClipMagic 2.01
ClipMagic offers everything you would expect from a powerful clipboard extender. But it also goes much further than that to provide a great research and information management tool. ClipMagic can work with Netscape and Internet Explorer to record URLs with clippings that you take from web pages. It also has its own internal web browser, to make 'net research even faster.
ClipMate for Windows (32-bit)
If you find the Windows Clipboard too limited, then you need ClipMate. It's one of the most powerful and flexible Clipboard utilities available for Windows. It stores, recalls, links, and edits Clipboard data once it has been removed from the active view.
CLOX
CLOX is a world clock software package which provides rows of both analogue and digital clocks showing the time in different user-selected time zones. Along with the time-zone clocks comes a series of other useful features... A sophisticated alarm clock, the facility to automatically correct the system time via the internet and calendar displays are also provided.



CNet Catchup
From software upgrades and driver updates to security and system patches, CNET CatchUp is designed to help you quickly and easily find what you need to keep your PC healthy. Once you have downloaded the CatchUp software, install the application, and with the click of a button, the CatchUp service will generate a custom list of recommended updates.
Cool Desk 99
Turn your one desktop into nine with Cool Desk 99. Appearing in either vertical or horizontal toolbar form, it lets you quickly switch between up to nine virtual desktops. Each desktop shares the same desktop/system tray icons but can have different wallpaper. Change its appearance with the 10 attractive skins furnished.
EasyPaste
EasyPaste is a small utility that can save you time and keystrokes when dealing with repetitive text entries. It allows you to create and save clip lists you can use while filling out Web forms, entering programming code, or performing any other repeated text entry you can think of. EasyPaste lets you create as many groups of text snippets as you like, each with as many entries as your desktop size will allow.
ERS 2000
Win 2000, Recover gracefully from a system crash with ERS2000.~Should ERS 2000 registry or other System files get corrupted, backups will then be available to restore from. ERS 2000 does two Windows main files backups and three Registry backups, all Profiles and boot files backups for Win NT (FAT/FAT32).

EvenTrigger for Windows 2000


Thanks to its advanced event filters, EvenTrigger alerts you before potential problems occur !Its easy to use MMC snap-in will help administrators to anticipate and prevent faults by actively monitoring their networks availability, but also to strenghen their network security.Running as a Windows NT/2000 service, EvenTrigger is able to generate pop-ups or e-mails once pre-defined criteria are met.

FastOpen
FastOpen is a system tray utility that provides a handy way to access frequently used programs and folders. An easy-to- use setup dialogs are available for you to define and name as many folders, programs or web addresses as you like. Additional features include support for fixed and variable command line arguments, automatically add all your drives to the menu or to a sub menu, easy access to a DOS window instead of opening the folder, full menu customization including separators support and much more.

FileBox eXtender
Navigate easily through Windows folder maze with FileBox eXtender buttons placed on standard Windows file boxes. Access your favorite and recently visited folders and documents with one mouse click. Make the file boxes bigger to see more folders and files. Optionally FileBX buttons can be also placed on Explorer windows or accessed from the system tray.

Hardware Sensors Monitor Pro
This program also monitors and displays hardware parameters collected by the several sensor chips, installed on certain motherboards. Program can monitor voltages, temperatures of CPU and motherboard and cooler fans RPMs. Program can be used under Windows 95/98/2000/NT operating systems on Intel-based personal computers. Wide range of boards and sensors is supported.

ItweakU
ItweakU (formerly TweakJr 99) is a broad-based utility that allows you to speed up your Internet connection by changing your default RWIN, default TTL, maximum MTU, and maximum MSS values. It also has security features that prevent users from adding or removing printers, shutting down the system, and so on. Features include the ability to disable Regedit, and added compatibility with Windows NT. The newest version has an updated user interface and the option to hide drives.
MemoKit
MemoKit combines system memory enhancement functions with several useful desktop tools. It's based in the system tray, but can run as a toolbar as well. Based on an automatically managed "hysteresis memory release" mechanism, its Automatic Memory Optimizer claims to dramatically boost system performance at regular intervals.
MinuteMan Data backup Suite
Your complete backup and zipping solution. Backup Locally from one drive to another, to and from a Network drive and from one Network Drive to another. To any removable media such as Zip, Jaz drive or Floppy. Incremental Zip to removable disk.
Net Optimizer
Net Optimizer is a shareware program designed for Windows 2000 only. Using a graphical user interface, Net Optimizer allows you to tweak the registry settings through a safe, graphical interface. The program lets you change many hidden settings to optimize your internet connection performance. Modifying a simply involves reading a helpful description, and clicking a checkbox.
Norton AntiVirus 2000
Norton AntiVirus 2000 for Windows 2000 protects you while you're surfing the Internet or getting information from floppy disks, CDs, or a network. It also automatically scans incoming attachments in the most popular email programs.
NTDevices
NTDevices shows the hidden connections between devices, drivers, and processes on Windows NT 4.0 systems. When viewing active processes, it displays devices currently being used by each process. Or, when the choice is to view by driver, NTDevices collects those devices created by individual drivers. And, if the choice is made to view by device, NTDevices enumerates all active devices in the system. The program also displays detailed information for drivers and devices, including device chains and attached devices.
Planet.Zip
Want compression rations of 10:1? How about internal support for 21 archive formats; and full backward compatibility with WinZip and Pkunzip? Then get Planet.Zip, formerly Wallaby95, the BEST way to zip and unzip in Windows 95, 98 and NT 4/5. With its intuitive and easy to understand interface, even the newest user will be using the most advanced features in minutes. A long list of FEATURES include: Create, update or decompress any ZIP, ARJ, ARC, LHA/LZH, CAB, ZOO, BH, TAR, UUE, Z, and GZ files. It password protects entire archives, offers variable compression levels, messages and instructions stored on the archive and can be seen by ANY decompression program.
Power Launcher Plus
Power Launcher Plus is a suite of six versatile utilities that can launch programs, control startup sources, kill running applications, and start or stop NT services. Included are Launcher Manager, Shutdown Launcher, Startup Launcher, On Time Launcher, App Killer, and Clone Tool.
PowerPro
PowerPro is a combination button bar, task switcher/launcher, clock, calendar, and more. Despite its versatility, it takes up very little desktop space; it can fit over the title bar of a maximized window. PowerPro lets each toolbar button do triple-duty: Click on it with the left mouse button to run one program, the middle button to run another, and the right button for a third.
ProFILER 2000
ProFILER 2000 is an exciting new utility that allows you to save custom operating system settings. ProFILER 2000 will also save customizations and setup information made within Microsoft Office 97 and many popular email and Web browser packages. Settings you spent hours getting just right can now be saved off to a "profile" for safe keeping.
Push The Freakin' Button!
Pesky dialog boxes giving you trouble? Check out Push The Freakin' Button (PTFB)! This free tray-based utility waits for specified dialog boxes to pop up, then automatically presses the button you've configured. So when a dialog causes irritation, you simply tell PTFB which button should be pressed, and it will handle the dialog in the future.
Registry Crawler
If you're a power user or developer, here's a tool you'll definitely be interested in. Registry Crawler lets you quickly find and configure Registry settings. Unlike the Windows Registry Editor's puny find functions, Registry Crawler's powerful search engine locates information based on specified criteria. The results are shown in a list, allowing you to access any found key with a mouse click.
RoboMon
RoboMon monitors and manages your Windows NT/2000-based applications, systems and networks, enabling you to maintain the highest levels of eBusiness availability and performance. RoboMon detects problems, reports and graphs performance data, and centrally monitors such wide-ranging technologies as Exchange, IIS, SQL Server, Citrix, Terminal Server, Oracle, Proxy Server, Cisco, Insight Manager, Service Level Agreements, and more. RoboMon provides a unique combination of superior monitoring, unmatched scalability and ease of deployment and maintenance, to give you the best Return on Investment and the lowest Total Cost of Ownership for your IT organization.
System Mechanic 3.5g
System Mechanic is a general-purpose utility for maintaining the integrity of your PC. This fine suite is a snap to use and is packed with valuable tools. It offers an easy way to find and remove duplicate files and a variety of waste files. You can specify which drives and/or folders to scan, and edit the built-in waste-file list. When the scans are complete, System Mechanic provides a list of files that meet the criteria, allowing you to eliminate them as you see fit. It also allows you to repair or eliminate broken shortcuts, remove errant Registry entries, and eliminate invalid uninstaller info. Additional tools let you see and edit which programs are slated to load when Windows starts and monitor program installations. You can take a system snapshot for later comparison or get a report that details any system changes for a particular install. Secure file wipes, desktop tweaks, and Internet connection optimization and security features are included. Finally, a scheduler is available for hands-free PC maintenance. You can read our extended review of System Mechanic here.
TaskInfo2000
TaskInfo2000 is a wonderful real-time process viewer that also displays CPU usage. For each separate process, you can retrieve the CPU usage, modules, program path, current directory, and more. You can also change priority settings and kill active processes.
Textractor
Textractor is a text monitor tool for Windows NT/2000 that captures and logs text that a monitored program writes to the system screen. It's a simple but effective way to review what has passed by on the screen.
TopToBottom NT
TopToBottom provides a handy tabbed interface that reports on 16- and 32-bit software modules and their associated DLLs, VxDs, and registered OCXs. Not only does it serve as an excellent process viewer, but it's very useful as an information retrieval utility.

Windows Commander
Windows Commander is a replacement for the File Manager and Explorer in Windows. The program handles archives and lets you easily copy files to and from those archives. Features include extended copying, moving, renaming, and deleting of entire trees; drag-and-drop support; a launch utility that lets you place frequently used programs into a drop-down menu; an FTP client; direct access to Network Neighborhood; a directory history list; and the ability to split and recombine big files into multiple smaller files, and vice-versa. This new version prints directories and trees, searches for Unicode and Hex, and displays HTML and Unicode in the built-in viewer.

WinHacker
WinHacker is a utility that you can use to configure the hidden Windows 95, 98, 2000, and Windows NT 4.0 settings. It is THE Windows Shell Management Tool. Many of the settings that change the way Windows works and feels are hidden in the overwhelming registry, or in configuration files. WinHacker give you an easy way to configure those settings through the GUI (graphical user interface).

WinTune
WinTune offers standard diagnostics and tells you how to fix what ails your system. It tests your system, CPU, video components, disk drives, and memory. After testing with WinTune 98, you can compare your results with an extensive database of results posted by other WinTune users. If WinTune finds anything amiss with your system configuration or results, it will give you tips to help fix the problem.
XDESK
XDESK is a powerful virtual-desktop manager that lets you have up to 10 independent working areas. It not only offers flexibility and functionality that make it one of the best programs of its type, but it includes several valuable utilities as a bonus. It offers different methods for easily switching among desktops, such as clicking on a tray icon; using a hotkey, a menu, or separate buttons; or trying a process called "mouse knocking."

Xteq X-Setup 5.7
Xteq Systems X-Setup is a so-called "hacker" or "tweaker" program. It allows you to change settings that are normally hidden deeply in some configuration-files (like the registry) fast and easily.
XUM32
Xum32 is the reliable files validate tool, the analogue of the Pretty Good Validate (PGV) and McAfee Validate DOS utilities. The checksum calculation method using by it lets you check files and detect if its has been tampered. XUM32 is extremely useful for files authentication. For example, we are providing the computed xum32 values for all of our archives - it helps you to check your copies, downloaded from somewhere else, to be sure you have an authentic package.


Return To The Windows 2000 Section