Product: System Mechanic 3.5c
Company: Iolo technologies
Website: http://www.iolo.com
Estimated Street Price: $59.95
Review By: Julien JAY
Introduction
Computer power users are always on the look for new powerful utilities to better manage and tweak their favourite Microsoft Windows operating system. Sure there are utilities software makers' giants like the famous Norton Utilities from Symantec or McAfee Office utilities that are probably the best tools on the market but unfortunately they don't cover all Microsoft Windows aspects. Iolo software has just released a new Utilities suite named System Mechanic. System Mechanic doesn't offer disk related utilities like Norton Utilities but it offers great Windows tweaking tools that'll be appreciated by every user. The version we reviewed is the 3.5c. One of the major features of this release is that it also works under Windows 2000!
Setup
Simply insert the Iolo System Mechanic CD, and the setup will install the software in a few seconds. It's a pity to see that the setup program isn't based on an InstallShield one. The software is very small: it takes only 1.19Mb on the hard disk!
GUI
To start System Mechanic simply double click its desktop icon. A funny mechanics toolbox look like interface is displayed. It's your starting point from where you can launch the different utilities that System Mechanic offers. The System Mechanic GUI is divided in three parts: Files, System and Internet. From it you can consult the help file, go to the Iolo website or see the logs. New to the version 3.5c is a very useful WebUpdate button that we'll connect you to the net and retrieve any potential available updates for System Mechanic. Finally the brand new 3.5c release introduce a great 'maintenance wizard' that allows you to easily run the most current System Mechanic checks (like registry cleaning, find & remove junk & obsolete files, etc.) with one button click. Sure you can fine tweak the settings of each scan engine to best fit your need.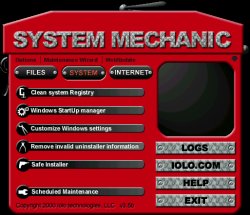 Main user interface of System Mechanic