DirectX
ActiveMac
Downloads
Forums
Interviews
News
MS Games & Hardware
Reviews
Support Center
Windows 2000
Windows Me
Windows Server 2003
Windows Vista
Windows XP



News Centers
Windows/Microsoft
DVD
Apple/Mac
Xbox
News Search



ActiveXBox
Xbox News
Box Shots
Inside The Xbox
Released Titles
Announced Titles
Screenshots/Videos
History Of The Xbox
Links
Forum
FAQ



Windows XP
Introduction
System Requirements
Home Features
Pro Features
Upgrade Checklists
History
FAQ
Links
TopTechTips



FAQ's
Windows Vista
Windows 98/98 SE
Windows 2000
Windows Me
Windows Server 2002
Windows "Whistler" XP
Windows CE
Internet Explorer 6
Internet Explorer 5
Xbox
Xbox 360
DirectX
DVD's



TopTechTips
Registry Tips
Windows 95/98
Windows 2000
Internet Explorer 5
Program Tips
Easter Eggs
Hardware
DVD



ActiveDVD
DVD News
DVD Forum
Glossary
Tips
Articles
Reviews
News Archive
Links
Drivers



Latest Reviews
Xbox/Games
Fallout 3

Applications
Windows Server 2008 R2
Windows 7

Hardware
iPod Touch 32GB



Latest Interviews
Steve Ballmer
Jim Allchin



Site News/Info
About This Site
Affiliates
Contact Us
Default Home Page
Link To Us
Links

News Archive
Site Search
Awards



Credits
©1997-2012, Active Network, Inc. All Rights Reserved.
Please click here for full terms of use and restrictions or read our Light Tower Privacy Statement.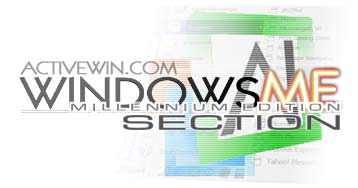 Home Experience

Learn everything about your operating system, fast
Integrated with online support, the Help and Support system in Windows Me is a comprehensive, Web-based resource that provides tutorials, tours, answers, and solutions to common problems and questions. If you get Windows Me preinstalled on your computer, your manufacturer may also include system-specific support in the Help and Support area.

Your critical files are always safe
The System File Protection feature in Windows Me prevents erroneous system file deletion.

Return your computer to its original settings
If you make a mistake with your settings and want to return your computer to a time and day when everything operated perfectly, simply activate System Restore. When you restart your computer, it will operate as it did prior to any problems.

Install the latest hardware, worry free
You'll appreciate no-error installation and the start-to-finish guidance of the Windows Me wizards. When you install Windows Me, it automatically loads all the Universal Serial Bus (USB) and IEEE 1394 software drivers. Then, when you install a new USB or IEEE 1394 device, Windows Me will find the appropriate driver and automatically install it for you. Wizards guide you through the installations, and Windows Me instantly configures most devices so you don't have to restart your computer or tweak your settings.

Quickly find what you need on every menu
The Smart Menus in Windows Me get to know how you work. They prominently display the programs and applications you use most often, and keep lesser-opened menu items out of site but readily available. That saves you time you would otherwise have spent searching your menu's contents.

Be assured that your drivers will work with new hardware
For your protection, the Windows Me development team has worked with industry partners to ensure that drivers—the software that makes devices work with your computer—are designed and tested to work with Windows Me. When you hook up a new piece of hardware, Windows Me runs a driver check to make sure it is digitally signed and capable of working on your computer.

The latest system updates are regularly delivered to your desktop
For your machine to work at peak efficiency with the latest hardware and software, you'll want to update Windows Me from time to time. Windows Me is designed to deliver critical updates directly to your desktop from the Windows Update Web site. You'll receive the most recent service packs, system files, device drivers, and new features as often as you like.


Return To The Windows Me Section