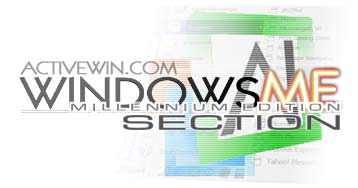 Windows Me Stuff
Windows Me Update for AOL users
Microsoft has recently identified a major problem for AOL users running Windows Me: indeed 10-15 minutes after they get connected to the AOL network the connection can be dropped or the computer may hang if those users have a WDM (Windows Driver Model) modem (which is very current). Click here to download the patch.
DV Updater for DirectX 8
Users of 1394 Digital Video equipment should install this update after installing the DirectX 8.0 or 8.0a runtime. It provides PAL support and improved device support for Windows 2000 and 98SE, and minor improvements for WIndows ME. Click here to download the update (1196Kb).
MSN Messenger Service 3.6
This new version of the Microsoft ICQ killer, an instant messaging tool, comes with a brand new redesigned interface and with new cool emoticons as well as direct access to Money Central. Click here to download it now (only 600kb).
Internet Explorer 5.5 SP1
The Service Pack 1 of Microsoft Internet Explorer 5.5 fixes all the security holes discovered since it was released and add better support for the Microsoft Connection Manager. The download is small (only 10Mb): click here to download this update right now.
Direct X 8.0a
DirectX 8.0 is a major update needed by your Windows Me operating system. This update will improve your audio & 3D graphics performances as well as game chatting. Download it right now by clicking here (you'll have to pick your language).
TweakUI 1.33
Microsoft has released a new version of its awesome powertoy: TweakUI that works with Microsoft Windows Millennium Edition. You can download it right now by clicking here to perfectly tweak your favorite OS!
Windows Me ScreenSaver
Microsoft has posted an official Windows Me screensaver that you can download right now by clicking here.
New Desktop Windows Me backgrounds

Bring cheerfulness to your desktop by using this four new Windows Me desktop backgrounds especially designed by Microsoft. Each background picture is available in three different sizes to fit your display resolution.


Return To The Windows Me Section