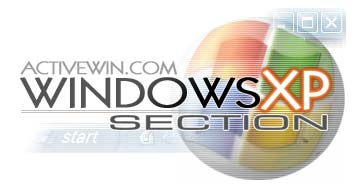 Windows XP Stuff & Updates
Welcome to the new Windows® XP section on the Active Network. All Windows XP based news will appear on the front page of ActiveWin.com. In this section you can download all the latest updates and multimedia stuff for your Windows XP machine.
Microsoft Baseline Security Analyser
Microsoft has developed the Microsoft Baseline Security Analyzer that includes a graphical and command line interface to perform local or remote scans of Windows systems. MBSA runs on Windows XP systems and will scan for missing hotfixes and vulnerabilities in the following products: Windows XP, IIS, Internet Explorer, SQL Server 7.0 and 2000, Microsoft Office 2000 & 2002. To ensure your system is secure, download Microsoft Baseline Security Analyser now.
PowerToys for Windows XP
The PowerToys for Windows XP add fun and functionality to the Windows experience. These new PowerToys include, among other things:
Open Command Window Here

This PowerToy adds an "Open Command Window Here" context menu option on file system folders, giving you a quick way to open a command window (cmd.exe) pointing at the selected folder.



Alt-Tab Replacement


With this PowerToy, in addition to seeing the icon of the application window you are switching to, you will also see a preview of the page. This helps particularly when multiple sessions of an application are open.



Tweak UI


This PowerToy gives you access to system settings that are not exposed in the Windows XP default user interface, including mouse settings, Explorer settings, taskbar settings, and more.



Power Calculator


With this PowerToy you can graph and evaluate functions as well as perform many different types of conversions.



Image Resizer


This PowerToy enables you to resize one or many image files with a right-click.



CD Slide Show Generator
With this PowerToy you can view images burned to a CD as a slide show. The Generator works downlevel on Windows 9x machines as well.

Virtual Desktop Manager


Manage up to four desktops from the Windows taskbar with this PowerToy.



Taskbar Magnifier


Use this PowerToy to magnify part of the screen from the taskbar.



HTML Slide Show Wizard
This wizard helps you create an HTML slide show of your digital pictures, ready to place on your Web site.

Webcam Timershot


This PowerToy lets you take pictures at specified time intervals from a Webcam connected to your computer and save them to a location that you designate.




Click here to download the official Microsoft PowerToys for Windows XP.

Windows Messenger 4.6

This new version of Windows Messenger replaces the one that natively comes with Windows XP. It is packed with many new exciting features like refreshed emoticons, a brand new revamped interface, the ability to check MoneyCentral, CarPoint directly from the application and much more! Click here to download Windows Messenger 4.6.

Windows Messenger Add-ins

Now you can get all the functionality of MSN Messenger! With the MSN Add-In you can see how many new Hotmail e-mail messages you have and receive an Alert when a new message arrives. You can also send text messages to your friends on their cell phones and pagers, join MSN celebrity chats, set up a public profile, and more Click here to download the addin pack.

Microsoft Plus! Labyrinth Bonus Pack

The Labyrinth Bonus Pack is at last available and provides more levels, balls, and themes, all for FREE! These are automatically added to The Labyrinth Plus! Edition when you download The Labyrinth Bonus Pack. Click here to start your download.

More Microsoft Plus! Labels

Get the latest Plus! CD Label Maker templates! Microsoft® Plus! CD Label Maker supports virtually all of the most popular brands and varieties of CD labels, but new brands of CD labels and inserts are being introduced all the time. Plus! for Windows® XP helps you keep up with the most recent additions with this easy update feature. Update Plus! CD Label Maker now by clicking here to get ten more additional templates!

Microsoft Windows Media Player 8 Bonus Pack

This Bonus Pack for Windows XP includes:
Plus! MP3 Audio Converter LE: Sample a feature of Plus! for Windows XP and double the amount of music you can store on your PC by converting your MP3 files quickly and easily to Windows Media Audio (WMA). Get Microsoft Plus! for Windows XP to unlock all the great features and take Windows XP to the next level.
Windows Media Player for Windows XP PowerToys: Includes a dozen new and updated Windows Media Player for Windows XP PowerToys, designed to give you more control of your music with the MPXP Tray Control, Playlist Import to Excel utility, Media Library Metadata Update Wizard and much more.
Windows Media Player for Windows XP Visualizations: Experience over a half dozen new Windows Media Player for Windows XP visualizations that move to your music such as MSN Photos picture viewer, Fireplace, Dungeon Siege, and Trilogy.
Windows Media Player Skins: Express yourself and customize Windows Media Player with these new skins including Stars and Stripes, Anime, and the TDK Mixmaster designed by TheSkinsFactory.com.
Windows Movie Maker Creativity Kit: Enhance your home videos and unleash your creativity with this expansive collection of sound effects, music loops, clips, title videos and images. Whatever the occasion, there's something here for you! Sounds and Music provided by major motion picture sound studio, SoundDogs.com, the first and largest online sound effects library.
Special Offers: Get free major motion picture movies and/or special offers from services such as Intertainer, CinemaNow, and IFILM.
This download let you convert your MP3's (into WMA only), get new skins, visualizations, and much more. Click here to download the full version of the kit, or here to download the net installer.
Microsoft XBox Skin for Windows Media Player
Microsoft has released an official Xbox skin for Windows Media Player for Windows XP - a fun new toy for Xbox users. The Official Xbox skin is a great way for Xbox users to extend the Xbox experience to their PC. Xbox users can now experience digital music and video on the PC with the same intense spirit and extreme visual style that Xbox gamers have grown to love. Click here to download this groovy, gorgeous skin!
Microsoft Halo Theme for Windows XP
Click here to download an interesting set of visual themes at the effigy of Microsoft Halo for your Windows XP operating system.
Windows XP 3D ScreenSaver
The 3D Windows XP screensaver shows off the power of DirectX matched with the bright colors of Windows XP. To use this screensaver you need Windows XP and a 16 MB video card. Click here to download your free screensaver.
Windows XP American Flag ScreenSaver
American users that want to show their patriotism, in the wake of September 11th's tragedy, will surely use the new and free Microsoft 3D Screensaver for Windows XP. It shows a stars and stripes American flag waving in your screen. Click here to download.
Windows XP Bliss ScreenSaver
Remember when you were a kid, lying on your back in a big grassy field and watching the clouds roll by? It was pure Bliss. Now you can enjoy the Bliss scenery from your Windows XP desktop background as a screen saver when your computer is idle. Click here to download.
MSN ScreenSavers
Here is a collection of three different MSN branded screensavers for your Windows XP PC. Download them, now!
MSN ScreenSaver 1; MSN ScreenSaver 2; MSN ScreenSaver 3
Exclusive Microsoft Windows XP WallPapers


Below are three exclusive Windows XP wallpapers coming directly from Microsoft. They are in french but are pretty nice. Choose the one you like to start your download.
Exclusive MSN Wallpapers
Here are a few beautiful MSN Wallpapers to decorate your desktop:


Return To The Windows XP Section
ActiveWin.com Featured Partners:
646-056 exams are demonstration of Cisco lifecycle of routing and switching for the optimization of IT professionals' performance and excellence in installing, configuring and supporting Cisco technologies. 70-285 exams are very excellent in implementing and operating all networking set up with secure solutions for IT trainers and specialists. 350-018 exams of Microsoft certification are vital for the assessment of IT intellectuals' ability and practicability critically. 70-296 exams are well-recognized Microsoft certification for those IT specialists who want to be well practiced professionals, finding out all necessary solutions of technical issues. 70-315 exams are exquisitely endowing very practical ability to IT professionals, revolutionizing the great technological methods of applications in IT industry.