ActiveDVD
DVD News
DVD Forum
Glossary
Tips
Articles
Reviews
News Archive
Links
Easter Eggs
Drivers
Amazon.com 100 Hot DVDs



News Centers
Windows/Microsoft
DVD
Gaming
ActiveHardware
Xbox
News Search



ANet Chats!
The Lobby
Special Events Room
Developer's Lounge
XBox Chat



ActiveWin
Articles
AskAW
DirectX
ActiveDVD
ActiveGaming
Forums
Interviews
News
MS Games & Hardware
Reviews
Support Center
Windows 2000
Windows Me
Windows XP



Windows 2000
Available Systems
Benefits
Bugs & Fixes
FAQ
Drivers
History
Introduction
Links
Upgrade Issues
Utilities
Patches



FAQ's
Windows 98/98 SE
Windows 2000
Windows Me
Windows "Whistler" XP
Windows CE
Internet Explorer 6
Internet Explorer 5
Xbox
DirectX
DVD's



Tips & Tricks
Registry Tips
Windows 95/98
Windows 2000
Internet Explorer 4
Internet Explorer 5
Windows NT Tips
Program Tips
Easter Eggs
Hardware
DVD



ActiveXBox
Xbox News
Box Shots
Inside The Xbox
Released Titles
Announced Titles
Screenshots/Videos
History Of The Xbox
Press Releases
Links
Forum
FAQ



Latest Reviews
Games
Max Payne
Microsoft Train Simulator
Applications
Microsoft Windows XP Professional
Norton SystemWorks 2002
Hardware
Intel Personal Audio Player 3000
Microsoft Wireless IntelliMouse Explorer



Site News/Info
About This Site
Affiliates
ANet Forums
Contact Us
Default Home Page
Link To Us
Links

Member Pages
Site Search
Awards



Credits
©1997/2001, Active Network. All Rights Reserved.
Layout & Design by Designer Dream. Content written by light tower the Active Network team. Please click here for full terms of use and restrictions or read our Privacy Statement.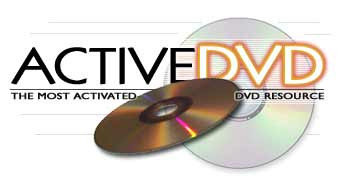 [ DVD-ROM Tips | DVD Articles | Drivers | News Archive | Contact | DVD Reviews | DVD Links | Forums ]
News Date: Tuesday 17th August 1999
Today's Top Headlines:
Disney does DVD
Time: 19:31 EDT/00:31 GMT Source: ZDNet Posted By: Alex H

Walt Disney Co.'s home entertainment unit said Tuesday it plans to offer, for a limited time, classic animated film titles like 'Pinocchio' on digital video disk (DVD). "It's a market that's ready to bust loose," Richard Cook, chairman of Walt Disney Motion Pictures Group, told Reuters. Buena Vista Home Entertainment said it will release nine popular Disney animated features on DVD over the next four months as part of a "once-in-a-millennium celebration."
News Date: Friday 13th August 1999
Today's Top Headlines: NetTV
Menu screens to My Favorite Martian on DVD Review
Time: 14:34 EDT/19:34 GMT Source: DVD Review Posted By: Alex H

On September 28, Buena Vista Home Video will let My Favorite Martian loose on DVD enthusiasts across the country. Starring Jeff Daniels, Christopher Lloyd, Elizabeth Hurley and Daryl Hannah, "My Favorite Martian" is a hilarious comedy based on a classic television series. Ambitious television reporter Tim O'Hara stumbles upon a martian whose spaceship has accidentally crash-landed on Earth. Thinking this is the story of the millennium and his ticket to a Pulitzer Prize, Tim makes plans to expose the martian, who, posing as Tim's Uncle Martin, takes human form and has plans of his own. Obviously, Uncle Martin doesn't want to be identified.

You can see the Menu screens here.

NetTV High-Resolution DVD and Digital Television to be Demonstrated by Microsoft at DVD PRO Conference & Exhibition in San Francisco
Time: 13:42 EDT/18:42 GMT Source: Yahoo Posted By: Alex H

NetTV, a leading provider of DVD-ROM Digital Entertainment set-tops and progressive-scan digital televisions, announced today that Microsoft Corp. will demonstrate NetTV's High-Resolution DVD and digital television at the DVD PRO Conference & Exhibition, August 16-17, at the Hyatt Regency in San Francisco (booth No. 412).

At DVD PRO, the largest-ever gathering of DVD professionals will see NetTV's ExtremeDVD Entertainment System.

NetTV president Ron Perkes said, ``NetTV is pleased to be associated with Microsoft at DVD PRO. NetTV was founded in 1996 on the concept that computing technology will eventually take its rightful place at the core of the living room entertainment center. In the digital age, many consumers want the highest quality and variety of digital entertainment possible, at affordable prices.

``At DVD PRO, NetTV's digital entertainment system will display razor sharp high-resolution DVD playback, and today's entire range of digital content, in one easy-to-use set-top.''

``Microsoft selected NetTV to demonstrate the outstanding picture quality that can be produced with a DVD PC and an affordable big-screen monitor,'' said Jim Taylor, DVD Evangelist for Microsoft. ``When the decoder is tightly coupled to a progressive digital display, the true potential of DVD-Video can be realized.''

NetTV's Perkes said, ``Anyone who has seen ExtremeDVD is awestruck by the clarity of the image and the quality of the Dolby Digital 5.1 Channel audio. The high resolution capability of DVD is wasted when displayed on a conventional TV. In contrast, ExtremeDVD is a digital entertainment PC that performs the function of a very expensive line doubler.

``This system has the intelligence to de-interlace content that originates as video in so-called 'bob' mode and display film in so-called 'weave' mode. In both instances, the system steps up the resulting output to a progressive-scan monitor at a horizontal frequency of 47KHz, instead of stepping down the resulting display to a slow, interlaced 15.75KHz.

``The improvement in on-screen quality is breathtaking. The resulting 480- or 600-line progressive display closely resembles the clarity of HDTV at 720 lines progressive.''
News Date: Thursday 12th August 1999
Today's Top Headlines: New Technology
27 DVD's on a single disc?
Time: 14:34 EDT/19:34 GMT Source: Press Release Posted By: Byron

Lucent and Imation Corp. today announced a joint agreement to collaborate on developing Bell Labs holographic data storage technology for the enterprise storage market.

Recent research advances at Bell Labs, the research and development arm of Lucent, in both disk drive and storage materials technologies indicate that the commercialization of holographic storage is possible. Imation, a leading provider of data storage media, will work jointly with Bell Labs to develop holographic disks.
---
News Date: Wednesday 11th August 1999
Today's Top Headlines: DVD Standards
Who will win the DVD standards fight?
Time: 03:36 EDT/08:36 GMT Source: News.com Posted By: Alex H

Wrangling over standards threatens to stall the adoption of DVD rewritable drives, even as peripheral manufacturers prepare new products for market. In a chapter taken out of the videotape wars of the 1980s, where major electronics companies lined up behind either VHS or Beta, the standards standoff could leave consumers once again holding useless chunks of plastic.

The players are strikingly similar. Beta backers Sony and Philips support one standard, DVD+RW, and VHS victors Hitachi, Panasonic, and Toshiba support the other, DVD-RAM.

"Do you want to bet on the guys who did VHS or the guys who did Beta?" asked Jim Porter, president of Disk Trend. "We see the same foolishness being repeated over and over again here and the inability to sit down in a smoke-filled room and agree what a single standard should be." DVD+RW writes disks that most DVD drives and players can read. DVD-RAM, on the other hand, stores optical disks in caddies that won't work in older DVD devices. DVD rewritable's main advantage over the more popular CD rewritable is capacity, 4.7GB versus 640MB.
---
News Date: Tuesday 10th August 1999
Today's Top Headlines:
Columbia TriStar Home Video adds SLC Punk and The Inheritors to their release lin
Time: 18:12 EDT/23:12 GMT Source: DVD Review Posted By: Alex H

Do you believe it? Columbia TriStar Home Video has just sent another press release our way, adding another two titles to their fall release roster. This time its SLC Punk and The Inheritors slated for release on October 12. "SLC Punk" is a special edition featuring a commentary track with director James Merendino and members of the cast. The disc will also contain an isolated Music Soundtrack and an original Comic Book Presentation. The release will contain the film's widescreen presentation, enhanced for 16x9 TV sets, and soundtracks in Dolby Surround Sound and Dolby Digital 5.1. In their line-up of foreign films, Columbia is also releasing the German movie "The Inheritors" to their release schedules. It is a suspenseful drama sprinkled with light-hearted humor. The film will come in its widescreen presentation in a 16x9 enhanced transfer and include the original German soundtrack in Dolby Surround Sound and Dolby Digital 5.1. Subtitles in English, French and Spanish will be also available on this disc.

Aquaria from DVD International could be the first DVD-18 in the market
Time: 18:09 EDT/23:09 GMT Source: DVD Review Posted By: Alex H

The race is on, it seems, to be the first company to release a DVD-18 product into the market. DVD-18 is the technical term used for double-sided dual-layer discs and currently there are a number of companies preparing releases using this new DVD format, including of course Artisan Entertainment with their release of the Stephen King TV-min sieries The Stand. We now have information from DVD International, one of the smaller publishers of the format, with plans to release the first DVD-18 into the market on September 28. It is a title called Aquaria, a peaceful video wallpaper featuring 20 hours of footage of tropical fish combined with four different audio trakcs, including two 5.1 Dolby Digital soundtracks. "Aquaria" will carry a suggested retail price of $24.98, not a bad price for a 'virtual aquarium' that doesn't need cleaning or scrubbing. "Aquaria" should make great relaxation and meditation material with its hours of continuous footage and imagery, combined with the soundtracks that range from mediation music, relaxation music, gentle beach surf and aquarium bubbles. And, no, this is not a joke!

York Entertainment cuts loose the action in Diamondbacks
Time: 18:06 EDT/23:06 GMT Source: DVD Review Posted By: Alex H

On October 5, York Entertainment will release Diamondbacks on DVD through their Maverik label. "Diamondbacks" is a pulse-pounding anti-government action thriller starring Miles O'Keefe and Chris Mitchum. The disc will contain the film's unrated version with a 5.1 channel Dolby Digital soundtrack at a suggested retail price of $24.98. "Diamondbacks" is the name of a Montana right-wing militia-group that is anti-government for its spending on the space program. After bombing the Federal Courthouse they sabotage and reprogram a multibillion dollar communication satellite, placing a space-bound shuttle mission and two astronauts in jeopardy.
---
News Date: Sunday 8th August 1999
Today's Top Headlines: Wireless DVD
---
News Date: Thursday 5th August 1999
Today's Top Headlines: The Kubrick Collection mysteries
---
Do You Have Any DVD News? Just e-mail Us!
Copyright © 1997-2001 Active Network, Inc. All Rights Reserved. Terms of Use. Privacy Policy.
Forum Software Copyright © 2000-2001 William D. Sossamon. Layout by Byron Hinson. Content written by the Active Network team.