ActiveDVD
DVD News
DVD Forum
Glossary
Tips
Articles
Reviews
News Archive
Links
Easter Eggs
Drivers
Amazon.com 100 Hot DVDs



News Centers
Windows/Microsoft
DVD
Gaming
ActiveHardware
Xbox
News Search



ANet Chats!
The Lobby
Special Events Room
Developer's Lounge
XBox Chat



ActiveWin
Articles
AskAW
DirectX
ActiveDVD
ActiveGaming
Forums
Interviews
News
MS Games & Hardware
Reviews
Support Center
Windows 2000
Windows Me
Windows XP



Windows 2000
Available Systems
Benefits
Bugs & Fixes
FAQ
Drivers
History
Introduction
Links
Upgrade Issues
Utilities
Patches



FAQ's
Windows 98/98 SE
Windows 2000
Windows Me
Windows "Whistler" XP
Windows CE
Internet Explorer 6
Internet Explorer 5
Xbox
DirectX
DVD's



Tips & Tricks
Registry Tips
Windows 95/98
Windows 2000
Internet Explorer 4
Internet Explorer 5
Windows NT Tips
Program Tips
Easter Eggs
Hardware
DVD



ActiveXBox
Xbox News
Box Shots
Inside The Xbox
Released Titles
Announced Titles
Screenshots/Videos
History Of The Xbox
Press Releases
Links
Forum
FAQ



Latest Reviews
Games
Max Payne
Microsoft Train Simulator
Applications
Microsoft Windows XP Professional
Norton SystemWorks 2002
Hardware
Intel Personal Audio Player 3000
Microsoft Wireless IntelliMouse Explorer



Site News/Info
About This Site
Affiliates
ANet Forums
Contact Us
Default Home Page
Link To Us
Links

Member Pages
Site Search
Awards



Credits
©1997/2001, Active Network. All Rights Reserved.
Layout & Design by Designer Dream. Content written by light tower the Active Network team. Please click here for full terms of use and restrictions or read our Privacy Statement.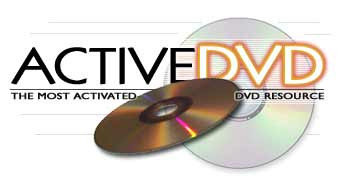 [ DVD-ROM Tips | DVD Articles | Drivers | News Archive | Contact | DVD Reviews | DVD Links | Forums ]
News Date: Wednesday 24th February 1999
Today's Top Headlines: Jerry Maguire Review - Site News
Site News
Time: 12:48 GMT Source: ActiveDVD Posted By: Byron

We have a few new reviews coming up this week including the new software DVD player WinDVD. We will be posted an in depth review of it this weekend.

Jerry Maguire - Review
Time: 12:48 GMT Source: ActiveDVD Posted By: Byron

Alex has posted his review of the UK version of Jerry Maguire. Here is a snippet from the review:

The DVD version of this film has great picture quality and excellent sound, but the main reason people buy DVD's is to get those little extras. Sadly Jerry Maguire doesn't have those added extras. There is the choice to choose scenes from the main menu, but that is about it.
---
News Date: Thursday 18th February 1999
Today's Top Headlines: Big Star DVD Sale
Big Star DVD Opens with Sale
Time: 15:39 GMT Source: ActiveDVD Posted By: Cliff

Always complaining that DVDs are too expensive??? Well, BigStarDVD is having a sale, 30% off of all their DVDs, among other great deals. I don't know about you, but any chance that I can get a break on buying a DVD, I take it!
---
News Date: Wednesday 17th February 1999
Today's Top Headlines: New Reviews
---
News Date: Tuesday 16th February 1999
Today's Top Headlines: Site News - Reviews
The Negotiator - Review
Time: 14:39 GMT Source: ActiveDVD Posted By: Byron

I have posted my review of the movie The Negotiator. Here is a piece from the review:

The Negotiator DVD is widescreen and is show in 2.35 : 1 maintaining the aspect ratio shown in the cinema. The picture quality is excellent throughout and the sound is also top quality with clear dialogue never being overpowered by music or background sounds. Now onto the special features. The negotiator comes with a couple of documentaries, one that profiles real-life police negotiators and the other a behind-the-scenes documentary. The two documentaries aren't bad, but I would have liked to have seen a few interviews with some of the actors involved on the movie too.

New Affiliate
Time: 12:55 GMT Source: ActiveDVD Posted By: Byron

We now host the website - DVD Infomatrix - This website is the one where you can download The Region Selector program, which allows you to change the regions on a number of the top software DVD players around.

Site News
Time: 12:40 GMT Source: ActiveDVD Posted By: Byron

It has been a slow few days for DVD news it seems, hopefully this will change from now on. We have a number of new reviews on the way. Reviews of the following software and hardware players, WinDVD, REALmagic Hollywood Plus. Reviews of the following DVD titles, The Opposite Of Sex, The Negotitator, The Truman Show, The Exorcist, Out Of Sight and The Evil Dead.
---
News Date: Thursday 11th February 1999
Today's Top Headlines: DVD-Audio Standards
Long Awaited DVD-Audio Standard Adds Dolby AC-3
Time: 23:40 GMT Source: EE Times Posted By: Byron

After more than three years of labor pains, the DVD Forum has announced the establishment of a format for DVD-Audio. The Forum's Steering Committee approved the format, dubbed Version 1.0, at its meeting earlier this month and will have the DVD-Audio Format book published shortly. DVD-Audio is the fifth DVD format to be put into place, following DVD-Video, DVD-ROM, DVD-RAM and DVD-R.
---
News Date: Wednesday 10th February 1999
Today's Top Headlines: REALmagic
IBM To Use Sigma Designs' REALmagic DVD Decoder In New DVD Option Kits
Time: 12:40 GMT Source: Press Release Posted By: Byron

Sigma Designs Inc., one of the leaders in PC DVD/MPEG-2 decoder technology, announced today that IBM Corporation has selected its REALmagic Hollywood Plus playback card as one of the components of its new IBM 6X DVD-ROM Internal IDE Option Kit.
---
News Date: Tuesday 9th February 1999
Today's Top Headlines: Antz - Aliens Box Set
Antz On The Way
Time: 23:35 GMT Source: The Digital Bits Posted By: Byron

Get out your bug spray - ANTZ! is coming to a DVD player near you on March 23rd. And it will definitely be worth the wait. For an SRP of $34.99, here's what you get:

- DreamWorks Signature Selection
- Anamorphic Widescreen (1.85:1)
- Dual-layered DVD
- Dolby Digital 5.1 Audio
- Full-length Director's Commentary
- Behind-the-scenes Production Featurette - The Making of ANTZ!
- Director's Inside Look - The Basics of CGI Animation & Early Design Process
- Production Notes
- Cast & Filmmaker Bios
- Theatrical Trailer
- 4 TV Spots


Naturally, in true DreamWorks style, the disc menus will feature full-motion graphics and sound. The Director's Inside Look will show the special facial system and development process used to create the main characters. And the disc will also be the first, fully CGI (Computer Generated Imagery) film to be released on the DVD format. All in all, a very nifty batch of extras. Can't wait!

Alien Box Set Moves Forward
Time: 23:17 GMT Source: Fox Posted By: Byron

20th Century Fox Home Entertainment has apparently decided to move the street date for their Alien series DVD's up, from June 8th to Tuesday, June 1st. The decision was apparently made last week.
---
Monday 8th February 1999
New Region Selector
Region Selector 1.61 Released
Time: 14:17 GMT Source: Region Selector Website Posted By: Byron

A new version of Region Selector for Software DVD players has been released, this is version 1.61 and features support for Cinemaster/ATI, XingDVD and PowerDVD 1.30.
---
Sunday 7th February 1999
6X DVD-ROM
Pioneer's new 6X DVD-ROM drive
Time: 22:42 GMT Source: AGN 3D Posted By: Byron

Jeremy over at AGN3D has posted a review of Pioneer's new 6X DVD-ROM drive. Here is a piece from his test:

Easily the best DVD-ROM drive I have seen yet. The drive features 6X DVD-ROM performance and 32X CD-ROM performance, with a nifty front-loading design that was truly impressing. On the performance side, the drive was the fastest in DVD and CD-ROM, beating out even the SCSI 32X Plextor in CD-ROM Performance! Ohhh did I mention? The drive comes in SCSI and ATAPI formats? You can check out the full review of the drive here.
---
6th February 1999
The Avengers
The Avengers - Review
Time: 22:09 GMT Source: ActiveDVD Posted By: Byron

I have posted my review of The Avengers DVD. Here is a short snippet:

Once I started to watch the movie, I was quite surprised to see how gorgeous the image quality was and not only that - I felt the directing and photography were also quite superb. The Avengers contains a mass of great colors that are clear and vivid, so on DVD they really stand out.
---
4th February 1999
Star Wars Special Edition
DVD Won't Dominate Until 2001, Says Researcher
15:46 GMT Source: PC Week

According to a new study, users probably won't embrace Digital Video Disk drives--battered by incompatibilities and the continued price/performance strength of CD technology--until after 2001.

Users are slow to adopt DVD drives because of incompatibilities among DVD formats and delays in drive availability, says a market research report from consulting firm Freeman Associates. [More]

Star Wars Special Edition On The Way
01:08 GMT Source: CHUD

Great news for Star Wars fans.

At the event known as "Studio Day" in California, the folks at WIDESCREEN Magazine spoke to various representatives from different studios about their plans for DVD release, and among news that Paramount plans to release the "Indiana Jones" Trilogy in December came the terrific news that 20th Century Fox is gearing up with Lucasfilm to release the Star Wars Trilogy: Special Editions on DVD at the same time "The Phantom Menace" debuts in theaters.

They also say that "talks are well under way between FoxVideo and Lucasfilm on these discs, and that the set should be special, although there is, as yet, no word on what they may include." Imagine a "making of" special, audio commentary, or deleted scenes finally making their way to our hands. The one thing that's always been a thorn in DVD's side has been the lack of Spielberg/Lucas classics.

That is about to change.
---
3rd February 1999
Aspect Ratio's
Mediamatics Touts Integrated DVD Solution
23:59 GMT Source: EE Times

True to its commitment to system-on-a-chip technology, Mediamatics, a National Semiconductor Corp. subsidiary, recently unveiled a single-chip DVD solution that integrates all the back-end functions of a DVD player, except for the audio D/A converter and memory. [More]

Phoenix Ships With XingDVD
14:55 GMT Source: AGN3D

Guillemot announced today that they are now shipping their Phoenix Banshee powered card with XingDVD. XingDVD is one of the better software DVD players on the market, allowing you to bypass the need for an external decoder card for your DVD needs. The addition of XingDVD makes this already low price video card an even better deal. You can read AGN3D's earlier review of the Phoenix here. ($89.99 for a 16MB Banshee card.. gotta love it)

A Look At Aspect Ratio's
14:31 GMT Source: ActiveDVD

Added an article on Aspect Ratio's. This helps explain a little bit about widescreen, pan & scan etc for those of you who are new to this kind of thing. [More]
---
2nd February 1999
Encore
---
1st February 1999
Playstation 2 DVD Support
Playstation 2 Specs Revealed
03:39 GMT Source: 3DNews.net

The Official Introduction of the Playstation 2 is February 16th, but an abstract of the paper being presented by Sony Computer Entertainment and Toshiba of Japan at the ISSCC conference in San Francisco has been posted on their site.

According to the abstract, the Playstation 2 is going to have a fairly beefy CPU, an integrated MPEG2 Decoder, and a full 128-bit bus! Sega's Dreamcast might just have something to fear... this baby has some serious processing power and will be using DVD's as the game media!

A Microprocessor with 128b CPU, 10 Floating-Point MACs, 4 Floating-Point Dividers, and MPEG2 Decoder

K. Kutaragi, S. Okamoto, M. Suzuoki, T. Hiroi, M. Oka, A Ohba, Y. Yamamoto, M. Furuhashi, M. Tanaka, T. Yutaka, T. Okada, H. Magoshi, M. Nagamatsu1, Y. Urakawa1, M. Funyu1, A. Kunimatsu1, H. Goto1, K. Hashimoto1, N. Ide1, H. Murakami1, Y. Ohtaguro1, A. Aono2

Sony Computer Entertainment, Inc., Tokyo, Japan
1Toshiba Corp. / 2Toshiba Microelectronics Corp., Kawasaki, Japan
A 250MHz microprocessor consists of a CPU core with 128b multimedia extensions, 10 floating-point multiplier accumulators, four floating-point dividers, an MPEG2 decoder, a 10-channel DMA controller, and other peripherals with 128b internal buses on one die. It contains 10.5M transistors in 17x14.1mm2 and dissipates 15W at 1.8V

They also have a separate conference solely on the CPU...

A High-Bandwidth Superscalar Microprocessor for Multimedia Applications

M. Raam, R. Agarwal, K. Malik, H. Landman, H. Tago, T. Teruyama, T. Sakamoto, T. Yoshida1, S. Yoshioka1, Y. Fujimoto1, T. Kobayashi, T. Hiroi, M. Oka, A. Ohba, M. Suzuoki, T. Yutaka2, Y. Yamamoto

Toshiba Corp., San Jose, CA, / Kawasaki, Japan
Sony Computer Entertainment, Inc., Tokyo, Japan

A 250MHz 2-way superscalar MIPS-compatible microprocessor for multimedia and networking applications with internal 8kB D-cache, 16kB I-cache, 1kx128b scratch-pad RAM tightly coupled to the pipe and 128b internal datapaths. >100 multimedia instructions are extended on a 10.9x6.3mm2 die in 0.18µm CMOS at 1.8V
---
Do You Have Any DVD News? Just e-mail Us!
Copyright © 1997-2001 Active Network, Inc. All Rights Reserved. Terms of Use. Privacy Policy.
Forum Software Copyright © 2000-2001 William D. Sossamon. Layout by Byron Hinson. Content written by the Active Network team.