ActiveDVD
DVD News
DVD Forum
Glossary
Tips
Articles
Reviews
News Archive
Links
Easter Eggs
Drivers
Amazon.com 100 Hot DVDs



News Centers
Windows/Microsoft
DVD
Gaming
ActiveHardware
Xbox
News Search



ANet Chats!
The Lobby
Special Events Room
Developer's Lounge
XBox Chat



ActiveWin
Articles
AskAW
DirectX
ActiveDVD
ActiveGaming
Forums
Interviews
News
MS Games & Hardware
Reviews
Support Center
Windows 2000
Windows Me
Windows XP



Windows 2000
Available Systems
Benefits
Bugs & Fixes
FAQ
Drivers
History
Introduction
Links
Upgrade Issues
Utilities
Patches



FAQ's
Windows 98/98 SE
Windows 2000
Windows Me
Windows "Whistler" XP
Windows CE
Internet Explorer 6
Internet Explorer 5
Xbox
DirectX
DVD's



Tips & Tricks
Registry Tips
Windows 95/98
Windows 2000
Internet Explorer 4
Internet Explorer 5
Windows NT Tips
Program Tips
Easter Eggs
Hardware
DVD



ActiveXBox
Xbox News
Box Shots
Inside The Xbox
Released Titles
Announced Titles
Screenshots/Videos
History Of The Xbox
Press Releases
Links
Forum
FAQ



Latest Reviews
Games
Max Payne
Microsoft Train Simulator
Applications
Microsoft Windows XP Professional
Norton SystemWorks 2002
Hardware
Intel Personal Audio Player 3000
Microsoft Wireless IntelliMouse Explorer



Site News/Info
About This Site
Affiliates
ANet Forums
Contact Us
Default Home Page
Link To Us
Links

Member Pages
Site Search
Awards



Credits
©1997/2001, Active Network. All Rights Reserved.
Layout & Design by Designer Dream. Content written by light tower the Active Network team. Please click here for full terms of use and restrictions or read our Privacy Statement.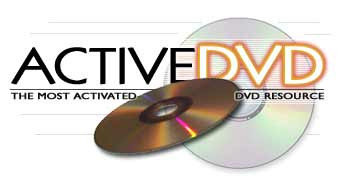 [ DVD-ROM Tips | DVD Articles | Drivers | News Archive | Contact | DVD Reviews | DVD Links | Forums ]
30th January 1999
Regions
---
29th January 1999
X-Files
Buena Vista Home Entertainment's 1999 Sell-Through Slate
16:21 GMT Source: The Digital Bits

Buena Vista have announced a whole bunch of new DVD titles for this year, including the excellent A Bugs Life.

X-Files Pushed Back
16:21 GMT Source: ActiveWindows

It looks as if Fox have yet again pushed back the release of the X-Files movie (Fight The Future) on DVD. The DVD release is now not expected until the end of April
---
27th January 1999
Warner Releases
---
26th January 1999
XingDVD
What Is Dolby Digital - And What Does It Have To Do With Soundcards?
20:48 GMT Source: Creative Labs

Dolby Digital, also known as AC-3, is an audio technique developed by Dolby Laboratories to compress as many as 6 channels of audio information into a single digital bitstream that takes up much less storage space. It is used in movie theaters, on LaserDiscs, and more recently, on DVD to deliver high-quality surround sound to the viewer. [More]

XingDVD and ATI Motion Compensation Update
01:45 GMT Source: XingTech/Byron Hinson

XingTech have informed me that they are indeed working on adding ATI Motion Compensation to a new version of XingDVD due for release in March. This is great news for all ATI owners as this was the main thing holding the player back in my opinion. I was also notified that there is already support for S3's motion compensation on the Savage 3D card, which I didn't know when I wrote my review.

I have also been sent the newer version of XingDVD 2.0.3 which features the PAL bug fix that we mentioned the other day, If there is anything major to report, I'll update my review and post here.
---
25th January 1999
Sonic
Hot New Releases Heat Up The Charts
21:04 GMT Source: Press Release

``Six Days, Seven Nights,'' the comical mis-adventures of a castaway couple, rang in the New Year at number one on NetFlix.com's top ten DVD rental list for the period Jan. 1 through Jan. 14, 1999, according to NetFlix.com (www.netflix.com), the world's largest DVD rental store. [More]

Sonic Solutions Ships 100th DVD System In Europe
13:41 GMT Source: Press Release

Sonic Solutions announced today the success of its Sonic DVD Creator and DesktopDVD products with European sales reaching 100 units. DesktopDVD is the first DVD production system designed specifically for desktop applications and DVD Creator is the leading system used by leading film studios and post facilities to publish film and video entertainment in the DVD format. [More]
---
24th January 1999
XingDVD - Digital Audio - Regions - Glossary
ATI DVD 3.0 - Preview
20:01 GMT Source: ActiveDVD

We have posted our preview of ATI's new version of their software DVD decoder. This new release will ship first with the new Rage Fury card sometime in March of April. Here is a piece from the preview:

First lets get the part that bugged us most about ATI DVD Player 1.2 out of the way. It was probably the worst DVD player we have used in terms of crashes. Version 3.0 has undergone major fixes as we could tell straight away. we have yet to have a single crash whilst using it. Other interface changes over the previous version are basic, but thankfully are noteworthy....The current file position slider at on the player finally works, in 1.2 it used to crash whenever you moved it.

Types Of Digital Audio
15:12 GMT Source: ActiveDVD

Phew - Adding a lot of information today. Next up we have our Types Of Digital Audio article. This article explains the various symbols you will find on the back of DVD Movies and Games.

Regional Codes Information
15:00 GMT Source: ActiveDVD

Added the map and regional information that shows the layout for the 6 regions DVD's come under.

Glossary Of DVD Terms Update
14:54 GMT Source: ActiveDVD

We have made a massive update to our glossary of DVD terms article. Make sure you check it out if you are wondering about any kind of DVD term.

Rugrats Coming To DVD
14:31 GMT Source: ActiveDVD

Teaming up with Nickelodeon, Paramount Home Video have just announced plans to release Rugrats - The Movie on VHS and DVD on March 30. No further details about the release are known at this point but we'll fill in the missing information as soon as it becomes available.

XingDVD 2.0.3 Patch
11:48 GMT Source: ActiveDVD

A number of people are having display problems while viewing their DVD's using the retail version of XingDVD 2.0.3. XingTech have released a patch (Well a whole new file you need to download). Check out their website and follow the links to the support area and e-mail them with the problem and they will inform you of the fix.
---
23rd January 1999
Firmware - ATI
ATI DVD 3.0 Preview Soon
23:59 GMT Source: ActiveDVD

We are going to be doing an in depth preview of ATI's DVD 3.0 software decoder that is to ship with their new Rage Fury card in March or April. The preview should be up before the weekend is over.

ATI Rage Fury Review
13:05 GMT Source: FiringSquad

The FiringSquad has posted a review of the new ATI Rage Fury card. This card comes with a completely new version of the ATI DVD Player (Version 3.0)

The bundled ATI DVD Player 3.0 is exceptionally good, and has replaced all of the other software DVD players on my drive as the player of choice. I was able to install the ATI DVD Player under both the TNT and the Rage 128 cards, and this was the original intention by ATI, to design and support a solution that can run on competitive hardware.

Toshiba SD-1202 Firmware News
12:57 GMT Source: ActiveDVD

This is a note to inform those of you with the above DVD-ROM drive that there is new firmware circling newsgroups and websites. The firmware in question is called 1024, why are we telling you this? Toshiba has informed us that there are problems with the 1024 firmware that will stop the DVD-ROM drive reading certain titles, until a fix has been completed, anyone with 1024 should flash back to 1020.
---
22nd January 1999
XingDVD 2.0.3 and ATI DVD 1.2 Reviews
Waiting For Recordable DVD In 1999
19:25 GMT Source: PC World

Increasingly fast CD-ROM drives will continue to be a presence in new PCs for at least another year as a standards war hobbles the technology that is sure to replace them: recordable Digital Versatile Disc drives. That's the consensus of a half-dozen analysts and PC product managers asked to predict the near-term future of PC storage. "The only reason to prolong the life of CD-ROM is that DVD isn't fully accepted yet," says Mary Bourdon, principal analyst at Dataquest. [More]

BroadcastDVD Launches "Film Fest," The World's First "DV Show," Available Exclusively Through DVD Express
15:15 GMT Source: Press Release

BroadcastDVD, a new DVD production and publishing house, announced the impending release of its first advertising- and e-commerce-supported DV Show, titled ``Film Fest,'' Thursday at the Sundance Film Festival. [More]

ATI DVD 1.2 - Review
13:22 GMT Source: Byron Hinson

Posted a review of ATI's DVD 1.2 software player. Here is a short piece from the review:

I'm not going to beat around the bush with this player, the quality of picture and sound is still the best I have seen and heard on any software decoder program, but there are a number of major problems that I would have expected ATI to have fixed by now - yet we are still on version 1.2.

New Creative Encore Drivers
13:06 GMT Source: Creative e-mail

Creative Labs has released new drivers for their Encore DVD package. You can download the PC-DVD Encore Drivers For Windows 95/98/NT 4.0 here.



Disables 'AutoPlay' feature of DVD Player Windows 98 WDM DVD when Disc Detector is enabled

Fixes problem with DVD playback on Toshiba DVD RAM Drives.

DVD-RAM disc can now correctly detected as Data CD instead of Enhanced CD if 'AutoRun.Inf' exist.

XingDVD 2.0.3 - Review
13:02 GMT Source: Byron Hinson

XingTech were kind enough to send us XingDVD 2.0.3 for review. Here is a short snippet from my review:

Well it is certainly one of the best software decoders I have tried in terms of picture and sound quality, but there are a few problems I have noticed. For one, there is no option Hardware Motion Compensation (ATI) which is a real shame as it can take quite a bit of work off of the processor and boost the quality of the picture.
---
19th January 1999
DVD+RW
Matsushita Slams DVD+RW Gang Of Three
12:37 GMT Source: The Register

A senior executive at Matsushita-Panasonic has hit out at the DVD+RW group of three, made up by Philips, Sony and HP, for failing to produce anything but press releases. [More]
---
17th January 1999
Format Information
---
15th January 1999
In Every Home
A DVD In Every Home On Only One Chip
20:29 GMT Source: ZDNN

A new DVD-On-A-Chip solution, Pantera-DVD, from Mediamatics should help bring down the cost of consumer DVD players. The Pantera-DVD brings all a DVD player's back-end functions together on a single piece of silicon. With all of a DVD player's typical components, including CSS decoding, MPEG video decoding and PAL encoding brought together on one chip there's no need for an external host CPU. It's this brilliant hypothesis that should, hopefully, translate into much lower prices for consumers.

Mediamatics reckons its new solution should lead to sub-$300 players being able to match the audio and video quality of $700 machines. A DVD player in every home? It may happen sooner than you think.
---
14th January 1999
Common Format
Recording, Lower Prices Coming To DVD
20:29 GMT Source: C/Net

Although the technological standards still aren't set, variations on the DVD player as well as lower prices are coming to market. Consumer electronics companies are working on delivering home players with the ability to record disks while also hashing out plans for new audio formats that incorporate multichannel surround sound for more lifelike music reproduction. The availability of recordable DVD discs is seen as one of the keys to tapping into a potentially huge consumer DVD market, analysts say. An estimated 1.2 million DVD home players were sold worldwide in 1998, double the figure from the previous year, according to InfoTech Research. This is in addition to the hundreds of thousands of drives that have shipped with home PCs to date. [More]

The Thing - Collectors Edition - Review
15:41 GMT Source: Byron Hinson

I have been a long-time fan of all John Carpenter movies, yes even Big Trouble In Little China, but The Thing was the first Carpenter movie I ever saw. The moody lighting, great acting, special effects and music drew me into the film and it has remained one of my all time favourite movies ever since. This 'Collector's Edition' DVD not only comes with Dolby Digital 5.1 Surround Sound, but also a whole bunch of special features.
---
13th January 1999
Common Format
DVD Group Pushes For Common Format
13:21 GMT Source: ZDNet UK

A newly discovered bug may result in many Windows-based applications registering the wrong time for at least a week in the year 2001, Microsoft has confirmed. The bug was discovered by Richard Smith, of Phar Lap Software, who last week reported the problem to Microsoft and the BugTraq security mailing list, according to Microsoft. This bug affects the local time function during the daylight savings time change on Windows-based systems. Computers running Windows 95, 98, or NT 4 will delay the one hour time change for a week in 2001, from April 1 to April 8. The problem has already been fixed for the upcoming Windows 2000 operating system. [More]
---
12th January 1999
Site News - Drivers - DVD Increase
DVD Production Continues To Increase
19:28 GMT Source: Avault

Digital Video Systems has announced its monthly production of DVD-ROM drives increased at an average rate in excess of 10,000 units per month for the quarter ended Dec. 31, 1998. The company has been and is continuing to work on expanding its supplier relationships to meet the increasing demand for various electronic components used in the DVD-ROM drive. DVS is currently producing its 5.2X DVD-ROM drive for the rapidly growing Personal Computer OEM market.

In a separate event, the company stated it is nearing completion of arrangements to double its production capacity of DVD-ROM drives to 200,000 units per month during the first half of the current calendar year. DVS' current DVD-ROM drive production capacity is 100,000 units per month. The worldwide DVD-ROM market has been projected by International Data to reach more than 35 million units in calendar 1999.
---
11th January 1999
Links - That Trial - Articles
ATI Announces The RAGE XL(TM) And The RAGE XC(TM) Graphics Card
22:57 GMT Source: Press Release

ATI Technologies Inc. today announced the RAGE XL™ and RAGE XC™ general purpose graphic accelerator chips. The two new .25 micron graphics chips will provide, at the lowest price-points on the market, high-quality, full AGP (Accelerated Graphics Port) 2X acceleration, as well as industry-leading 2D, 3D and video acceleration for corporate computing systems. [More]

Official Pentium III Press Release
21:08 GMT Source: Press Release

Many of you have asked us to post the official Pentium III Press release from Intel - Well here it is. [More]

OSTA Group Aims For DVD-ROM Specification
19:31 GMT Source: CoolInfo/CRS

The Optical Storage Technology Association disrupted the battle between DVD-RAM and DVD RW today when it reported plans to develop specifications for a DVD-ROM drive that reads both formats. Wayne Freeman, OSTA's facilitator, said a committee will meet later this week to develop the specification, expected to be completed by the end of 1999. The specification will allow manufacturers to produce DVD-ROM drives that can read media produced by either DVD-RAM or DVD RW drives in much the same manner as multi-read CD-ROM drives can read discs made by CD-R and CD-RW drives, he said. [More]
---
10th January 1999
DVD - Reviews
Site News
18:49 GMT Source: Byron Hinson

Sorry about the lack of news today - Alex and I have spent the last 7 hours attempting to get a DVD Hardware Decoder card working (We won't mention the name) and after a number of lock-ups, wrong IRQ's and sound vanishing, we have finally given up, gone back to using a Software Decoder and watched "The Game". This is the first time we have ever had to give up on piece of hardware.

Altec Lansing ADA-70 USB Speakers Review
10:51 GMT Source: CoolInfo

HardwareCentral has posted a review of the Altec Lansing ADA-70 USB speakers. Here is a snip:

While USB has been around for a little while now, it seems that USB peripherals have just suddenly started to flood the market. Joysticks, scanners, portable media, and now speakers are enjoying the use of this easy to use interface. This review will cover Altec Lansing's ADA-70 speakers. Many manufacturers advertise their speakers as supporting USB, they usually refer to the ability to control the volume, bass, and treble via software over the USB bus. The ADA-70s are true USB speakers in that they do not require a sound card. Instead, all signaling is handled via USB.

Recordable DVD, DVD-Audio Debut At CES
10:49 GMT Source: TechWeb

Amid the collection of black boxes in the Pioneer Electronics booth here at the Consumer Electronics Show (CES) were two shiny gold prototypes of the future for Digital Versatile Disc (DVD). Pioneer demonstrated working models of both recordable DVD video and DVD-Audio. The recordable DVD prototype is based on a specification not yet settled upon by the DVD Forum, the trade body that designed the DVD specs. [More]
---
Do You Have Any DVD News? Just e-mail Us!
Copyright © 1997-2001 Active Network, Inc. All Rights Reserved. Terms of Use. Privacy Policy.
Forum Software Copyright © 2000-2001 William D. Sossamon. Layout by Byron Hinson. Content written by the Active Network team.