ActiveDVD
DVD News
DVD Forum
Glossary
Tips
Articles
Reviews
News Archive
Links
Easter Eggs
Drivers
Amazon.com 100 Hot DVDs



News Centers
Windows/Microsoft
DVD
Gaming
ActiveHardware
Xbox
News Search



ANet Chats!
The Lobby
Special Events Room
Developer's Lounge
XBox Chat



ActiveWin
Articles
AskAW
DirectX
ActiveDVD
ActiveGaming
Forums
Interviews
News
MS Games & Hardware
Reviews
Support Center
Windows 2000
Windows Me
Windows XP



Windows 2000
Available Systems
Benefits
Bugs & Fixes
FAQ
Drivers
History
Introduction
Links
Upgrade Issues
Utilities
Patches



FAQ's
Windows 98/98 SE
Windows 2000
Windows Me
Windows "Whistler" XP
Windows CE
Internet Explorer 6
Internet Explorer 5
Xbox
DirectX
DVD's



Tips & Tricks
Registry Tips
Windows 95/98
Windows 2000
Internet Explorer 4
Internet Explorer 5
Windows NT Tips
Program Tips
Easter Eggs
Hardware
DVD



ActiveXBox
Xbox News
Box Shots
Inside The Xbox
Released Titles
Announced Titles
Screenshots/Videos
History Of The Xbox
Press Releases
Links
Forum
FAQ



Latest Reviews
Games
Max Payne
Microsoft Train Simulator
Applications
Microsoft Windows XP Professional
Norton SystemWorks 2002
Hardware
Intel Personal Audio Player 3000
Microsoft Wireless IntelliMouse Explorer



Site News/Info
About This Site
Affiliates
ANet Forums
Contact Us
Default Home Page
Link To Us
Links

Member Pages
Site Search
Awards



Credits
©1997/2001, Active Network. All Rights Reserved.
Layout & Design by Designer Dream. Content written by light tower the Active Network team. Please click here for full terms of use and restrictions or read our Privacy Statement.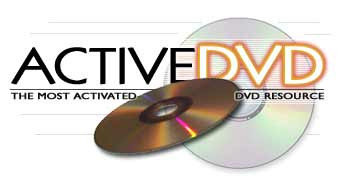 [ DVD-ROM Tips | DVD Articles | Drivers | News Archive | Contact | DVD Reviews | DVD Links | Forums ]
News Date: Friday 16th April 1999
Today's Top Headlines: Star Wars - Ghostbusters Deluxe
Open Letter to George Lucas
Time: 23:47 GMT Source: DVD.com Posted By: Cliff

Bruce Stockler over at DVD.com has posted an open letter to George Lucas, urging him to release the original Star Wars trilogy. Both Star Wars fans and DVD advocates have urged for the release of the original trilogy on DVD, but there has been no word from Lucas or 20th Century Fox as of yet. Hopefully, this letter will help to change things.

Ghostbusters DVD Special Edition Planned for Release
Time: 23:47 GMT Source: AICN Posted By: Cliff

The original Ghostbusters(1984) will be released on DVD June 29th, with a load of extra features including including two original featurettes, a running video commentary by the original creators of the film, and is planned to have DVD-ROM support. More titles like this would really help push popularity of DVD with even more to offer than just improved video and sound.
---
News Date: Friday 2nd April 1999
Today's Top Headlines: New H+ Drivers Released
---
News Date: Friday 26th March 1999
Today's Top Headlines: Memorex Bundle to include VideoLogic's DVD Player
Memorex Bundle to include VideoLogic's DVD Player
Time: 14:54 GMT Source: GA-Source Posted By: Cliff

Sigma Designs and VideoLogic today announced that Memorex will include VideoLogic's DVD Player MPEG-2 decoder card in its DVD retail kit, Memorex-632R.

DVD Player, based on Sigma's EM8300 REALmagic DVD/MPEG-2 decoder chip, is a low-cost PCI add-in card that elevates any standard PC with a DVD-ROM drive to a DVD movie player. VideoLogic is an international company that develops, designs, and supplies market-leading 2D/3D graphics accelerator and audio products for PCs, game consoles, and arcade entertainment machines.
---
News Date: Tuesday 23rd March 1999
Today's Top Headlines: New Easter Eggs
New Easter Eggs Added
Time: 12:46 GMT Source: ActiveWindows Posted By: Byron

We have added around eight new DVD Easter eggs for you to sort through. As mentioned a week or so ago, we will be adding more and more in the coming weeks, so If you have any you would like to see posted get in touch with us.
---
News Date: Saturday 20th March 1999
Today's Top Headlines: Hellraiser 2 Review
Hellbound:Hellraiser II - Review
Time: 11:24 GMT Source: Alex Posted By: Byron

Alex has posted his review of the Hellbound: Hellraiser II DVD. Here is a snippet:

Well the film originally made its debut in 1988, and still has Kirsty Collins (Ashley Laurence) and Julia (Clare Higgins) in it. This film takes place soon after the ending of Hellraiser. So Kirsty is lying in the the psychiatric hospital and is still being haunted by what happened in the first film. The Psychiatrist running the hospital, Dr Channard (Kenneth Cranham) has managed to get the blood stained mattress into his house and decides to raise the remains of Kirsty's murderous stepmom, Julia. And from that point on Julia and Channard unlock the secrets of the Lament Configuration puzzle box and want to release the unlimited horrors and pleasures of hell onto the earth etc etc....
---
News Date: Friday 19th March 1999
Today's Top Headlines: DVD Market Grows
DVD Production Grows Outside Japan
Time: 14:41 GMT Source: TechWeb Posted By: Byron

Although the DVD format originated in Japan, its production is headed offshore as its market grows. The global DVD market is expected to double to 4.2 million units this year from 2.1 million units in 1998, according to estimates by the Electronic Industries Association of Japan.

Expansion is expected to be much steeper for DVD-ROM drives, jumping from about 9 million units last year to about 30 million this year, according to estimates by Toshiba, based in Tokyo.
---
News Date: Wednesday 10th March 1999
Today's Top Headlines: Sigma And Creative
DTS Introduces The DTS-ES Extended Surround
Time: 17:35 GMT Source: Press Release Posted By: Byron

Bringing cinema sound to another level, DTS (Digital Theater Systems) today introduced at ShoWest a new cinema decoder, the DTS-ES, which adds a dramatic, third surround channel to digital feature film audio. Based on the latest DSP technology and fully compatible with all current digital formats and systems, the DTS-ES also provides event closures to trigger dramatic trailer and feature effects, such as strobe lights, lasers, and more.

This new audio tool affords filmmakers the opportunity to be even more creative with sound and how it is used in a film by literally extending the number of channels used for surround effects. With the DTS-ES, special effects can now surround an audience like never before, putting moviegoers right in the middle of the action so they can feel it happening around them. Through the use of the left and right surround speakers, as well as center surround speakers, sound effects can literally sweep around the audience, even seeming to fly over them, as they provide a fully immersive and engrossing cinematic experience.

New Creative Dxr3 To Use Sigma Designs Based Card?
Time: 10:24 GMT Source: CBS Posted By: Byron

It now looks sure that Creative will use the Sigma Designs based MPEG DVD decoder card as the basis for their new Dxr3 card due out within the month. [Read More]
---
News Date: Sunday 7th March 1999
Today's Top Headlines: Easter Eggs
---
News Date: Saturday 6th March 1999
Today's Top Headlines: PlayStation 2 - You've Got Mail
Set-Top Boxes Converge On DVD
Time: 15:45 GMT Source: DVD.Com Posted By: Byron

For more than a year now, the computer and home entertainment world has been dancing ever closer to the tune of convergence. Now, sparked by the presence of DVD, this convergence is becoming reality. The first few steps have already been witnessed with DVD-ROM drives optimizing movies with computer-specific materials accessible only from the PC.

The efforts to take that convergence the other way, from the computer to the television, have been slow and staggered. While products like Microsoft's WebTV and Gateway's Destination Home Entertainment Center have taken the first few moves toward turning the TV into an interactive format, the idea has yet to stick. But a variety of companies are creating new tools aimed at bringing the home theater and the computer even closer together. And at the core of that new technology is DVD and digital video.

You've Got Mail On DVD May 4th
Time: 15:42 GMT Source: DVD.Com Posted By: Byron

Warner Home Video's is releasing You've Got Mail to DVD on May 4, day and date with the VHS releases, and offers a wide variety of DVD-ROM related features.

The Tom Hanks and Meg Ryan film will feature more than 70 pages of cast interviews, commentary and other special features, such as a feature called "The Buzz," which let's fans of the movie's soundtrack access specific scenes by selecting the accompanying music. The disc also features an area where users can compare scenes of You've Got Mail with the classic films, like The Shop Around The Corner, which inspired it.

Will PlayStation 2 Rule The Living Room?
Time: 12:14 GMT Source: ZDNet Posted By: Byron

Sony's next PlayStation could have all the makings of a killer home-entertainment device-if the company takes the cuffs off.

With a 128-bit processor that runs games three times faster than the Pentium III, a graphics chip two times faster than some high-end graphics powerhouses from Silicon Graphics (NYSE:SGI), DVD capabilities, and most likely, online connectability, the so-called PlayStation 2 could be a dream home-entertainment device when it comes to market late next year.
---
News Date: Wednesday 3rd March 1999
Today's Top Headlines: DTS Coming For H+
Hollywood + To Get DTS Support Mid-March
Time: 19:19 GMT Source: Sigma Posted By: Byron

We have just had this news confirmed to us by someone at Sigma. The Hollywood Plus card will be getting new drivers later this month that will not only fix a number of bugs but also add DTS sound support. I believe that this will make the Hollywood Plus card the only current PC-DVD Decoder Card with DTS support on the market right now.
---
News Date: Sunday 28th February 1999
Today's Top Headlines: WinDVD 1.10 Review
InterVideo WinDVD 1.10 - Review
Time: 14:47 GMT Source: ActiveDVD Posted By: Byron

We have posted our Exclusive review of InterVideo's new WinDVD 1.10. Here is a short snippet from the review:

I started in the Audio section and selected the options that were best suited to my Audio setup (Rubbishy two speakers, any offers for 4-5 speakers anyone?). There are a whole host of options available, a number of which I have not seen in any other software DVD player. For example: WinDVD supports S/PDIF output assuming you have a card that supports it, such as the SoundBlaster Live!. It also has full 4 speaker and 6 speaker 5.1 Surround sound. But for those of us with just the two speakers you can try out the new 3D Audio setup, this does actually enhance the audio output quite a bit. I'll talk about that later when I discuss the performance. The vocal options you see in the bottom right corner are mainly used when playing Karaoke titles.
---
Do You Have Any DVD News? Just e-mail Us!
Copyright © 1997-2001 Active Network, Inc. All Rights Reserved. Terms of Use. Privacy Policy.
Forum Software Copyright © 2000-2001 William D. Sossamon. Layout by Byron Hinson. Content written by the Active Network team.