ActiveDVD
DVD News
DVD Forum
Glossary
Tips
Articles
Reviews
News Archive
Links
Easter Eggs
Drivers
Amazon.com 100 Hot DVDs



News Centers
Windows/Microsoft
DVD
Gaming
ActiveHardware
Xbox
News Search



ANet Chats!
The Lobby
Special Events Room
Developer's Lounge
XBox Chat



ActiveWin
Articles
AskAW
DirectX
ActiveDVD
ActiveGaming
Forums
Interviews
News
MS Games & Hardware
Reviews
Support Center
Windows 2000
Windows Me
Windows XP



Windows 2000
Available Systems
Benefits
Bugs & Fixes
FAQ
Drivers
History
Introduction
Links
Upgrade Issues
Utilities
Patches



FAQ's
Windows 98/98 SE
Windows 2000
Windows Me
Windows "Whistler" XP
Windows CE
Internet Explorer 6
Internet Explorer 5
Xbox
DirectX
DVD's



Tips & Tricks
Registry Tips
Windows 95/98
Windows 2000
Internet Explorer 4
Internet Explorer 5
Windows NT Tips
Program Tips
Easter Eggs
Hardware
DVD



ActiveXBox
Xbox News
Box Shots
Inside The Xbox
Released Titles
Announced Titles
Screenshots/Videos
History Of The Xbox
Press Releases
Links
Forum
FAQ



Latest Reviews
Games
Max Payne
Microsoft Train Simulator
Applications
Microsoft Windows XP Professional
Norton SystemWorks 2002
Hardware
Intel Personal Audio Player 3000
Microsoft Wireless IntelliMouse Explorer



Site News/Info
About This Site
Affiliates
ANet Forums
Contact Us
Default Home Page
Link To Us
Links

Member Pages
Site Search
Awards



Credits
©1997/2001, Active Network. All Rights Reserved.
Layout & Design by Designer Dream. Content written by light tower the Active Network team. Please click here for full terms of use and restrictions or read our Privacy Statement.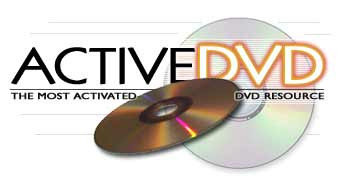 [ DVD-ROM Tips | DVD Articles | Drivers | News Archive | Contact | DVD Reviews | DVD Links | Forums ]
News Date: Monday 29th November 1999
Today's Top Headlines: DVD Recorder
---
News Date: Saturday 27th November 1999
Today's Top Headlines: WWW Review
DVD-ROM Drivers Updated
Time: 09:02 EST/14:02 GMT News Source: ActiveDVD Posted By: Byron Hinson

We have made some big updates to our DVD-ROM Drivers section, in addition to new drivers we have also added a few of the latest software DVD players to download.

[Submit News] [Return To Headlines] [Translate]

Wild Wild West Review @ DVD File
Time: 04:15 EST/09:15 GMT News Source: DVD File Posted By: Byron Hinson

Dan Ramer over at DVD File has posted a review of the upcoming DVD release of Wild Wild West, although it rightly bombed at the box office here is what he had to say.

The film's theatrical aspect ratio of 1.85:1 is presented anamorphically, and the video is terrific. There is a high degree of detail with only the slightest hint of edge enhancement. The color balance, brightness, and contrast are superb. I noticed no artifacts whatsoever. Noise is nonexistent. I must say that this is one of the best-looking DVDs I've seen from Warner
---
News Date: Thursday 25th November 1999
Today's Top Headlines: Studio Day 1999
This doesn't have to be a very long review. If you're a fan of Heavy Metal -- run out and get this disc. Now. Don't wait in line, don't work for your allowance, don't even wait for the store clerk to give you a bag. Just hand over whatever amount they're asking, get your receipt, rip off the cellophane wrap, and get your ass home to pop this disc in your DVD player. There is so much stuff on this disc, it'll blow your mind.
The Martin Lawrence action comedy Blue Streak hits DVD February 2nd next year and should contain the following features:

* HBO First Look: Inside and Undercover
* Featurette: "Blue Streak - Setting Up for the Score"
* Three Music Videos:
- "Girl's Best Friend" by Jay-Z
- Criminal Mind by Tyrese featuring Heavy D
- Damn (Should've Treated You Right) by So Plush featuring Ja Rule
* Talent Files (Les Mayfield, Martin Lawrence and Dave Chappelle)
---
News Date: Tuesday 23rd November 1999
Today's Top Headlines: Studio Day 1999
Every year, Dave's Video - The Laser Place (in Studio City, CA) sponsors its much beloved Studio Day, to give the home video divisions of the major Hollywood studios an opportunity to receive direct, one-on-one feedback from consumers, about their laserdisc and DVD product. Often, the studios will also reward loyal fans with a sneak peak at upcoming releases. It's a wonderful opportunity for those who produce our favorite discs to mingle and chat with the folks who are most avid about collecting them.
We've got a little more early word on upcoming DVD titles for early 2000 - this time for February and March (note that we're only going to mention titles that we haven't so far, so you may wish to look a week or two back in The Rumor Mill to get the complete list of titles for early 2000).
I've just received word from our most reliable sources, that Buena Vista Home Entertainment is gearing up to release Disney and Pixar's original Toy Story on DVD, on January 11th, 2000! We don't have any word on features or pricing (anamorphic, please!), but this is solid information. I'm also told that the studio plans to release at least 1 or 2 animated titles a month, leading up to the Fall 2001 release of Snow White to DVD. As many of you know, the studio has recently committed itself to releasing some 26 non-moritorium animated titles on DVD, before the release of the first of its 10-year moritorium classics, which is expected to be Snow White in late 2001. So that means that we've got LOTS of Disney animation to look forward to on DVD in the coming months. Can't wait! Now if the Mouse would just figure out that $39 and $49 isn't family-friendly pricing by a LONG shot...
I'm afraid that this review is just going to reveal way too much about myself. Oh, whatever. The deal with Austin Powers: The Spy Who Shagged Me is this - whether you like this film or not, is almost entirely dependent on whether or not you enjoy crass and disgusting body-function humor. What some people call \\toilet humor// (\\//… finger quotes). Now I'm a guy that laughs at a good fart joke, and I'm not ashamed to admit it. Come on… we all do it, right? It's funny. And frankly, I think anyone who turns up their nose at a good fart joke is being dishonest with themselves. Hey - I like foreign films and high-brow humor as much as the next sophisticate, but I'm sorry, the campfire scene in Blazing Saddles is damn funny. So there. Anyway, The Spy Who Shagged Me is Mike Myers run amok, to the millionth power. It's out of control. And I love it.
So you want a good rumor? Okay... can do. We've been able to confirm (via three separate sources of information that have been very reliable in the past), that Fox and Lucasfilm are currently talking about streeting Star Wars: Episode I on VHS on April 4th, 2000. And word is that there's a very good chance that a DVD version of the film could street day and date (likely a movie-only edition). Let me stress that this is VERY early information, and official announcements are a LONG way off. The date could and probably will change. But this is the date our sources say is currently being talked about internally. One important note - we're told that if the DVD is given a green light, we're only talking about Episode I. There are no plans at the moment of releasing the original Star Wars Trilogy to DVD (other than the 2005 or 2006 date Lucas has stated previously). See... told you it was a good rumor (and we expect you to treat it as such)!
"Stargate" features a strong action hero, Kurt Russell, an encouraging premise, good special effects, excellent sound, and one of the dumbest payoffs in big-budget film history. Yet it did very well at the box office and generated a cable TV series.
The good Matt Brighton from DVD Authority have a interview with co-director and writer of A Bug's Life Andrew Stanton online at his site. Be sure to check it out.
---
News Date: Monday 22nd November 1999
Today's Top Headlines: Warner Bros. DVD Press Release
Hailed as one of the best "mini-series" on television, this 6 hour drama is based on the huge best selling book of the same name from Stephen King.
Warner Home Video Rounds Out Fall With Action-Packed Adventures on DVD

November Titles Include Family Favorites, Thrilling Star Turns and Compelling Dramas

BURBANK, Calif.--(ENTERTAINMENT WIRE)--Nov. 22, 1999--Warner Home Video (WHV) today announced DVD releases for November. Priced from $19.98 to $24.98, the wide range of titles will appeal to audiences of all ages, providing premium DVD entertainment for hours on end.
---
News Date: Monday 15th November 1999
Today's Top Headlines: DVD Talk With Renny Harlin Tomorrow!
Universal gets a great big thumbs up from the DVD Talk team for announcing that The Red Violin on DVD will feature BOTH a Dolby Digital 5.1 audio track and a DTS on the SAME DVD! The Red Violin will also sport an isolated music track and will be enhanced for widescreen TV's. Of all the studios Universal seems to be the most willing to try out new DVD combinations to see what will work in the marketplace (like several versions of Patch Adams & The Mummy). We hope that the dual audio format on The Red Violin will be something we see on other Universal releases in the future.
Director Renny Harlin will be answering questions and discussing the Warner Home Video release of Deep Blue Sea on DVD as well his other Action DVD Releases (Die Hard 2, Cliffhanger, Long Kiss Goodnight and Cutthroat Island)


WHEN: Tuesday, Nov. 16
6:30 p.m. PT/9:30 p.m. ET

WHERE:
[CLICK HERE TO JOIN THE CHAT]
Finally! Austin Powers: The Spy Who Shagged Me
Time: 14:13 EST/19:13 GMT News Source: DVD Dish Posted By: Kevin Crocker

I've read several negative reviews of "Austin Powers: The Spy Who Shagged Me." Their main gripe was that the sequel was just more of the same. Really? No kidding? You see, that is the beauty of spoofing films like those in the James Bond series. Most of the Bond films were nothing more than mutant versions of themselves. Bigger budgets. Bigger set pieces. Still, it all boiled down to either a madman or criminal genius holding the world for ransom. If you didn't like the first "Austin Powers" film, then by all means stay away. There is nothing here for you. I loved the first Austin Powers film, "International Man of Mystery." While I'm not as passionate about "The Spy Who Shagged Me," I did manage to laugh a lot and leave the theater with a big grin on my face.

[Submit News] [Return To Headlines]

The Definitive Blair Witch Project DVD Review
Time: 14:13 EST/19:13 GMT News Source: DVD Dish Posted By: Kevin Crocker
"The Blair Witch Project" is going to irritate a lot of people, mostly horror fans who have been led to believe that this little film school exercise is actually the scariest thing since "The Exorcist." Well excuse me, but I know "The Exorcist," and this film is no "Exorcist." It's not even scary. While the filmmaker's manage to create a modicum of mood and atmosphere, they fail to generate suspense and tension. Instead of being creepy, most of the film is crappy."
MGM

Stigmata, Stargate SG1 (2 hour pilot and 2 episodes), On the Beach, The Taking of Pelham 1, 2, 3, Meteor, Heaven's Gate, Bridge at Remagen, Betrayed, One Man's Hero, Hoosiers (re-release), Bound for Glory, and Storefront Hitchcock

Fox

Best Laid Plans and Brokedown Palace

Columbia TriStar

Love Stinks, Mr. Smith Goes to Washington, Belle Epoque, Persuasion, To Sir With Love, The Winslow Boy, and more Godzilla double feature discs: Godzilla vs. Destroyah/Godzilla vs. Space Godzilla, and Rebirth of Mothra I & II

Disney

Tarzan, The Sixth Sense, When a Man Loves a Woman, I Love You, I Love You Not, and Georgia
---
News Date: Thursday 11th November 1999
Today's Top Headlines: Top 15
After sitting on a shelf for over a year and a short release in theater in August, Touchstone Home Video will release "The 13th Warrior" on DVD and video January 18. Antonio Banderas stars in the action-adventure directed by John McTiernan from the best-selling novel "Eaters of the Dead" by Michael Crichton. January 18 will also see the release of "An Ideal Husband" from Miramax Home Entertainment. The romantic comedy stars Rupert Evertt, Minnie Driver, Cate Blanchett, Julianne Moore and Jeremy Northam. The prequel to "From Dusk Till Dawn" entitled "From Dusk Till Dawn 3: The Hangman's Daughter," arrives on January 18 from Dimension Home Video. P. J. Pesce directs the prequel set in the old West and starring Michael Parks, Rebecca Gayheart, Danny Trejo, Sonia Braga, Marco Leonardi and Ara Celi. Quentin Tarantino and Robert Rodriguez serve as executive producers. I'm expecting a screener any moment, so expect the first on-line review here. A week later, Miramax Home Entertainment will release "My Son The Fanatic" starring Rachel Griffiths and Stellan Skarsgard. The romantic drama has been rated R. Also part of the release schedule but bypassing DVD are "Warren Miller's The Fifty," "My Life So Far," starring Colin Firth, Mary Elizabeth Mastrantonio, Irene Jacob and Malcolm McDowell, and "Woman Wanted," starring Holly Hunter, Keifer Sutherland (who also directed) and Michael Moriarty, due January 25. On January 18, look for the video releases of two made-for-television features, "Goldrush: A Real Life Alaskan Adventure," and "Safety Patrol," starring Leslie Nielsen.
Well, it's happened once again. Home video pirates, operating out of Hong Kong and other parts of Asia, have once again struck DVD. We've seen this before, with the Titanic bootleg, with Disney animated bootleg discs, and others
Walt Disney Home Video will bring a little summer to winter this year with the release of Spike Lee's "Summer of Sam" on video and DVD. Lee's controversial film is just but one of several new titles due from the label and its subsidiaries in December, including several day-and-date releases with their VHS counterparts. Here's the line-up and some of the announced features. Please note that several titles have been anamorphically enhanced for widescreen televisions:
DECEMBER 7:
EDDIE
SENSELESS
SHAKESPEARE IN LOVE: SPECIAL EDITION
DECEMBER 14:
FAREWELL MY CONCUBINE
ROGUE TRADER (1.85:1 widescreen/16x9/Dolby Surround)
THE VERY THOUGHT OF YOU (1.85:1 Widescreen/16X9/Dolby Surround)
DECEMBER 21:
SUMMER OF SAM (1.85:1 widescreen/5.1 Dolby Digital)
SUPERCOP 2 (1.85:1 widescreen/5.1 Dolby Digital Surround Dubbed)
TEACHING MRS. TINGLE (1.85:1 widescreen/16x9/5.1 Surround & DTS)
---
News Date: Tuesday 9th November 1999
Today's Top Headlines: Top 15
Top 15 DVD Titles 11/5/99
Time: 05:13 EST/10:13 GMT News Source: DVD Express Posted By: Byron Hinson

Here are the weeks top 15 titles according to DVD Express.

Week ending: 11/5/99
---
News Date: Monday 8th November 1999
Today's Top Headlines: Columbia/Tristar 2k Giveaway
That will be the news headlines once they start giving away 2000 prizes a day for the entire year! Where do I sign up?! Here's a lengthy press release with all the information and a bunch of new titles they plan to start the year with. I love the way Columbia/TriStar does things.
---
News Date: Saturday 6th November 1999
Today's Top Headlines: DVD Releases - Official FAQ
Official DVD FAQ Updated
Time: 14:13 EST/19:13 GMT News Source: TheDigitalBits Posted By: Kevin Crocker

If you have questions about the DVD format, or would just like to learn more about DVD, I think you'll find it well worth a read. It's definitely the right place to start!
The text is quite large (over 300k), and will take several moments to load, so please be patient...

[Submit News] [Return To Headlines]

Massive DVD Release 1st Qtr 2000!
Time: 14:13 EST/19:13 GMT News Source: TheDigitalBits Posted By: Kevin Crocker

So you wanna know what's coming from the studios to DVD for early next year? Okay... we got your upcoming title list right here, baby. Here's what's on the way, per studio, for January 2000. Street dates and features are still TBD. We'll give you an idea of titles in the works for later in the year as well

[Submit News] [Return To Headlines]

Seven SE and Other Universal Films
Time: 14:13 EST/19:13 GMT News Source: TheDigitalBits Posted By: Kevin Crocker
"Just got the go-ahead today on the second Universal DVD series, which will consist of Creature from the Black Lagoon (May), The Invisible Man (June), Phantom of the Opera ('43 version, July), It Came from Outer Space (August) and Abbott and Costello Meet Frankenstein (September). Each will include original documentaries, commentary tracks and all the trimmings. DJS"
---
News Date: Wednesday 3rdd November 1999
Today's Top Headlines: SPR Interview
---
News Date: Tuesday 2nd November 1999
Today's Top Headlines: Top 15 - SPR DTS
Digital Leisure Releases Space Ace for DVD-ROM
Time: 09:52 EST/14:52 GMT News Source: Press Release Posted By: Byron Hinson

Digital Leisure today began shipping Space Ace DVD-ROM, the much awaited follow-up to Dragon's Lair. With it's release of Space Ace, DVD-ROM owners can now bring the full arcade experience to their home computers as Ace battles the evil Commander Borf.

[Submit News] [Return To Headlines]

Top 15 DVD Titles 10/29/99
Time: 05:04 EST/10:04 GMT News Source: DVD Express Posted By: Byron Hinson

Here are the weeks top 15 titles according to DVD Express.

Week ending: 10/29/99



[Submit News] [Return To Headlines]

Saving Private Ryan DTS Update
Time: 05:01 EST/10:01 GMT News Source: DVD File Posted By: Byron Hinson

A growing topic of conversation the last couple of weeks has been whether or not the Saving Private Ryan DTS version would make its announced arrival date today, 11/2. Having already contacted Universal and DreamWorks, who both assured us that the discs would arrive on time, there are still many retailers who have alerted their customers that the disc has been postponed either a day or even a week later.

Our Tech Editor Shane contacted DTS today to try and get more, and a spokesperson provided us with their statement on the matter. "Several inquiries arrived at our office this morning, concerning the street date for the DTS-encoded version of Saving Private Ryan. We just got off the phone with an executive at DreamWorks, who confirmed that these discs were shipped last Friday, and will become available on Tuesday, November 2nd, as previously announced. Therefore, consumers who want to experience the total sonic realism of this exceptional soundtrack will be able to purchase the DTS version of this DVD release."

So, it seems that though retailers are still indicating delays, all on the studio and production side of things seem clear that the disc should be on store shelves as you read this...
---
News Date: Monday 1st November 1999
Today's Top Headlines:
DVD Express Europe Opens
Time: 15:28 EST/20:28 GMT News Source: ActiveDVD Posted By: Byron Hinson

DVD Express has opened up their new European store which stocks a large number of Region 2 releases. This doesn't mean Europeans cannot still order Region 1 titles from DVD Express though which is good news.

[Submit News] [Return To Headlines]

Buena Vista Release Dates
Time: 15:28 EST/20:28 GMT News Source: DVD File Posted By: Byron Hinson

Buena Vista has released their January slate and box art on their press site today, and look for more day & date with VHS releases and Miramax titles. In January comes the long-in-gestation The 13th Warrior, the indie hit An Ideal Husband, along with My Life So Far, My Son The Fanatic and finally From Dusk Til' Dawn 3: Hangman's Daughter. Let's just hope this last sequel is better than the other one! All the box art is in the database, and each title retails for $29.95.
---
Do You Have Any DVD News? Just e-mail Us!
Read more of the past months news in our News Archive for September and Previous October News.
Copyright © 1997-2001 Active Network, Inc. All Rights Reserved. Terms of Use. Privacy Policy.
Forum Software Copyright © 2000-2001 William D. Sossamon. Layout by Byron Hinson. Content written by the Active Network team.