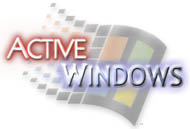 [ Search | Mail Us News | News Archive | Contact | Daily Update | Newsgroups ]
News Date: Sunday 28th February 1999
Today's Top Headlines: Exclusive WinDVD 1.10 Review - Office Attack - Successful Upgrades - Site News - WindowBlinds 0.50 Review
WindowBlinds 0.50 Review
Time: 23:59 GMT Source: ActiveWindows Posted By: Dennis

We have posted our WindowBlinds 0.50 Review. Here's a snippet.

The WindowBlinds 0.50 download is approximately 1.2mb, still small enough to fit on a floppy disk. The installation is virtually identical to 0.40, with only subtle version number changes. We believe that the setup could be improved with an option to run the new 0.50 after setup, but instead it just displays a dialog box asking you to run it from the folder you installed it to. But this is not much of a problem, as setup places a shortcut to WB 0.50 on your desktop, for simple access.

WindowBlinds 0.50
Time: 21:13 GMT Source: ActiveWindows Posted By: Dennis

ActiveWindows has received an exclusive copy of the anticipated WindowBlinds 0.50. We are currently reviewing it, and should have the review up sometime tonight. The public release is still at Tuesday, but with a new bug that ActiveWindows has found may bump it to Wednesday, we won't know until tomorrow. As usual, ActiveWindows will keep you up to date.

Site News
Time: 20:00 GMT Source: ActiveWindows Posted By: Dennis

We've updated the Top Downloads section, in fact, we posted the Download.Com's Top 5 Downloads. Also, the poll to the right is quite interesting, looks like we're almost half/half. There's still a whole week of voting left, so if anyone hasn't voted, please tell us who your favorite chip manufacturer is by voting on the poll on the left.

New Web Attack Uses Microsoft Office
Time: 16:48 GMT Source: NetiGen Web Posted By: Byron

There's word this week of a Web-based attack with which cyberthugs can load malicious code onto a PC without the user knowing. It's called the Russian New Year attack, and anyone with a browser and using Excel or Office 95 from Microsoft is at risk

Here's how it works: A cyberthug sends an e-mail message with a Web-page attachment or pointer to a website in which the offending code is embedded. Once the user clicks on it, the code can insert itself onto the desktop by using the call function in Excel and Word. The call function divides websites into sections known as frames and is widely used on Wall Street to capture data from financial applications.

Users are recommended to upgrade systems running Microsoft Office 95 and 97 with Service Release 1 and then install Service Release 2 and a patch to eliminate the call function. For desktops running Internet Explorer 4.0, users need to adjust security to the highest level. Netscape users should install or upgrade to Communicator 4.5.

Secrets Of Successful PC Upgrades
Time: 16:40 GMT Source: ZDNet Posted By: Byron

ZDNet has posted an article on the best ways and means of upgrading your PC. Here is a snippet.

Why upgrade your PC when you can find new ones for under $1,000? Your time is valuable. And fiddling with the guts of a PC can be scary. Nevertheless, giving a PC that cost $2,000 two years ago a new lease on life for a few hundred dollars may seem sensible.

Recently PC Magazine Labs took two older systems -- one 200 MHz Pentium system and one 233 MHz Pentium II -- and performed a variety of hardware upgrades. We compared test results with the original system and evaluated the time and money spent. Our bottom line: Don't upgrade every part of an old system. It won't pay off. Stick with targeted upgrades to fix a problem. Otherwise, you'd be better off with a new machine.

InterVideo WinDVD 1.10 - Review
Time: 14:47 GMT Source: ActiveDVD Posted By: Byron

We have posted our Exclusive review of InterVideo's new WinDVD 1.10. Here is a short snippet from the review:

I started in the Audio section and selected the options that were best suited to my Audio setup (Rubbishy two speakers, any offers for 4-5 speakers anyone?). There are a whole host of options available, a number of which I have not seen in any other software DVD player. For example: WinDVD supports S/PDIF output assuming you have a card that supports it, such as the SoundBlaster Live!. It also has full 4 speaker and 6 speaker 5.1 Surround sound. But for those of us with just the two speakers you can try out the new 3D Audio setup, this does actually enhance the audio output quite a bit. I'll talk about that later when I discuss the performance. The vocal options you see in the bottom right corner are mainly used when playing Karaoke titles.
---
News Date: Saturday 27th February 1999
Today's Top Headlines: Windows 2001 Not True? - Installing A Motherboard - New Tips
Site News
Time: 23:59 GMT Source: ActiveWindows Posted By: Dennis

Update: The NAV bar is updated with the poll update. Check it out, and we have a new poll on the side, I prefer AMD, while Byron prefers Intel, so if we're divided, I wonder how you are divided. This is one poll I want to see what the response is. We'd like to thank Allen Harkleroad from Internet Eye for suggesting this poll.

Also, our new Poll Archive is up, its listed in the nav bar above. Check it out! The Internet Explorer 5.0 and the Office 2000 poll results are interesting.

Also, the site has been kind of slow, so just ignore the speed for now, and hopefully we'll be up and fast again soon

WindowBlinds 0.50 Set For Tuesday Release
Time: 23:10 GMT Source: NetiGen Web Posted By: Byron

According to Brad Wardell, the next major WindowBlinds release is set for March 2nd. The release is already posted on the Object Desktop Network where it's available for Object Desktop users only. Actually the public release of WindowBlinds 0.50 is set for Monday -- developers are just allotting themselves a little time in case any problems arise. Additionally, Brad doesn't want people to complain if the release isn't available on Monday right away.

PageMaker Targets Quark, Microsoft
Time: 23:08 GMT Source: CRN/Internet Eye Posted By: Byron

Adobe Systems Inc. this week is scheduled to unveil a PageMaker update targeted at a more general market. PageMaker 6.5 Plus, due to ship this month, is geared at the business publishing market, ranging from sales and marketing professionals to any business putting out newsletters and brochures that do not need the highest-quality four-color separation, and instead rely on quick print service bureaus.

As part of a two-pronged assault, Adobe also will unveil InDesign, a page layout program for the high-end professional market, and Adobe's effort to compete head-to-head in that space with Quark Inc., Denver.

PageMaker 6.5 Plus will sport a Microsoft Corp. Office-style toolbar and a wide variety of business publication templates to ease the creation of professional-looking documents, said Richard Brown, business and imaging solutions product manager for San Jose-based Adobe...

New Program Tips Added
Time: 13:09 GMT Source: ActiveWindows Posted By: Byron

We have added some more new tips for both Office 97 and Quicken. We will also be adding far more Windows and Internet Explorer 4/5 tips in the coming weeks.

How To Install A Motherboard
Time: 12:39 GMT Source: The Techs Posted By: Byron

The Techs has posted an article on How-To Install a Motherboard. Here is a snippet:

You've just received your brand new top of the line motherboard, that you want to use to overclock your Celeron or Pentium II processor, in the mail. So you take your computer in to your local computer store and have them install it for you right? WRONG! Why pay somebody else to install something that you yourself could do for free? While it may seem like a complex task to complete, with a little guidance from this article you'll find you have the motherboard up and running in a matter of minutes and all you need is this guide and a phillips head screw drive! Now that you know what you need lets move along to the installation.

Microsoft: Dvorak Windows 2001 Story Not True
Time: 12:33 GMT Source: WinInfo Posted By: Byron

Microsoft Windows Group Product Manager Rob Bennett tells Jennifer Edstrom of Bridge News that PC Magazine's John Dvorak has it all wrong when it comes to Windows 2001, the supposed consumer follow-up to Windows 98. Dvorak had anonymously received a package of PowerPoint presentation slides that purports to show the development of "Neptune," which he described as the codename for Windows 2001. It turns out that things are a bit more complicated than that.
---
News Date: Friday 26th February 1999
Today's Top Headlines: V3 Vs. P3 - ID Problems - Be OS For Free - New SE440BX Bios - AMD Outsells Intel
Headline Studio Released
Time: 22:39 GMT Source: Internet Eye Posted By: Dennis

A New Tool for Next-Generation Web Advertising Now Available, Headline Studio - It should be ready for purchase and download from the MetaCreations website, Headline Studio is a dynamic new software for Web design professionals seeking to create animated, broadcast-quality Web advertising banners.

AMD Outsells Intel for the 1st Time
Time: 20:29 GMT Source: News.Com Posted By: Dennis

The AMD K6 family of desktop processors outsold all Intel-based desktop PCs in the U.S. retail market for the first time, according to PC Data's January Retail Hardware Report. I prefer AMD myself.... Byron likes Intel.

New Intel SE440BX Motherboard Bios Released
Time: 20:05 GMT Source: Intel Posted By: Byron

Intel has released a new bios for the SE440BX motherboard, this version is version 11 and fixes a number of problems that previous releases had.

IBM To Block P-III Serial Numbers
Time: 19:48 GMT Source: NewsBytes Posted By: Byron

IBM has told the Center for Democracy and Technology, a privacy advocacy group, that it will ship its PCs with a controversial Pentium-III processor serial number feature disabled at the hardware level. Meanwhile, a CDT official told Newsbytes the organization plans to file a letter of complaint with the US Federal Communications Commission (FCC) protesting Intel's serial number feature. In a letter to the CDT, a copy of which was obtained by Newsbytes, Christopher G. Caine, vice president for government affairs, told Jerry Berman, CDT's executive director, that IBM will disable the feature in the basic input/output system (BIOS).

Microsoft Preps IE 5 Launch But Pulls Beta
Time: 19:45 GMT Source: Internet Week Posted By: Byron

Microsoft this week set mid-March as the formal launch date of Internet Explorer 5.0, but also pulled the previously available beta version of the browser from its site to comply with a court order. The removal of the beta upset some developers, who were using the early version to build websites and products making use of IE 5.0's advanced features, including wide XML support. IE 5.0 will officially launch March 18. The court order involves a suit filed by Colorado-based greetings-card manufacturer Blue Mountain Arts. The case involves new junk-mail filtering technology in the upcoming version of Outlook Express 5, which is part of the IE 5.0 release. A California state court on Feb. 2 issued a preliminary injunction preventing Microsoft from distributing the technology.

PC Makers Deal With ID Security Flap
Time: 14:01 GMT Source: News.com Posted By: Byron

Some PC makers will ship computers with a more secure method of turning the Pentium III ID feature off, as this explosive issue comes to a head when PC shipments begin tomorrow.

There has been a growing din of protest from users and civil liberties groups centered on privacy concerns about this ID feature, casting a pall over the kickoff of Pentium III PC sales. The Washington-based Center for Democracy and Technology (CDT) said it would file a complaint Friday with the Federal Trade Commission asking the commission to investigate the ID technology.

Be Offering Free OS To PC Makers
Time: 13:59 GMT Source: News.com Posted By: Byron

Former Apple Computer executive Jean-Louis Gassee is offering PC makers an operating system for free. The CEO of Be, Incorporated made the offer in a column posted on the company's Web site yesterday.

Gassee is attempting to thwart Microsoft's sway with PC manufacturers by offering Be's own software for free, with the condition that the OEM (original equipment maker) configures the machine so that the BeOS is the first interface a user sees when the computer is turned on.

12 Ways To Speed Up Windows 98
Time: 13:58 GMT Source: CNet Posted By: Byron

CNet has posted up an article on how to get the most speed out of Windows 98. So if you would like to discover some more tips on tuning your system, check it out.

Voodoo3 Vs. Pentium III
Time: 13:56 GMT Source: ZDNet Posted By: Byron

You might find this surprising, but my home computer system is a dog. It's a two year old Dell Pentium 200 with a mere 64 MB of RAM. It doesn't have USB, AGP, Firewire or DVD. Heck, this thing is so old that it doesn't have MMX!

So how does this museum piece handle today's cutting-edge 3D games? Surprisingly well. That's because it has a 3D-accelerator card based on the original Voodoo chipset from 3Dfx. Now this card is really ancient -- almost three years old. It even predates my PC. But it still works its magic (pardon the pun) every day, breathing new life into my games and my system. And even though it was expensive at the time (almost $300 for a game-only card), it's the best add-on investment I've ever made as a PC owner.
---
News Date: Thursday 25th February 1999
Today's Top Headlines: New Drivers - MS Store - Win 2000 - Linux - Intel Pentium Software Flaw
Office 2000 Retail Slips Back To June
Time: 22:52 GMT Source: NetiGen Web Posted By: Byron

Microsoft has pushed back the retail availability of its next-generation office suite until June, retailers said. Microsoft Office 2000, which was expected to ship early in the second quarter, is now slated to hit stores on June 4, according to sources briefed on the Microsoft's plans.

Microsoft officials maintained they said all along the suite would be released to manufacturing in the first quarter and made widely available in the second quarter. Although the slip is minor compared with major delays in the shipment of Windows 2000 Professional, any delay that pushes Office 2000 closer to the summer months, when business is slower, is cause for concern among retailers.

Bulletproof 1.11 Released
Time: 20:13 GMT Source: E-mail Posted By: Byron

A new version of the only FTP program I use, Bulletproof has been released. This new version 1.11 includes a few fixes and new features.

* Folder support in sitelist! (Highly requested functionality).
* Failed uploads will have "-retry" appended to them and are reuploaded, for sites which don't allow resume or overwriting of uploaded files. The number of times a file upload is retried can be specified.
* Site name rather than address will be displayed in title bar, as this is often more informative (site address will).
* 0 byte files will now be written as opposed to skipped as they are important in some circumstances.
* Bugfixes & minor changes.

Intel Links Alleged Pentium Flaw To Software
Time: 19:59 GMT Source: Reuters Press Release Posted By: Byron

Intel Corp said Wednesday an alleged flaw in its new Pentium's serial number system designed to keep personal computers secure from interference by ''hackers'' was related to the chip's software, not any physical problem with the chip. Intel said it is still in talks with the German magazine, Computer Technology, which Tuesday alleged a flaw in the software Intel provided for turning off the serial number, to determine what, if anything is wrong with its system. [Read More]

Microsoft's Stork Outlines Windows 2000
Time: 19:56 GMT Source: InfoNews Posted By: Byron

Despite recent announcements from Microsoft that there will be another release of the client version of Windows, a Microsoft official said here Wednesday that the company has not deviated from its strategy of a single OS. "A single operating system code base is Microsoft's long-term direction with a single development target for drivers, hardware, and testing," said Carl Stork, platform product manager for Microsoft, during his keynote at the Intel Developer Conference here. That code base would be the foundation of the long-awaited Windows 2000, for which Stork laid out plans Wednesday. [Read More]

Intel Funds Move To Boost Linux On Pentium
Time: 19:48 GMT Source: News.com Posted By: Byron

Linux got a serious shot in the arm with news that it will benefit from an Intel-funded effort to add support for Pentium MMX and Pentium III instructions.

Cygnus and Intel announced that core Linux programming tools will gain support for the Pentium MMX instructions and optimization for Intel's chip architecture. In addition, Cygnus has begun work on bringing the Pentium III's new SSE instructions to Linux, and early versions of those improvements will begin emerging in the summer, said Scott Petry, vice president of marketing at Cygnus.

Microsoft Opens New Online Store
Time: 13:45 GMT Source: Press Release Posted By: Byron

Microsoft Corp. today announced the debut of the company's first online store, located at http://shop.microsoft.com/. The new store, open for business immediately, provides customers with a centralized online location to obtain Microsoft® software and hardware products and Microsoft Press® titles through participating resellers. Store visitors are eligible every day between March 8 and May 31, 1999, to win a $500 shopping spree (no purchase necessary). [Read More]

New 3D Blaster Banshee Drivers
Time: 13:35 GMT Source: AGN3D Posted By: Byron

Creative has released some new drivers for their 3D Blaster Banshee card. The drivers also include the latest v1.03.2d driver update as well, as well as blastercontrol and glideswitcher utlity. You can download the drivers here (2.7MB)
---
News Date: Wednesday 24th February 1999
Today's Top Headlines: Intel - OS Patch - Internet2 - New Chat Date - Site News - Schwab - Buy.Com - Wall Street - Gateway - Internet2 - Burger King
ICQ99a - Review
Time: 23:59 GMT Source: ActiveWindows Posted By: Dennis

We have posted our new ICQ99a review, if your interested in ICQ, this is one review you should see. Here's a snippet:

I Seek YOU! Mirabilis stunned the Internet when they released ICQ97 in 1997. With reaching over 20 million members at the end of 1998, its sure to say that ICQ is on its way to an Internet standard. With ICQ98's layout virtually the same as its 97 version, no new features were introduced, but ICQ Games became increasingly popular. At the end of November of 1998, Mirabilis released an alpha version of ICQ99a to its testers. Even though, it wasn't supposed to be released to the public, the early alpha rushed like wildfire through the internet. And by middle December, almost everyone on ICQ had ICQ99a.

New Microsoft Gaming Devices On The Way
Time: 23:53 GMT Source: Microsoft Posted By: Byron

Microsoft has sent along a few images and text for a couple of their new gaming devices that are coming out later on in the year, The Sidewinder Gamepad Pro and The Microsoft Sidewinder Zulu. [Read More]

WindowBlinds 0.50
Time: 23:00 GMT Source: ActiveWindows Posted By: Dennis

Stardock Systems, the makers of WindowBlinds 0.50, has told us that WindowBlinds 0.50 will be released on Monday, March 1, 1999. There are quite a number of new features, Stardock's president told ActiveWindows this afternoon. Once released we will post it here.

Burger King: The Web the way you Want it
Time: 21:20 GMT Source: ZDNet Posted By: Dennis

Last summer, Burger King franchisee Peter Allen Abramson launched the first wired Burger King, giving customers who purchased certain meals 20 minutes of free Web surfing. On Tuesday, he plans to unveil video postcards that allow customers to take pictures of themselves at the computer and send them via e-mail to friends and family. And btw.. I prefer Burger King fries to McDonald's fries.

Internet2 goes Live
Time: 21:20 GMT Source: ZDNet Posted By: Dennis

The $500 million high-speed Internet 2 network linking 37 U.S. universities, which went live Wednesday, will help researchers collaborate on projects such as real-time surgeries. Hmm... Wonder if Bob (owner of ActiveWindows) will buy an Internet2 domain too..

Gateway ready to set up Web Shop
Time: 21:20 GMT Source: ZDNet Posted By: Dennis

Gateway Inc. will buy a stake in Internet commerce company NECX and set up shop on the Web, the company announced Wednesday. Gateway is also offering a year of FREE Internet access if a customer buys over $ 1,000 on a Personal Computer by Gateway.

Wallstreet fears end of Net Mania
Time: 21:17 GMT Source: MSNBC Posted By: Dennis

Adorning the office of Susanne Lyons, a senior Charles Schwab Corp. executive in San Francisco, is a gift recently sent by some Florida employees: a gale-warning flag. It refers to a huge effort Schwab has been making, in staffing and technology, to cope with the crush of trading in Internet stocks, a campaign Schwab calls "Market Storm."

Buy.Com Slashes Prices
Time: 21:03 GMT Source: Wired Posted By: Dennis

The closely held Southern California online superstore sold more than US$115 million worth of computers, software, books, and music last year, trouncing Compaq Computer's 15-year-old revenue records for a first-year firm. In the first weeks of 1999, its sales are topping $2 million a day.

Schwab having Web Site Problems
Time: 21:03 GMT Source: News.Com Posted By: Dennis

Brokerage Charles Schwab's main Web site for online investing customers crashed at 9:35 a.m. today, returning to service about an hour and a half later. Hmm.. The 2nd Stock Broker's web site even goes down, guess that makes the times we went down seem ok.

Intel's USB 2.0 May Squeeze 1394 Into A PC Niche
Time: 19:46 GMT Source: EE Times Posted By: Byron

Intel Corp. sent the world of PC peripheral interfaces spinning Tuesday (Feb. 23) when it announced it was working on a version the Universal Serial Bus that could run faster than 200 Mbits/second and on a future rev of the ATA-66 interface that could act as a Gbit/second serial link. The work could effectively squeeze 1394, once groomed as a primary interface for future desktops, into a niche role in tomorrow's PCs. Work on the so-called USB 2.0 and Future ATA links has been going on for several months before the two projects were publicly announced at the Intel Developers Forum here by Patrick Gelsinger, general manager of Intel's desktop division. Gelsinger said 1394 may become a "niche" technology in tomorrow's PCs, confined to a role as a link to consumer electronics devices. [Read More]

Intel Delays Release Of Next-Generation Chipset
Time: 16:07 GMT Source: ZDNet Posted By: Byron

IT managers looking to combine Intel Corp.'s new Pentium III chips, set to ship on Monday, with the company's next-generation chip set are going to have to wait a little longer.

The chip set, code-named Camino and known as the Intel 820, was supposed to ship in June, but Intel has pushed back its release until September. The 820 supports a 133MHz system bus, 4X AGP and new Rambus Direct RAM. It is Rambus that has tripped up the Santa Clara, Calif., chip maker.

Intel Check P-III For Flaw
Time: 15:55 GMT Source: CNN Posted By: Byron

The potential problem, posted on c/t's Web site, fanned the flames already surrounding the controversial chip. "If this is true, it could potentially be a very serious problem for Intel. It could lead to demands for a recall of the chip," said privacy expert Austin Hill, president of Zero-Knowledge Systems Inc.

Can Intel's Chip ID Really Be Turned Off?
Time: 15:49 GMT Source: ZDNet Posted By: Byron

Within 24 hours of the start of Intel's Palm Springs technical conference on the Pentium III, a programmer claim to have discovered a way to turn the chip's identification feature on and off at will via software.

If true, the demonstration suggests that Intel Corp.'s claims that the ID tracking technology in the chip can be turned off using special software is suspect.

New Global Technologies in Microsoft Office 2000 Drive Deployment In Leading Multinational Companies
Time: 14:14 GMT Source: Press Release Posted By: Byron

Microsoft Corp. today announced that two multinational corporations, Ford Motor Co. and Shell Services International, will deploy the global features in Microsoft® Office 2000 to standardize desktops around the world and to more easily share information across different languages. The company also announced that an extended set of global features will be available to customers through Office 2000 Proofing Tools and Office 2000 with MultiLanguage Pack. [Read More]

Compaq, CSC, ISVs and Key Customers Highlight Growing Momentum For Microsoft's Application Server Technologies
Time: 14:11 GMT Source: Press Release Posted By: Byron

Momentum for Microsoft Corp.'s application server technologies continues to grow as several key companies such as Compaq Computer Corp. and 1-800-FLOWERS announce their support for the technologies, which run on the Microsoft® Windows NT® Server operating system.

Compaq, the second-largest computer company in the world and the largest supplier of personal computers, today announced a system of worldwide architecture services labs dedicated to Microsoft's application server and Windows® Distributed interNet Applications (Windows DNA) technologies. [Read More]

Site News
Time: 13:58 GMT Source: ActiveWindows Posted By: Byron

We have made a few updates to our Site Information section, including a news source page and added the site visitors profile. On a final note, we have also posted up our next chat date, The chat will begin on March 17th in the evening and end just after Internet Explorer 5 has been released.

Microsoft Patch OS Problems
Time: 13:07 GMT Source: News.com Posted By: Byron

In Redmond, Washington, software giant Microsoft has issued a bulletin concerning an exploit that could give a wayward user administrative privileges to a particular machine. The problem affects versions 3.5, 3.51, and 4.0 of the company's Windows NT operating system.

Microsoft has developed a "workaround" that will change the default permissions on an NT machine. A software fix is currently being developed by the company.

Superfast Internet2 Just For Universities For Now
Time: 13:02 GMT Source: SV News Posted By: Byron

Not online yet? You are about to fall even further behind.

An ultrahigh-speed ``Internet2'' will be introduced in Washington Wednesday, with promises of big-screen interactive video, the end of fist-pounding download delays and uses yet to be invented.

For now, however, the $500 million system is only for experimental use by universities and industry researchers. Everyone else will have to wait. The benefits of Internet2 will not trickle down to the common, salivating Web surfer for a few years, at least.

Intel Not Planning Major PC Changes
Time: 12:59 GMT Source: ZDNet Posted By: Byron

On a design level, Intel Corp wants to continue to evolve and enhance PC platforms while keeping them as stable and easy to use as possible. As part of that effort, Intel will not do a major revision of its annual PC design guide in 2000. Instead, it will make minor modifications under a guideline called PC99.
---
News Date: Tuesday 23rd February 1999
Today's Top Headlines: Banshee and Vortex 2 Drivers - Windows DNA - Voodoo3 UK - Intel's Runway - Windows 2001 - Pentium III Hack - Acer - Viacom - Y2K - Computer Games - Compaq
Intel Breaks Gigahertz Barrier
Time: 23:58 GMT Source: Press Release Posted By: Byron

Intel Corporation today broke the 1 GHz speed barrier for a general purpose microprocessor. This was the first time the gigahertz (one billion cycles per second) frequency has been achieved on a standard microprocessor. The technology demonstration, using a 0.25 micron Pentium® III processor, was shown to an audience of over 1500 industry software and hardware developers attending the Intel Developer Forum. [Read More]

New Rage 128 Drivers Released
Time: 21:33 GMT Source: E-mail Posted By: Byron

ATI have already released new drivers for their Rage 128 range of boards. For those of you lucky enough to already have one, you can pick them up the new drivers right here.

Compaq halts Online Sales
Time: 21:29 GMT Source: Wired News Posted By: Dennis

Compaq on Monday confirmed a report it had halted sales of consumer PCs to Internet-only retailers, in a sign of conflict between traditional retailers and online outlets.

Computer Games: For Boys and Girls
Time: 21:18 GMT Source: NY Times Posted By: Dennis

Not long ago, the creation of computer games was heralded as a fresh chance to break out of the gender-tracking mold and create entertainment designed for boys and girls, equally, but did they do what was expected?

US, Mexico, and Canada together battling the Y2K
Time: 21:18 GMT Source: NewsBytes Posted By: Dennis

Stating that the US, Mexico and Canada are still on the road to full Year 2000 compliance, officials from each of these three countries today told reporters that they are nearing the home stretch and are continuing to work together to insure no disruptions in important cross-border issues.

Viacom to expand Internet presence
Time: 21:18 GMT Source: MSNBC Posted By: Dennis

Viacom Inc. is expected to announce a major push onto the Internet, creating a freestanding unit to operate its Internet businesses such as the MTV Networks Web sites. As part of this new Internet emphasis, the company is also expected to announce the acquisition of Imagine Radio, an Internet radio-station operator.

Acer to Stop selling in the United States
Time: 21:10 GMT Source: News.com Posted By: Dennis

Acer, Taiwan's largest computer maker, will quit selling its PCs in U.S. stores and instead will sell them directly over the Internet, according to the Associated Press. Hmm... Maybe it will make more room in the Best Buy Ads in your Sunday newspaper.

Privacy Hack On Pentium III
Time: 21:03 GMT Source: Wired Posted By: Byron

A German computer magazine claims to have found a way to hack the controversial serial number in the forthcoming Pentium III chip. Computer Technology, or c't, says that contrary to Intel's claims, the identifying Processor serial number in the Pentium III can be secretly turned on and off without the user's knowledge by a small software program.

Microsoft's Secret OS Plan
Time: 20:39 GMT Source: ZDNet Posted By: Byron

Last week, I got a copy of Microsoft's three-year battle plan to market Neptune, a new operating system otherwise known as Consumer Windows. In the plan, which I believe was presented to executives at the company by either Bill Gates or Steve Ballmer, Microsoft expresses its concern over numerous issues that it believes are plaguing the industry. Much of this top-level document will be analyzed in upcoming issues of PC Magazine and in this column as the issues surface. As far as I know, I'm the only outsider who has gotten his hands on this presentation. It was sent anonymously, and I believe it to be genuine. [Read More]

Intel Shows Off PCs Of The Future
Time: 20:39 GMT Source: ZDNet Posted By: Byron

During a short, five-minute "fashion show," PC chip giant Intel Corp. showed off its partners visions of next-generation PC style on Tuesday at the Intel Developers Forum in Palm Springs, CA. With names like, Twister, MultiQ, Stratos, and Fun-Kshun, the new PCs were ultra-funky, sleek, and, very different. With its iMac, Apple said, "Think different." Perhaps, Intel is listening.

UK Voodoo 3 Pricing Announced
Time: 20:39 GMT Source: Press Release Posted By: Byron

3Dfx in the UK have announced the pricing for their new range of Voodoo 3 cards apart from the 3500 model. The Voodoo3 2000 will be £99 the Voodoo3 3000 will be priced at £149. [Read More]

Microsoft Launches Windows DNA for Manufacturing
Time: 15:41 GMT Source: Press Release Posted By: Byron

Steve Ballmer, president of Microsoft Corp., today launched a collaborative initiative with customers, developers and manufacturers aimed at producing a technical architecture that will reduce costs and simplify the process of deploying, integrating and managing systems for manufacturing enterprises. The architecture, called Windows® Distributed interNet Applications (Windows DNA) for Manufacturing, will allow disparate manufacturing software applications to integrate seamlessly, enabling a proficient information exchange among distributed solutions from the shop floor and enterprise resource planning (ERP) processes. [Read More]

More MS Pricing Suits Could Follow
Time: 12:21 GMT Source: ZDNet Posted By: Byron

The private antitrust lawsuits filed against Microsoft over its pricing policies could be just the first of many similar complaints to hit the software giant in the coming weeks.

New Vortex 2 Drivers
Time: 12:18 GMT Source: AGN 3D Posted By: Byron

Aureal has posted new Vortex 2 drivers over on their site. The drivers include a full install(7.7MB) and an upgrade(2.3MB) from their latest version.

New Banshee Drivers
Time: 12:14 GMT Source: AGN 3D Posted By: Byron

3Dfx has released new reference drivers for video cards based of their Banshee chip. Here are the links for the Win95/98 and NT versions of the drivers:

Voodoo Banshee Reference Drivers - AGP/PCI Boards - Windows 95 Release Candidate 1 - Version: 1.02.01
Voodoo Banshee Reference Drivers for AGP/PCI based boards running under Windows 95

Voodoo Banshee Reference Drivers - AGP/PCI Boards - Windows 98 Release Candidate 1 - Version: 1.02.01
Voodoo Banshee Reference Drivers for AGP/PCI based boards running under Windows 98

Voodoo Banshee Reference Drivers - AGP/PCI Boards - Windows NT Release Candidate 1 - Version: 1.02.01
Voodoo Banshee Reference Drivers for PCI/AGP based boards running under Windows NT
---
Read more of the past months news in our News Archive for February.
Do you have any Windows based news? Just Remember To Get In Touch!
Headlines For
11 Oct 2001
Failed to execute script: Http Status Code = 404
Affiliates