Product: ELSA ERAZOR II
Company: ELSA
Estimated Street Price: $130
Chipset: NVIDIA RIVA TNT
Review By: Matt Klosterman
Introduction
ELSA has been a big name in the professional graphics market for quite awhile now. More recently, ELSA has also made a name for itself in the consumer graphics market. ELSA currently has two RIVA TNT boards in their lineup, the ERAZOR II, and the Synergy II. The ERAZOR II is designed for use in the consumer market, while the Synergy II includes custom drivers written by ELSA which make it better for Professional applications. The ERAZOR II is a unique TNT card. Unlike most of the cards on the market, it is not identical to NVIDIA's reference design. Instead, it is placed on a smaller board and includes SGRAM and a fan*.
Specifications
Card type:
AGP 2x
TV-Out:
No
Maximum 2D Resolution:
1920x1200x16bpp
Maximum 3D Resolution:
1920x1200x16bpp
RAMDAC:
250Mhz
RAM:
16MB SGRAM
Cooling Method:
Heatsink/Fan*
Multitexturing:
Yes
Anisotropic Filtering:
Yes
Bump-Mapping:
Yes
Stencil Buffer:
Yes, 8-bit
* - The version of the card which tested had both a Heatsink and Fan, however newer versions of the board only come with a heatsink.
Software Bundle
Recoil
Game Sampler CD (Roughly 20 Demos)
Installation

The installation guide included with the ERAZOR II is written in eight different languages, while the users manual is only written in German and English. Both are quite comprehensive, well written, and are some of the best documentation for a product that I've seen. Installation was quite easy, so as long as you follow the directions, you shouldn't have any problems installing it.

Performance

Test settings and conditions are located at the end of the review

We are the pioneers in providing 642-999 dumps and Pass4sure 640-461 tutorials with 100% exam pass guarantee. Download our latest Testking 350-080 & Actualtests questions to pass real exam of ISM training in time.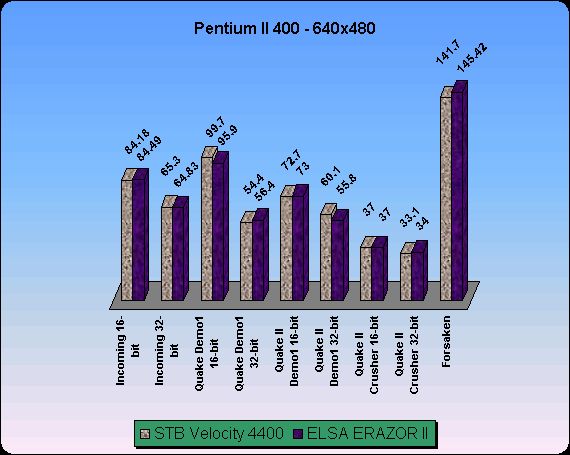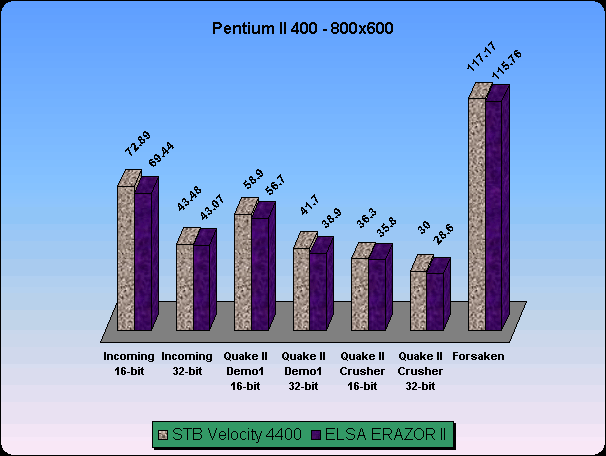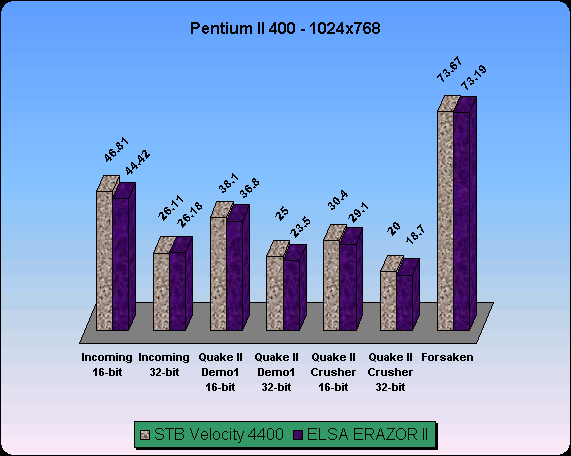 For the results of my entire benchmark suite click here


As you can see the ERAZOR II performed almost identically to the Velocity 4400. However, since they're both based on the TNT chipset this is to be expected. I thought that the ERAZOR II's faster SGRAM might give it a slight edge over the SDRAM based Velocity 4400, but this was not the case. Overall the performance of the ERAZOR II is right where it should be, which is in the current high-end range.

Conclusion

Pros:
Great performance
Decent price
The board tested came with a heatsink and fan.
Cons:
Large performance hit when using 32-bit color
No TV-Out
Scores

Starting with this review I've adopted a tougher scoring system due to feedback I've received. Do not compare these scores to past scores.


Design
8
Value
8
Performance
8
Ease Of Installation
8
Documentation
9
Software Bundle
6
Stability
8
Overall
8
Test Conditions
| | | |
| --- | --- | --- |
| Component | Product | Driver Revision |
| Processor: | Intel Pentium II 400, clocked at 266 (4x66), 300 (4x75), 333 (4x83), 400 (4x100), and 448(4x112) | - |
| Motherboard: | Slot 1: Abit BH6 | - |
| Hard Drive: | 2.1GB Western Digital | - |
| RAM: | 64MB of Samsung -G8 SDRAM | - |
| Sound Card: | Turtle Beach Montego A3DXStream | 4.05.112 |
All tests are performed on Windows 98, with DirectX 6 installed unless otherwise noted. The tests are performed three times each, then averaged together.

Copyright (C) 1998-1999 The Active Network. All rights reserved.
Please click here for full terms of use and restrictions.