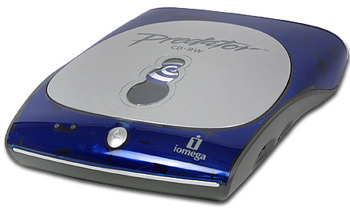 Software
Iomega provides the Predator with its home-made software named 'HotBurn' v2.3. Iomega in fact purchased the company that produced HotBurn sometime ago so it's not really Iomega software. HotBurn is aimed to make CD burning simple. Through a groovy interface, the user should be able to create painlessly a CD in a few mouse clicks without knowing the technologies that are used behind the scenes. The first good thing, is that HotBurn is multilanguage enabled. HotBurn even comes with a CD label editor and a drag & drop module that allows users to record stuff on CD-RWs like they would on a floppy disk. This concept is respectable and praiseworthy and seeing HotBurn interface it started rather correctly. Unfortunately I've tested the Predator long enough to tell you HotBurn is simply a nightmare full of nasty bugs, to remain polite. The first bug I had to face is that if you have a Hewlett Packard PhotoSmart printer, you'll need to find a registry patch so the printer can continue to work once HotBurn is installed. How the heck can burner software can interfere with a USB printer is beyond my comprehension. But that wasn't the only problem!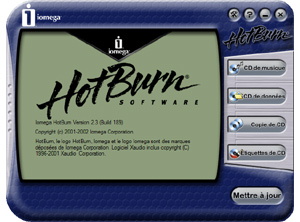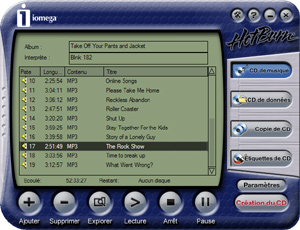 Iomega HotBurn v2.3 (click to enlarge)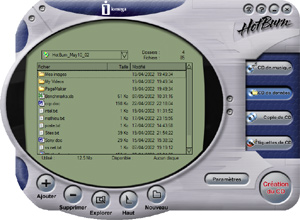 Iomega HotBurn v2.3 Alternative Console Skin (click to enlarge)
HotBurn requires the Iomega Application Services to be installed so your burner is recognized. The problem is that this service is at the origin of most of the troubles we have experienced, so far. Well recognized might not be the right word because your USB 2.0 burner will be sometime detected, by HotBurn, as a USB 1.1 burner if it gets detected at all. My experience with HotBurn is simply a succession of disappointments. Even if the software lets you create a CD-Audio from MP3 and WMA files which is a good feature, the developers forgot to add a warning dialog in case you want to add protected WMA files. So if you burn an audio CD using licensed WMA files, the result is a coaster full of noise since the WMA format wasn't decoded. But the bad surprises don't end here! When trying to write on CD-RW, HotBurn sometimes recognized our high speed CD-RW 10x certified as 4x medium thus preventing us to burn in 10x. With HotBurn the performance of the drive when it comes to Packet-writing was disastrous: the software burnt our 600 MB test CD in more than 40 minutes which doesn't exactly match the 10x announced speed. HotBurn doesn't let you burn ISOs or other kind of image files onto your disc nor it lets you pursue multisession CD-Rs. All those problems simply go away when you uninstall HotBurn and choose to use a descent burning program like Nero 5.5 or Roxio Easy CD-Creator 5.1 that perfectly support the drive. HotBurn is definitely not worthy of a $200 drive: Iomega should have included reliable burning software. Sure, Iomega promises to fix the issues, soon, but so far the latest patch version 2.3 works as bad as its predecessors.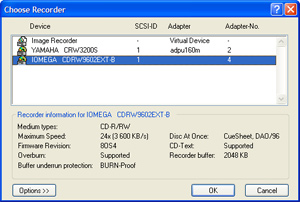 Nero 5.5.8.2 Recorder Dialog Box (click to enlarge)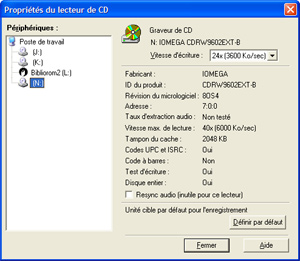 Roxio Easy CD-Creator 5.1 Recorder Dialog Box (click to enlarge)
Tests
During the review of the Predator 24x10x40, I flawlessly burnt several CDs using two different machines with different USB 2.0 adapters. First I used the Predator on a laptop: a Dell Inspiron 8200 using a PCMCIA Adaptec USB 2.0 for notebooks card, before testing the burner with my main desktop computer. On both machines the Predator worked like a charm and it didn't even created a single coaster. The drive is extremely reliable making it highly recommendable.
Thanks to its extensive support of the DAO-RAW and SAO-RAW modes, I made several on the fly copies using Clone CD 4. For the purposes of the test, I copied data & audio CDs on the fly from a Pioneer DVD 106 IDE drive with no problems. The Predator perfectly supported the flow of data and successfully burnt copies in 24x.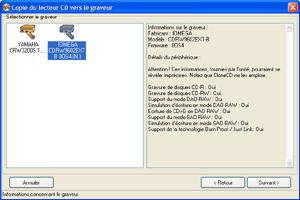 Elby Clone CD 4.0.0.1 & Iomega Predator 24x10x40 (click to enlarge)