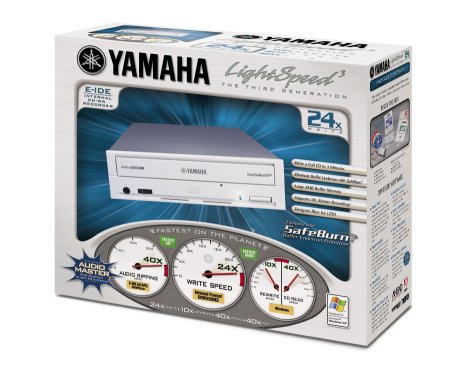 Performance
We tested the performance of the CRW3200 with the SCSI adapter. The average recording speed we obtained with the Yamaha attained 23.58x which is very near to the announced 24x theoretical speed exceeding by 50% the CRW21000E-VK average burning speed. As you can see in the burning speed graph the burning process starts at 18.16x and increases its speed until the 14th minutes of the CD-R where the speed is maintained constant at 24.21x throughout the whole recording process.
During our tests using Nero CD-Speed the reading speed of the burner reached the high speed of 38.29x while the reading started at 17.71x, which is great for such a model. The average speed was 29.21x which is far better than the CRW2200 average reading speed of 27.85x. The new CRW3200 formats virgin CD-RW in 12x. The average access time demonstrated during the tests reached 179msec while the CPU occupation level didnít exceed 12%. The Yamaha CRW3200 burner uses few CPU resources when burning or reading CDs (only 12% in 8x reading mode), though we would have expected a slower CPU occupation percentage with the SCSI adapter.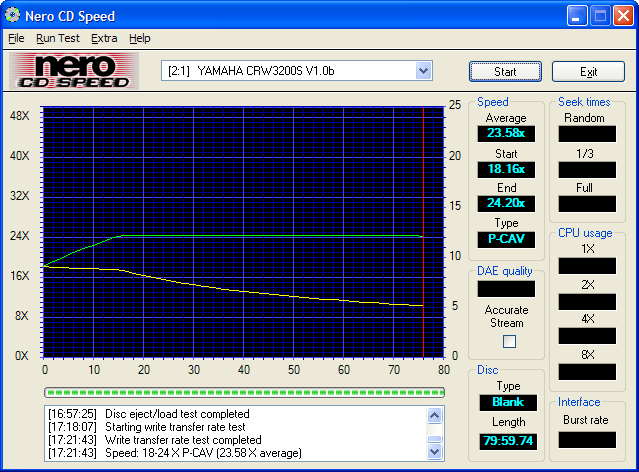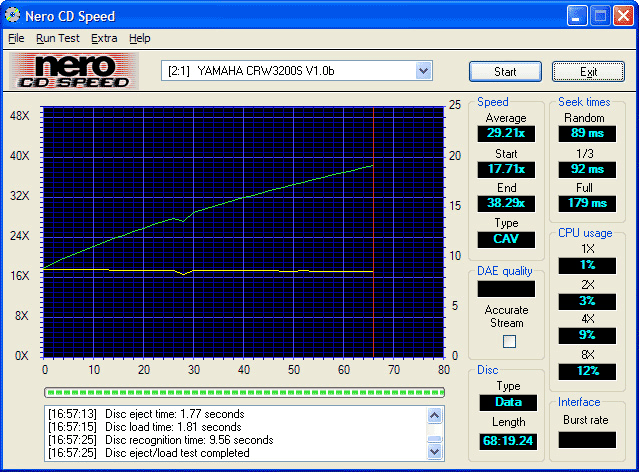 CRW3200 Reading Performance
The table below shows the seek times of the Yamaha CRW3200 compared to its predecessors the Yamaha CRW2200 (20x10x40) and CRW2100 (16x10x40): as you can see Yamaha did a great job here to enhance those vital values. The CRW3200 is 25% faster than the CRW2200 for the seek operations.
Seek Times

Yamaha CRW3200

Yamaha CRW2200

Yamaha
CRW2100

Random

89ms

111ms

127ms

1/3

92ms

129ms

145ms

Full

179ms

183ms

206ms
DAE (Audio Extraction)
When extracting digital audio using MusicMatch JukeBox 7.0 we got the average speed of 24x, while with other programs like Audio Catalyst the extraction speed began at 14x and ended at 40.42x for MP3 files. Most of the time, when extracting digital audio, youíll get the rates reported by Nero CD-Speed: the average digital audio extraction speed reached 30.65x with hits at 40.53x. For audio extracting jobs, the Yamaha burner is a marvel and every MP3 addict will get instant benefits if they choose to use this device. Extracting a full CD Audio in 3 or 4 minutes has always been a dream that is now real due to Yamaha.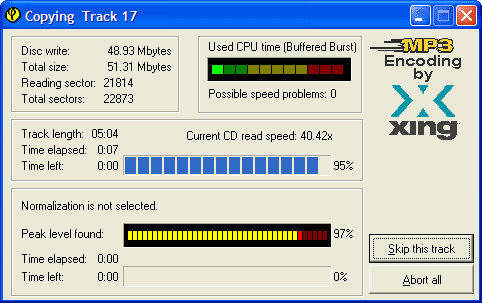 AudioCatalyst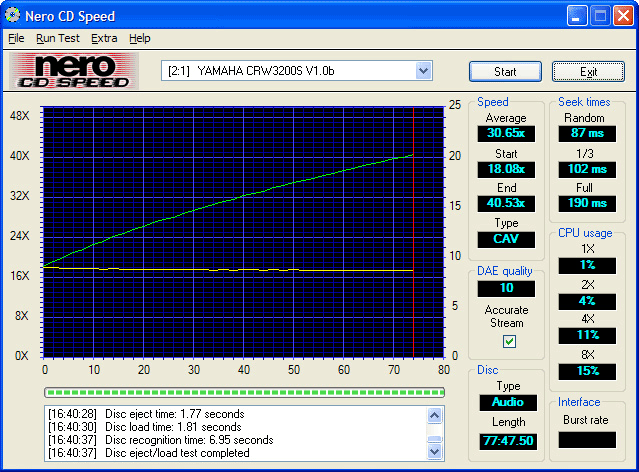 Yamaha CRW3200S DAE Performance
This feature is due to the amount of experience of one of the best worldwide music instrument makers. If that wasnít enough the audio quality of burned CDs is excellent and we didnít encounter any errors during extraction processes. Finally since the burner supports the CD-Text format, you can add information to the CD Audio youíre about to burn like song title & artist name. Then when playing the burnt CD-Audio on a CD-Text compliant player youíll see track names on the unit.
Burning

We tested the burner with both actual recording programs including: Easy CD Creator Platinum 5.02d and Nero 5.5.7.2 (provided with the drive) to burn CDs. The first disappointment is that Roxio Easy CD-Creator Platinum 5.02 doesnít support the latest Yamaha burner so you have to upgrade to the latest version 5.02d. The DAO-RAW mode is supported by the CRW3200, and Clone CD 3.xx is already compatible with it. Nonetheless Nero 5.5 is essential if you want to use all the advanced features offered by the CRW3200 (like Audio Master, CD-RW Track Editing, etc.) We burned tons of CD-R & CD-RWs during our tests and we didnít encounter any burning errors with Nero or Easy CD Creator proving the excellence of this new Yamaha burner. Even with the IDE interface and as a result of a wide buffer memory together with SafeBurn we didnít manage to hang a recording session.
Best of all we were able to perform other tasks like playing Microsoft MechCommander 2, Black & White, The Sims, or working with Word, Outlook and FrontPage 2002 while recording CDs in 24x or CD-RW in 10x. At least with this model, burning CDs can be done in a snap while youíre working or playing without blocking the whole computer like with USB or first generation burners. The burner isnít touchy with CD-R media and you can use 6x or 8x certified ones and burn them in 16x or 24x with no problem if you have previously disabled the OPC feature. Burning high speed CD-RW with the CRW-3200 was no big deal since it just worked great. We also noticed that when using high speed CD-RW media, Nero now offers a direct 10x burning speed setting. Like its precursor (the CRW2200) the drive is quiet. In fact whether you read CDs in 40x or burn in 24x you can only hear a silent whisper. Finally we have drawn up a table showing the various format of CD you can burn with the Yamaha:
Supported Formats

80 Mins CD

Yes

Black CD-R

Yes

Audio-CD

Yes

Kodak Photo CD

Yes

CD-I

Yes

Video CD

Yes

Mac

Yes

CD-DA

Yes

CD-R

Yes

CD-RW

Yes

CD-Rom

Yes

CD-Rom XA

Yes

CD Extra

Yes

CD Text

Yes

CD+

Yes

Unix

Yes

CD-MRW

Yes

AudioMaster QR

Yes
Supported Writing Methods

Track At Once

Yes

Disk At Once

Yes

Packet Writing

Yes

MultiSession

Yes

Overburning

Yes
Now that you've seen the Yamaha CRW3200 burns almost everything you may wonder what it can read, right? If so the table below will present you with all the CD formats the Yamaha burner supports in reading mode:
CD-R/RW Brands Tested

Verbatim CD-RW 10x

Yes

Philips CD-RW74 4-10x

Yes

Yamaha CRWM74BHS (10x CD-RW)

Yes

TraxData CD-RW 4x

Yes

MaxMax CD-RW 4x

Yes

Memorex CD-RW 4x

Yes

Verbatim 700MB CD-RW 4x

Yes

BASF 650MB CD-R

Yes

NoName 650MB

Yes

TDK D-View 650MB

Yes

Verbatim 650MB CD-R

Yes

Imation 700 CD-R 16x

Yes

Memorex 700MB CD-R

Yes

Memorex Black 700MB CD-R

Yes

Verbatim 700MB CD-R

Yes

Verbatim 700MB Colour Disc

Yes
Windows XP
The Yamaha CRW3200E-VK is one of the first burner to be Windows XP certified, showing its quality and reliability. It is natively recognized by Windows XP, and best of all the embedded burning module of Windows XP perfectly support it.

Bundled Software
The Yamaha CRW3200 comes with a nice package that is probably the most complete software suite you can find provided with a burner. Nero 5.5, NeroMix and Nero InCD 3.0 are provided. Installing the three programs is a bit painful since you have to run three different setups: thereís no unified installation program which is regretful. Once the suite is installed you have to reboot your computer. When youíre done youíre ready to enjoy the powerful features we detail in the following pages.