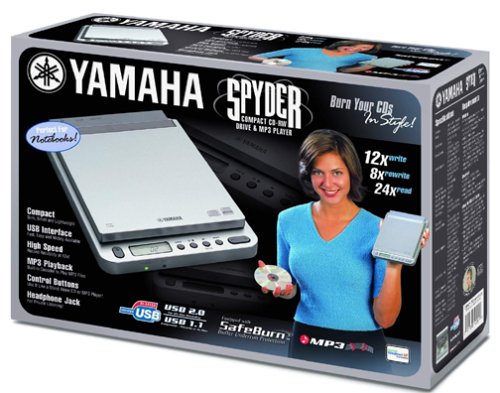 Performance
We tested the performance of the CRW70 connected to Adaptec DUOConnect USB 2.0 adapter. The average recording speed we obtained with the Yamaha attained 11.60x which is very near to the announced 12x theoretical speed. As you can see in the burning speed graph the burning process starts at 8.23x and increases its speed until the 24th minute of the CD-R where the speed is maintained constant at 12.23x throughout the whole recording process. During our tests using Nero CD-Speed the reading speed of the burner reached the high speed of 22.89x while the reading started at 6.04x, which is correct for such a model. The average speed was 17.25x. Depending on the performance of your PC and USB 2.0 adapter the new CRW70 can format virgin CD-RW in 10x. The average access time demonstrated during the tests reached 175msec while the CPU occupation level didnít exceed 11% in 8x.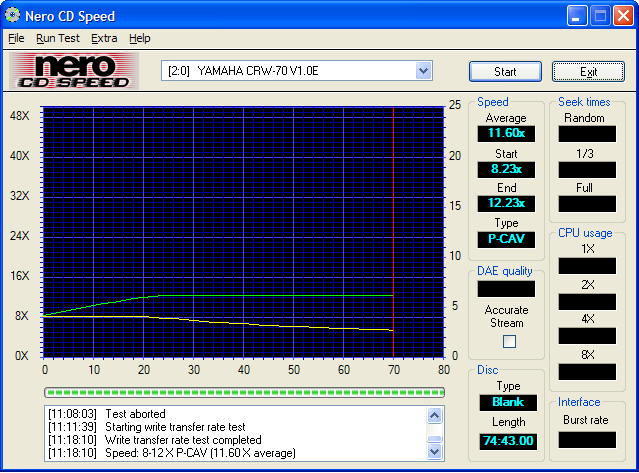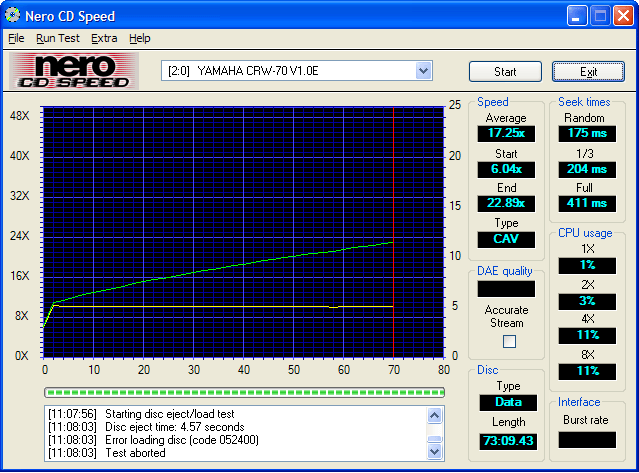 The table below shows the seek times of the Yamaha CRW70 compared to other Yamaha models: the Yamaha CRW3200 (24x10x40), CRW2200 (20x10x40) and CRW2100 (16x10x40). As you can see, the Yamaha CRW70' seek times are very bad in comparison to other IDE or SCSI internal Yamaha burners. This is perfectly normal due to the use of the USB 2.0 interface that isn't fully exploited yet.
Seek Times

Yamaha CRW70

Yamaha CRW3200

Yamaha
CRW2200

Yamaha CRW2100

Random

175ms

89ms

111ms

127ms

1/3

204ms

92ms

129ms

145ms

Full

411ms

179ms

183ms

206ms
Digital Audio Extraction (DAE)
When extracting digital audio using MusicMatch JukeBox 7.0 we got the maximum speed of 22x, while with other programs like Audio Catalyst the extraction speed began at 2x to quickly reach 10x and ended at 23.4x for MP3 files. Yamaha CRW70 burner is excellent for audio extraction jobs thus nomad users will be able to rip a full disc into MP3 very quickly. If that wasnít enough the audio quality of burned CDs is excellent and we didnít encounter any errors during extraction processes. Finally since the burner supports the CD-Text format, you can add information to the CD Audio youíre about to burn (like song title & artist name). Then when playing the burnt CD-Audio on a CD-Text compliant player youíll see track names on the unit.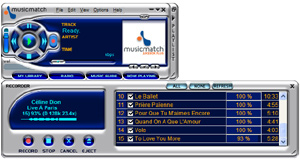 Ripping an Audio CD with MusicMatch JukeBox 7.0 (click to enlarge)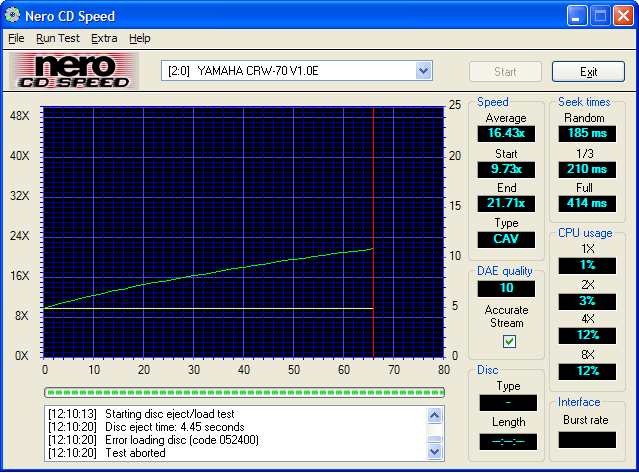 Nero CD Speed Audio Test
MP3 & CD Audio Player
Yamaha CRW70ís killer feature is the MP3 playback. The CRW70 is the only external burner that plays, in autonomy, MP3s and CD Audios while being disconnected from the PC. This is great because when you arenít burning CDs you can link the CRW70 to your HiFi system and listen to regular CD-Audios or listen to hours of great music thanks to MP3 CDs. A MP3 CD can contain up to 15 hours of high quality music, opening new horizons for your own listening pleasure. The CRW70 marvellously plays MP3 CDs but doesnít support WMA files. Due to the small size of the driveís screen, titles of the tracks arenít displayed so you donít know the exact name of the song that is being played. Depending on the CD you insert in the CRW70, the LCD screen displays an Ďaudioí or Ďmp3í indication so you know what kind of media is in the drive.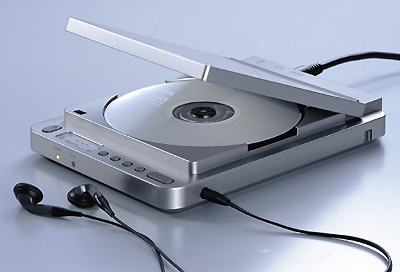 MP3 & CD Audio Playback (click to enlarge)
The CRW70 can play MP3 files encoded with a maximum bit rate of 192KBps (or less or a fixed bit rate) which is sufficient to play most of todayís MP3 tunes. The drive can recognize 300 files while the the 301st and subsequent files will be ignored. The CRW70 supports up to 8 folder levels on a disc. Only ISO 9660 1/2 discs using the Joliet or Romeo formats can be played (you canít read MP3 discs burnt by packet).
When playing a MP3 or audio disc, the skip forward button of the CRW70 can be used to switch to the beginning of the next song while the skip back button skips back to the beginning of the current track (if the player is stopped, it skips back one track). If you hold in these buttons the current MP3 folder will change. If there arenít any folders on your MP3 CD or if you use a CD Audio: holding in the skip forward and skip back buttons will simply skip through tracks in succession.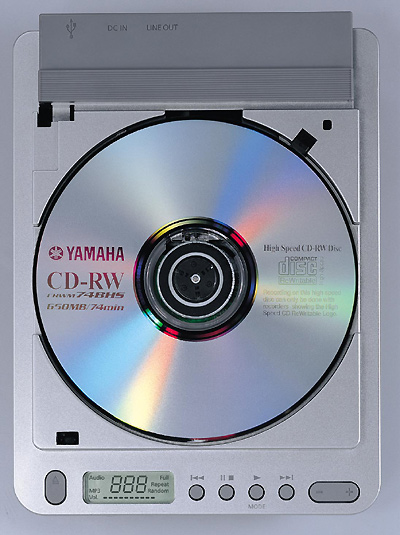 Yamaha CRW70 Play Buttons (click to enlarge)
The Yamaha CRW70 offers various play modes: the normal mode (the one track repeated playback where the same track is played back repeatedly), the full repeat playback (after all the tracks of the disc are played playback starts again from track 1) and the random playmode where all the tracks on a disc are played, once, in random order.
Burning
We tested the burner with both actual recording programs including Easy CD Creator Platinum 5.02d and Nero 5.5.7.8 (provided with the drive) to burn CDs. Both of them support the CRW70. The DAO-RAW mode is supported by the CRW70, and Clone CD 3.xx is already compatible with it. Nonetheless Nero 5.5 is essential if you want to use all the advanced features offered by the CRW70 (like Audio Master). We burned tons of CD-R & CD-RWs during our tests and we didnít encounter any burning errors with Nero or Easy CD Creator proving the excellence of this new Yamaha external burner. Even with the USB 2.0 interface along with a wide buffer memory teamed up with SafeBurn we didnít manage to stall a recording session.
Best of all we were able to perform other tasks like working with Word, Outlook and FrontPage 2002 while recording CDs in 12x or CD-RW in 10x. At least with this model, nomad users can burn CDs in a snap while working without blocking the whole computer. The burner isnít touchy with CD-R media and you can use 6x or 8x certified ones and burn them in 12x with no problem if you have previously disabled the OPC feature. The CRW70 is really quiet. In fact whether you read CDs in 24x or burn in 12x you can only hear a silent whisper. Finally we have drawn up a table showing the various format of CDs you can burn with the Yamaha.
Supported Formats

80 Mins CD

Yes

Black CD-R

Yes

Audio-CD

Yes

Kodak Photo CD

Yes

CD-I

Yes

Video CD

Yes

Mac

Yes

CD-DA

Yes

CD-R

Yes

CD-RW

Yes

CD-Rom

Yes

CD-Rom XA

Yes

CD Extra

Yes

CD Text

Yes

CD+

Yes

Unix

Yes

CD-MRW

No

AudioMaster QR

Yes
Supported Writing Methods

Track At Once

Yes

Disk At Once

Yes

Packet Writing

Yes

MultiSession

Yes

Overburning

Yes
Now that you've seen the Yamaha CRW70 burns almost everything you may wonder what it can read, right? If so the table below will present you with all the CD formats the Yamaha burner supports in reading mode.
CD-R/RW Brands Tested

Verbatim CD-RW 10x
Yes
Philips CD-RW74 4-10x
Yes
Yamaha CRWM74BHS (10x CD-RW)
Yes
TraxData CD-RW 4x
Yes
MaxMax CD-RW 4x
Yes
Memorex CD-RW 4x
Yes
Verbatim 700MB CD-RW 4x
Yes

BASF 650MB CD-R

Yes

NoName 650MB

Yes

TDK D-View 650MB

Yes

Verbatim 650MB CD-R

Yes

Imation 700 CD-R 16x

Yes

Memorex 700MB CD-R

Yes

Memorex Black 700MB CD-R

Yes

Verbatim 700MB CD-R

Yes

Verbatim 700MB Colour Disc

Yes
Bundled Software
The Yamaha CRW70 comes with a nice package that is one of the most complete software suites you can find provided with a burner. Nero 5.5, NeroMix and Nero InCD 3.0 are provided. Installing the three programs is a bit painful since you have to run three different setups; thereís no unified installation program which is regretful. Once the suite is installed you have to reboot your computer. When youíre done youíre ready to enjoy the powerful features we detail in the following pages.