DirectX
ActiveMac
Downloads
Forums
Interviews
News
MS Games & Hardware
Reviews
Support Center
Windows 2000
Windows Me
Windows Server 2003
Windows Vista
Windows XP



News Centers
Windows/Microsoft
DVD
Apple/Mac
Xbox
News Search



ActiveXBox
Xbox News
Box Shots
Inside The Xbox
Released Titles
Announced Titles
Screenshots/Videos
History Of The Xbox
Links
Forum
FAQ



Windows XP
Introduction
System Requirements
Home Features
Pro Features
Upgrade Checklists
History
FAQ
Links
TopTechTips



FAQ's
Windows Vista
Windows 98/98 SE
Windows 2000
Windows Me
Windows Server 2002
Windows "Whistler" XP
Windows CE
Internet Explorer 6
Internet Explorer 5
Xbox
Xbox 360
DirectX
DVD's



TopTechTips
Registry Tips
Windows 95/98
Windows 2000
Internet Explorer 5
Program Tips
Easter Eggs
Hardware
DVD



ActiveDVD
DVD News
DVD Forum
Glossary
Tips
Articles
Reviews
News Archive
Links
Drivers



Latest Reviews
Xbox/Games
Fallout 3

Applications
Windows Server 2008 R2
Windows 7

Hardware
iPod Touch 32GB



Latest Interviews
Steve Ballmer
Jim Allchin



Site News/Info
About This Site
Affiliates
Contact Us
Default Home Page
Link To Us
Links

News Archive
Site Search
Awards



Credits
©1997-2012, Active Network, Inc. All Rights Reserved.
Please click here for full terms of use and restrictions or read our Light Tower Privacy Statement.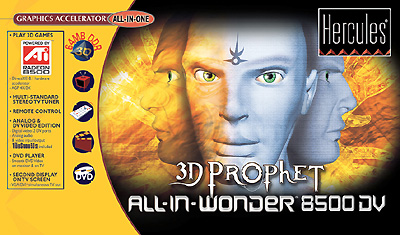 BreakOut Box
Since the Hercules 3D Prophet All In Wonder 8500DV cannot hosts all the video input/output connectors due to size constraints, those video I/O plugs are deported on a proprietary breakout box, à la Pinnacle Systems. Relatively compact, the AIW breakout box has two sides, offering a total of 10 connectors. One side hosts the RCA audio and video inputs, along with a s-video input and a IEEE1394 connector. The other side regroups the output connectors with one SPDIF output, one s-video output and audio/video RCA outputs.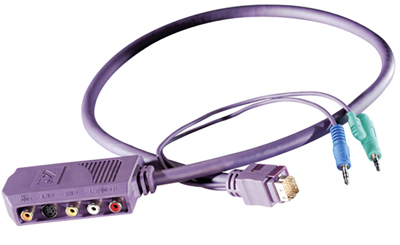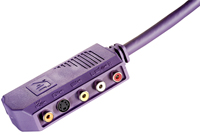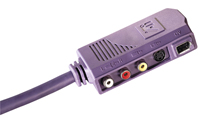 Hercules 3D Prophet All In Wonder 8500DV BreakOut Box

Remote Control
To master every multimedia feature of the Hercules 3D Prophet All In Wonder 8500DV, a radio remote control is included in the package. It's the first time ever, a manufacturer provides a multimedia kit with a radio remote. It has one convincing advantage: you can control DVD playback and TV features through walls which is especially handy if you output the video signals to a TV not located near the PC or if you hide your PC behind a TV. According to ATI, the remote has a range of 30-50 feet which is sufficient enough to control your computer from another room. The drawback is that the remote unit is enormous, heavy and requires four batteries to operate!
In order for the remote to operate, you'll have to plug the provided USB radio receiver to a free USB port of your computer. When setting up the Hercules 3D Prophet All In Wonder 8500DV software suite, a driver for the USB module as well as a program dedicated to manage the remote instructions will be installed.
The remote offers every possible command you can dream of. With this remote, and ATI MultiMedia Center 7.5 you can peacefully rest on the couch as you're in control of everything. Each time you press a button, a small red LED will be lighted. The big red button will close any active window while the directional pad can be used as a virtual pointing device. Next to the directional pads are two buttons that emulates the left or right mouse click. Other remote's buttons are more casual: you have a mute button, volume and channel switchers, menu controls, playback buttons, and record button, 0-9 numbered buttons, full screen video button and much more!


Hercules 3D Prophet All In Wonder 8500 DV Remote Control
Drivers
The Hercules 3D Prophet All In Wonder 8500 DV uses generic ATI drivers, thus it works with the latest ATI Catalyst drivers, which is a good thing since it ensures users will get frequent updates. The drivers offer a wide variety of features, like the ability to adjust the color levels, change the overlay settings, tweak the OpenGL & Direct 3D settings, rotate the display, and much more.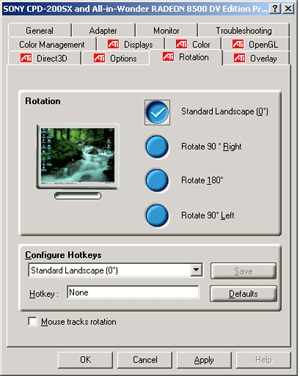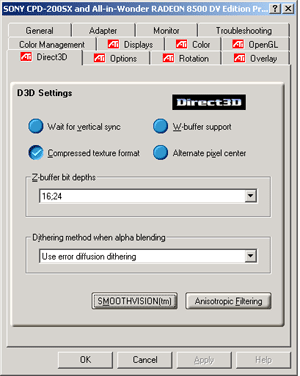 ATI All In Wonder 8500 DV Drivers (click to enlarge)