Product: Matrox Millennium G450
Company: Matrox
Website: http://www.matrox.com
Estimated Street Price: $149
Review By: Julien JAY
Drivers
As usual with Matrox the drivers are high quality ones and are available in several languages. They work under Windows 95/98/98SE/Me and Windows NT 4.0 & Windows 2000. Note that drivers are also available for Linux and OS/2. Once Windows has loaded Plug & Play kicks in and begins to setup your card, it asks for the drivers off the installation CD and after one final reboot you will have to install the Matrox DVD Player is you want watch DVDs on your PC. Now that you have all of the drivers it gives you a chance to look at some of the new cardís settings and software. The first thing you are likely to notice is the new Icon in your system tray at the bottom right of your desktop.
This feature is called the Matrox QuickDesk and it allows you to run diagnostic checks to see if everything is running ok, jump to display properties or try out Matrox DeskNav. You can also save Windows and icon settings. DeskNav - you can use this program to zoom in on your Windows desktop area and to quickly move your view area. To start DeskNav, use the Matrox QuickDesk menu. With the DeskNav desktop preview, you can "navigate" while you're using the Matrox zoom feature or a multi-display desktop. The desktop preview shows you an image of your current desktop, including what's off-screen while zooming. If you're using a multi-display desktop, the DeskNav desktop preview shows a representation of each display in your system.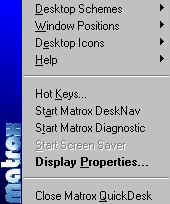 As you might be able to tell from the image above, you can double-click the preview area to move your mouse pointer to the corresponding location on your desktop. Right-click the preview area for a context menu. While you're using the zoom feature, you can move your view area simply by clicking or dragging on the desktop preview. A rectangle in the desktop preview shows where your current view area is relative to your desktop area. Desktop Properties: Most of you will be familiar with the Desktop Properties tab; the G450 drivers add a few new features for you to get to grips with. If you click on the advanced tag in settings you are greeted with a number of new tabs for you to read through. It makes it a little bit easier to find out just how up to date your drivers and bios settings are; it also gives you easy access to memory and serial number information.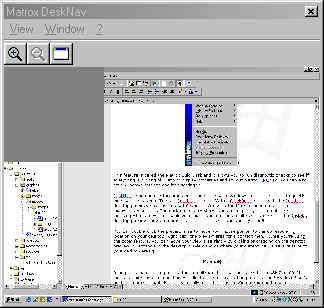 As you can tell from the Image above the DualHead settings are very complete. From the above tab you can select the kind of dualhead mode you want to use and also change the output TV Standard. The most interesting DualHead mode is the 'DVDMax' one that will play any DVD on your computer screen and is also for full-screen mode on your TV without the need of special specific boards. We tested it with a Sony Trinitron TV and it works really great. However if watching films with DualHead on external TV screen is great, it's really not the same if you choose to display your Windows desktop on a TV screen. It'll hurt your eyes.
Dual Head

The Millennium G450 comes with new exciting DualHead features that the G400 didnít include. Matrox is the only manufacturer of the world to offer such a great feature that answers a real need and they perfectly understood it. The scope of DualHead features is very large and here is the ones you get with this new card:
-DualHead MultiDisplay: This mode allows you to extend your Windows desktop onto multiple displays. With this feature enabled your desktop offers more space to ease multitask work. This is very useful for graphic designers who need space to easily position their toolbars and better view the picture theyíre working on.
-DualHead Zoom: This feature is a very good one! It allows you to select any region of any size on your Windows desktop and have it zoomed with or without high quality filtering, so that it appears full-screen on your secondary output. Design professionals will benefit from this feature in applications such as Adobe Photoshop, where pixels can be zoomed to the second display for retouching.
-DualHead DVDMax: The DualHead DVD Max mode lets you display compatible video streams and DVD titles full-screen on TV at full frame rate, without losing the Windows desktop on your primary monitor. For the first time ever, you can watch a video stream on your TV and still make use of your desktop for light work. While other software DVD solutions claim low CPU utilization during DVD playback, they do not allow you to make use of the remaining bandwidth for any other applications. The reason for this is simple. To see DVD full-screen on TV, it must be displayed full-screen on the RGB monitor at the same time, leaving no work space on the desktop. However, Matrox offers you the ability to use the remaining bandwidth for applications such as word processing. It is worth noting that the extent of your desktop functionality depends on your CPU and the application you are using. Opening certain applications and accessing the hard drive may interrupt DVD playback. Bandwidth-intensive applications, such as image editing, graphic design and other similar programs should be avoided when outputting DVD to TV.
-DualHead ScreenGrab: This feature allows users to select any rectangular region of the current desktop and instantly copy it to the clipboard or create a bitmap file that is then ready to be used as a screenshot. Usually creating a screenshot requires the use of an image editing application and decreases your productivity. With this feature you wonít loose time anymore to create screenshots.
-DualHead TV Output: Everything is in the title! This DualHead mode supports a TV as a secondary display. Standard TVs use 50 or 60 Hz refresh mode so with a G400 when you enabled this feature the main display was refreshed also at 60Hz. Due to the inclusion of a secondary RAMDAC the G450 is the only card out on the market to provide usual refresh rate for primary display while TV output is running at 60Hz. Due to the fact Matrox uses its own TV encoder you can set your TV resolution up to 1600*1200! Note that Matrox provides with the Millennium G450 a small adapter cable to plug your SVideo or Composite TV on it. Strangely you can only use the composite output.
-DualHead Clone: Thatís it Matrox wants to clone you like Dolly the sheep. More seriously this feature lets you duplicate the content of the primary display on the secondary one. Itís available for the desktop, full screen games, and more!
-Plug & Play DualHead: The DualHead feature of the Matrox Millennium G450 instantly recognizes the type of display you have connected to the secondary port so you donít have to set it manually.
-Analog Synchronization: this feature synchronizes the two CRTCs and analog outputs to prevent interference introduced between the two displays when they are close to each other.
For every dualhead mode the two output refresh rates & resolutions arenít linked anymore so you can have on screen one: 1024*768 85Hz and on screen two 640*480 60Hz for example. Great except that this feature doesnít work under Windows 2000.
You can connect to the G450 DualHead output a wide variety of display such as:
RGB / CRT Screen + RGB / CRT Screen

RGB / CRT Screen + PAL / NTSC TV

RGB / CRT Screen + Digital Flat Screen

RGB / CRT Screen + Flat Screen

Flat Screen + Flat Screen

Flat Screen + PAL/NTSC TV

Flat Screen + Digital Flat Screen

Digital Flat Screen + PAL/NTSC TV
Manual
The Matrox Millennium G450 includes a very small manual inside the box. Although it offers a very good walkthrough for new users on how to setup their new card it doesn't go into details on other settings such as Dual Head and the special options on the Desktop Properties menu. Too bad.