DirectX
ActiveMac
Downloads
Forums
Interviews
News
MS Games & Hardware
Reviews
Support Center
Windows 2000
Windows Me
Windows Server 2003
Windows Vista
Windows XP



News Centers
Windows/Microsoft
DVD
Apple/Mac
Xbox
News Search



ActiveXBox
Xbox News
Box Shots
Inside The Xbox
Released Titles
Announced Titles
Screenshots/Videos
History Of The Xbox
Links
Forum
FAQ



Windows XP
Introduction
System Requirements
Home Features
Pro Features
Upgrade Checklists
History
FAQ
Links
TopTechTips



FAQ's
Windows Vista
Windows 98/98 SE
Windows 2000
Windows Me
Windows Server 2002
Windows "Whistler" XP
Windows CE
Internet Explorer 6
Internet Explorer 5
Xbox
Xbox 360
DirectX
DVD's



TopTechTips
Registry Tips
Windows 95/98
Windows 2000
Internet Explorer 5
Program Tips
Easter Eggs
Hardware
DVD



ActiveDVD
DVD News
DVD Forum
Glossary
Tips
Articles
Reviews
News Archive
Links
Drivers



Latest Reviews
Xbox/Games
Fallout 3

Applications
Windows Server 2008 R2
Windows 7

Hardware
iPod Touch 32GB



Latest Interviews
Steve Ballmer
Jim Allchin



Site News/Info
About This Site
Affiliates
Contact Us
Default Home Page
Link To Us
Links

News Archive
Site Search
Awards



Credits
©1997-2012, Active Network, Inc. All Rights Reserved.
Please click here for full terms of use and restrictions or read our Light Tower Privacy Statement.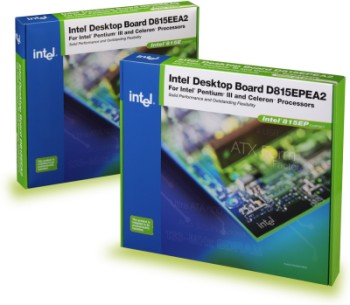 Product: Intel D815EPEA2 & Celeron 850/100MHz Review
Company: Intel
Website: http://www.intel.com
Estimated Street Price: $107 & $138
Review By: Julien Jay
Introduction
Whether you decide to build a Pentium III or Celeron based computer, you need a good motherboard to support the processor youíll choose. In these days the motherboard youíll build your future computer around is as important as the processor itself. Indeed the motherboard youíll choose will set the level of performance you can expect from your new system and will define your upgrade possibilities. Another major thing to consider is that the motherboard has also a role to play for the whole system stability. Until now many of you know that the most reliable chipset on earth was surely the old good Intel 440BX. However the 440BX doesnít offer todayís technology refinements like UDMA 100, AGP 4x, PC133 SDRam, etc. With the mixed success of the i820 chipset that requires Rambus memory and the bugs that hit it, Intel has finally released a new chipset called i815 that supports perfectly the affordable SDRAM memory along with Pentium III and Celeron CPUs. This chipset is definitely the worth successor of the 440BX one for mainstream, office and even mid range gaming dedicated computers. Intel sent us for review their latest i815EP based motherboard known as Easton2 or D815EPEA2 for review as well as the latest Celeron 850MHz processor coming from the Santa Clara factories.
Intel i815EP Chipset Overview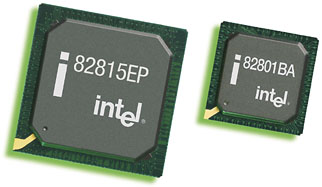 When the i810 chipset was unleashed Intel included for the first time ever several cabled features on the chipset itself. Other expensive and supplementary devices previously achieved these features. The advantage of including graphic, network and audio circuits on the chipset are obvious: this technique reduces the total cost of ownership for the final user. Thus the i810 chipset came with built-in graphics and audio, and so does the i815. There are several versions of the i815EP chipset and some come with built-in 3D graphics and audio solutions. The Solano 2 chipset we have tested was an i815EP that means it doesnít come with build-in graphics at all and supports AGP 4x. Like every recent Intel chipset the i815EP comes with the ICH 2 component also known as 82801BA. This new component introduced first with the i820E chipset adds support for UDMA 100 high speed IDE hard drives using appropriate 80pin IDE cables: you can chain up to four IDE devices but only the two first devices will work in ATA100. In comparison to ATA66 hard drives, the ATA100 normally brings a very small 10% performance increase so thereís no rush to replace your ATA66 hard drive especially as it is also supported by the chipset as well as ATA33 or even PIO IDE hard drives. It comes with two USB 1.1 controllers that feature a 24 MB/s bandwidth across the four ports resulting in a significant increase over previous USB controllers, which allows the use of high demanding USB devices like burners, video capture devices, TV adapters, etc.
The i815EP chipset also offers onboard support for network connections supporting a 10/100MB transfer rate: thatís great to integrate the system in a corporate network for example. The Integrated LAN Capability can be enabled for three distinct networking environments (1 Mbps Home PNA, 10/100Mbps LAN and managed 10/100Mbps LAN). All three solutions utilize Intel SingleDriver technology, with a common set of drivers that simplify network complexity and increase ease of deployment. Associated to the i815EP chipset comes the GMCH controller also known as NorthBridge. The Graphic and Memory Controller Hub controls and manages all the exchanges between the processor, the memory and the AGP port. The AGP 4x port offers a theoretical bandwidth of 1066MB/s: it offers a significant improvement to the basic AGP 2x support of the 440BX/ZX based motherboards by doubling the transfer rate and thereby enabling high performance 3D graphics. This 82815 component supports SDRAM 100 or 133MHz, AGP 4x (with fast writes support) as well as processors with front side bus from 66 to 133MHz. The 133MHz front side bus is 64 bits wide and provides 33% more input, output between the GMCH and CPU than i810 or 440BX chipsets. The i815EP chipset is the first Intel one to support PC133 CAS 2 SDRAM.
If you use a Celeron processor youíll be glad to know that your processor (if itís not an 800MHz model or greater one) will use a 66MHz FSB while the SDRAM will be clocked at 100MHz (against 66MHz with BX chipsets), increasing slightly overall performance. Indeed the i815EP chipset supports among other things asynchronous bus speeds: so you can use a Pentium III with a 133MHz front side bus along with PC100 SDRAM memory at 100MHz. Unfortunately the chipset doesnít support PC133 MHz SDRAM when using Celeron processors: if you have PC133 SDRAM itíll be clocked at 100MHz. Depending on the motherboard you have, the i815EP can comes with a built in 3D graphics controller and an AGP port: if you plug an AGP card on that kind of motherboard the onboard graphic circuit will be automatically disabled. If the built in graphics controller is good in 2D, itís somewhat weak in 3D. Under Quake III the result doesnít exceed 12 frames per seconds in 1024*768 resolution. To enhance them you can use the AGP port to plug a Graphics Performance Accelerator thatíll add up to 4MB of video display cache in order to increase performance by 30% according to Intel. Anyway the built in graphic controller is great for everyone that uses a computer to perform mainly office tasks and play a few games. But itís clear that the hard core gamer wonít find any interest in the i815 onboard graphic features.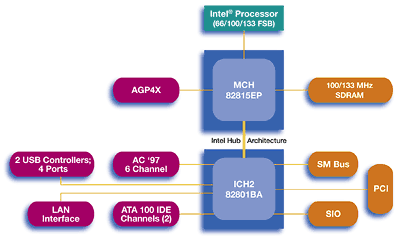 i815EP ICH2 & MCH Architecture