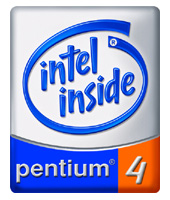 Intel D845EBT Motherboard
This brand new motherboard is built around the Intel i845e chipset whose specifications have been described above. The D845EBT motherboard is the most features rich motherboard Intel has ever released. It uses the ATX form factor to offer five PCI slots, one AGP 4X slot and one CNR (Communication and Network riser) slot. The motherboard hosts a socket 478 pins that can welcome an Intel Celeron (starting at 1.7 GHz) or a Pentium 4 using the µPGA processor package. Like all Pentium 4 ready motherboard, the D845EBT requires an ATX 2.03 power supply.
Despite the fact, the i845e chipset of the D845EBT doesn't offer any graphic accelerator it's still covered by an huge and impressive heatsink like for i845G chipsets. This solution offers the advantage of being extremely quiet. The motherboard offers two IDE connectors along with the casual floppy connector. The regret is that the D845EBT comes with only two DDR-SDRAM memory slots thus dramatically reducing the upgradibility (at least in terms of memory) of such a system. The board can support nonetheless up to 2GB of memory. One detail to notice is that the D845EBT supports only DDR200 or DDR266 memory.

The D845EBT FireWire connection is managed by an additional Agere FW323 chip. Only one IEEE 1394 port is present on the motherboard but a connector is available on the board to add two supplementary ports. With the i845e chipset the USB 2.0 management is native: the board offers four external USB 1.1/2.0 connector but you can two front panel connectors thanks to the header. The only disappointing component of the top notch D845EBT is the ethernet controller. Indeed Intel, the inventor of the Gigabite ethernet connection, has chosen to priovide users with a 100 MBps solution only through its rather old school 82563ET chip.
The best feature of the Intel D845EBT is obviously its built-in RAID 0, 1, 0+1 controller. No surprise here: the feature is directly managed by a Promise PDC20267 controller with two dedicated IDE connectors. The basic idea of RAID (Redundant Array of Independent Disks) is to combine multiple inexpensive disk drives into an array of disk drives to obtain performance, capacity and reliability that exceeds that of a single large drive. Offering 0, 1, 0 + 1 RAID levels let you strip and mirror drives to gain both speed and data protection.

The back panel of the motherboard holds many surprises. Of course you have the traditional mouse and keyboard PS/2 connectors, one parallel port plus –only- one serial port. Then you have four USB 2.0 connectors and one FireWire connector, a world premiere for an Intel motherboard plus an ethernet RJ-45 connector. The real surprise comes from the audio connectors: among the classic ramp of audio jacks (line in, stereo mic and Front right/left speakers ouput) Intel has enhanced the usual audio connectors adding one S/PDIF plug, a real right/left speakers connector and a center LFE connector, thus enabling a real 5.1 connectivity. This outstanding audio connection is marketed as 'SoundMax Cadenza' and lets users connect high fidelity speakers directly to their motherboard in order to experience the joy of home theater through real surroung environment.
In addition to these audio features, the D845EBT is provided with a superbeam array stereo microphone from Andrea electronics. A microphone array enables headset-free, extended range voice input by focusing the microphones' sensitivity on the user's voice while canceling extraneous noise. This microphone is provided with a set of applications that'll integrate themselves with SoundMax Cadenza drivers to provide two Noise Cancellation filters. Those filters are designed to improve the audio quality from the microphone in order to enhance the reliability of speech recognition applications.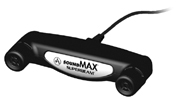 Andrea Electronics Super Beam Array Microphone

The firmware of the motherboard is stored on the Intel 82802AB 4 MB Firmware Hub component ensuring it can be updated. One really good thing is that the Intel/AMI BIOS is Multilanguage enabled so it can speak English as well as German! Updating the BIOS is a child's game since Intel regularly provides Express Bios Update that runs directly under Windows. Just like every actual Intel motherboard, the D845EBT features a new unique technology named Intel Rapid Bios. This feature will surely interest every user: in order to reduce long booting time, user frustration and to increase the efficiency of today's computers, the latest generation of Intel Bios now improves boot time without sacrificing features, quality or reliability. The BIOS Power On Self Test (POST) was streamlined by parallelizing tasks, eliminating redundant code, reduction of legacy features, selective hardware usage and configuration. To reduce the boot time you can even choose to disable hard disk tests so your PC will be ready to work faster than before. Underneath is an Intel chart showing the benefits of this new technology. This technology exceeds the PC 2001 Design Specification Guide and is compliant with Microsoft Windows Me (Millennium Edition) as well as Microsoft Windows XP.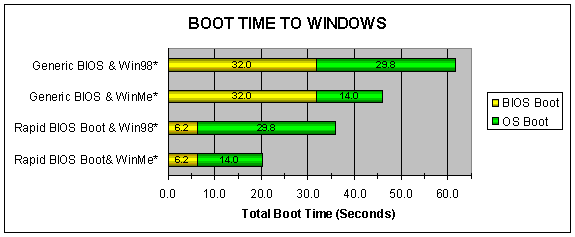 In order to unleash the full potential of the motherboard you'll have to install the latest Intel INF chipset drivers so Windows can identify the components used by the board. The second driver to install is Intel Application Accelerator package that consists of advanced UDMA ATA drivers that will deliver faster hard disk data transfers (increased by 15% in comparison when using Windows ones) thanks to the optimized support of the Pentium 4 data preftech. The USB 2.0 requires the installation of either Intel USB 2.0 drivers or Microsoft Windows XP ones. The FireWire Agere chip is automatically detected by the operating system and doesn't require any drivers. Intel provides on its drivers CD, drivers for the Promise RAID controller. SoundMax Candenza drivers have to be installed so you can listen to music on your computer and experience high end voice recognition. Each Intel driver has been thoroughly tested to operate flawlessly with other Intel drivers in order to ensure your system is always reliable.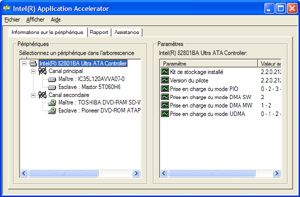 Intel Application Accelerator 2.2 (click to enlarge)