Product: ZIP 250 USB & FireWire adapter with QuickSync 2
Company: Iomega
Website: http://www.iomega.com
Estimated Street Price: $179.95 for ZIP 250 USB drive and $79.95 for the FireWire adapter
Review By: Julien JAY
Drivers
The Iomega ZIP 250 USB drive is natively recognized by Windows Me and Windows 2000. However if you want to unleash its full potential, you have to install the IomegaWare 2.7 latest release provided with the most recent ZIP 250 USB (you can download it for free on the internet). This new drivers are totally different than previous ones: they are smaller and come only with useful tools. The setup wizard takes a few minutes to complete and prompt you to reboot your computer. Once you have rebooted, Iomega Drivers will ask you if all the Iomega drives connected to the system are detected and youíll be able to change to your convenience the letter assignated to your ZIP drive. As the ZIP disks doesnít offer material data protection (like on conventional floppies) you can protect them using the drivers that will lock the disk with a code youíll have to provide to unlock it later. Itís a good method to protect data even if a material protection switch would be more easy to use. IomegaWare fully integrates with Windows: when youíll open the explorer Iomega drives will be shown with specific icons showing the drive is a ZIP for example. CopyMachine has been replaced by a new streamlined tool that changes the Ďcopy to diskí feature of Windows: once you activate this one you can copy a ZIP disk to an other drive or to the same ZIP drive using a different ZIP disk: this new tool is a marvel of simplicity. ZIP drivers also provide ejection shortcut in contextual menu as well as a dedicated formatting box to correctly format your ZIP disks. Finally the build in explorer properties extensions lets you diagnostic the drive, view information on the inserted disk and change the letter affecter to the drive.
Iomega Drive Letters Manager and Iomega ZIP 250 USB Explorer Shell Extension
Use of the ZIP drive
At the use the ZIP 250 Mb USB drive is really pleasant since itís really faster than older models that used parallel port. The transfer rate of the ZIP 250 USB reaches 0.9Mb per sec which very honest. Sure this transfer rate is slower than the one of a SCSI model but the ZIP 250 Mb USB model is cheaper, stylish, and can be carry where you want and connected to all computers even laptops without the need to have a SCSI card. The large capacity of 250Mb Zip disks is appreciable since you can store more data than ever! Blank 250mb ZIP disks are a bit expensive but this is the cost of space. The only thing we regret is that the drive is noisy when itís in use. Except this drawback everything else is perfect.
FireWire Adapter
For those of you who need speed you can purchase the FireWire adapter for your ZIP drive to boost its performances! The FireWire adapter is a small plastic thing you connect at the back of the drive and that uses the ZIP 250 USB look. With this adapter you can connect the ZIP 250 USB on every IEEE1394 card. And if you use a desktop PC the firewire adapter prevents you from using the AC adapter as the FireWire connection can supply enough power for the drive! When the drive is connected to an IEEE 1394 card the adapter lights a nice blue LED that turns your ZIP into a Police car! More seriously this small adapter takes your ZIP 250 USB to a new level of performances that reaches the high transfer rate of more than 2Mb per seconds. For information a ZIP 250 SCSI offers a sustained transfer rate of 2.4Mbs.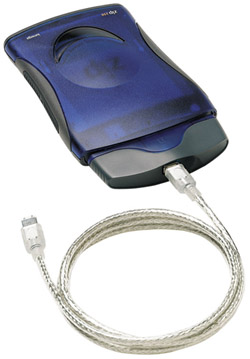 ZIP 250 USB plus the FireWire adapter

Transfer Test
All tests were done using the same ZIP 250 PC formatted blank disk. For the SCSI test we used an Adaptec 19160 SCSI card. To test the ZIP FireWire adapter we connected it to an IEEE1394 card: the Pinnacle Studio DV Plus. These tests were run using ZD WinBench 99 1.2.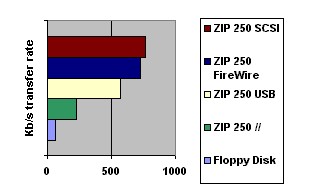 As you can see the USB model is faster than the parallel one and when you team up your ZIP drive with a FireWire adapter you get the same performance than with a SCSI model.
QuickSync 2
Iomega QuickSync 2 is user-friendly backup software that isnít bundled with the ZIP 250 kit. You can purchase it directly from Iomega. This software is intended to help novice users backup their hard drives or important folders to the Iomega disk of their choice. With an easy to use wizard, users will define the folders they want to backup and the installed iomega drive destination. Indeed you canít backup stuff on non Iomega devices which is regret especially if youíve got a non Iomega CD burner. Once youíve defined your backup settings a small icon will appear in the tray area of Windows (near the system clock) and QuickSync2 will regularly and automatically backup your stuff in the background while youíre working without interrupting your job. The backup will generally start each time you modify the content of a folder and 5 revisions of the same file will be kept. Obviously you can change these settings. A scheduler is also provided so you can change the default scheduling that backups files each time you modify them to do a weekly backup at a defined hour or to backup folders every X minutes if a change occurred. Other advanced settings are provided like the ability to exclude file types from the backup set and the copy options to copy only changed files or to re-copy all files. Restoring your files is almost easy since theyíre stored without any changes on your Iomega disks: indeed one of the major leaks of QuickSync 2 is that it doesnít compress files to reduce their size turning this drawback into an advantage since you can restore files very easily. QuickSync 2 provides a quick and easy way to backup your stuff preventing you to worry about it. However QuickSync 2 isnít intended to backup your main hard drive since it canít copy files that are in use like the Registry or the windows swap file. This software is a great addition for novice users and corporate environments.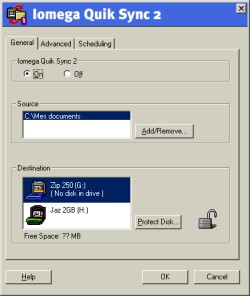 QuickSync 2 user-friendly interface