DirectX
ActiveMac
Downloads
Forums
Interviews
News
MS Games & Hardware
Reviews
Support Center
Windows 2000
Windows Me
Windows Server 2003
Windows Vista
Windows XP



News Centers
Windows/Microsoft
DVD
Apple/Mac
Xbox
News Search



ActiveXBox
Xbox News
Box Shots
Inside The Xbox
Released Titles
Announced Titles
Screenshots/Videos
History Of The Xbox
Links
Forum
FAQ



Windows XP
Introduction
System Requirements
Home Features
Pro Features
Upgrade Checklists
History
FAQ
Links
TopTechTips



FAQ's
Windows Vista
Windows 98/98 SE
Windows 2000
Windows Me
Windows Server 2002
Windows "Whistler" XP
Windows CE
Internet Explorer 6
Internet Explorer 5
Xbox
Xbox 360
DirectX
DVD's



TopTechTips
Registry Tips
Windows 95/98
Windows 2000
Internet Explorer 5
Program Tips
Easter Eggs
Hardware
DVD



ActiveDVD
DVD News
DVD Forum
Glossary
Tips
Articles
Reviews
News Archive
Links
Drivers



Latest Reviews
Xbox/Games
Fallout 3

Applications
Windows Server 2008 R2
Windows 7

Hardware
iPod Touch 32GB



Latest Interviews
Steve Ballmer
Jim Allchin



Site News/Info
About This Site
Affiliates
Contact Us
Default Home Page
Link To Us
Links

News Archive
Site Search
Awards



Credits
©1997-2012, Active Network, Inc. All Rights Reserved.
Please click here for full terms of use and restrictions or read our Light Tower Privacy Statement.



Product: QuickView Plus 6.01 Enterprise Edition
Company: IntraNet Solutions inc. / Jasc
Website: http://www.quickviewplus.com
Estimated Street Price: $59.00 for single user license from JASC
Review By: Julien JAY
Advanced Features
When launching QuickView Plus 6.0 you'll see a QVP tray icon that provides quick access to the QVP features. Even if you close the view window of QVP, the QVP icon stays in the tray for further use. QuickView Plus 6.0 now supports ZIP files that is to say you can view the contents of a ZIP file in QVP as well as previewing the contents of a file that are in the archive, extract the contents to your hard disk, delete selected files from the archive or creating a new ZIP file using the new QuickCompress contextual command that is added to every menu in the Windows Explorer. You can also add files to existing ZIP files. Like in previous QVP release a 'QuickPrint' command is added to every Windows Explorer menus to directly print the content of the selected file. In a network, QuickView Plus 6.0 can protect users against new macro viruses that aren't yet identified by your antivirus suite by being selected as the default method for viewing e-mail attachments. Additionally, viewing is not only safer using QuickView Plus, but also considerably faster in theory at least as users do not have to launch individual programs to view files. The brand new AutoZip feature (if enabled) can automatically compress every file you add as attachments to outgoing emails: this will reduce connection time for both the sender and the recipient. Notice that you can also manually define a file size from under which file attachments shouldn't be compressed. Almost every document that contains embedded objects, thanks to the OLE technology, can be viewed in QuickView Plus. QuickView Plus can use Netscape plugins to view certain file types within the QuickViiew Plus view window. For word processing files that you're viewing in QVP you can choose to display them in three different modes: preview mode (where you'll see the pages and their contents), draft mode, or normal mode. For each viewing mode you can define three separate display sizes: so you can by simply pushing a button instantly displays a word processing document fit to the viewing window. Other size display modes are Full Size and Fit to window width. For spreadsheet documents you can hide or show the gridlines by just pushing a button. Finally you can switch between two different view modes: When the 'pinned' mode is enabled each newly viewed file will replace a file already in the view window. When the 'Unpinned' mode is enabled each newly viewed file is displayed in a new view window.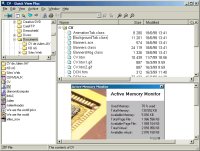 ZIP File support with preview of the archive's contents
Integration
As written before, QuickView Plus 6.0 integrates itself with the latest browser and email applications and can host multimedia plug-ins, allowing you to seamlessly view within these program file formats that they do not support. QVP 6.0 integrates seamlessly into Windows 2000, Windows Me, Windows 98, Windows 95, Windows NT 4.x, numerous Windows programs such as WinZip 8.0, and the most popular World Wide Web browsers and email programs, so it's always there when you need it! Each integration can be viewed in the configure QuickView Plus window and you'll be able to activate or not the shown integrations. At the web level, QuickView Plus can be integrated with AOL, Eudora Mail, Lotus cc: Mail, Lotus Notes, Microsoft Exchange, Microsoft Internet Explorer, Microsoft Outlook, Microsoft Outlook Express, Netscape Navigator. Basically when these integrations with web programs are enabled they work only if for the case of email programs or AOL the file attachments are unrecognised by the computer. Concerning Internet web browsers such as MSIE or Netscape, QuickView Plus will be used to view files when the user click a non HTML link. The files will be directly displayed from the main web browser window! That's not all, as the toolbar of QuickView Plus will also be shown in Internet Explorer or Netscape ensuring quick access to different viewing features.
Supported Files
QuickView Plus now supports more than 200 file formats that you can view by clicking this link: http://www.ie.inso.com/content/QVP/expQVPformats.doc . When viewing spreadsheets documents be sure that included graphics will also be shown! We tested QuickView Plus with several different file formats and we didn't encounter any major problems! From Word 2000 to Project 2000 files everything is displayed correctly. However for graphic files there are several different problems: 16bits TIFF files cannot be viewed, Microsoft PhotoDraw & PictureIt files aren't supported and CMYK TIFF files aren't displayed correctly. We noticed also that some icons files (*.ico) are corrupted when you displayed in QuickView Plus 6.01. The PhotoShop file support is great even if we regret that there's no support for EPS files. The worst thing is that QuickView Plus 6.0 doesn't support Microsoft Publishers files. Too bad! For your information when you try to view an EXE or a DLL file using QuickView Plus, a very complete summary of the characteristics of this file will appear indicating the image file header.