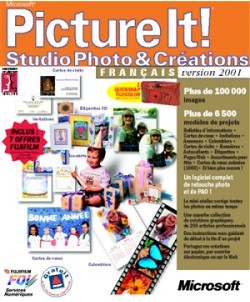 First Start
Starting Picture It! 2001 is a breeze and once the software is launched you can choose to perform several tasks from the new web like welcome screen. This new screen gives explanations about the most common programís features and even shows educational movies made with ShockWave. Featured throughout Picture It! 2001 is a brand new revamped user interface that acts just like the web does: youíll feel in front of a cool website when using Picture It! 2001, thanks to the navigate buttons & hyperlinks. That way, new byes & children will feel at ease and comfortable with such an effective interface that masks the power of Picture It! 2001 behind an easy to use, mouth-watering interface. Picture It! 2001 can sometimes link to the web, if you follow those links the pages thatíll be displayed will look like the main program interface.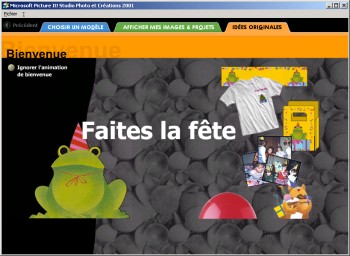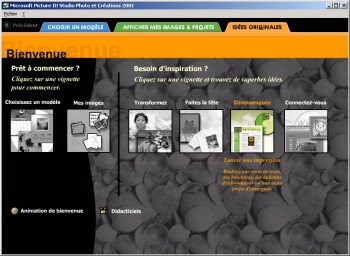 Microsoft Picture It! Platinum Edition 2001 Welcome Animation & Activities Launcher (click to enlarge)
To start your work under Picture It! you can open an existing picture, acquire it through a TWAIN imaging device (like a scanner, a digicam, etc.), open a blank project, start with one of the numerous predefined templates stored on your hard disk or get inspired using the Get Creative Ideas tab (from this area you wonít be able to edit any template: youíll have to return to the main screen). When you choose to open a picture already stored on your hard disk, Picture It! 2001 will let you browse the contents of your drives very easily. The left part of the screen lists drives & folders so you can browse them while the main screen shows sub folders and thumbnails of each picture the program finds: itís very useful and appreciable since you know exactly what picture contains each file! (you can select several pictures and open them in a glance). If you own an imaging device compliant with the WIA norm youíll be able to see all the pictures stored on the device through the open from camera dialog box. Once you start a new picture touch-up job, the main interface is divided in different areas, as usual: the Picture pane, the Tray, the Stack & the Task Pane as well as the main toolbar. Those panels are very useful even if they waste part of your screenís space that might be more useful to display a picture in full screen for better accuracy when doing touch up operations.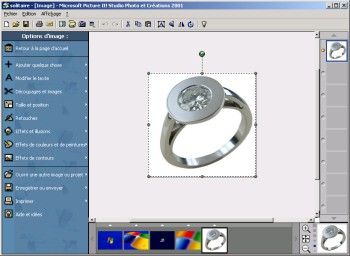 Microsoft Picture It! Platinium Edition 2001 Main Interface with task, tray & stack panes (click to enlarge)
Anyway those panels will greatly ease your job and makes it more convivial. The Tray bar displays thumbnails of each opened pictures so you can switch between pictures easily by clicking them. But the tray bar can also receive elements you drag on it like border, pictures, text so you can use them later in another project. The part of the interface call the Stack is where you can manage layers for composition that use several overlapping elements: you can order objects in the Stack to rearrange the pictureís layout using the various layers. The task pane shown on the left of your screen is the key of the program. From it you can select the operation you want to perform and then youíll be guided step-by-step, with clear explanations so you can succeed in your task. If novice users will like this feature, professional users will really be annoyed since the wizard will require several clicks on the Ďnextí (or so) button to achieve a task that would simply take a single click under PaintShop Pro 7. Anyway if this task panel can turns into a nightmare for experienced users, itís not a major drawback due to the fact Picture It! 2001 primarily targets home users. Help was one of the focuses of the development team: Picture It! 2001 assists the user so greatly, itís impossible that a novice user say I donít understand anything! When youíll do for the first time some Ďcomplexí actions, the program will ask you if you want to take the tour of this feature so you can better handle it. Youíre obviously free to take the tour or continue using the feature.
Main Touch Up Features
Like the previous version, Picture It! 2001 thankfully features a toolbar for quick access to the most commonly used features (send as email, save, print, etc.). Picture It! 2001 offers all the basic touch-up features and more advanced ones, home users can expect from this kind of software. You can obviously remove the red-eye effect in a few mouse clicks as well as manually adjusting levels of brightness, contrast or color correction. Since Picture It! 2001 is somewhat intelligent it can automatically remove dust or scratches from a picture, or correct the colorsí levels if the picture was overexposed. During our extensive tests, both features work as expected and gave good results comparing to the mess original we had. At any moment you can add text to your picture very easily using the provided rich text formatting tools: when you have to choose the font your text will use you'll be glad to see that the fonts list shows preview of each font! So youíll never be surprised to see what your text looks like once youíve changed the font. Once you have added a text area to your picture you can give it a real cool look applying 3D effects for example. But you can also choose to curve the text using one of the curved samples. Best of all if you can obviously change the color & font of your text, itís possible to create gradient texts or texts that show picture as their body.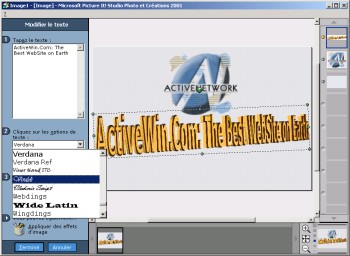 Microsoft Picture It! Platinum Edition 2001 Text Features (click to enlarge)
Picture It! 2001 also offers tons of special features that let you stamp predefined objects on a picture following the path of your picture. Another great looking editing feature let you draw line with a real brush line: it looks so real youíll think itís a painter that drawn it. Since you may need to add shapes in your document, the software comes with a full gallery of predefined shapes you can color, resize and draw where you want. 3D was introduced a while back in Picture It! and you can still apply 3D styles to objects or pictures greatly improving the effect your chef díoeuvre can produce. However calculating 3D effects can take sometime on slow computers.
The basic tools of Picture It! let you rotate or invert pictures right from the main toolbar but you can also change the size of a picture, tilt it, remove wrinkles (great to make your wife looks younger!). Also available is the cloning tool that lets you duplicate a part of an image to another area by simply moving the mouse cursor: itís great to remove background objects you donít want to appear in the final picture. An interesting thing with Picture It! 2001 is that every touch up feature listed in the task pane is represented with a metaphor. Indeed a picture explains the goal of each feature in this task pane so if the name of the feature isnít very clear youíll quickly understand what itíll do to your picture. If youíre as shamble than me, youíll definitely fell in love with the new gallery feature of Picture It! 2001 that let you organize the pictures stored on your hard disk. When you catalog your photos with the help of Picture It! you can add comments to each picture so youíre sure to easily find them back later on, and best of all you can add music to the gallery: that way you can publish on the internet attractive photosí galleries that your friends will die for! The best thing is that Picture It! 2001 includes the MSN Picture It! Service so you can publish your favourite photos on the new MSN Internet service so your friends can watch them anywhere.
Each picture you work on can be framed thanks to the numerous frame styles Picture It! 2001 offers. Itís a neat feature that lets you add very cool looking borders or frames to your favouritesí photos in just a few mouse clicks. Personally I fall in love with this feature especially when I consider that this task would be painful to achieve under PhotoShop while itís done in less than three seconds with Picture It!.
The Minilab of Picture It! has been widely streamlined for better accessibility and ease of use. From it you can batch usually daunting tasks automatically to a group of selected pictures: bye, bye the hassle of removing red-eye effects on 55 photos! With more than 150 special effects filters, Microsoft didnít forget you can be creative when editing pictures! That way you can easily distort friendsí faces for humorous effects, like in Kaiís SuperGoo, using PicturePutty (Microsoft doesnít guarantee your friends will appreciate the prank!). Other more traditional filters can create shadows, blurring/fading and transparency effects.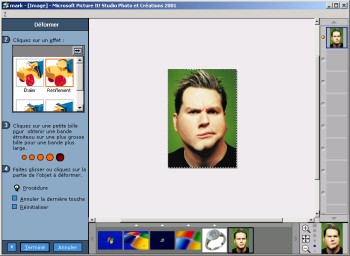 Microsoft Picture It! Platinum Edition 2001 Special Effects (click to enlarge)
Editing features of Picture It! 2001 let you remove objects that eventually mess the background of a picture using an easy to use wizard. Most of the time, the wizard correctly detects pictureís edges so you can knock out the undesired background element in a few mouse clicks. If ever Picture It! 2001 fails to properly detour an object automatically you can help him manually.
In Microsoft Picture It! 2001 if you can obviously print every picture youíve edited, thereís no way to print preview the result in the software to make sure that frames are correctly set in order to prevent bad printings. However Picture It! 2001 lets you print several pictures per page so you can create photo indexes easily. Finally pictures youíre working on can be set as desktop wallpaper fingers in the nose using the build in feature: thatís great for novice users that never know how to add wallpapers to their favourite Windows operating system.