DirectX
ActiveMac
Downloads
Forums
Interviews
News
MS Games & Hardware
Reviews
Support Center
Windows 2000
Windows Me
Windows Server 2003
Windows Vista
Windows XP



News Centers
Windows/Microsoft
DVD
Apple/Mac
Xbox
News Search



ActiveXBox
Xbox News
Box Shots
Inside The Xbox
Released Titles
Announced Titles
Screenshots/Videos
History Of The Xbox
Links
Forum
FAQ



Windows XP
Introduction
System Requirements
Home Features
Pro Features
Upgrade Checklists
History
FAQ
Links
TopTechTips



FAQ's
Windows Vista
Windows 98/98 SE
Windows 2000
Windows Me
Windows Server 2002
Windows "Whistler" XP
Windows CE
Internet Explorer 6
Internet Explorer 5
Xbox
Xbox 360
DirectX
DVD's



TopTechTips
Registry Tips
Windows 95/98
Windows 2000
Internet Explorer 5
Program Tips
Easter Eggs
Hardware
DVD



ActiveDVD
DVD News
DVD Forum
Glossary
Tips
Articles
Reviews
News Archive
Links
Drivers



Latest Reviews
Xbox/Games
Fallout 3

Applications
Windows Server 2008 R2
Windows 7

Hardware
iPod Touch 32GB



Latest Interviews
Steve Ballmer
Jim Allchin



Site News/Info
About This Site
Affiliates
Contact Us
Default Home Page
Link To Us
Links

News Archive
Site Search
Awards



Credits
©1997-2012, Active Network, Inc. All Rights Reserved.
Please click here for full terms of use and restrictions or read our Light Tower Privacy Statement.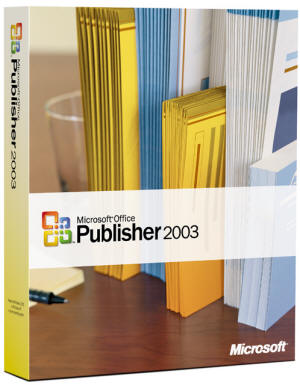 Conclusion
Well we have reached the end of the review. Here are my final comments, notes and grades for Microsoft Publisher 2003.
Final Comments
How It Grades
Installation

:

95

%


Ease of use: 98%




Templates' Richness:

93%
Templates' Quality: 89%
Large Consumer Base
Business Needs: 92%
Features: 92%
Office Integration: 93%
Price: 95%


Overall: 93%
Microsoft Office Publisher 2003 has a goal of simplicity, frugal pricing and being a little of everything for millions of consumers. Microsoft accomplished this with Microsoft Publisher 1.0 and continues to do so eight versions later...and priced at a low $99!. Use of this matured product for business and personal purposes has never been easier. There is not on product out there that can claim to provide you with as many options in so many different avenues as Microsoft Office Publisher 2003. Beyond its world renowned greeting card, newsletter and invoice templates lives a World Wide Web authoring, commercial printing, and daily letter writing work horse tool. While I believe the Microsoft company as a whole doesn't seem to quite understand the consumers wants and needs, the Publisher team surely stands out alone when it comes to you and I and what we want to see on our desktops in our daily routine.
Specs & Package

Overall Score

93%

Version Reviewed

Publisher 2003

Release Date

October 21, 2003

In The Box?

1 CD
1 Rebate Certificate

The Good Points

Magellen Mouse Support,
Features Rich,
Improved integration with Microsoft Office,
Added features to TaskPane,
Abiltity to merge database of images,
CMYK Composite Support,
Improved Word Import Filter,
Improved MS VBA.s

The Bad Points

Still no Calculations possible in tables,
lacks popular *.pdf,
printing options too limited

System REquirements

Computer and processor
Publisher 2003: Personal computer with an Intel Pentium 233-megahertz (MHz) or higher processor, Pentium III recommended

Publisher 2003 with Digital Imaging: Personal computer with an Intel Pentium 500-MHz or higher processor, Pentium III recommended

128 megabytes (MB) of RAM or above recommended

Hard disk usage will vary depending on configuration; custom installation choices may require more or less hard disk space. Listed below are the hard disk requirements for Publisher 2003 and Publisher 2003 with Digital Imaging.

250 MB of available hard disk space

Optional installation files cache (recommended) requires an additional 200 MB of available hard disk space.

Publisher 2003 with Digital Imaging: 500 MB total of available hard disk space for installation of Publisher 2003 (250 MB) and Digital Image Pro (250 MB)

Optional installation files cache (recommended) requires an additional 200 MB of available hard disk space.

Microsoft Windows® 2000 with Service Pack 3 (SP3) or later; or Windows XP or later

Super VGA (800 600) or a higher-resolution monitor

Reviewers PC Setup

Pentium 4 2.6 Ghz
Dell Dimension 8100
Windows XP Professional SP1
512 MB Ram
17" Dell Flat Panel

Microsoft Trackball Explorer