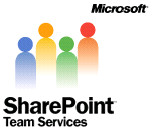 Working with SharePoint
This is the default website that SharePoint generates upon installation. It has default sections for Announcements, Events, Shared Documents, a Discussion Board, Contacts, and tasks. Team Services is totally customizable so you can add just about anything you want. Any FrontPage component can be added to your Team Services site. Unfortunately you may have some difficulties with custom ASP code added to the page later just as you would if other FrontPage components are used.

One of my favorite features is the Calendar View of the Events pages. I have personally developed an online calendaring system and wish I had this before. It would have saved me a lot of time developing something when I could have this, for only the cost of FrontPage.

The Discussion Boards offer a fully threaded newsgroup style messaging system. I found it very intuitive to use and it does the job great. It doesn't have all of the features as say the ActiveWin.com Forums, but it does a more than adequate job for people who want to add this type of functionality to their websites.

Shared Documents is the most useful part of Team Services. The ability to upload documents to the web server had been a big product request from users for a while. Microsoft must actually listen to their customers ;) Team Services can serve as a central repository for all of your documents; word, excel, pdf's, etc. . . Here Team Services takes advantage of the FrontPage Server Extensions 2002.

It is beyond easy to make use of this feature. Just browse for the file you want to upload then click save and close.

Customizing SharePoint
Probably the first thing you will want to do after installing Team Services is change how your website looks. The easiest way is to apply a theme to your web from within FrontPage XP. All of the formatting is done with Cascading Style Sheets (CSS) so for more advanced users they can modify one external style sheet and have it applied to the entire site. Just to give you an idea of what you can do, here are some customizations that I have done and I will explain how my group has been utilizing team services.

I am tasked with maintaining the website for an IT shop at a University. Before we had information that we shared through email and file shares but it was at best inefficient, and at worst detrimental to the group. Team Services answered a lot of the problems we were having. Now in one central location we have a central location to house all of our internal documents and internal processes. It makes it incredibly easy to share information using this tool. There are 6 separate groups within our group so we made one main team services site (pictured above) and each group also has an individual team services site that they can customize for their needs. Below is what each of those individual groups sites look like.

Basic Team Services Site with a different color scheme and logo.

Basic Team Services Site with a different color scheme and logo.

Basic Team Services Site with a different color scheme and logo.

Basic Team Services Site with a different color scheme and logo.

Basic Team Services Site with a different color scheme and logo.

And finally I created a Team Services based site with a Windows XP theme. You can pretty much customize the site to your hearts content.