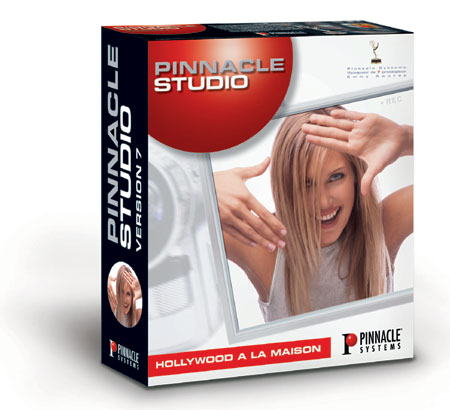 Special Effects
Studio 7 holds it promises since it'll really bring Hollywood to your PC! The variety of new special effects offered by this release is simply amazing. First of all the transitions have been entirely revamped to include 3D transitions coming from Hollywood FX. Studio has always offered basic transitions effects that were looking just like the one you can find on camcorders. Studio 7 revolutionizes the mainstream video mounting software market since it is provided with tons of high quality 3-D animated transitions like page turns, spinning balls, and breaking glass! Using those transitions in your videos will definitely turn them into impressive movies. Adding a transition is very simple: you just have to pick it in the transitions listing and drag & drop it between two scenes in the storyboard! Since there are several available 3D transitions you can preview them into the monitor before adding them to the project. 140 old school 2D transitions are still available within the software. If ever you need more 3D transitions effects you can find some new ones on the internet or purchase the HollyWood FX Plus or Pro packages that'll offer tools to create your own transitions as well as new predefined effects like money spin, many flags, stop watch and more! One important thing to notice is that the 3D transitions don't require any special hardware to work: they can be rendered by the software or eventually using your 3D graphics card (if drivers are compatible with DirectShow).

Studio 7: Hollywood FX effects (click to enlarge)
Adding titles to a movie is very important. Whether you want to add subtitles or full scene credits, Studio 7 includes the ultimate video title maker dubbed 'TitleDeko'. 'TitleDeko' offers more than 300 predefined title styles that range from Neon and Metallic to Stretched and Condensed to the new Roll and Crawl effects. Sure you can customize your titles the way you want, change the font, color, etc. Titles can be animated since you can scroll sentences over the screen and you can display them over a fix background or over the video in transparent mode.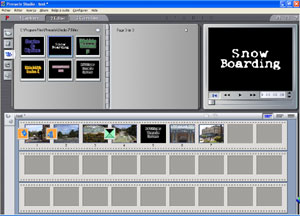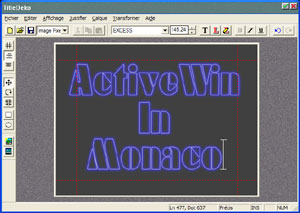 Studio 7 Build-In Titles & Titler (click to enlarge)
Studio 7 fill in one of the previous versions' major drawback by adding the long awaited ability to apply filters to videos. That way you can adjust brightness, contrast and color to create a vintage or arty look. Exclusive effects like emboss, mosaic, posterize and blur will make your productions worthy of being signed by Steven Spielberg! Those new special effects can be accessed through the video toolbox.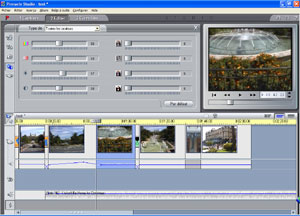 Studio 7 Video Filters (click to enlarge)
Finally Studio 7 offers a library of sounds called 'Smart Sound'. In there you'll find several sound-effects as well as various music tracks to wire your movie for sound: you simply have to select a kind of music: jazz, pop, classical, country and Studio 7 will do the job for you adding the music to your film automatically!
Exporting
Studio 7 lets you export your mounted video to a wide variety of output sources. Sure it all depends of the hardware installed. Anyway here are the different output features offered: for the best video quality you can export your DV mounted video by recording it on your camcorder (if this one offers a DV In/Out plug). In this case Studio 7 will take charge of everything from rendering to recording and you'll just have to wait before the final video is on your DV tape. For a more conventional exploitation of your video, you can obviously export it on every kind of analogue recording device: like VCR, analogue camcorder, etc. The process is easy once you've plugged the analogue video recorder to the output plug of your video capturing hardware you just have to set the VCR (or any other device) in a paused record mode and push the create button of the software's export tab. Studio 7 will render your video and then broadcast it to the recording device. Depending on how powerful is your computer you may have to change the export options to get a better or lower quality final video.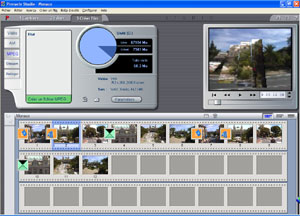 Studio 7 Export Tab (click to enlarge)
For those of you who are online addicts Studio 7 lets you export your videos, online, on the dedicated Studio Online website. Studio 7 owners can store videos up to 10MB; they also have access to the most useful video sharing tools and video file management. Storing videos online is great to share instantly with your family and friends those immortalized memorable instants. If you want to broadcast your videos over your own website, you'll be glad to know that Studio 7 lets you create videos using the RealVideo 8 or Windows Streaming Media formats. Plus you can send videos you've just rendered via email directly from the software. For a more professional use, Studio 7 also supports MPEG 1 & 2 file formats as well as the casual AVI.
Compatibility
Before concluding this review I need to add one last note about Studio 7's compatibility with video capturing hardware. The software support every Twain compatible devices that way our Logitech web cams (Logitech QuickCam Web & QuickCam Pro 3000) were perfectly operational under Studio 7. That's not all, far from that since every existing Pinnacle Studio hardware is supported by the software. I was able to check the compatibility of Studio DV, Studio DV Plus, Studio PCTV USB, Studio PCTV (pci cards) and Studio Online devices and they all performed well under Studio 7. One bad point however is that, actually, the Pinnacle Studio MP10 capturing device is not supported by the software: Pinnacle representatives said they'll soon release a patch to correct this problem. During our extensive tests our JVC GR-DVL9800e DV camcorder worked like a charm and Studio 7 perfectly controlled it: videos were captured and exported without a hitch. Studio 7 also works perfectly with Windows XP and is partly integrated with the new operating system since when you plug your IEEE 1394 camera to the PC, XP will display a dialog box to choose an action to perform and Studio 7 is listed to capture videos straight away.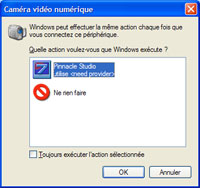 Studio 7 & Windows XP Integration (click to enlarge)