DirectX
ActiveMac
Downloads
Forums
Interviews
News
MS Games & Hardware
Reviews
Support Center
Windows 2000
Windows Me
Windows Server 2003
Windows Vista
Windows XP



News Centers
Windows/Microsoft
DVD
Apple/Mac
Xbox
News Search



ActiveXBox
Xbox News
Box Shots
Inside The Xbox
Released Titles
Announced Titles
Screenshots/Videos
History Of The Xbox
Links
Forum
FAQ



Windows XP
Introduction
System Requirements
Home Features
Pro Features
Upgrade Checklists
History
FAQ
Links
TopTechTips



FAQ's
Windows Vista
Windows 98/98 SE
Windows 2000
Windows Me
Windows Server 2002
Windows "Whistler" XP
Windows CE
Internet Explorer 6
Internet Explorer 5
Xbox
Xbox 360
DirectX
DVD's



TopTechTips
Registry Tips
Windows 95/98
Windows 2000
Internet Explorer 5
Program Tips
Easter Eggs
Hardware
DVD



ActiveDVD
DVD News
DVD Forum
Glossary
Tips
Articles
Reviews
News Archive
Links
Drivers



Latest Reviews
Xbox/Games
Fallout 3

Applications
Windows Server 2008 R2
Windows 7

Hardware
iPod Touch 32GB



Latest Interviews
Steve Ballmer
Jim Allchin



Site News/Info
About This Site
Affiliates
Contact Us
Default Home Page
Link To Us
Links

News Archive
Site Search
Awards



Credits
©1997-2012, Active Network, Inc. All Rights Reserved.
Please click here for full terms of use and restrictions or read our Light Tower Privacy Statement.




Product: Casino
Company: Microsoft
Website: http://www.microsoft.com/games
Estimated Street Price: $34.95
Review By: Julien JAY
Introduction
Microsoft regularly releases 'smart' games that aren't dedicated to hardcore gamers. With the release of Microsoft Casino, Microsoft has introduced the first Casino game that costs nothing when you play with it but that earns nothing too. This game will open the doors of Casinos to everyone and promises to bring you a lot of fun due to the challenging games. The game has many interesting aspects: the first one is that you can loose thousands of virtual dollars without impact on your finances, the second one is that you can live a Casino experience while being at home without going to the real thing. The final aspect I found in this game is if you're not a Casino addict like me you'll learn the rules of all these popular games so you'll be able play a little poker with some friends next time they ask and not actually lose J
Features
In Microsoft Casino you'll discover an exciting universe where luxury and chance reign in absolute masters… With a very realistic realisation, Microsoft Casino reproduces the greatest Casinos in the World so you'll play at your convenience in: Treasure Island, Mirage, Bellagio. The game is a real challenge to rise and features the ten most well-known Casino games like: BlackJack, Baccarat, Video Keno, Slot Machine, Craps, Roulette, Caribbean Stud Poker, Pai Gow Poker, The Big Six Wheel. To make you feel the excitement of the real Casino universe Microsoft Casino offers four different game playing modes:
Casinos challenge: From Treasure Island to the Bellagio and the Mirage, you'll live a panting experience hosted by 'Entertainer of the Year' Danny Gans, and beaten by the crazy rhythm of these Casinos. As you go along your opponents will become more & more formidable while the stakes are higher and higher. In this mode you'll have to choose your destiny by becoming a high stakes player or a looser with no money in your pockets.
Free mode: This mode is the one everyone should start with. You are free to choose your Casino, your game, and you'll play for a few minutes or for hours to feel the extreme anguish money games can create.
Tournament: This mode allows you to organize your own tournament alone or with friends. When playing against the computer you'll meet 10 high quality 3D characters that'll be your adversaries for this tour.
You can play against the dealer or against a wide variety of 3D-rendered characters with unique styles of play.
Before you start playing you have to set up your starting bankroll (from $5,000 to $1,000,000) and choose the character picture that will represent you. Adversaries speak like the Casino staff and are managed by the AI engine of Microsoft Casino. You can walk your way through the Casino but the Casino environment isn't rendered in full 3D: only characters are in 3D. Defeating them is a real challenge and can be very difficult especially for certain games. Like in a real casino, the Slots allow you to easily earn small money but the jackpot is very hard to get. The game rewards good players and best you will be covered of virtual gifts. These gifts include meals, drinks, a night' stay in a palatial suite or tickets to Las Vegas glamorous stage shows. The only regret we can express is that the gifts aren't real. Here are some game shots: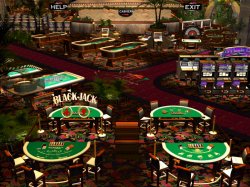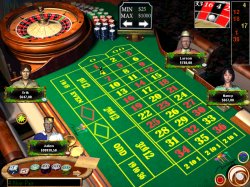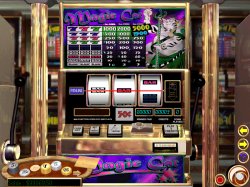 Resorts
Microsoft Casino brings you to three Resorts that are:
Treasure Island at the Mirage: In the midst of an ocean of lights, discover the romantic island getaway that offers something to every traveller.

The Mirage: With lush foliage, towering waterfalls, sparkling lagoons, and a fiery erupting volcano, The Mirage blends the serenity of the tropics with the excitement of Las Vegas.

Bellagio: An extraordinary place of beauty and elegance, of wonder and spectacle; Bellagio meets every need, fulfils every desire, and surpasses every expectation.
Final Comments
How It Grades
Originality: 8

5

%
Gameplay: 9

0

%
Graphics:

85

%


Fun

:

76

%
Sound:

80

%
Music:

85


Interface: 8

5

%
Overall:

83

%

Microsoft Casino is really a fun game for those you who want to play money games with high money stakes without the risk of being ruined in the real life. The Casinos are accurate, the characters' artificial intelligence is good which ensures you won't win too easily and the rules clearly explain each game to beginners. Every novice casino gamer should get this game just to learn the basics of the most famous Casino games or to further improve your skills. I must say you can definitely spend hours of your time playing in the different Casinos this game has to offer. The only thing I regret is that you can't meet opponents on the Internet to run casino games with virtual stakes: too bad! Due to it's very reasonable price, this game will make an excellent gift for the Holidays!
Specs & Package
Overall Score

83

%
Version Reviewed

Microsoft Casino

Release Date
Out Now
In The Box?
1 CD
The Good Points
Great Graphics
Fun Gameplay
The Bad Points

No Internet MultiPlayer feature

Reviewers PC Setup

Pentium III 1 Ghz B
Intel VC820 Motherboard
Windows Millennium Edition
256 MB PC800 RDRAM w/ECC
DirectX 8.0
Microsoft Internet Explorer 5.5 SP1
17" Sony Trinitron Monitor
Hercules 3D Prophet II Ultra 64Mb AGP 4x graphic card
Sound Blaster Live! Platinum
Adaptec 19160 Ultra SCSI card
Promise Ultra ATA 100 controller
Pinnacle Studio DV Plus
Pinnacle Studio PCTV USB

Microsoft TrackBall Explorer
Microsoft Natural Keyboard Pro

DVD Pioneer 105s (16/40x)
Yamaha 16/10/40 IDE internal burner

PC Required
Windows 95/98

/Me/Windows 2000


Pentium

133


16 Mb ram for Windows 95/98
32

M

b ram for Windows Me
64 Mb ram for Windows 2000
40 mb free hard drive space


2

x cd rom Drive
Mouse and Keyboard


16 bit color capable graphics

card with

2

mb ram
Windows compatible sound device
If you want to learn more about the different casino modes and how to play online casino you can always visit a casino guide. Here you can find information about anything from casino room reviews to the various casino rules and how you can increase your winnings. Taking advantage of a casino guide comes highly recommended as it is a sure way of getting the best deal, i.e. bonuses, and to make sure that you do not end up playing at a casino room with poor quality.