DirectX
ActiveMac
Downloads
Forums
Interviews
News
MS Games & Hardware
Reviews
Support Center
Windows 2000
Windows Me
Windows Server 2003
Windows Vista
Windows XP



News Centers
Windows/Microsoft
DVD
Apple/Mac
Xbox
News Search



ActiveXBox
Xbox News
Box Shots
Inside The Xbox
Released Titles
Announced Titles
Screenshots/Videos
History Of The Xbox
Links
Forum
FAQ



Windows XP
Introduction
System Requirements
Home Features
Pro Features
Upgrade Checklists
History
FAQ
Links
TopTechTips



FAQ's
Windows Vista
Windows 98/98 SE
Windows 2000
Windows Me
Windows Server 2002
Windows "Whistler" XP
Windows CE
Internet Explorer 6
Internet Explorer 5
Xbox
Xbox 360
DirectX
DVD's



TopTechTips
Registry Tips
Windows 95/98
Windows 2000
Internet Explorer 5
Program Tips
Easter Eggs
Hardware
DVD



ActiveDVD
DVD News
DVD Forum
Glossary
Tips
Articles
Reviews
News Archive
Links
Drivers



Latest Reviews
Xbox/Games
Fallout 3

Applications
Windows Server 2008 R2
Windows 7

Hardware
iPod Touch 32GB



Latest Interviews
Steve Ballmer
Jim Allchin



Site News/Info
About This Site
Affiliates
Contact Us
Default Home Page
Link To Us
Links

News Archive
Site Search
Awards



Credits
©1997-2012, Active Network, Inc. All Rights Reserved.
Please click here for full terms of use and restrictions or read our Light Tower Privacy Statement.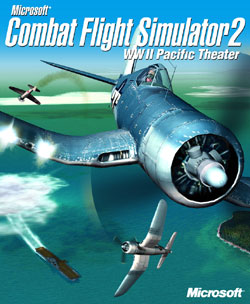 Product: Combat Flight Simulator 2: WWII Pacific Theater
Publisher: Microsoft
Website: http://www.microsoft.com/games/
Estimated Street Price: $54.95
Review By: Julien Jay
Introduction
A long time has passed since Microsoft released the original Combat Flight Simulator title. At the time it was released in 1998, this game was the most realistic and rocking combat flight simulator ever released and was made especially for those who found Flight Simulator good but a bit useless. Even if you play it today its dazzling effect is still intact. The long awaited new version of Combat Flight Simulator is at last here for greater pleasure for its numerous fans around the world, but how can Microsoft make it better than the first one? I still remember that when the first version of the game was released here in Europe, Microsoft published advertisements about it in several computer magazines, which turned into a scandal because the ads were interpreted by some people as a denial of WWII. Microsoft retired their ads but that didnít hold the game back from becoming a best seller. This new release of Combat Flight Simulator is supposed to correct some minor defects and add some improvements to the original, weíll see whatís new in it and if it worth the wait.
Installation
After youíve inserted the first CD of Combat Flight Simulator 2, a nice autoplay window appears welcoming you to the game and offering you the choice to install it. Once youíve launched the setup of Combat Flight Simulator 2, Iíd strongly recommend you to go away Ė take a nap, go to the toilet, start reading the newspaper, or whatever you want to - since the setup is more than long! Installing the whole game, which fits on two CDs, takes about 25 minutes even on powerful PCs and will take more than 900 Mb. Once itís finally done youíre encouraged to register the game over the internet and then you can start playing with it.

GamePlay
First, playing Combat Flight Simulator 2 requires a good, accurate, joystick ensuring that youíll have some chance to win these daredevil adventures. Better than everything else is a force feedback joystick to better feel the intensity of combat: if you comply with these requirements you can start playing with it right away and youíll enjoy all the richness of Combat Flight Simulator 2. Developing Combat Flight Simulator 2 was long and hard work which required that game developers dig into history archives to submerge themselves into pilotsí lives, their heroic actions, the way they live, and historical events to make the game and its scenario more realistic. The theme of the Combat Flight Simulator 2 operation is the south pacific, which offers you wonderful point of views served by amazing graphics. The war youíre enrolled is between Americans and Japanese: itís a rare scenario for games of this kind (once upon a time itís a fight between Russians and Americans, or between Allies & Germans) thatíll let you fly over nice, warm and sandy beaches shooting at everything you can. These new scenarios will change Combat Flight Simulator playersí habits since they will no longer fly in a universe well known by the heart that is to say our old brave continent, Europe from Paris to London. Combat Flight Simulator 2 offers a new concept for these kind of games: it features a 1940 cartoon-like presentation defusing bloody impersonal wars where finally most of us donít have a big interest. I must admit that the cartoon style first shocked me since I was regular to the serious atmosphere of the first game release but change is good and after playing a few sessions youíll quickly adapt yourself to this new apprehension of the game, making it a bit humoristic. The game now focuses on human beings; as during your battles youíll incarnate to your choice of an American or a Japanese pilot. Two very long solo campaigns are waiting for you and will guide you through the most well known WW II events. Through your progression over the game and skills youíll start to destroy mission objectives and youíll receive medals as well as military honours if you die. Missions are well diversified and are correctly built even if you choose to miss mission objectives you can continue the game with no problem. Aircraft fans will be glad to know that Combat Flight Simulator 2 puts them to the commands of seven different realistic aircraft such as mythic Corsair or the Japanese white & red zeros as well as the Hellcat, George, P38, WildCat. You can choose the apparel you want your pilot to wear for your mission and customize it to your convenience.
Simulation
As we wrote before, Microsoft didnít take the development of Combat Flight Simulator 2 thoughtlessly: they surrounded the game development team with well known experts as well as world war II specialized historians. Just as we expected to, this new release of Microsoft Combat Flight Simulator 2 is more realistic than ever and will require some art and practice to correctly maneuver planes. One of the key enhancements of this release are the sounds: Microsoft made important efforts to make sounds of rifles, engine vibrations, take-offs and landings so very realistic: coupled with a good sound card and speakers youíre totally immerged into the gameís atmosphere. Plus when piloting your plane youíll be at the heart of the cockpit thatíll unveil all the navigating instruments used before: the level of detail is now four times better than in Combat Flight Simulator. Sure, you can change your point of view to your convenience since the inside view may restrict your point of view so youíll surely miss enemies. During intense combats, wear traces will appear on your plane, and the exhaust will feature dirty marks while your aircraftís structure will show bullet holes if you were shot. If your plane is hit by your opponents it will become harder to fly since the nose structure, the shutters, the engine or another part of the airplane is now malfunctioning so your plane may suddenly go out of control. Each plane features its own flying model ensuring the most realistic experience: the reality Combat Flight Simulator 2 brings was validated by two venerable veterans Joe Foss (26 victories at his active within the US Marines Corps) & Saburo SakaÔ (64 victories for the imperial Japanese marine). Frankly, Combat Flight Simulator 2 is the most accomplished combat simulation we have had the chance to play with yet and we were overwhelmed during our numerous play sessions. With more than 120 different missions which will offer you various challenges from bombing targets, escorting allies, to shooting enemies, youíre will have an unforgettable experience thatíll bring you fun, rage, anxiety and many more feelings. Finally the most visible improvement of Combat Flight Simulator 2 is obviously its totally reengineered graphics engine that provides the best 3D! This new 3D engine provides such high level of realism youíll think youíre in a time machine. The aircraft quality has so many details you canít even see all of them. Itís clear that the Microsoft development team spent hours engineering the textures of the planes, adding details, putting each rivet at the exact place it should be on the cabin, etc. This brings the game an incredible realism and will let you fly between bullets! Fans will be glad to know that the mission editing tool has been revamped and now features an easier to use, user-friendly interface so they can create & modify missions the way they want: itís exactly the same tool that was used by developers to create the Combat Flight Simulator 2 campaigns. Since Combat Flight Simulator 2 is fully compatible with Flight Simulator 2000 you can import aircrafts or sceneries, note that you can hopefully download additional sceneries on the net when theyíre available. Multiplayer gamers will love the fact the game supports LAN & Internet multi playing mode allowing extremely exciting challenges through combats.
Final Comments
How It Grades

Graphics: 90%
Sounds: 85%
GamePlay: 95%
Scenario: 85%
Simulation: 90%
Reality Settings: 95%
Originality: 85%
Price: 80%
Overall: 90%

I was totally amazed by the graphic quality of the game and it makes me realize how much progress has been made in 3d rendering through the years. High quality sound & force feedback joystick support is just the icing on the cake. Sounds, instructions, missions, sceneries, everything was designed to offer you the ultimate outstanding, and a top combat experience. At the minimum this game is worth the buy because of its graphic quality, the thrill excitement of air combats, and the unprecedented detail level.
Specs & Package

Overall Score

88%

Version Reviewed

Microsoft Combat Flight Simulator 2

Release Date

Available now!

In The Box?

2 CD,
1 Pilot guide book.

The Good Points

High quality 3D graphics,
High level of Reality,
Great Simulation with interesting missions & challenges,
Good Sound Effects.

The Bad Points

Takes space on your hard disk,
Requires a powerful PC,
Some Force Feedback issues with MS FF2 device.

Reviewers PC Setup

Pentium 4 1.5 Ghz
Intel D850GB Motherboard
Windows Millennium Edition
384 MB PC800 RDRAM w/ECC
DirectX 8
17" Sony Trinitron Monitor
Hercules 3D Prophet II Ultra 64Mb AGP 4x Graphics Card
Sound Blaster Live! Platinum 5.1
Adaptec 19160 Ultra SCSI card
Pinnacle Studio DV Plus
Pinnacle Studio PCTV USB

Microsoft TrackBall Explorer
Microsoft Natural Keyboard Pro

DVD Pioneer 105s (16/40x)
Yamaha CRW2100E

PC Required

Minimum System

Windows 95/98/Me, Windows 2000
Pentium II 266Mhz or higher
64Mb of RAM
350Mb of free hard disk space
Quad speed or higher CD-Rom Drive
3D Graphic Accelerator with a minimum of 4 Mb memory
Microsoft Compatible mouse