DirectX
ActiveMac
Downloads
Forums
Interviews
News
MS Games & Hardware
Reviews
Support Center
Windows 2000
Windows Me
Windows Server 2003
Windows Vista
Windows XP



News Centers
Windows/Microsoft
DVD
Apple/Mac
Xbox
News Search



ActiveXBox
Xbox News
Box Shots
Inside The Xbox
Released Titles
Announced Titles
Screenshots/Videos
History Of The Xbox
Links
Forum
FAQ



Windows XP
Introduction
System Requirements
Home Features
Pro Features
Upgrade Checklists
History
FAQ
Links
TopTechTips



FAQ's
Windows Vista
Windows 98/98 SE
Windows 2000
Windows Me
Windows Server 2002
Windows "Whistler" XP
Windows CE
Internet Explorer 6
Internet Explorer 5
Xbox
Xbox 360
DirectX
DVD's



TopTechTips
Registry Tips
Windows 95/98
Windows 2000
Internet Explorer 5
Program Tips
Easter Eggs
Hardware
DVD



ActiveDVD
DVD News
DVD Forum
Glossary
Tips
Articles
Reviews
News Archive
Links
Drivers



Latest Reviews
Xbox/Games
Fallout 3

Applications
Windows Server 2008 R2
Windows 7

Hardware
iPod Touch 32GB



Latest Interviews
Steve Ballmer
Jim Allchin



Site News/Info
About This Site
Affiliates
Contact Us
Default Home Page
Link To Us
Links

News Archive
Site Search
Awards



Credits
©1997-2012, Active Network, Inc. All Rights Reserved.
Please click here for full terms of use and restrictions or read our Light Tower Privacy Statement.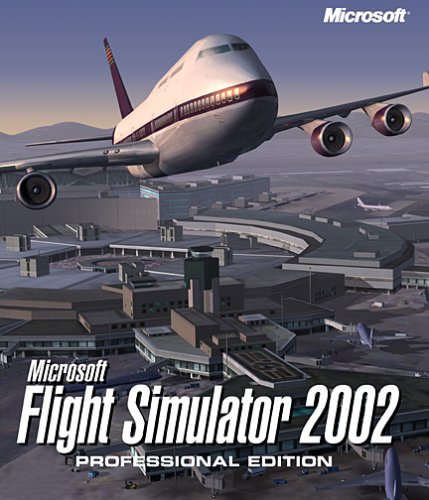 Radio, Radio
For this new version of its flagship simulation game, Microsoft has announced they made deep changes to the game engine with the inclusion of a bunch of new features. The major new feature is clearly the integration of a more elaborated radio system featuring the interactive Air Traffic Control. This new feature lets you ask for takeoff clearance, get vectors for an instrument approach and hear other traffic as you fly. This feature really adds a new dimension to the game where you can discuss with all the ATC intermediaries. Once you've got the autorization to take off, you will receive instructions for your flight, and once in the air you can talk with various regional aerial control offices. Finally when you're about to land, you'll be guided by the control tower for your approaching maneuver. With such a system, you'll discover the joy of crowded skies thanks to the artificial intelligence system that generates air traffic. The result is that, just like in the real world, you'll be sometime put in taxiways before you're granted the authorization to land.
Interface
Despite a new look, if you're a Flight Simulator addict you'll quickly find back your specality in this new interface. Obviously there much more settings you can define, especially for the graphics options. Novice users will be welcomed by a training tour, animated by two characters that'll teach them the basics of flight. Thanks to this tutorial new users will quickly understand what are the principle commands to use so you can take off (remove the brakes, put the gaz, etc.). Even if this is very useful and informative, I really regret the lack of printer handbook for such a complex simulation.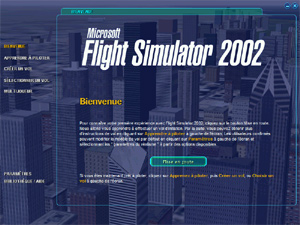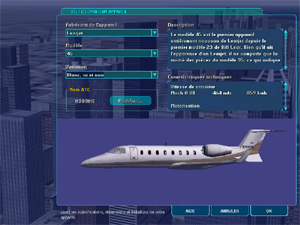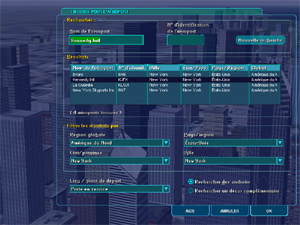 Microsoft Flight Simulator 2002 Professional Edition Interface (click to enlarge)
What's to Pilot?
In this new version of the game, 16 different aircraft are available from the small jet, the big Boeing or even a helicopter. Each aircraft has been entirely modelized to present pilots the same cockpit they would find in the real aircraft. There are still the same old school eleven aircrafts from previous Flight Simulator versions: Boeing 777-300, Boeing 737-400, Raytheon/Beech King Air 350, Mooney Bravo, Cessna 182S Skylane, Bell 206B, JetRanger III helicopter, Learjet 45 business jet, Cessna Skylane RG, Extra 300S-Patty Wagstaff's aerobatic airplane, Sopwith Camel, Schweizer 2-32 sailplane. This new edition of Flight Simulator includes five new aircraft: Cessna 208 Caravan on Amphibious Floats, Cessna 208 Grand Caravan, Boeing 747-400, Cessna 172S Skyhawk SP and Raytheon BE58 Baron. If you have carefully read this list, you have seen there's no European aircrafts. It seems the European aviation doesn't exist for the developers of Redmond, with no Airbus jets included. If Flight Simulator 2000 included the Concorde, the most famous supersonic aircraft is no longer available in this new version. The selection of aircraft is definitely too pro-American.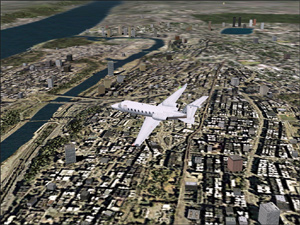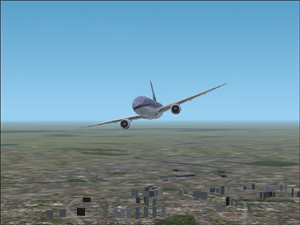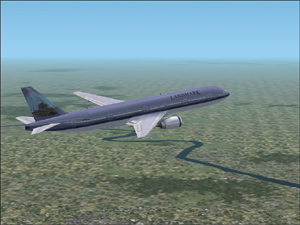 Learjet 45, Boeing 777 (click to enlarge)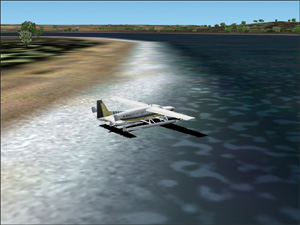 Cessna C208 Caravan Amphibian (click to enlarge)
Now you wonder how many airports are available in Flight Simulator? The answer leaves me dreaming! The game includes 21,000 airports that is to say you can take off from almost every airport in the world from major international terminals to small town airstrips!
Visual & Audio Experience
One of the changes helping to deliver a higher level of reality is the AutoGen Scenery. I've always been stunned by the fact, Flight Simulator sceneries are well populated when you fly over Paris or New York with buildings, streets, trees, etc. but as soon as you leave those towns there's absolutely nothing to see apart the ground which quickly becomes boring. With AutoGen the whole world is more detailed than before: each area will now be appropriately populated with small villages, towns, vegetation, office, buildings, factories, roads, homes, farmhouses, etc. When you fly the difference will instantly jump to your eyes: AutoGen makes miracles providing a much more realistic experience. It also benefits to famous towns where in addition to the classical monuments you'll discover many new buildings.
The visual effects that made the success of Combat Flight Simulator 2 are now available in Flight Simulator 2002. The result is that you'll see contrails from high-altitude jets, dramatic ligthing effects and puffs of smoke from tires at touchdown. Other spectacular visual effects are multishaded translucent clouds or rain effects that propel the pilot into a new dimension adding a brand new dynamic to the game. The rendering of water areas kicks ass: when using the amphibious Cessna 208 Caravan you'll notice moving and often forming waves along with reflections in the water.
The virtual cockpits have also been enhanced: you can fly many Flight Simulator 2002 aircraft from new perspective 3D cockpits with working instruments. That's another neat enhancement.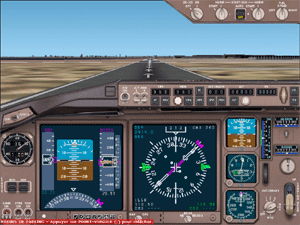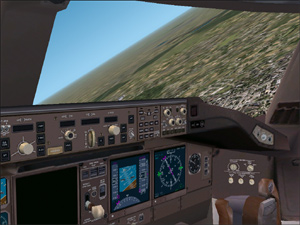 Microsoft Flight Simulator 2002 Professional Edition Boeing 777 Regular & Virtual Cockpit View (click to enlarge)
At the audio quality level, Flight Simulator 2002 is as convincing as it is for the graphics. Each aircraft has its own sound package with distincitve engine, mechanical and electronic sounds that vary depending on the camera and viewing perspective. From the thunder to raindrops falling on the fuselage the audio quality is simply perfect. The verbiage used by the ATC feature sounds as real as what you hear in cockpits.
Features
Flight Simulator 2002 now includes the Jeppesen NavData database. The authoritative, worldwide Jeppesen NavData database includes VORs, NDBs, airways, intersections, and approach waypoints. Thanks to this addition, the weather system has been improved. From Flight Simulator 2002, you can download current weather reports provided by Jeppesen so the software automatically recreates the flying conditions. Like you would expect from action games, Flight Simulator 2002 includes a multiplayer capability so you can fly with other pilots over the internet.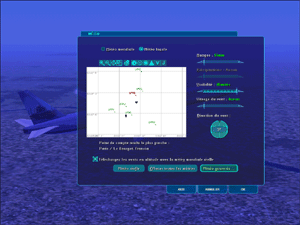 Flight Simulator 2002 Weather System (click to enlarge)
Compared to Flight Simulator 2000, this new version consumes less CPU power so you'll experience a smoother game play, which is quite appreciable. Microsoft has made an incredible job on Microsoft Flight Simulator 2002 to enhance the frame rate. If with previous version, the simple act of switching the camera view slowed down the whole game for several seconds, but this is no longer the case with this version. The graphics engine is faster than before rendering fluid and uninterrupted graphics.